Raspberry and Italian Mascarpone Stuffed French Toast
After a long, wonderful afternoon outside in the garden, my husband and I just lazily sat and watched college basketball all night. Well, actually my husband watched hoop games, while I read blogs and cookbooks! And because I had just bought a large package of perfectly ripe, red raspberries, I decided to break away from the sofa and make something special for breakfast. We really enjoy a good stuffed, baked french toast and that's where my mind wandered.
All of the ingredients were on hand, so at 10:00 PM, I didn't have to run to the store. This French toast casserole is just a snap to put together in order to set in the frig overnight. A simple layering of bread, cheese, and raspberries swimming in a pool of eggs and cream. A thick raspberry sauce is ladled on top after baking. That's all there is to it!
You're going to love this, in fact, it could even pass as a bread pudding dessert! My husband and I ate a second piece . . . directly out of the pan!
Raspberries and mascarpone cheese
peaking out from the bread slices after baking!
A thick, sugar-sweet and buttery-smooth raspberry sauce
to pour over the stuffed, baked French toast.
.
Mmmm, ready to dig in!
.
Print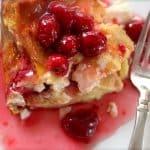 Raspberry and Italian Mascarpone Stuffed French Toast
Author:
Prep Time: 0 hours
Additional Time: 0 hours
Cook Time: 0 hours
Total Time: 0 hours
---
For The Stuffed French Toast
Cooking spray
12 slices white bread, cut into pieces (best to use a hardier bread such as Italian or Challah, older bread is also good to use)
2 (8oz) packages mascarpone, scooped out into chunks
2 cups fresh raspberries, divided
12 eggs, beaten
2 cups half and half
1/2 cup maple syrup
For The Raspberry Sauce
2 cups water
2 cups sugar
4 tablespoons cornstarch
3 Tbsp. butter
---
Instructions
Coat bottom and sides of 7×11″ or 9×13″ baking dish with cooking spray (if using the smaller size, bake it much longer due to the depth of the ingredients – – nearly one hour).
Place half of the bread pieces in the dish.
Scatter the chunks of cheese over the bread.
Scatter 1 cup of the berries over the mascarpone cheese.
Top with the remaining bread cubes.
In a large bowl whisk together the eggs, milk, and syrup.
Pour over the bread mixture.
With a flat spatula, gently push down the bread so that every piece is soaked in the egg-cream-syrup mixture.
Cover and refrigerate overnight.
Preheat oven to 350 degrees F.
Remove from the refrigerator 30 minutes before baking.
Remove foil and bake 30 minutes or more until puffed up.
** As mentioned above, if using the smaller baking pan size, as I did, the baking time is nearly one hour. I also turned the oven up to 375 during the last half hour of baking.
For The Raspberry Sauce
Meanwhile, in a small saucepan, whisk together the water, sugar, and cornstarch. Bring to a boil over medium high heat or until thickened.
Gently fold in the remaining 1 cup raspberries and the butter.
Stir until the butter melts.
Remove the French toast from the oven and serve immediately with the sauce.
---
I serve this French toast alongside our favorite sausage and thick-cut hickory-smoked bacon. A cold glass of fresh orange juice tops this breakfast off along with your favorite hot cup of java!
,
Raspberry and Italian Mascarpone Stuffed French Toast

Do you enjoy La Bella Vita Cucina?
We'd love to have you as part of our community!
Click here: La Bella Vita Cucina to receive a FREE e-cookbook and all the latest recipes,
travel tips and gardening ideas straight into your inbox!