Nutella and Pistachio Gelato
Needing to CHILL out . . . temperature-wise?
Is your outdoor thermometer's mercury percolating up into the 90's – 100's (or higher)?
To beat the smoldering summer heat, there's just nothing like several scoops of freezing-cold ice cream . . . and truthfully, throughout the entire year!
HOWEVER, one thing that does trump regular old ice cream is Italian GELATO! Once you've taken a bite into gelato (the real thing), you'll understand what I'm talking about!
And if you're going to take the plunge into some Italian gelato, you might as well go all the way with a flavor enhanced by Italian Nutella!
Do you LOVE NUTELLA, that creamy addictive stuff that some Italian guy created to get kids in Italy to eat their breakfast? What kid wouldn't eat a Nutella stuffed pastry as traditionally served in Italy today? Sure beats cereal!
When my husband and I visited my family in Italy, we bought some Nutella in a local Italian market because a friend of mine (Jo Falvo) told me that there is a big difference in the Nutella that is exported to America than the Nutella that STAYS in Italy (just like the prosciutto, my friends . . . they don't ship the best quality outside of Italy). I took her word and can testify that she was right! There is truly a MAJOR difference in the creaminess of Nutella sold in Italy than what is offered in American markets!
The gelato is beginning to melt, since gelato does not solidify as regular ice cream does; this is the true consistency of gelato, so dig in quickly and don't worry about perfect photography!
Print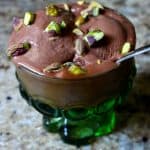 Nutella and Pistachio Gelato
Author:
Prep Time: 0 hours
Additional Time: 0 hours
Cook Time: 0 hours
Total Time: 0 hours
---
1 3/4 cups heavy cream
2 1/4 cups whole milk, divided
1/2 cup granulated sugar
2 tablespoons cornstarch
pinch sea or kosher salt
1 cup Nutella (chocolate hazelnut spread)
1/2 to 1 cup chopped pistachios
---
Instructions
In a medium saucepan, combine cream and 1½ cups of the milk.
Set over medium/medium-low heat and bring to a simmer.
While cream/milk mixture is heating, put the remaining milk, sugar, cornstarch and salt into a small-medium mixing bowl.
Whisk to combine.
Once milk/cream mixture comes to a simmer, add the milk/sugar mixture and stir until fully combined.
Slowly whisk in the Nutella.
While still set over medium/medium-low heat, continuously stir until mixture boils and thickens to where it can coat the back of a spoon (about 10 to 15 minutes).
Remove pan from heat, strain and cool to room temperature.
Cover and refrigerate a minimum of at least 2 hours or overnight.
Whisk mixture together again before pouring into the ice cream maker.
Pour the mixture into the mixing bowl of an electric ice cream machine fitted with the paddle.
Turn machine on, set the timer and press start.
Let mix until thickened, about 30 minutes.
About 5 minutes before the mixture has finished, add the chopped pistachios through the top opening.
The gelato will have a soft, creamy texture.
If a firmer consistency is desired, transfer to an airtight container and place in freezer for about 2 hours.
Remove from freezer about 15 minutes before serving.
---
Notes
*NOTE: Gelato made in a regular ice cream maker won't have the exact texture and density of Italian-made gelato in Italy made in a gelato maker, but it will still be very good.
Adapted from a Cuisinart recipe.
Buon Appetito!