Italian Turkey Meatballs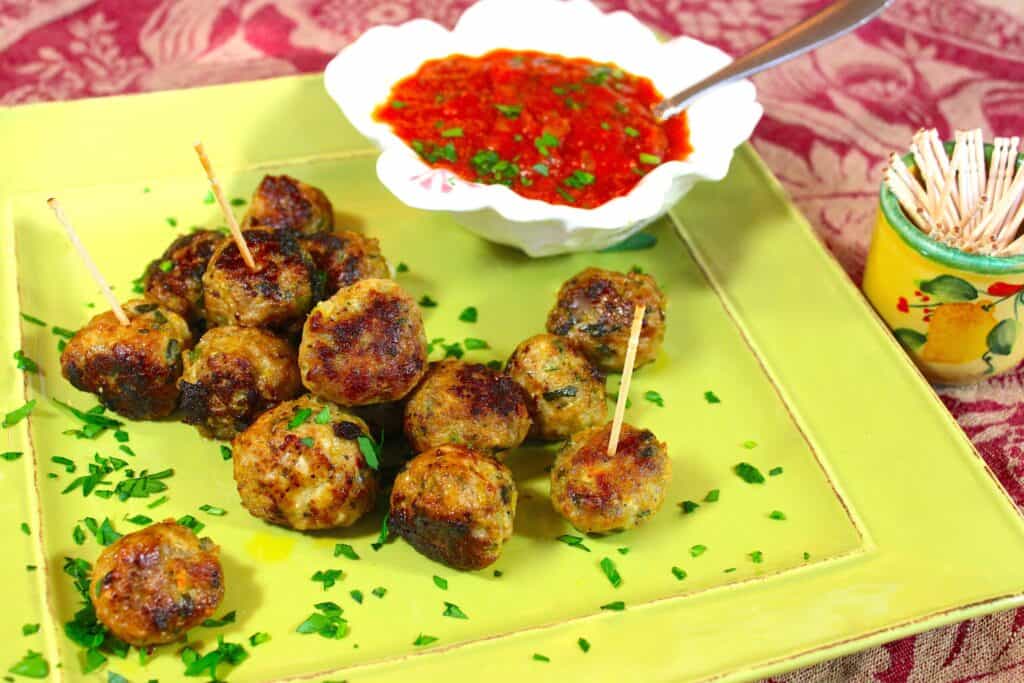 That time of year is here again!
The time when most people tend to eat more food, as well as eat more unhealthy foods that are spread out on tables and buffets during social gatherings of friends and family.
So what do you do, if you're like me and struggled to lose 25 pounds since last the beginning of time? How do you 'stay on the path' to eating healthy during this season of indulgence? And how can you offer yummy, flavorful foods at your get-togethers to help your friends and family as well?
Italian Turkey Meatballs are the perfect answer to this holiday poor-eating versus healthy-eating dilemma! Recently my blog has been discovered Aloha magazine, which has an focus on healthy living. I was asked to create a recipe focused on healthier recipes that are perfect to add to their 'social-gathering menus'. So I put on my cooking thinking cap and developed this recipe.
After adding 'a little bit of this' and 'a lot more of that' during this recipe's 'test drive', I swear to you that these turkey meatballs are superb in flavor, good for our healthy nutrition, and super easy to prepare.
Perfect for any kind of social event. Truthfully, you won't even be able to tell the difference between the turkey and beef or pork in these meatballs!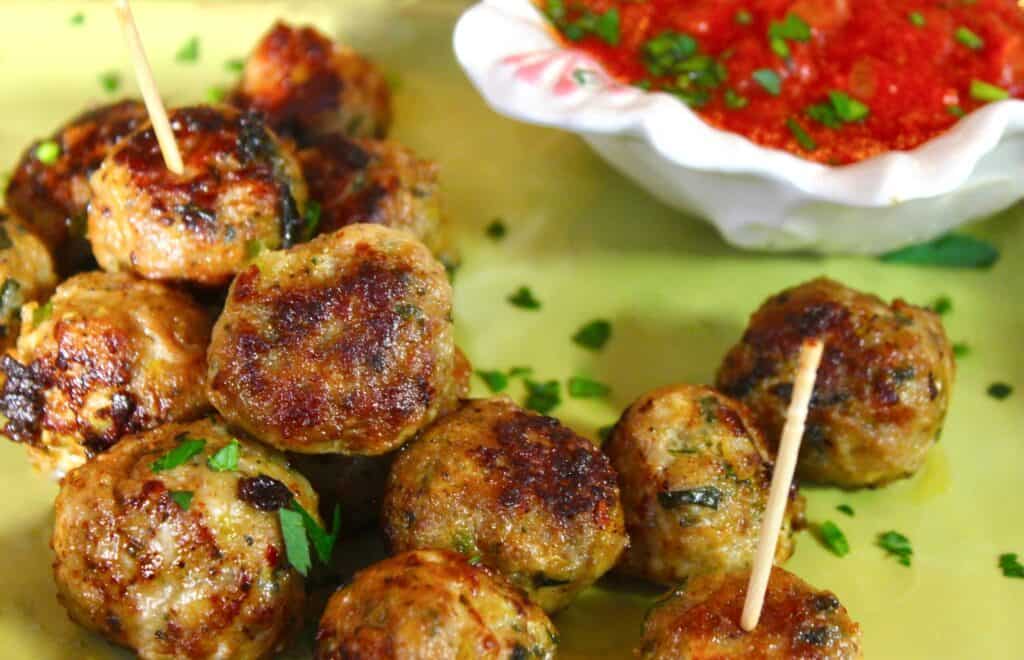 Plus, meatballs are fun appetizers and can be made ahead and frozen (which is what we're doing for Thanksgiving). Just re-heat them in an oven or microwave and you'll be getting your party on in no time.
I serve these Italian Turkey Meatballs with my fresh marinara sauce that I prepare every summer from my garden's fresh-picked tomatoes. I don't buy bottled marinara sauce because it is full of unhealthy preservatives. You can find my simplest marinara sauce recipe here: Garden Fresh Marinara Sauce.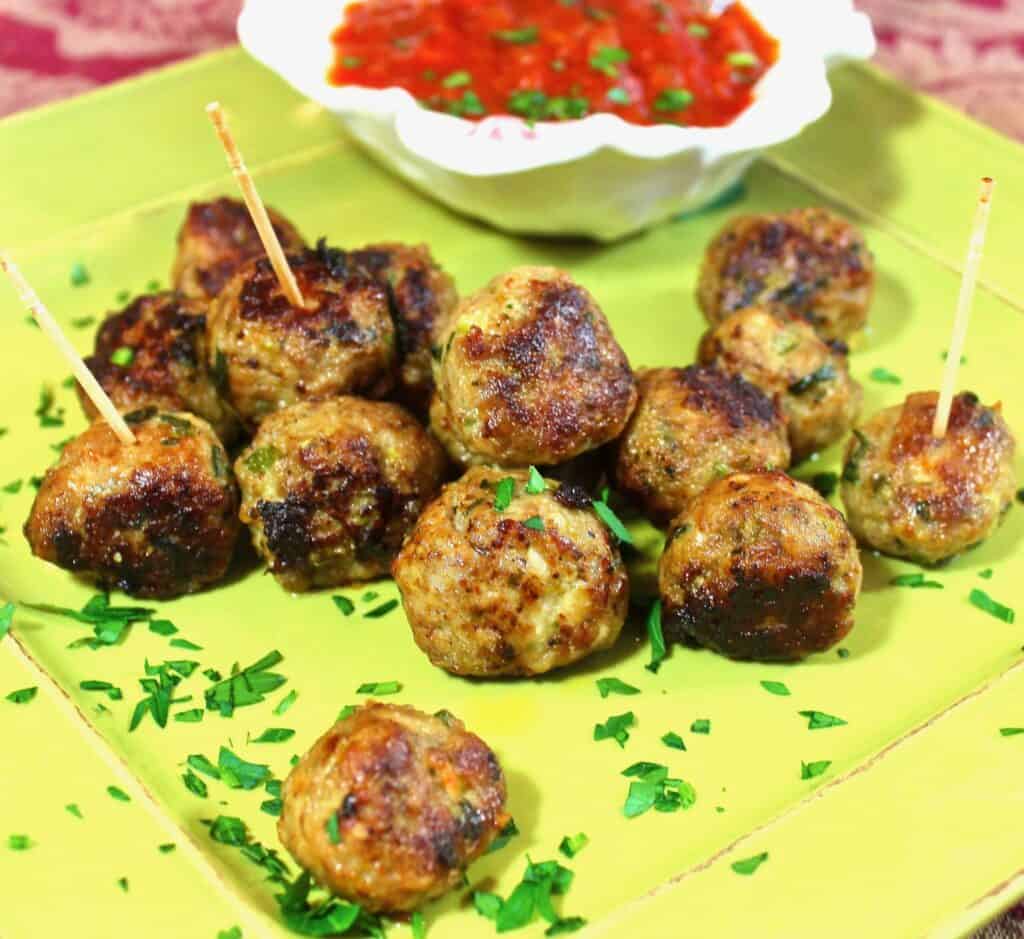 .
Print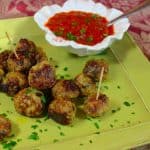 Italian Turkey Meatballs
Author:
Prep Time: 0 hours
Additional Time: 0 hours
Cook Time: 0 hours
Total Time: 0 hours
---
1 lb. ground turkey
1 lb. ground Italian sausage
1 cup Italian-seasoned breadcrumbs
1 cup fresh Italian parsley, chopped
1–1/2 cups Parmesan cheese, finely grated
1–1/2 cup Pecorino-Romano cheese, finely grated
2 jumbo eggs
1 large onion, finely chopped
1 cup finely chopped celery
4 large cloves garlic, minced
1/2 cup fresh basil, finely chopped
1/4 cup fresh oregano, finely chopped
2 tsp. fresh-ground sea salt
1 tsp. freshly-cracked black pepper
3 tsp. Italian seasonings
1/2 tsp. dried red pepper flakes
1/2 cup olive oil for sautéing meatballs
---
Instructions
Heat several tablespoons of olive oil in a large, non-stick skillet.
Add onions, garlic, and celery to sauté until soft.
In a large mixing bowl, gently mix the ground turkey, turkey sausage, sautéed onions, garlic and celery with remaining ingredients.
Do not over mix.
Using a small kitchen weigh scale, form meatballs that weight a half ounce.
Pour a few tablespoons more of olive oil into the large skillet and gently hit.
Place the meatballs into the skillet and sauté about 15 – 20 minutes until browned on all sides.
Place the meatballs in a 375 degree oven to continue cooking for 15 more minutes.
Serve as appetizers with marinara sauce to dip in or serve alongside a pasta with marinara sauce
---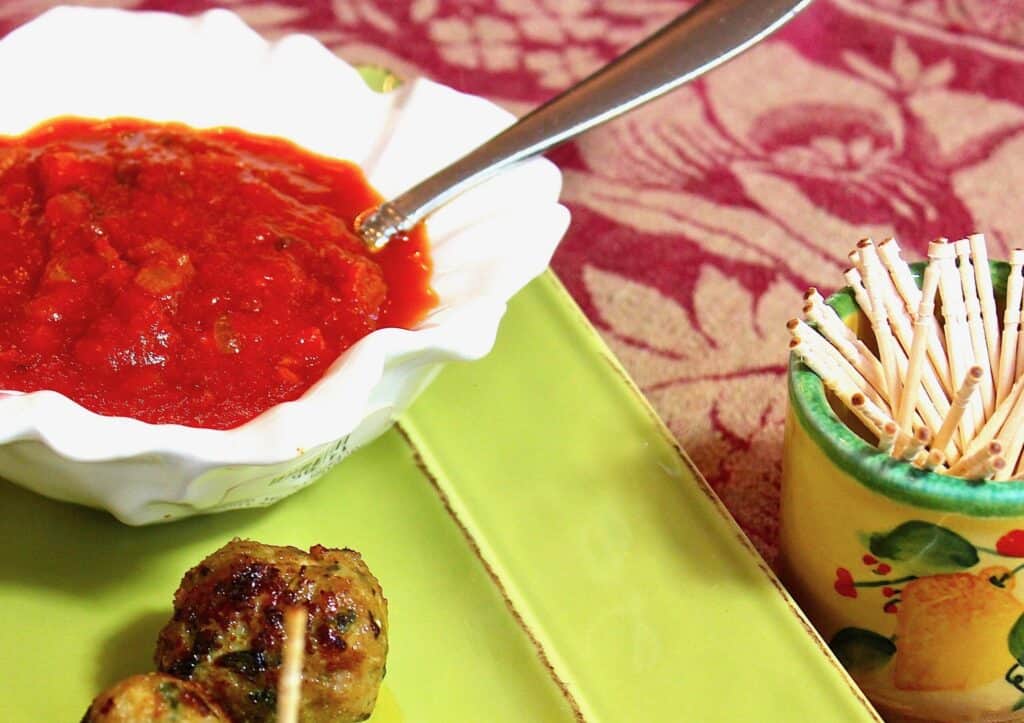 How do you try to eat more healthy during the holiday season? I'd love to know!
This post contains affiliate links. Please refer to our full disclosure here:
Do you enjoy La Bella Vita Cucina?
We'd love to have you as part of our community!
Subscribe below to get the latest recipes, travel tips and gardening ideas straight into your inbox!