Classic Italian Risotto in Bianco
To over HALF of the world's population, the amazing grain of rice is LIFE!
So important to many cultures, rice is often offered in feasts and ceremonies, even considered 'the food of the gods'.
Most Americans think that all of our rice is imported from somewhere else . . . Asia, India, or Italy. And most Americans don't know that some of the early wealth of this country was based on growing rice in South Carolina and exporting it elsewhere! Sadly, it was a labor-intensive crop and contributed to the use of slaves. The Africans knew about cultivating rice and are credited to this day for the success of rice in the States. With machinery introduced after the use of human labor, the U.S. is now the SECOND largest exporter of rice (next to Thailand)!
The famous high-quality rice of South Carolina known as "Carolina Gold" is thriving ……. and is quickly grabbed up by tourists, natives, and online consumers that make this rice often very hard to get.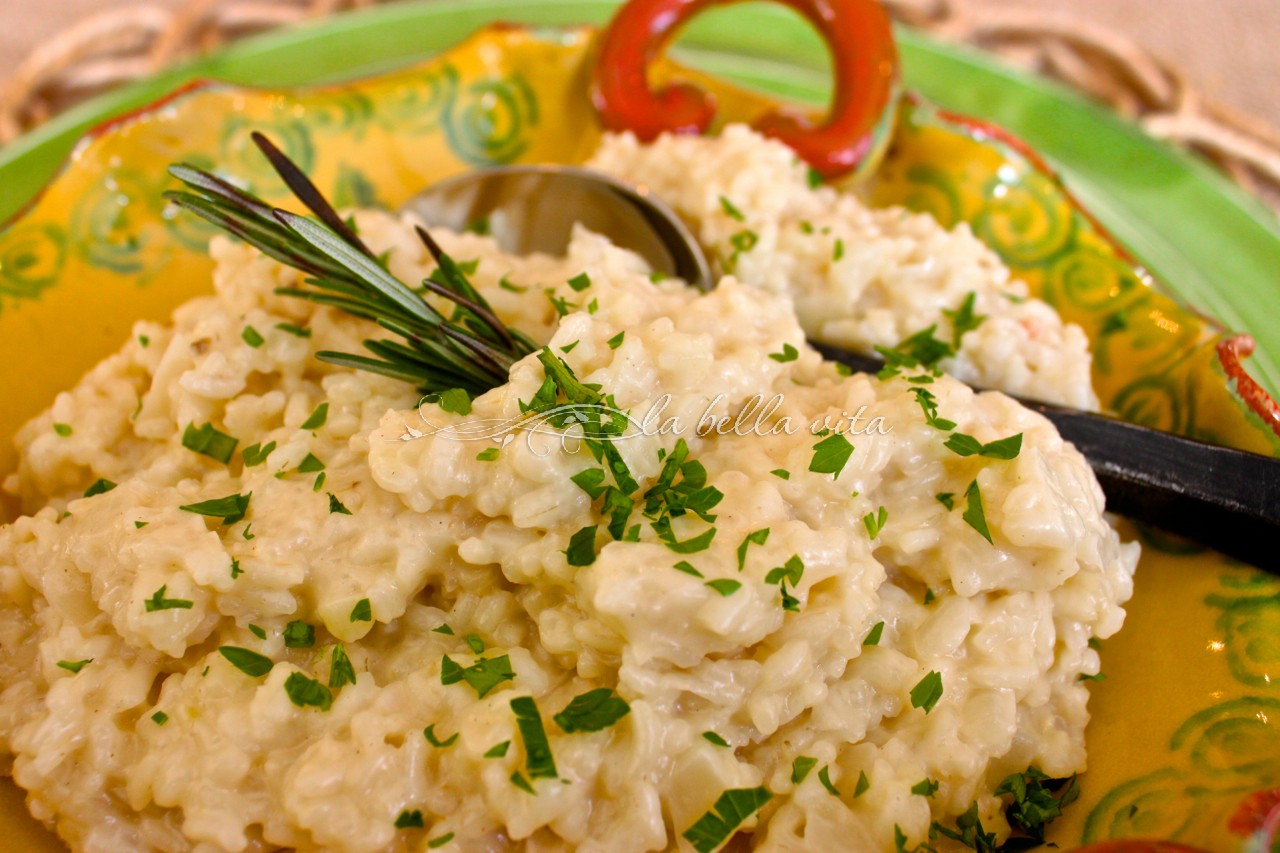 In Italy the first course of a meal, known as 'i primi' would never be missed. If pasta is not served, than certainly everyone enjoys risotto or soup. So many of these 'first dishes' are humble and come from peasant origins. Although over a century ago, risotto for the poor may have been the meal because it was all that was available to eat cheaply.
Today risotto is a meal in itself, simply for having the same busy lives in Italy as we have here in the States.
In Italy, one would use Arborio rice, and you can too anywhere. But in South Carolina, "Carolina Gold" rice is of such high quality that it can be used to make superior risotto!
And that's what is shared with you here! Classic Italian Risotto in Bianco (White Risotto) made with locally grown rice. This is the most basic and classic of all Italian risotte, in that not only is it white (bianco), but also it's name signifies it simplicity . . . no saffron, mushrooms, tomatoes or other vegetables, and no meats . . . total delicious restraint!
Print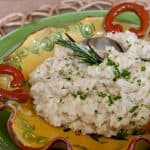 Classic Italian Risotto in Bianco
Author:
Prep Time: 0 hours
Additional Time: 0 hours
Cook Time: 0 hours
Total Time: 0 hours
---
2 Tbsp. butter
1 medium onion, minced
1 large clove garlic, minced
2 cups Arborio or Carolina Gold rice
7 cups chicken broth (homemade is best)
1/3 cup dry white wine
Freshly cracked sea salt and black pepper to taste (needs a lot!)
2/3 cup heavy cream
2 Tbsp butter
2 cups freshly grated Parmigiano-Regiano cheese
Garnish: minced Italian parsley, chives or rosemary
---
Instructions
In a large frying pan on medium heat, melt butter.
Add the onions and saute' for 6 -8 minutes. Do not brown them.
Add minced garlic and saute' for another 2 minutes on medium heat so that the garlic doesn't burn.
With a long wooden spoon, stir the rice into the onions and garlic mixture.
Heat for about 3 – 4 minutes on medium heat.
Add and stir in the white wine until it is competely absorbed into the rise..
Begin to add the chicken broth to the rice mixture ONE CUP AT A TIME.
After each cup of broth is added, stir continuousy until the liquid is absorbed.
Add the next cup of broth and repeat the process.
Added liquid must be absorbed before the next cup is added.
Finish this process for all 7 cups of chicken broth and absorption into the rice.
When this is finished, add the heavy cream and 2 Tbsp. of butter. The risotto should have a slight firmness to the tooth, not hard and not soft.
Again, stir continuously until completely absorbed.
Add all of the grated cheese and stir to in corporate; the cheese will also melt while on a medium heat stove.
At this time taste again for any necessary addition of freshly cracked salt and pepper and for any additional cheese necessary.
Allow the risotto to rest for 2 minutes in order to swell up while absorbing all of the flavors.
Use heated plates and serve the risotto immediately.
Garnish with minced Italian parsley, chives, or rosemary.
Pass freshly grated Parmigiano-Regiano cheese to guests.
---
Notes
IMPORTANT: RISOTTO is finished cooking when the rice has a little firm bite (al dente) — IT IS NEVER MUSHY or to be overcooked. If you prefer a more creamy risotto, add more cream, but NEVER serve risotto either soupy/runny or dry. Like creamy pasta, risotto has a flowing movement on the plate and yet still be able to stand in a mound on a spoon.
.
Enjoy this recipe for Classic Italian Risotto in Bianco !
.