How to Make Hand-Made Italian Ravioli

I haven't had home-made ravioli in years! Making them is just so easy, so there's really no excuse!
My mother lives with us in the Carolina's during the cold, harsh winters of Iowa . . . and with her this year, she brought some frozen Swiss Chard grown in my cousin, Jackie's garden of perfection! If you could only see what grows in that garden of hers every year . . . she totally puts mine to shame!
So ravioli is on my 'must-make' list of recipes this winter.
For our Super Bowl spread that is!
My mother has really been enjoying this 'blogging' and 'instagram' thing. She is an extraordinary Italian cook and is happiest in her 'cucina'. So she's been really getting into this, just saying to me a few weeks ago, "So Roz, what are we going to do for the Super Bowl spread this year?"
Beginning with a discussion of making "easy, simple-to-put-toegether, small appetizers", we somehow ended up deciding that we're going to have home-made ravioli . . .
Home-made Ravioli for the SUPER BOWL?
Who else, but my mother, would decide to go that far?
But hey, who's complaining? Not me! This is my favorite filled pasta! And I don't have to wait for a holiday to enjoy them as we always wait for Tortellini in Brodo for Thanksgiving, Christmas, and Easter!
Further down, you'll find the vegetarian filling that we use . . . it's swiss chard-based. Yes, you can use spinach, but we've grown up using garden-fresh swiss chard. So change it out using spinach, or however you please; after all, you need to please YOUR palate and not mine.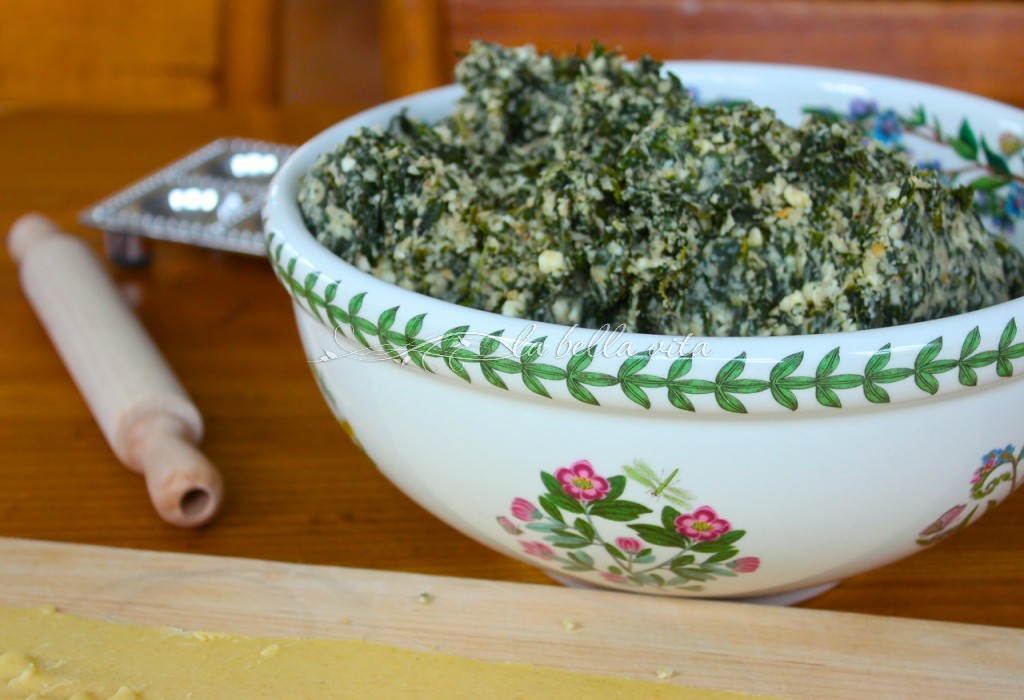 Make the ravioli filling ahead of time
After making the filling ahead of time, prepare the fresh pasta. Let it rest awhile and then roll it out into nice long sheets. My mother has fallen in love with the Kitchen Aid Mixer pasta roller attachment (it's hers, not mine, at nearly $300). I still use the hand-cranked roller!
Here is a professional video tutorial using the Atlas Pasta Roller (the #1-selling pasta rolling machine). I love this; very easy to follow, with a little jazzy music, and totally educational for those wanting to learn how to make homemade pasta from scratch. Then I will show you how to use the Kitchen Aid pasta attachment.
I've made it super easy for you to purchase this beautiful pasta machine for either your own kitchen or as a wonderful gift to someone that you know loves to cook and desires to prepare fresh pasta! Here's the link (and it might even be on sale!!)
Marcato Atlas Pasta Machine, 180-Millimeter Pasta Machine w/ Pasta Cutter, Hand Crank, and Instructions
or click on the photo of the Atlas Pasta Machine here:
and if you want to use the electric motorized version of the Atlas Pasta Machine, here is the link to purchase the electric attachment:
Marcato Atlas Pasta Machine Motor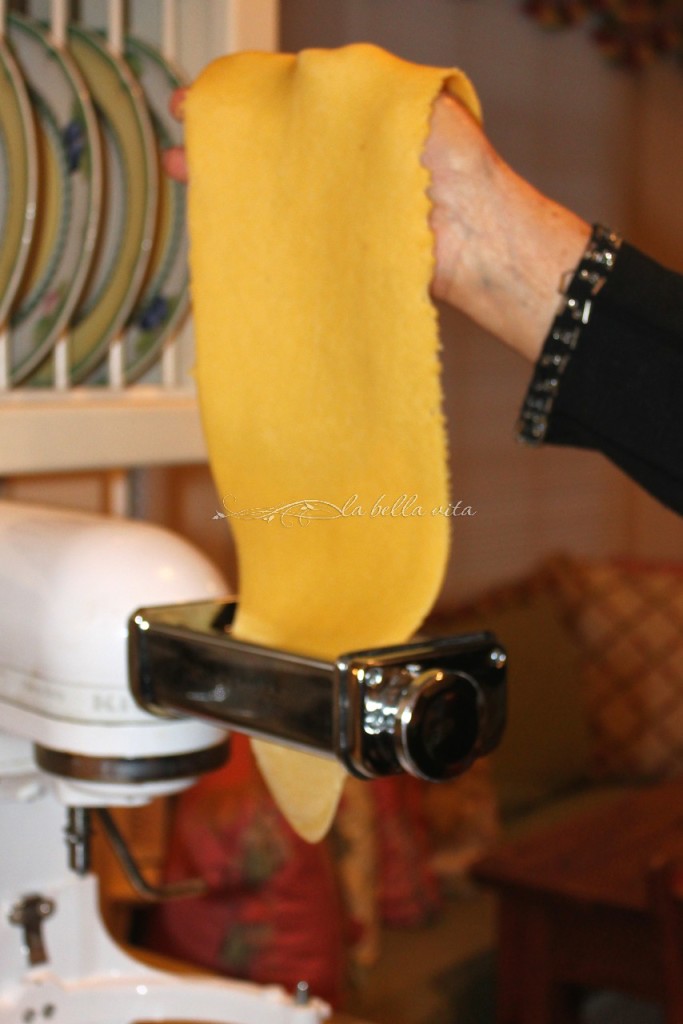 Begin by rolling out thicker layers of freshly made pasta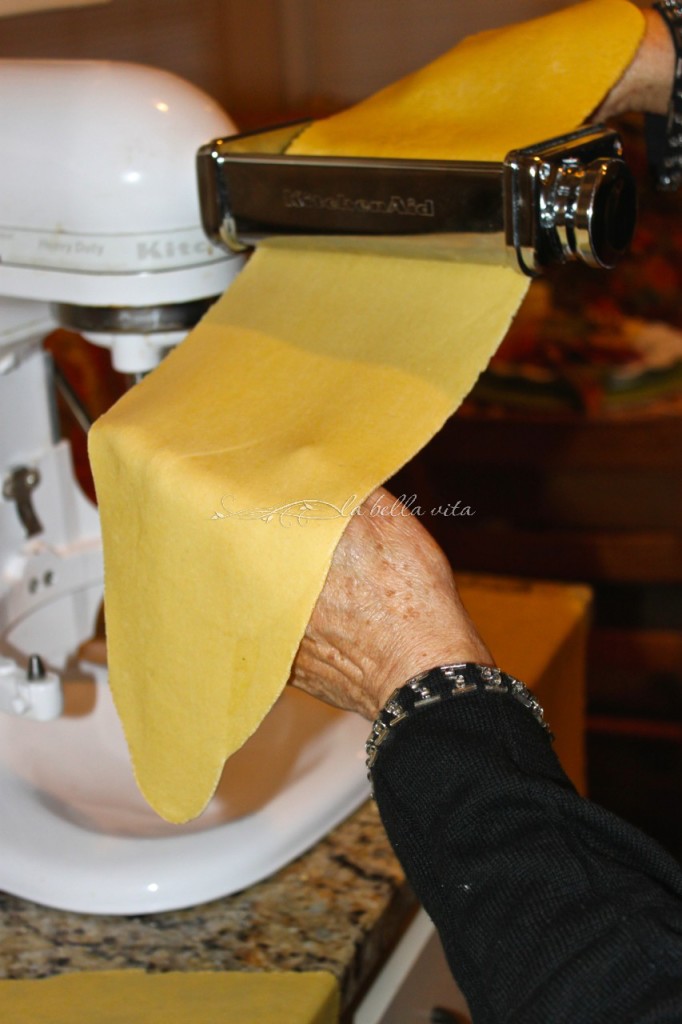 Run the sheets of pasta through a few times, each time setting the pasta roller on a thinner setting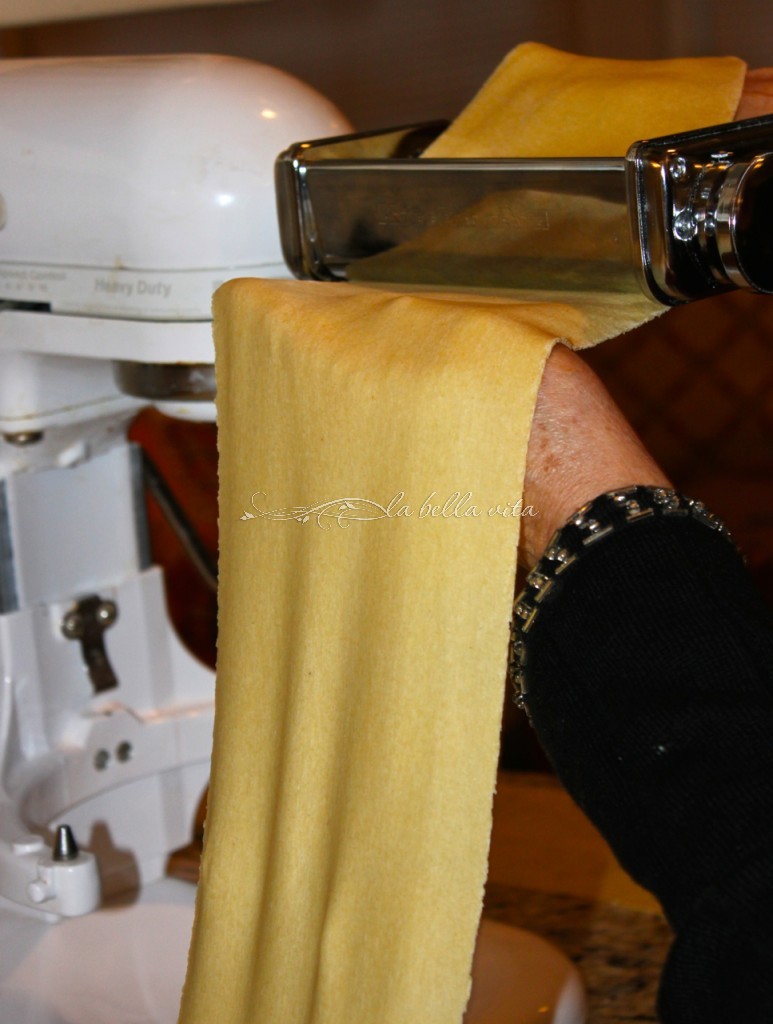 From thick to thin, carefully catch the pasta sheets as they press through
If you prefer to make your pasta with the nifty Kitchen Aid Pasta Roller Attachment, here is the quick link to purchase it (and it was on sale for 50% off when I posted this!):
KitchenAid KSMPRA 3-Piece Pasta Roller & Cutter Attachment Set
or you can click on the photo of the Kitchen Aid Pasta Roller below:
As you can see below, take a damp-dry towel and COVER the pasta that you're not working on at the moment to prevent it from becoming dry and un-workable. When too dry, the pasta will break open as you're making ravioli (or any stuffed pasta such as tortellini) and it will wrip and tear, leaving 'holes' that the filling will fall out of and also break during cooking.
Trust me, you don't want that to happen!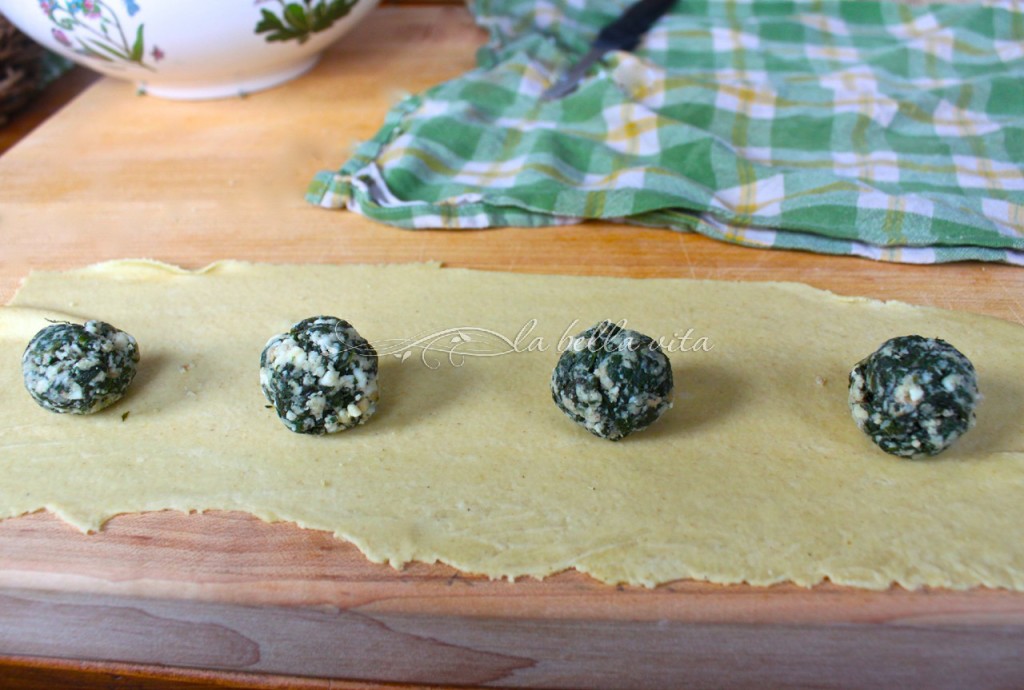 roll small balls of filling and lay them out on the sheets of fresh pasta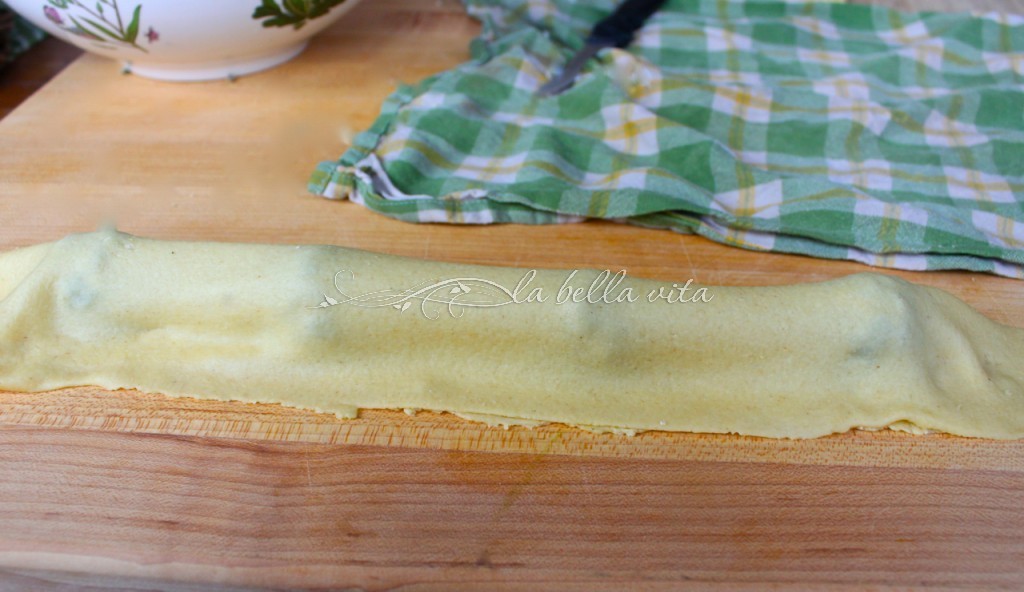 gently fold over the fresh pasta sheets to cover balls of filling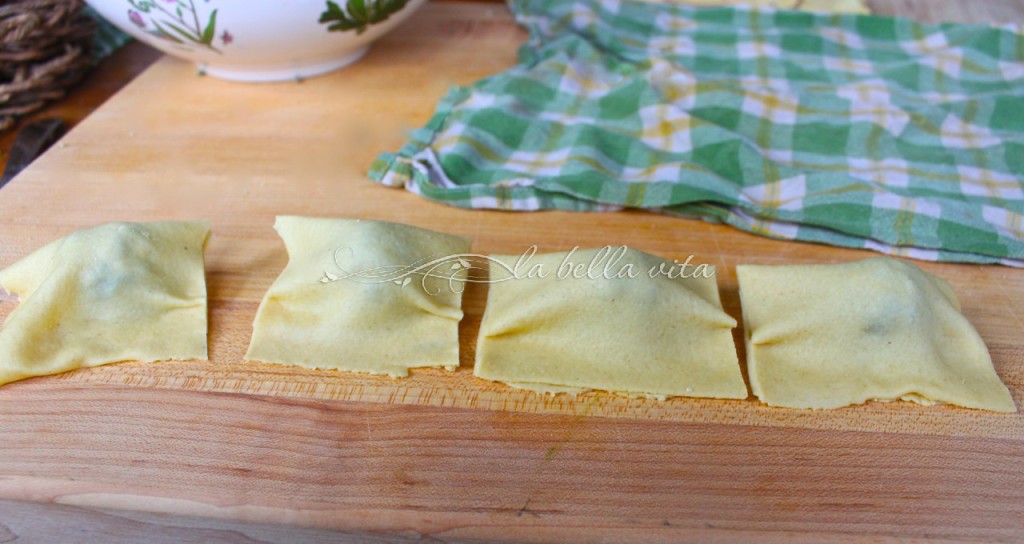 with a wide amount of pasta all around the filling, slice & separate individual ravioli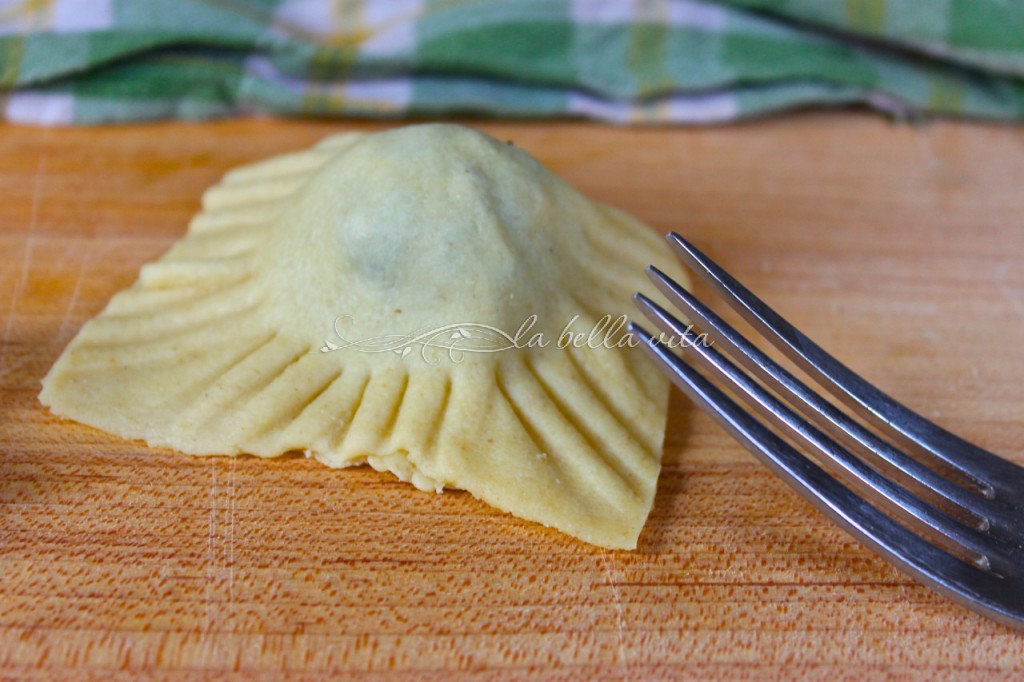 press edges with a fork to seal each ravioli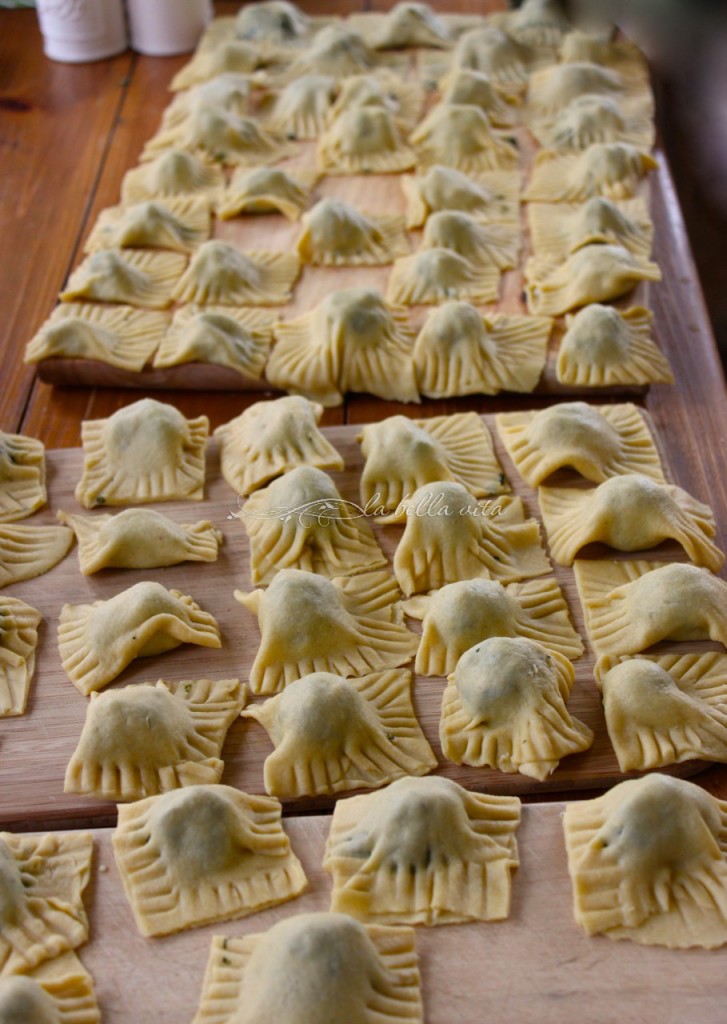 lay out the ravioli on wooden boards to dry if you are going to freeze them. . . however if you are having them for your current meal, they can go straight into the boiling pot of water right then and there.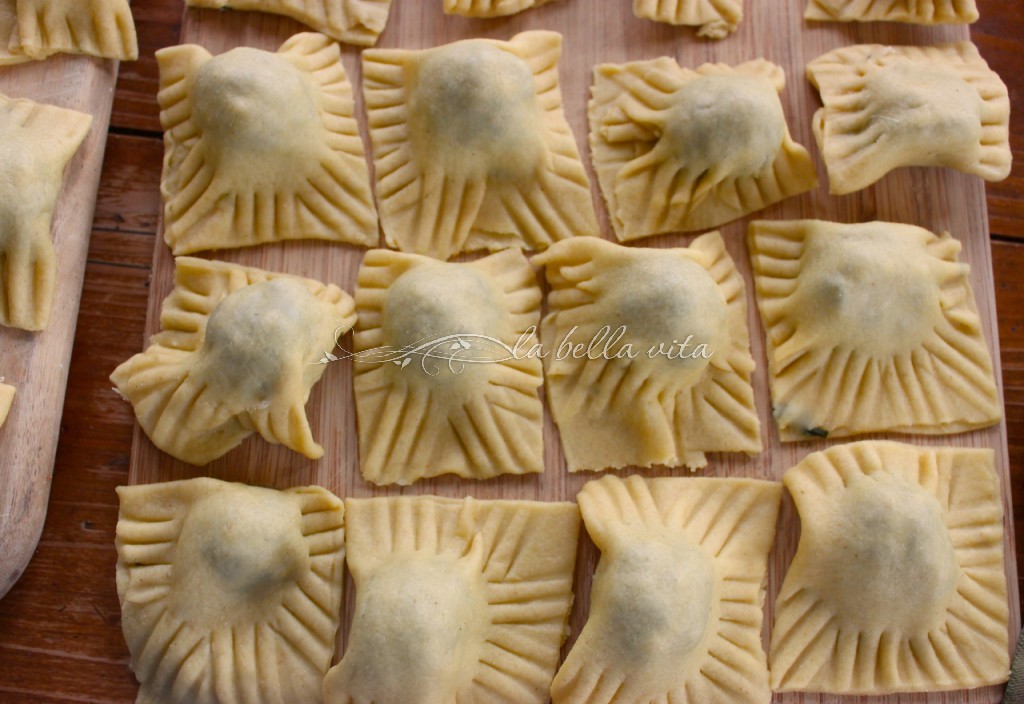 beautiful bundles of love!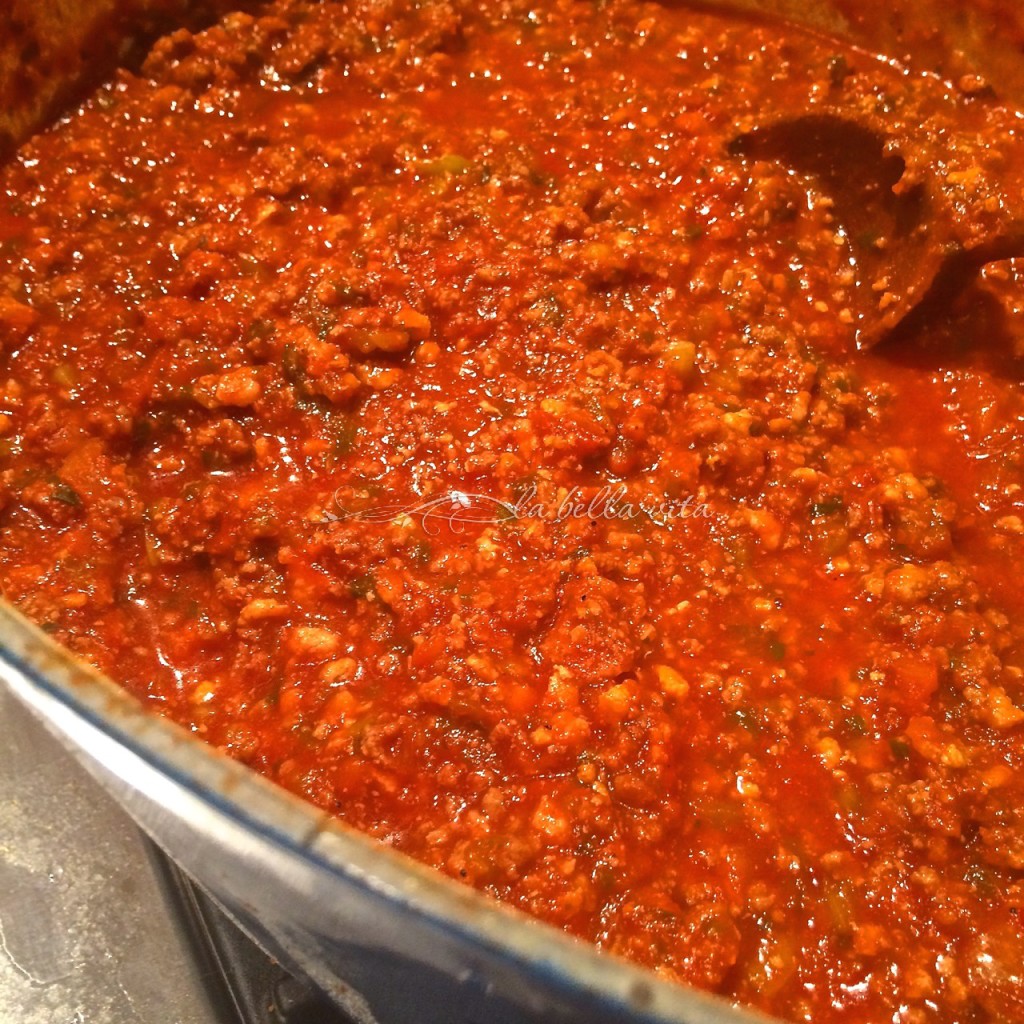 heat your favorite sauce — I use my family's Bolognese sauce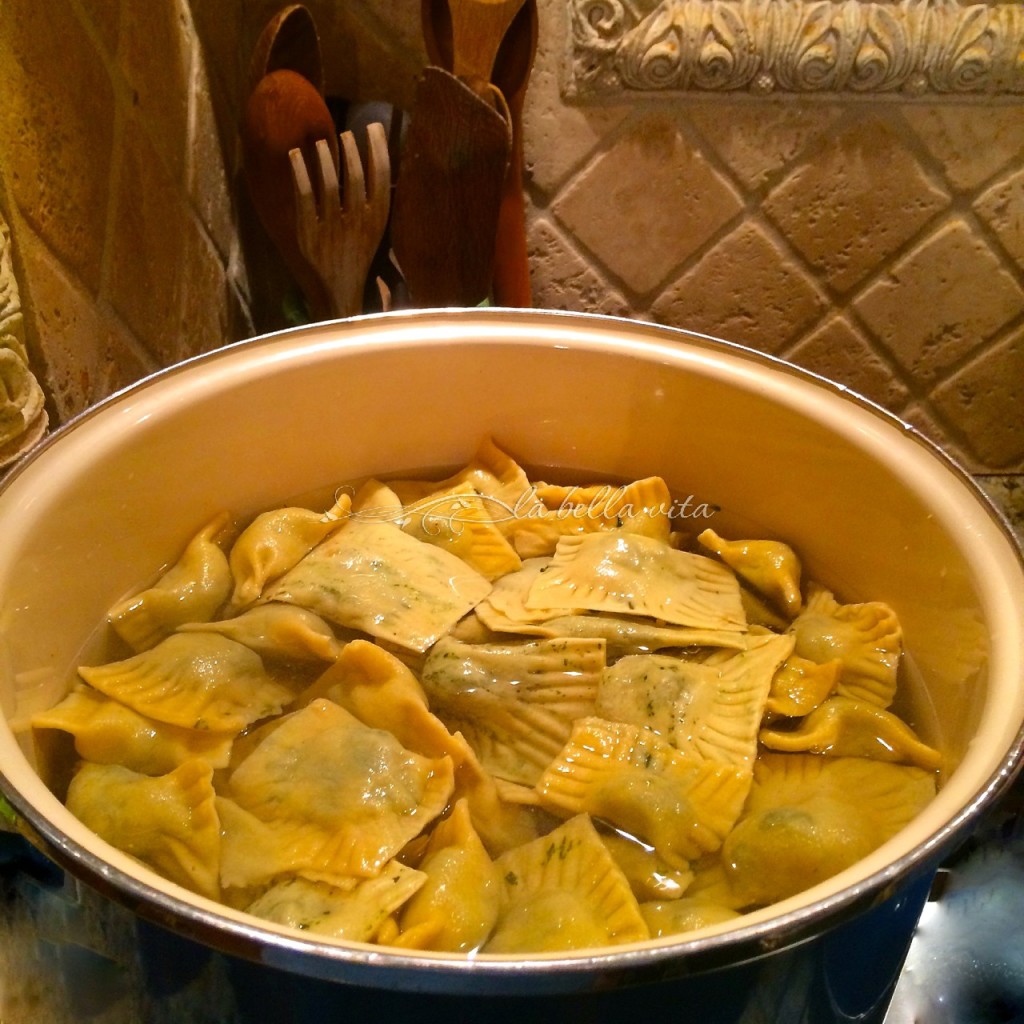 in a very large deep or wide pan, bring water (with several tablespoons of salt added) to a boil and cook ravioli until al dente . . . about 7 minutes or so
If you need a great cookbook on making fresh pasta, gnocchi, or risotto, here's my favorite book available.
I highly recommend it!
And here's the pasta recipe for you!
Print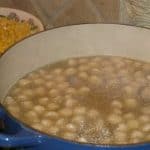 Pasta dough that Roz uses for every pasta shape!
Author:
Prep Time: 0 hours
Additional Time: 0 hours
Cook Time: 0 hours
Total Time: 0 hours
---
2 jumbo eggs
1 tsp. salt
2 Tbsp. water
2–1/2 – 3 cups "00" flour from Italy
1 Tbsp. whole milk (this helps the pasta seal together when twisting the tortellini)
---
Instructions
You can mix this the old-fashioned way by making a "bowl" of flour on a wooden block, placing the wet ingredients in the center of the 'flour bowl' and gently adding the flour in with a fork until completely mixed, OR you can mix the dough in a food processor until it has the consistency of cornmeal.
This finished dough should be well blended, but NOT sticky. If it is sticky, cut the dough into 3 sections and add 1 Tbsp. flour to each. If, on the other hand, it is too dry and crumbly, add 1 – 2 tsp. water.
Knead the pasta dough for 2 – 3 minutes.
Put into plastic bag and let rest for 30 minutes.
For every egg that you use, it will make about 100 tortellini, therefore this recipe makes 100 tortellini (at the correct size that is).
---
.
Print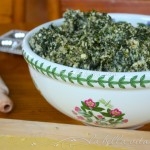 Roz's Family RAVIOLI Spinach & Cheese Filling
Author:
Prep Time: 0 hours
Additional Time: 0 hours
Cook Time: 0 hours
Total Time: 0 hours
Category: Pasta
Cuisine: Italian
---
1 cup whole milk *see notes below
2 large eggs *see notes below
2 packages frozen spinach or swiss chard
2 cups freshly-grated parmigiana cheese
1 tsp. freshly-grated nutmeg
1/2 tsp. allspice
1/2 tsp. salt (and then to taste)
black pepper to taste
1 cup plain breadcrumbs
---
Instructions
Heat milk on a medium-low stove burner.
Add eggs, but do not cook the eggs, just keep this mixture 'warm'.
Cook frozen spinach according to package instruction and then drain very well.
Add strained spinach (or swiss chard) to the warm milk/egg mixture.
Add the parmigiana cheese and mix in well.
Add nutmeg, allspice, salt, and pepper. Taste and add more if desired.
Add the breadcrumbs,
At this point add more parmigiana cheese if desired . . . and make any other adjustments you feel is warranted for your taste preferences.
Form into nice 1″ round balls and place on the pasta dough strips.
Follow the photo instructions for rolling out ravioli shapes.
Bon Apetito!
---
Notes
1-¼ cup of ricotta cheese can be substituted for the milk and egg, mixture.