Frittata with Swiss Chard and Italian Cheese

Eggs! Beautiful and delicious eggs!
I love any recipe in which eggs are the star of the show!
Anything from omelettes, to quiche, to breakfast casseroles, to deviled eggs, to Italian frittata! Eggs rule in my kitchen!
My mother and I recently made handmade ravioli with a swiss chard filling and we had a little bit leftover with no more pasta to fill. So instead of popping that extra filling in our mouthes and finishing it off right then and there, my mother said to me, "My mother used to take the left over ravioli filling and make a frittata with it."
I was never fortunate enough to know my maternal nonna. She died prematurely during childbirth of my uncle Joseph, who also died as an infant two weeks later. My mother lost her own mother at a young 17 years of age.
So I decided to make this frittata and surprise my mother with it one morning. She loved it! And if my mother says that something is delicious, trust me, it is! I hope it brought back memories of my nonna Catherine Lazzaretti Santi.
This is so easy! All I did was take 5 jumbo eggs and mix in the leftover swiss chard filling (about ⅔ of a cup), and blend in a half cup of pecorino romano cheese. I added some fresh cracked black pepper and that was it.
Make sure your 'little' skillet is oiled well so that the frittata doesn't stick to the pan when removing and placing onto your plate.
Here's the link for the swiss chard filling that I used: Swiss chard and cheese ravioli filling.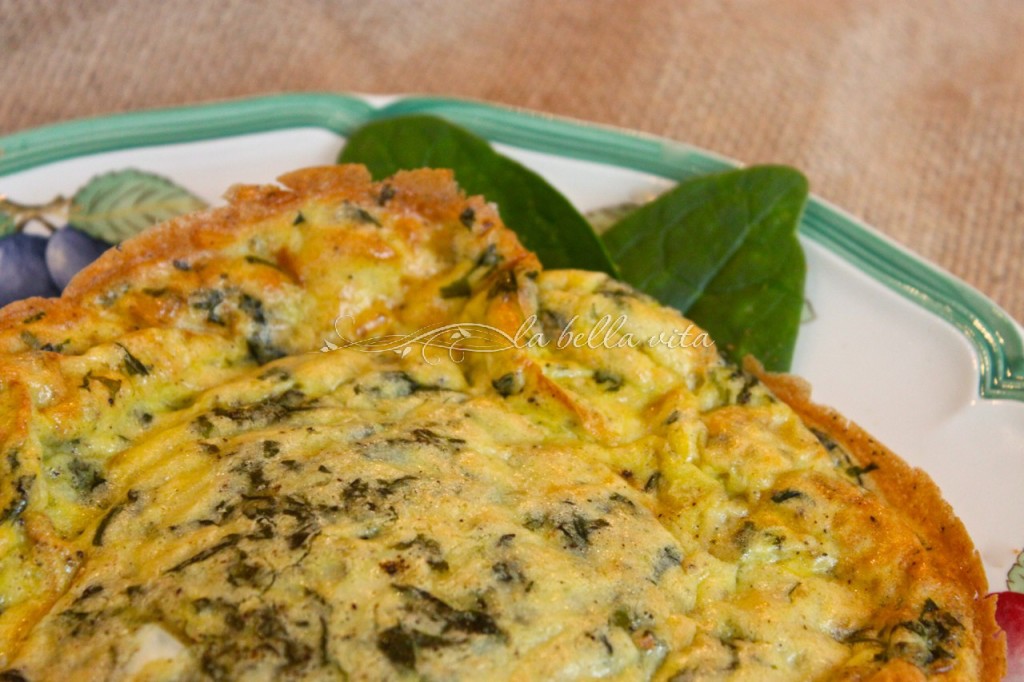 .
The Italian word frittata derives from friggere which means fried, a term used for cooking eggs in a skillet.
"Frittata" is a Italy's distinct version of an omelette", and differs in five ways:
A frittata always has at least one optional ingredient included, whereas an omelette can be made with eggs only.
Frittata and such ingredients are combined with the beaten egg mixture while the eggs are still raw rather than being laid over the mostly-cooked egg mixture before it is folded, as in a conventional omelette.
Eggs for frittata may be beaten vigorously to incorporate more air than traditional savory omelettes, to allow a deeper filling and a fluffier result.
The mixture is cooked over a very low heat, more slowly than an omelette, for at least 5 – 10 minutes, until the underside is set but the top is still runny.
The partly cooked frittata is not folded to enclose its contents, like an omelette, but it is instead either turned over in full, and cooked grilled briefly or baked in a very hot oven and finished under a the oven broiler to cook the top layer for around five minutes.
Print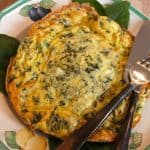 Frittata with Swiss Chard and Italian Cheese
Author:
Prep Time: 0 hours
Additional Time: 0 hours
Cook Time: 0 hours
Total Time: 0 hours
---
Description
This recipe was first prepared by my maternal nonna, Katherine Lazzaretti Santi and shared with me by my mother Retha Santi Corieri. It is great hot or cold, and as commonly done in Italy, can be taken to work for lunch or on a picnic or outing.
---
5 jumbo eggs
Left-over ravioli swiss chard filling
1/2 cup grated pecorino romano cheese
---
Instructions
Pre-heat oven to 450 degrees.
Beat the eggs.
Add the swiss chard, cheese and cracked black pepper.
Whisk together.
In a metal-handled, teflon-coated, well-oiled small skillet, pour the egg mixture into the pan (I use olive oil).
Cook on a low to medium heat for about 10 minutes.
While cooking, gently lift the sides of the frittata to allow more of the uncooked egg mixture to drizzle down into the sides of the pan and cook.
The top of the frittata will still be runny.
Place the skillet with frittata into the hot oven.
Bake for another 5 minutes, keeping your eye on it to see that it isn't overcooking.
Turn on the broiler and broil the frittata until slightly golden brown around the edges.
Serve immediately.
Can be refrigerated and enjoyed cold too.
Perfect to pack for a picnic or lunch!
---
.
.