Italian Chicken Soup – Pastina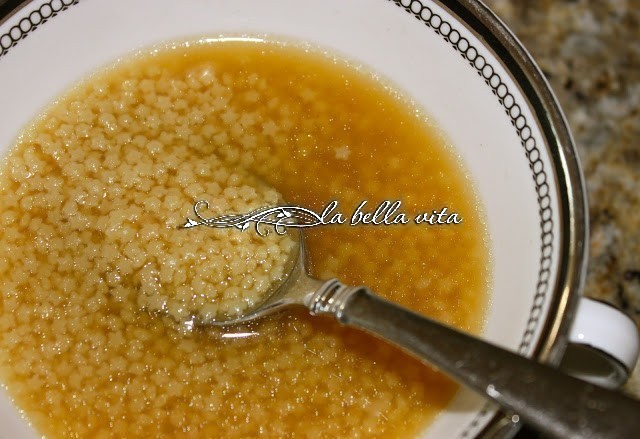 Chicken soup . . . simply the perfect remedy for when you're feeling sick and 'under the weather'.
Even though this cherished, traditional soup is part of our childhood memories, it still works for adults! I have been sick with bronchitis for over 3 weeks now, stubbornly fighting it off, and the ONLY thing that helps my sorry, scratchy voice and vocal chords is simple . . . hot . . . chicken noodle soup.
Every day I 'teach others' for my vocation. I TALK. I use my voice . . . whether that is in delivering class lectures at my university, or in advising sessions with my students, or in professional conference presentations . . . I TALK in my career more than any other form of communication.
This is my full-time LIFE. My delightful life in food blogging is something I joyfully engage in 'part-time on the side' and through which I never use my physical voice. I use my computer keyboard to "speak" and engage with each of you.
Writing, cooking and blogging and using my fingers to talk to you is easy to do when one is as sick as I am when the weather changes seasonally.
During my weekly long-distance phone chats with my sister, I know something is wrong when my sister starts our conversations with "YOU SOUND HORRIBLE!" And after 3 weeks of hearing this, I know that I need the extra loving help of comfort food — Chicken Noodle Soup! OK, I agree with some of you that 'Yes, I'm so BAD' in that I'll do whatever I can to help heal an illness within my own natural ability to do so before I check in with my doctor. I'm that stubborn . . . and maybe, possibly even stupid! Yup, guilty as charged!
Enter the time-honored home wisdom of eating 'chicken soup'. Books have even been written about "Chicken Soup for The Soul".
If you're Italian or know an Italian, you're familiar with "Italian Pastina Soup". This is just a simple chicken noodle soup made with extremely tiny little pasta noodles known as 'pastina'.
Comfort food at best for those in your life who are sick!
I've been inhaling this humble soup lately. It soothes my sore throat, and somehow helps me get the rest that my body needs to heal . . . that's right: you can't forget to get a lot of sleep.
Another thing that I truly swear by besides this delicious soup is to drink lots of hot 'de-caffinated' green tea (not black tea) with fresh squeezed lemon juice, drizzled with local honey.
Here is the link for you to make the BEST HOME-MADE CHICKEN BROTH <–Click on the title that leads you through a link to the recipe! (This is also known as "Brodo" — pronounced "BRO-dough" in Italian). Trust me this is SO EASY TO make and to FREEZE AHEAD of time so that you can just pull some out of your freezer to use whenever you need pure, pesticide-free chicken broth in your recipes!
For a more thick version of Chicken Noodle Soup, you may love the following recipe for Creamy Chicken Noodle Soup!
If you prefer more of a creamy rather than a clear chicken noodle soup recipe, the recipe above is an absolute delicious winner!
And here is the most important, traditional, and cherished soup recipe from my family to yours: Tortellini in Brodo (Tortellini in Broth). This recipe is so special to my family and so time-consuming to prepare, that we only serve it for Thanksgiving, Christmas, and Easter. Our holidays would not be complete without a hot bowl of Tortellini served in the true traditional Northern Italian style — in BROTH!