Crunchy Chopped Thai Salad with Peanut Dressing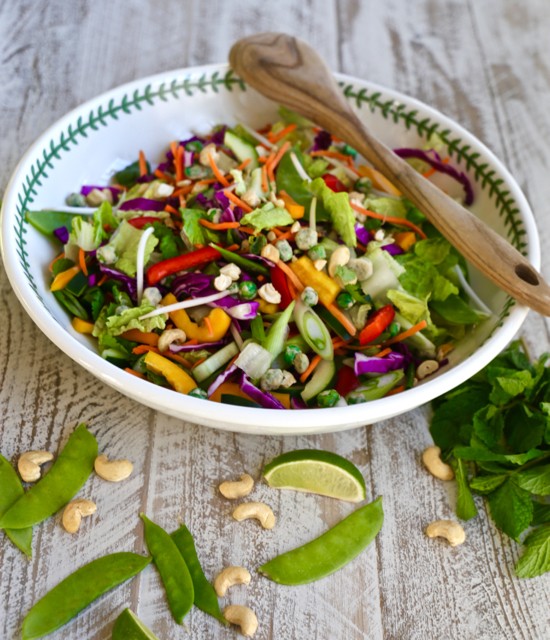 Oh my! This salad! Just phenomenal!
I just whipped up this uber-healthy Thai salad today and devoured a huge bowlful — and without any guilt! The creamy dressing has hints of citrus infused with peanuts and herbs. There's SO MUCH to love about this salad!
First of all it's full of delicious and colorful goodies to taste with your eyes first: red and yellow bell peppers, purple cabbage, green snap peas, and lettuce, and orange carrots! Almost every color of the rainbow is included in this beautiful salad, except blue. Any veggies can be used though!
Plus, the veggies all have a crunchy texture amidst a creamy peanut dressing. Gotta love texture in a fresh salad! It's also great to add some cooked chicken strips for a much heartier dish.
It's such a versatile salad since you can literally add your favorite chopped vegetables. I'm not a big kale fan, but if you are a kale lover, you can toss that in too. I love crunchy romaine lettuce and used that. I would not use delicate spring baby greens though since the other chopped veggies are to heavy for flimsy types of lettuce.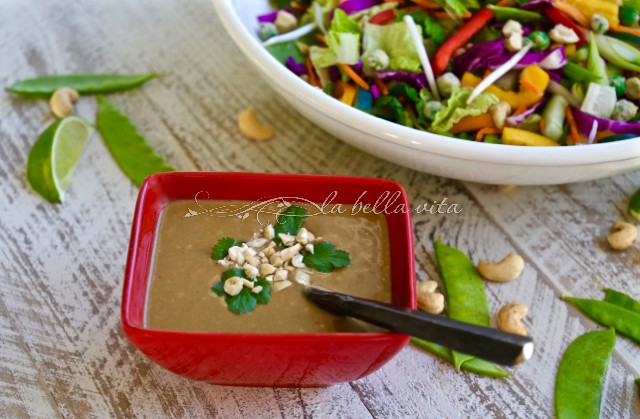 .
I also used cashews instead of peanuts in the salad simply because I love the creamy taste of cashews. The biggest flavor blast of this salad is from wasabi dried peas! I love those little spicy monsters and thought that they'd really take the flavor combination to a higher level. But if you don't like the heat of wasabi, then simply leave them out.
.
.
Colorful, power veggies to cut up . . . this takes some time, so plan on that. It might even be fun to have everyone chop with you! Everyone is always in my kitchen anyway! That's where all of the fun begins in our house!
Don't let the long list of ingredients keep you from making this glorious salad.
Now many grocery stores offer pre-cut veggies if you're pressed for time. I just find cutting veggies in my kitchen is a really therapeutic thing to do. It's so nice to touch and feel what I'm cooking with.
.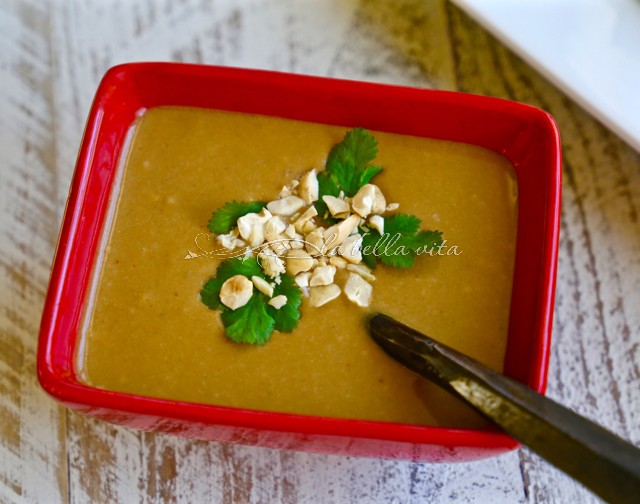 .
The dressing is simply heavenly and the start of the show: so light and creamy on the veggies that I advise making a double batch. It's a snap to purée this fresh dressing in a blender. I use both local honey and some sugar, but you use what you like to sweeten it up.
By now you know that I love garlic — so to get a punch of garlic-y flavor, I use 3 – 4 large garlic cloves. Again, use whatever amount you prefer. I diced the garlic and ginger before putting them into the blender to make sure that they were blended in better.
I like to keep the dressing separate because this salad is HUGE and if you refrigerate any leftovers, the veggies will get soggy and wilt with the dressing on them. Then you lose all that fantastic crunch. No fun.
.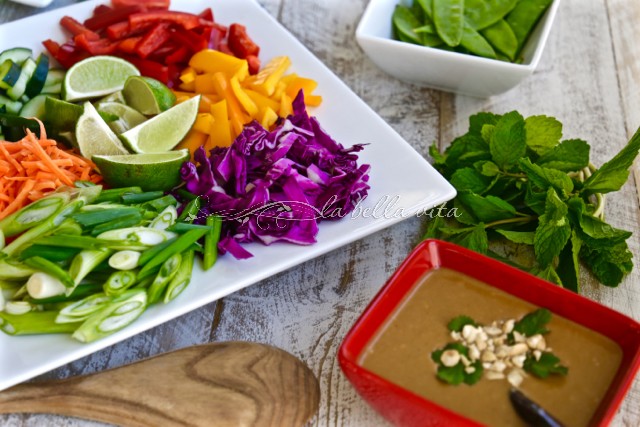 .
.
Place the salads on individual dishes and pass the dressing for guests to drizzle on to their desired amount. I also like to have small bowls of any ingredient that others can add: crushed cashews or peanuts, lime slices, chopped mint and cilantro, and wasabi dried peas.
Here's what I know that you'll love about this Thai Salad:
So-o-o-o ultra healthy and yummy at the same time with fiber and nutrition-packed veggies
lots of color for eye appeal
easy to make ahead and pack to take to work
great for a party where guests can get in on the chopping
chicken or tofu can be added for an extra protein punch
an insanely delicious Thai peanut dressing
the wasabi peas add a zingy flavor
So get ready for a flavor explosion to burst in your mouth! And do let me know what you think!
Print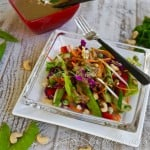 Crunchy Chopped Thai Salad with Peanut Sauce
Author:
Prep Time: 0 hours
Additional Time: 0 hours
Cook Time: 0 hours
Total Time: 0 hours
---
DRESSING
juice of 1 lime
4 garlic cloves, minced
2 Tbsp. soy sauce
2 Tbsp. honey
1 Tbsp. sugar
1 tsp. ginger, peeled and minced (or 1/2 tsp. ground ginger)
2 Tbsp. cilantro, minced
pinch of crushed red pepper flakes
1/4 tsp. ground sea salt
1/3 cup creamy peanut butter
4 – 5 Tbsp. rice vinegar
2 Tbsp. sesame oil
If too thick: Add either 1 Tbsp. water or 1 Tbsp. coconut milk; continue to add to desired consistency
SALAD INGREDIENTS
3 cups mixed baby salad greens
2 cups snap peas
1 cup purple cabbage, thinly sliced
1 red bell pepper, thinly sliced
1 yellow bell pepper, thinly sliced
1 small cucumber, cut in half, seeded and sliced
1 – 2 cups matchstick carrots
1 cups green onions, sliced on the diagonal
1 cup fresh bean sprouts
1/2 cup cilantro leaves, diced
2 Tbsp. mint, diced
1 cup cashews or crushed peanuts (use Trader Joe's "Thai Lime and Chili Cashews" if you can get them)
OPTIONAL, but great to add in
cooked chicken, diced or cut into thin strips
1 cup cubed mango or papaya
---
Instructions
Prepare the dressing
Add all ingredients into a blender and thoroughly blend until creamy.
Taste to see if you need to add more of an ingredient to suit your taste preferences.
Refrigerate until time to serve the salad. I make this a day ahead.
Prepare the salad
After prepping all of the ingredients, mix them well in a very large bowl.
Serve the salad with the peanut dressing so that guests can dress their own salads.
---
Do you enjoy La Bella Vita Cucina?
We'd love to have you as part of our little community!
.
.