Belgian Endive Bites with Salmon and Tuna Salad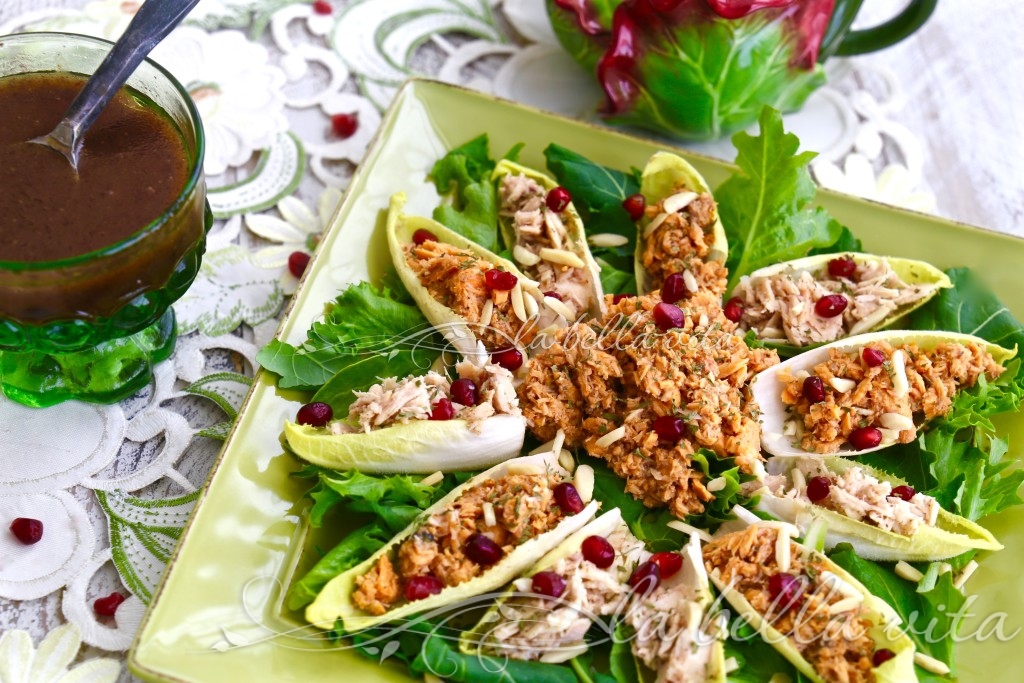 I know what I'm serving at parties from now on! These delicious Belgian Endive Bites with Salmon and Tuna Salad! AMAZING!
Light . . . healthy . . . easy finger food . . . elegant too!
The idea for this appetizer came from Angie from Angie's Recipes. She never fails to share some really healthy and delicious recipes! Thanks Angie, from your kitchen to mine.
I grew up enjoying my mother's humble tuna and salmon salads. All she did was take a can of good quality salmon or tuna, chop up some green onions, toss in a balsamic or simple Italian vinaigrette dressing, shake a little salt and pepper on top and that was it! An easy, humble, yet delicious salad was ready in minutes. And devoured even faster!
With the presentation of these salads on individual Belgian Endive leaves, sprinkled with some slivered almonds and pomegranate arils, it gets even better . . . prettier and healthier!
And that will make your guests and you smile!
.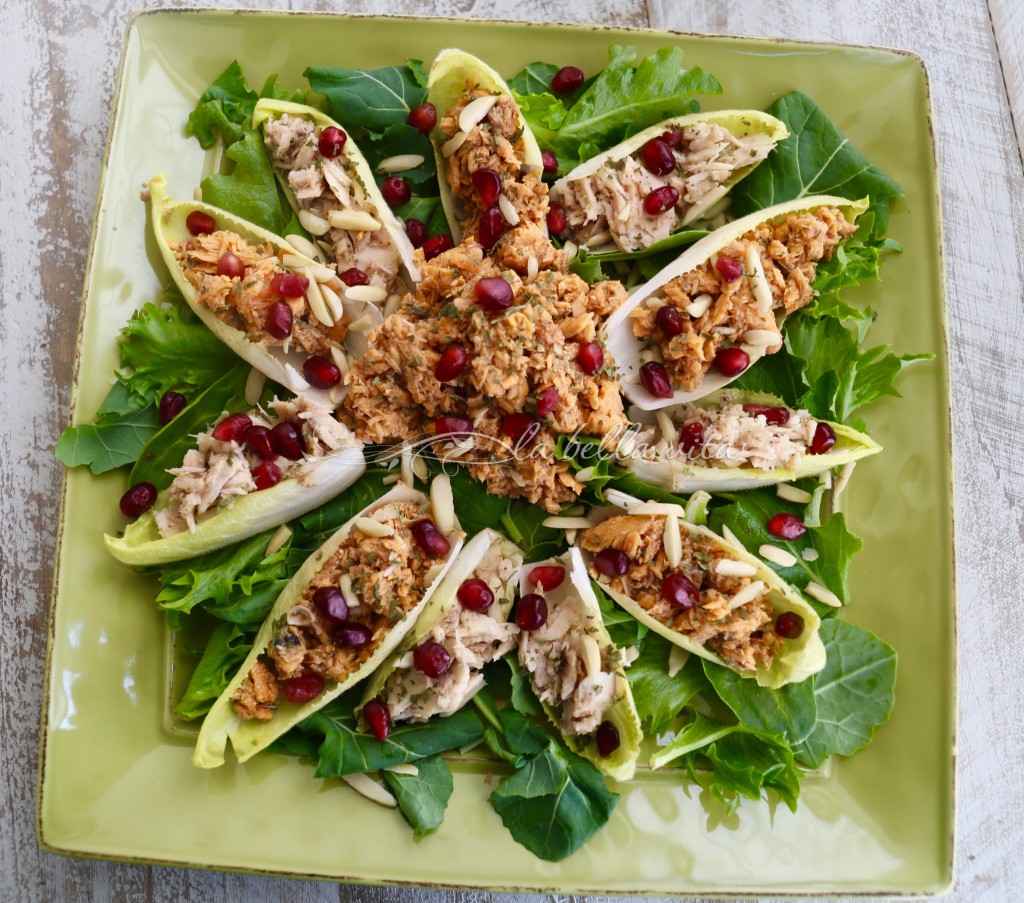 Lay the Belgian Endive bites with salmon and tuna salad on a nice green bed of baby greens; here I used baby kale, but it's entirely up to you what to use as a foundation for your presentation.
.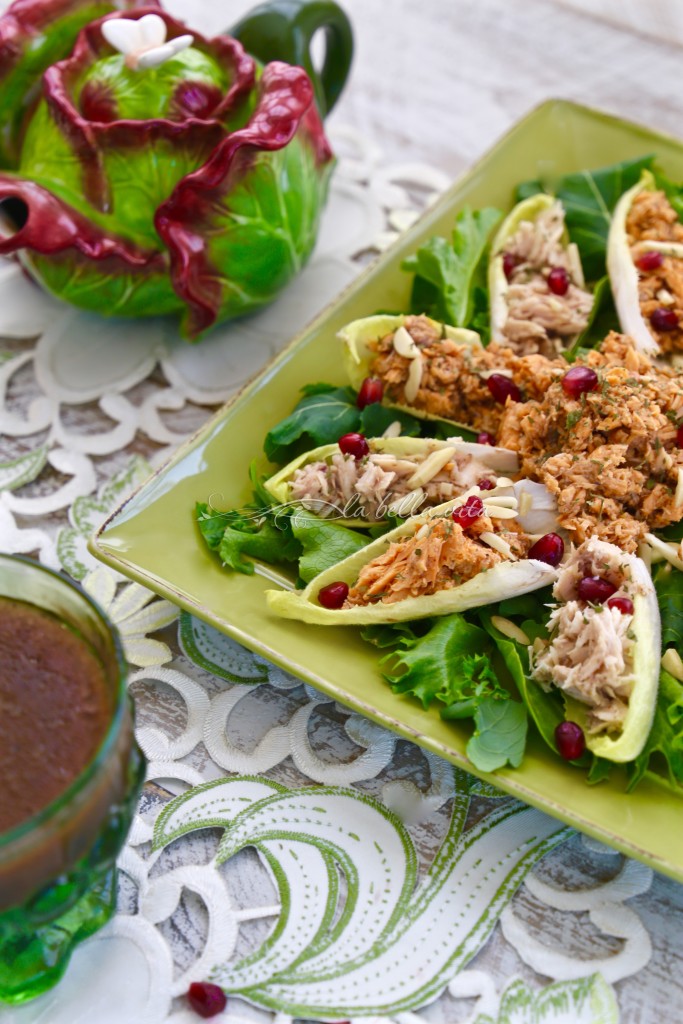 The pomegranate arils add a nice touch of color and a little tiny tang of flavor amidst the fish and savory vinaigrette!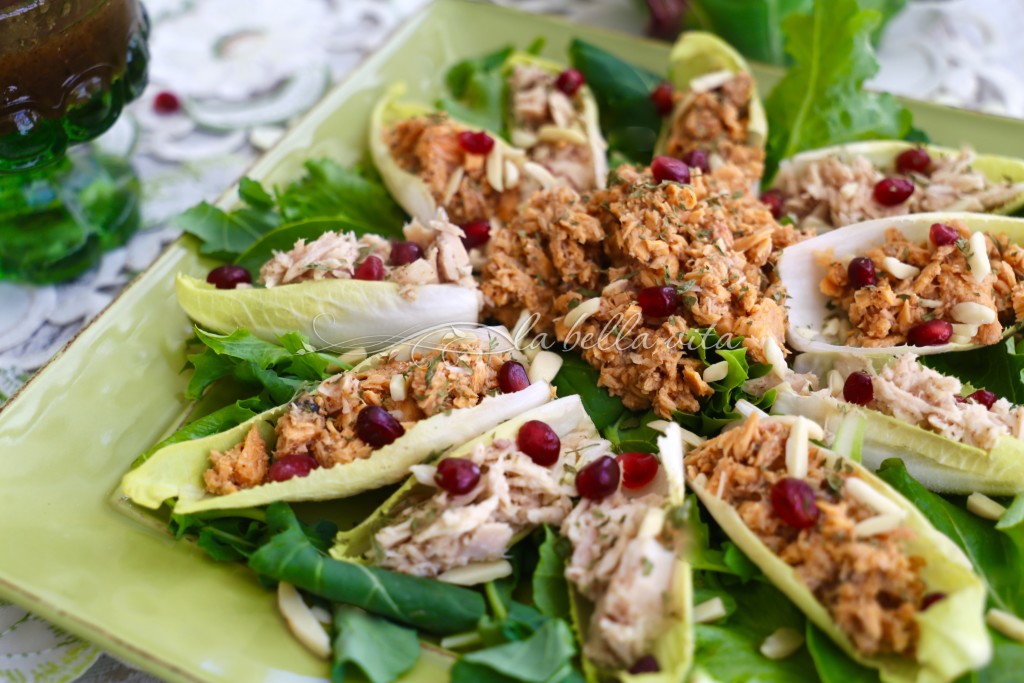 .
Print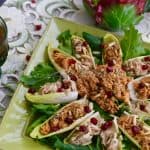 Belgian Endive Bites with Salmon and Tuna Salad
Author:
Prep Time: 0 hours
Additional Time: 0 hours
Cook Time: 0 hours
Total Time: 0 hours
---
1 large can red salmon, drained well
1 large can good quality white tuna, drained well
1 bunch green onions, sliced very thin or chopped
4 – 5 heads of Belgian endive
1/2 cup slivered almonds
1/2 cup pomegranate arils
2 Tbsps. fresh Italian parsley, finely minced
Your favorite Italian balsamic vinaigrette
Freshly cracked sea salt and black pepper
2 – 3 cups baby lettuce leaves
---
Instructions
In two separate small mixing bowls, blend 2 tablespoons of vinaigrette into the salmon and into the tuna (separately).
If necessary, add more vinaigrette to your desired taste.
Mix in the green onions.
Add salt and pepper to taste.
Lay a bed of baby lettuce on a platter.
Cut off the ends of the Belgian endive and gently pull off the leaves in one piece, untorn.
Alternating the leaves, fill with the salmon and tuna salads.
Lay on top of the lettuce bed.
Sprinkle pomegranate arils, slivered almonds, and minced Italian parsley on each Belgian endive 'bite' of salmon and tuna salad.
In a nice server, have extra vinaigrette available for guests.
ENJOY!
---
.
Here are a few more recipes that I found on the web that look very enjoyable: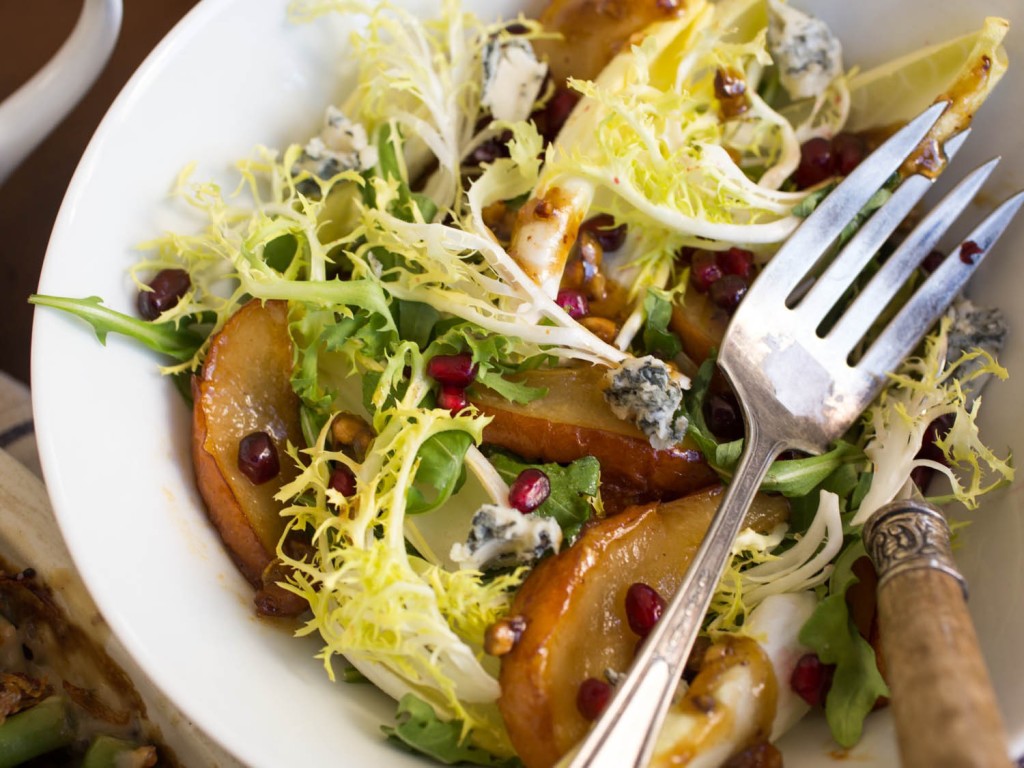 Roasted Pear Salad With Endive, Pomegranate, Blue Cheese, and Hazelnut Vinaigrette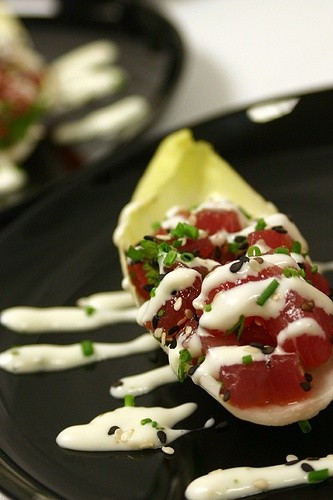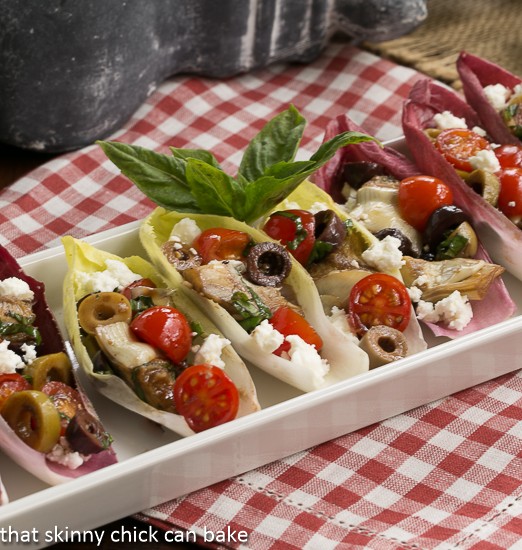 Mediterranean Belgian Endive Boats