Greek Wedding Cookies – Kourabiethes / Kourabiedes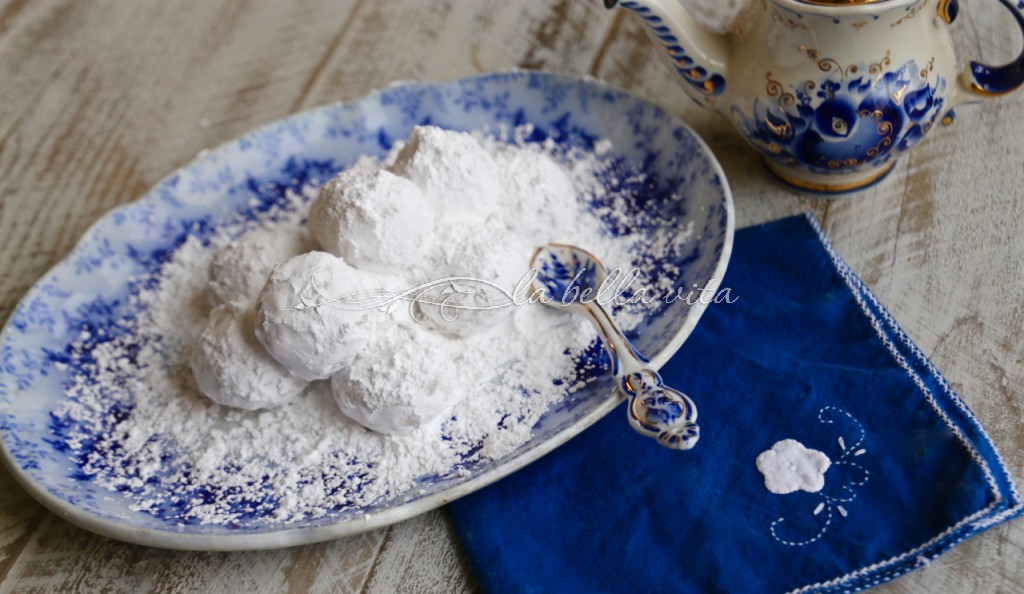 I've often been told by my Greek friends that Italians and Greeks are basically kissing cousins because there are so many things that they have in common with each other.  However, this is more true for Greeks and Southern Italians, since those in Northern Italy are more similar to Austrians and the Swiss.  Both countries are in the dreamy Mediterranean region; both Greeks and Italians have the same energized passion for living and a prevailing love of food and family.
In both Greek and Italian cuisines, there is a strong use of lemons, olives and olive oil, garlic, oregano, rosemary, almonds, honey, tomatoes, fish and lamb.  However, HOW food is prepared in each country is extremely different (i.e.:  I've never seen Italian food served on a stick as is common in Greece, nor have I ever seen or heard of stuffed pasta in Greek food).  Both countries are famous for their grapes that produce delicious wines as well.  For after dinner drinks, Greeks enjoy their ouzo liquor and Italians love their grappa liquor.  Natives of both cultures eat very, very small breakfasts, huge lunches that usually last 2 to 3 hours, and very small dinners.
Here's an interesting article to read about the connections between Italy and Greece:  Unna Facio Unna Razza (One Face One Race)
Weddings are a really big deal in both cultures, and with the release of the movie, "My Big Fat Greek Wedding", I decided to bake traditional Greek Wedding Cookies Kourabiethes / Kourabiedes to celebrate the occasion.  I love these cookies even if there isn't a wedding!  I think serving them for a tea or luncheon would also be perfect!
These cookies are also part of a time-honored traditional custom to serve during the Christmas season.  They are so light and fluffy with a softness combined with a little crunch from the almonds.  Greek Wedding Cookies, with their pleasantly rich butter flavor, just melt in your mouth!   Layers and layers of luscious powdered sugar add to the cookies' deliciousness!
For this recipe, I replaced the ouzo liquor with Amaretto to really enhance the almond flavor of the cookies.
When presenting these cookies, it's always nice to sprinkle a lot of powdered sugar all over the top of them again after they are stacked on a pretty plate.
These are simply little balls of Greek heaven!
The essence of Greek Wedding Cookies Kourabiethes / Kourabiedes, is in using the highest quality butter you can.  This is what makes them just melt in your mouth!   Kahala, Greece is famous for making the best kourabiedes in Greece.  Their unique extra-buttery flavor comes from using butter from buffalo (sort of like Italians using mozzarella from buffalo milk — those buffalo sure do produce some rich dairy food)!   Other Greeks insist that only goat butter be used because it is lighter than cow butter.  Who knows?
I hope that you enjoy this recipe for Greek Wedding Cookies Kourabiethes / Kourabiedes that are light, buttery, and delectable.
AND NOW . . . Let's DANCE!  The Greek Way!  
(Give this a second to load, TURN UP YOUR VOLUME!  
(Hint:  Be Patient . . . The Big Guy with Dark Vest and Sunglasses Starts the Dancing!)

.
Now be honest:
DIDN'T THAT JUST BRING A HUGE SMILE TO YOUR FACE?
OPA!
.
Please Share The Love and Pin This Vertical Image:

Yield: 40
Greek Wedding Cookies -- Kourabiethes / Kourabiedes
Ingredients
1 lb. butter, softened at room temperature (imperative)
1 cup powdered sugar
1 cup almonds, chopped
2 egg yolks
2 tsp vanilla extract
2 tsp. almond extract
1 Tbsp. Amaretto
¼ tsp. salt
1 tsp. lemon (or orange) zest
4 - 5 cups flour, sifted
1-½ tsp. baking powder
5 - 8 cups powdered sugar for coating the cookies
Instructions
Preheat the oven at 375 F degrees.
Place the chopped almonds on a baking tray and sprinkle with some water.
Bake them for 7-8 minutes, being careful not to burn them.
Use an electric mixer, mix the room temperature-softened butter for 20 full minutes!
Blend in the powdered sugar thoroughly until creamy and fluffy like whipped cream.
Add the egg yolks, vanilla extract, almond extract, and Amaretto; blend.
Add the baked almonds and blend again.
In another bowl, blend the sifted flour and the baking powder. (It is very important to sift the flour, so that the cookies will become light and smooth.)
Gradually add the flour into the butter mixture (from step 2) and work the mixture with your hands, until the ingredients are combined and the dough is soft and easy to work.
Preheat the oven to 375 F degrees; layer the bottom of 2 baking pans with parchment paper and form the cookies.
Roll 2 - 3 Tbsps. of the dough into a ball and place on the baking pan.
Continue with the rest of the dough.
Place the baking trays with the cookies on the second and fourth grill of the oven and turn the heat down to 350 F degrees.
Bake for approximately 20 minutes, until they have a very faint golden tint and are cooked through, being careful not to overbake them.
Set them aside to cool down for a while; If you try to lift them, while still warm, they will break.
In a large bowl, add all of the powdered sugar and dip the cookies in the sugar, rolling them around, so that the sugar sticks on all sides.
Place on large platters.
When done, sift more powdered sugar over the cookies.
.