Italian Budino with Berries, Mascarpone, and Marsala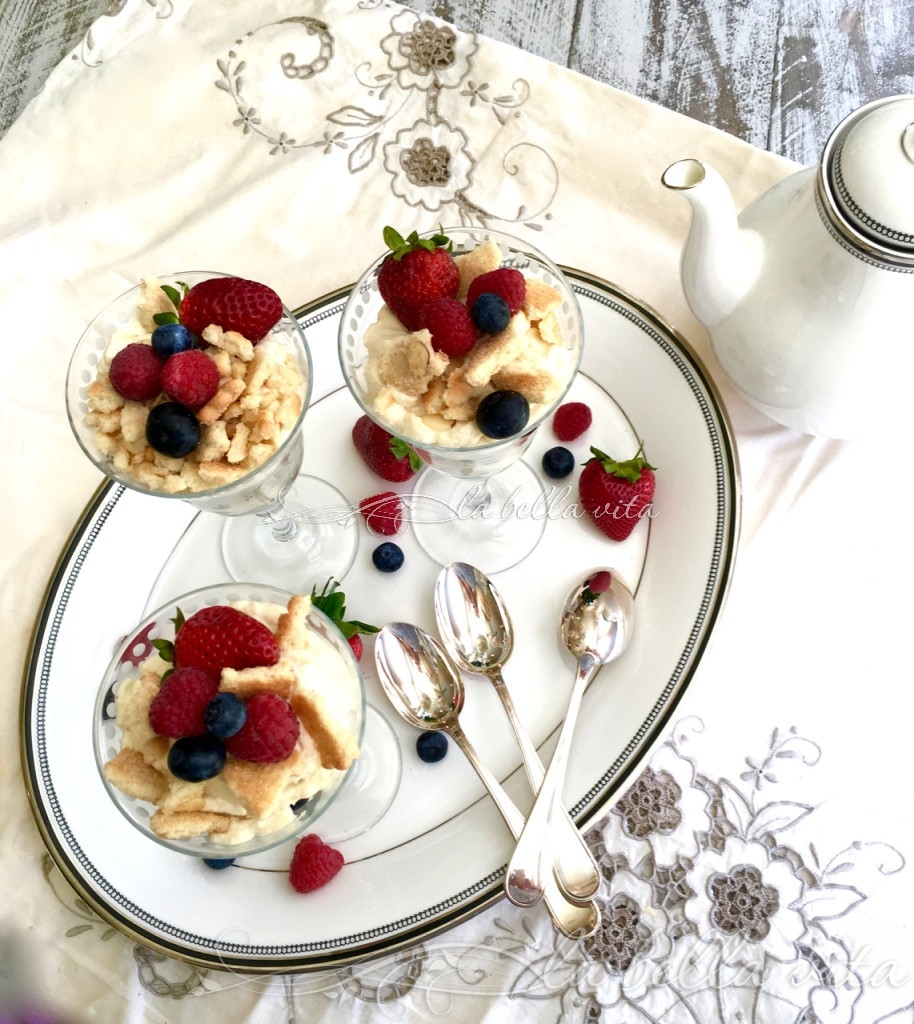 One of the things that I love about cooking is trying new recipes and challenging myself. I never know if a new recipe will turn out to be worthy of serving to those that I love or whether or not it will be a complete disaster. So here I go, preparing an Italian dessert that my family did not serve, simply because they had never heard of it: Berries, Mascarpone and Marsala Budini.
Bellini, Spaghettini, Tortellini, Scallopini, Budini, etc. . . . all of those Italian recipes with " -ini " names! No matter though, these budini are simply irresistible!
So what in the world is a Budino / Budini?
Come on now, wouldn't this be a great trivia question? And if you were the only one who knew the answer, wouldn't that just blow everyone away?
A budino (budini is plural), is the Italian name for a rich, sweet and creamy Italian 'custard' or 'pudding' dessert. Budini can be prepared with various flavors: from berries and fruit . . . to chocolate and caramel.
My husband said (while licking his glass clean), "This is like a parfait, only better!" Although some purists may find that as an insult . . . I'd say that 'it is' and 'it isn't'. My husband's words are simply helpful to anyone unfamiliar with Italian budini in gaining a better understanding of these creamy delights.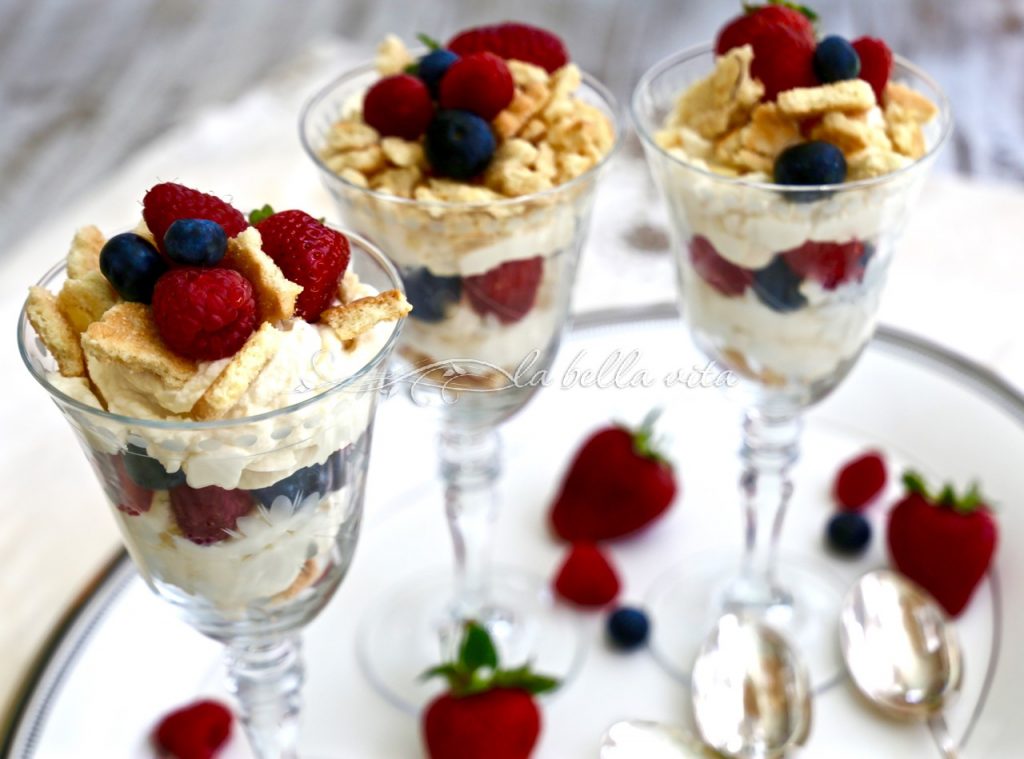 So do you really want to learn more about an Italian budino and expand your culinary skills? No need to take my humble word on this! Here are two articles from the respected food authors of the Los Angeles Times and Epicurious to explain Italian budino (budini): "Budino Takes Pudding On An Adventure" and/or "Budino: A Bit Of A Mystery, But A Light And Tasty Dessert".
And now you know!
Buon Appetito!!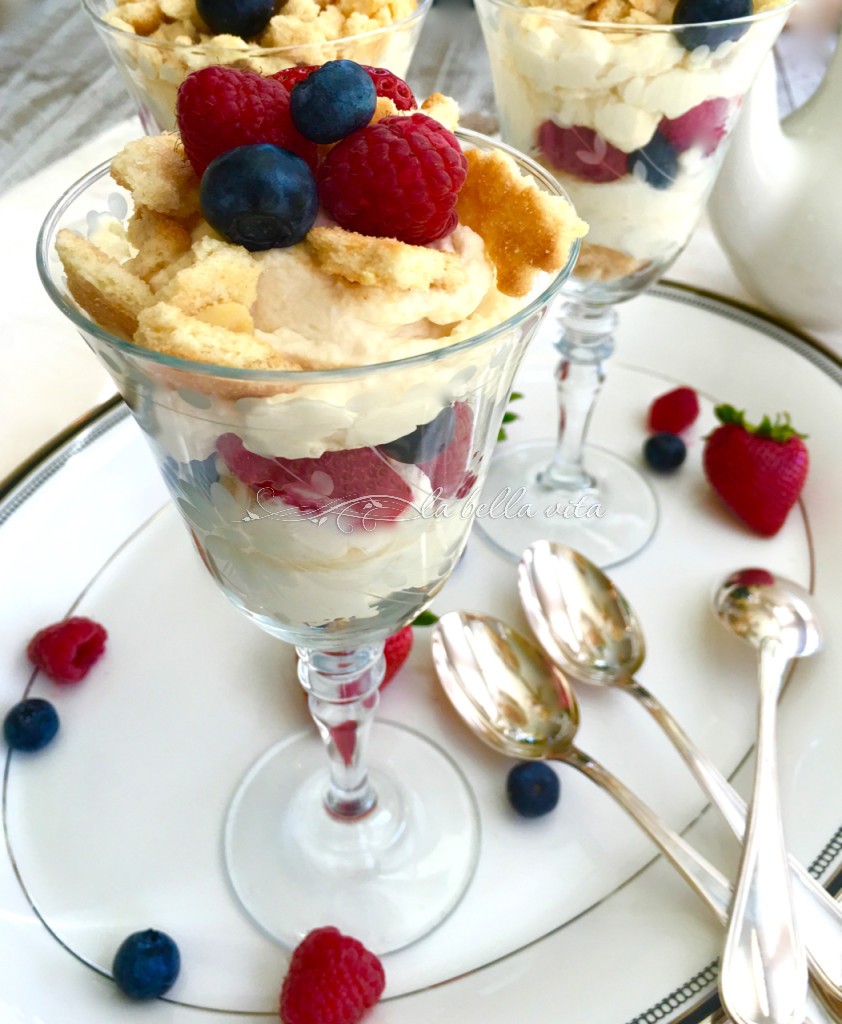 Print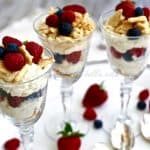 Italian Berries, Mascarpone and Marsala Budini
Author:
Prep Time: 0 hours
Additional Time: 0 hours
Cook Time: 0 hours
Total Time: 0 hours
---
8 oz. container Italian Mascarpone cheese
1 cup heavy whipping cream
1/4 cup powdered sugar
1/4 cup sweet Italian Marsala wine
2 cups crushed Italian Amaretti cookies
Assortment of fresh strawberries, blueberries, raspberries, and/or blackberries
---
Instructions
With a hand-held mixer, whip mascarpone on high speed for five minutes until soft peaks form.
Blend in the whipping cream.
Add powdered sugar and Marsala wine and blend for one more minute.
Crush the Amaretti cookies with a rolling pin.
In wine glasses, alternate layers of crushed cookies, mascarpone mixture, fresh berries, more mascarpone mixture, more crushed cookies.
Garnish with fresh berries.
Serve chilled.
---