Gnocchi Primavera with Spring Asparagus and Peas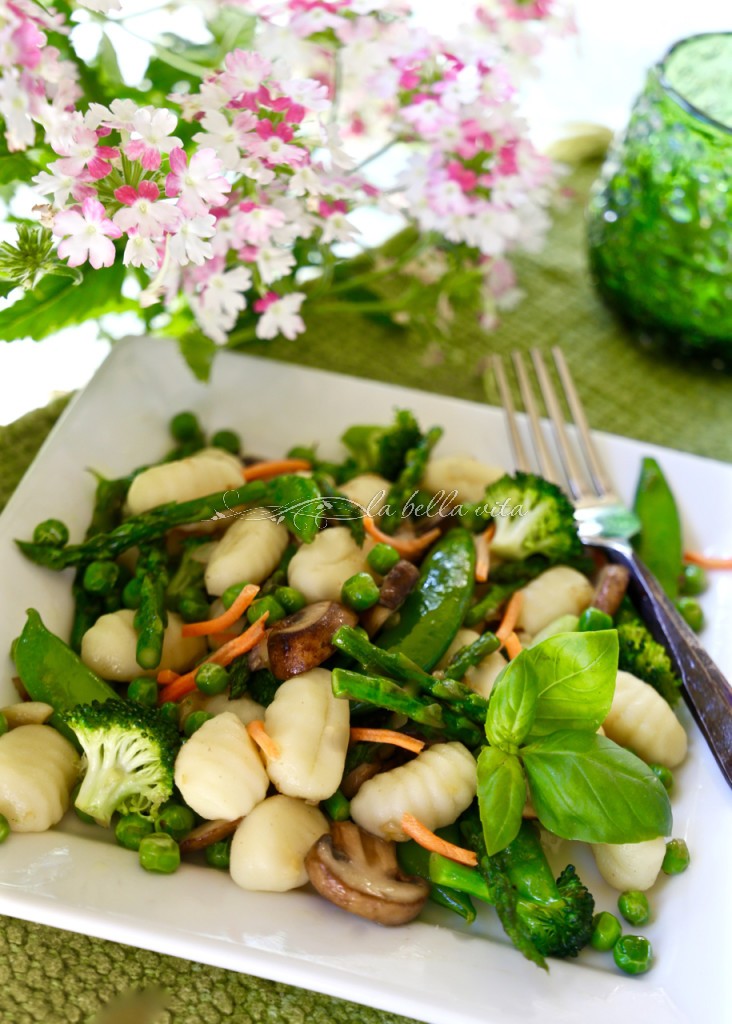 Spring! PRIMAVERA! And all of the beautiful, fresh vegetables that come with it after a long winter's wait.
Truthfully, it's my favorite season because I'm outside more again and I'm in my gardens getting my hands dirty. Not everyone's cup of tea, but for me, it's bliss.
So in celebration of spring, I've made a classic Italian recipe and swapping in fluffy potato dumplings for Gnocchi Primavera with Spring Asparagus and Peas. You can use any pasta that you'd like for a 'primavera', but in previous recipes, I've used farfalle so much, that I just wanted to switch things up a bit.
Pasta Primavera was created to use the fresh, tender seasonal vegetables of the season. It's a recipe that's incredibly versatile and diverse depending on what you want to include from the season's bounty.
Yet you can bank on asparagus, peas, broccoli, spring onions or mushrooms added into the mix for that delicious spring freshness! You can't forget garlic either! On top of that, a light, creamy cheese sauce is created by gently tossing in some freshly grated Parmesan cheese to blend all of the freshness together with the pasta of your choice. If tomatoes are in season in your growing zone, you'll be able to add those as well. For us, fresh tomatoes are not ripe until July, so they aren't quite 'primavera' in South Carolina!
You can also throw in some fresh Italian parsley and a little bit of basil.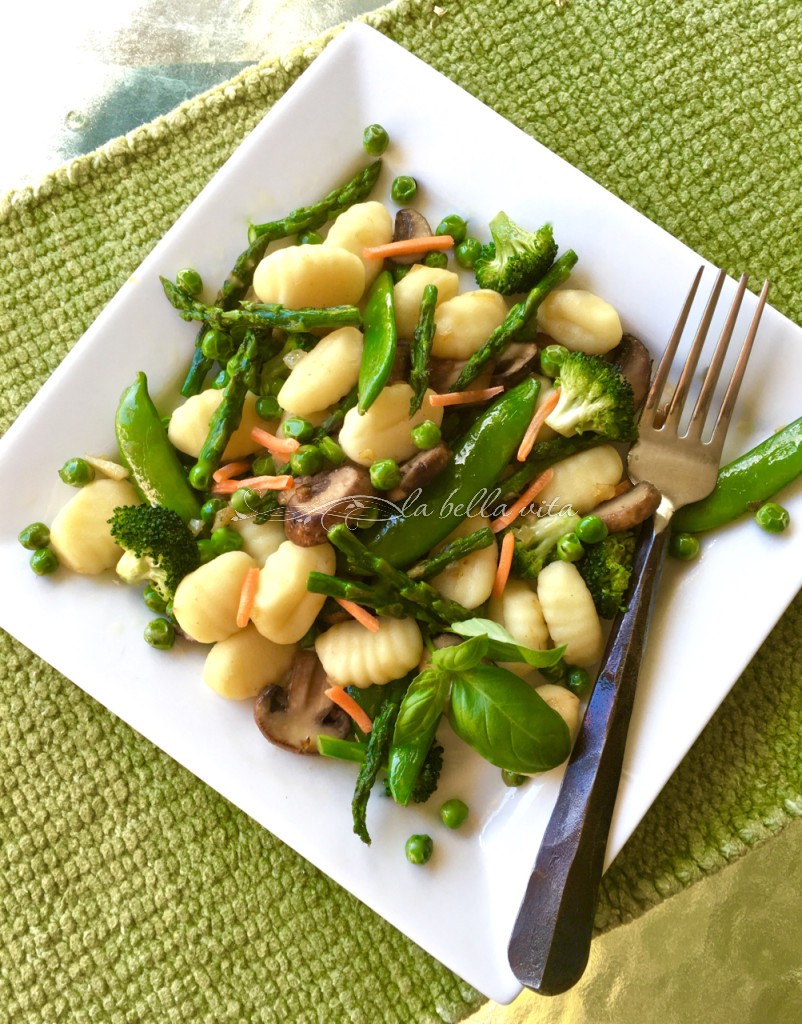 A primavera recipe is one of the easiest and fastest recipes to make. It's almost like stir-frying vegetables, because you don't want them to be soft, mushy and overcooked. Basically, fill a large, deep frying pan with olive oil and butter (yes, the butter makes the sauce so much more delicious), saute' the onion and garlic for a minute, then throw in the veggies of your choice, add some salt and pepper to taste, and saute for maybe 5 minutes at best. Crunchy, packed with flavor vegetables!
While you're sautéing the vegetables, your water is boiling and the pasta is cooking.
Toss them both together in a large serving bowl, add your grated cheese, and add some cream at this point if you prefer. The warmth of the vegetables and pasta (or gnocchi) will heat the cheese and cream together. As you stir everything together, a creamy primavera results.
If you buy your vegetables that have already been chopped up, you can literally have this on the table in less than 20 minutes!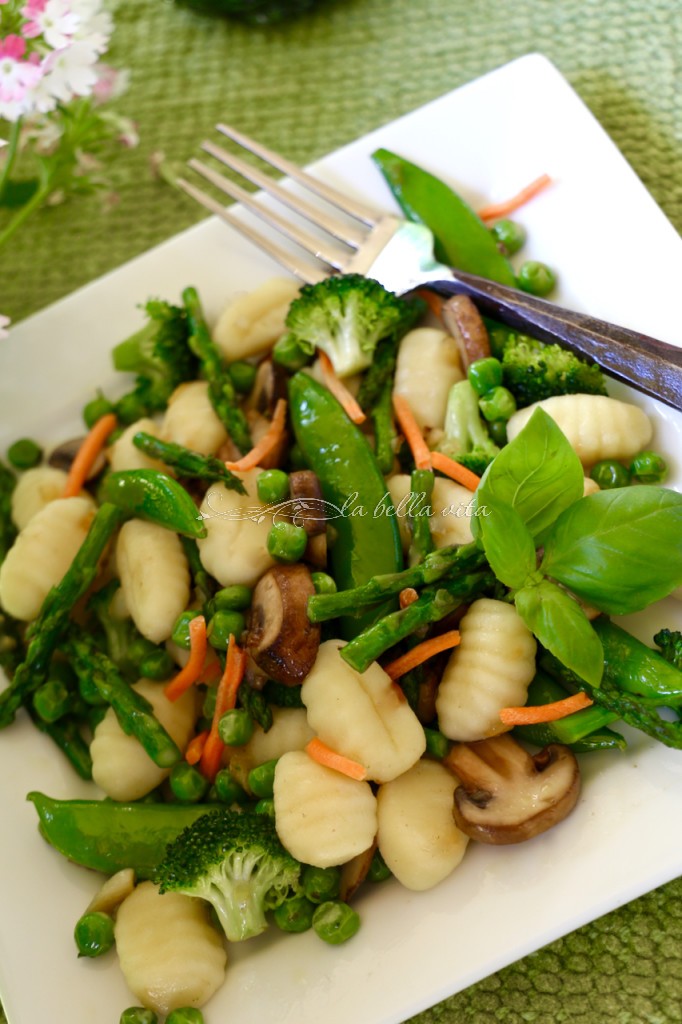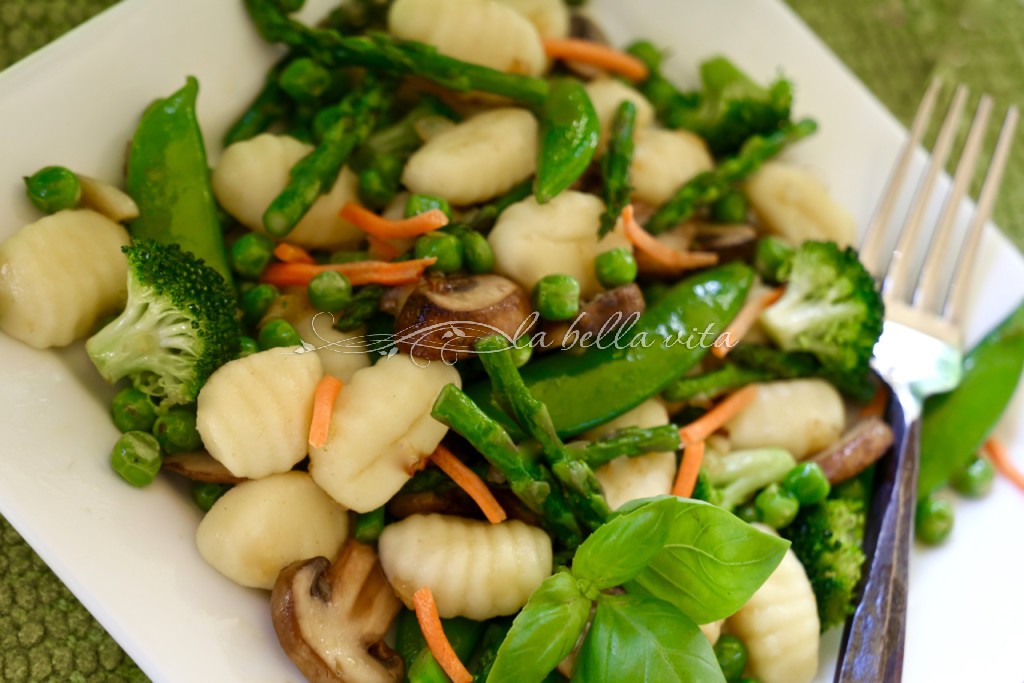 Here's a shot of the utterly amazing show of azaleas going on right now in my gardens. This is an Encore azalea that blooms again in the fall. Other color varieties are in bud now so the show will last for about another two weeks.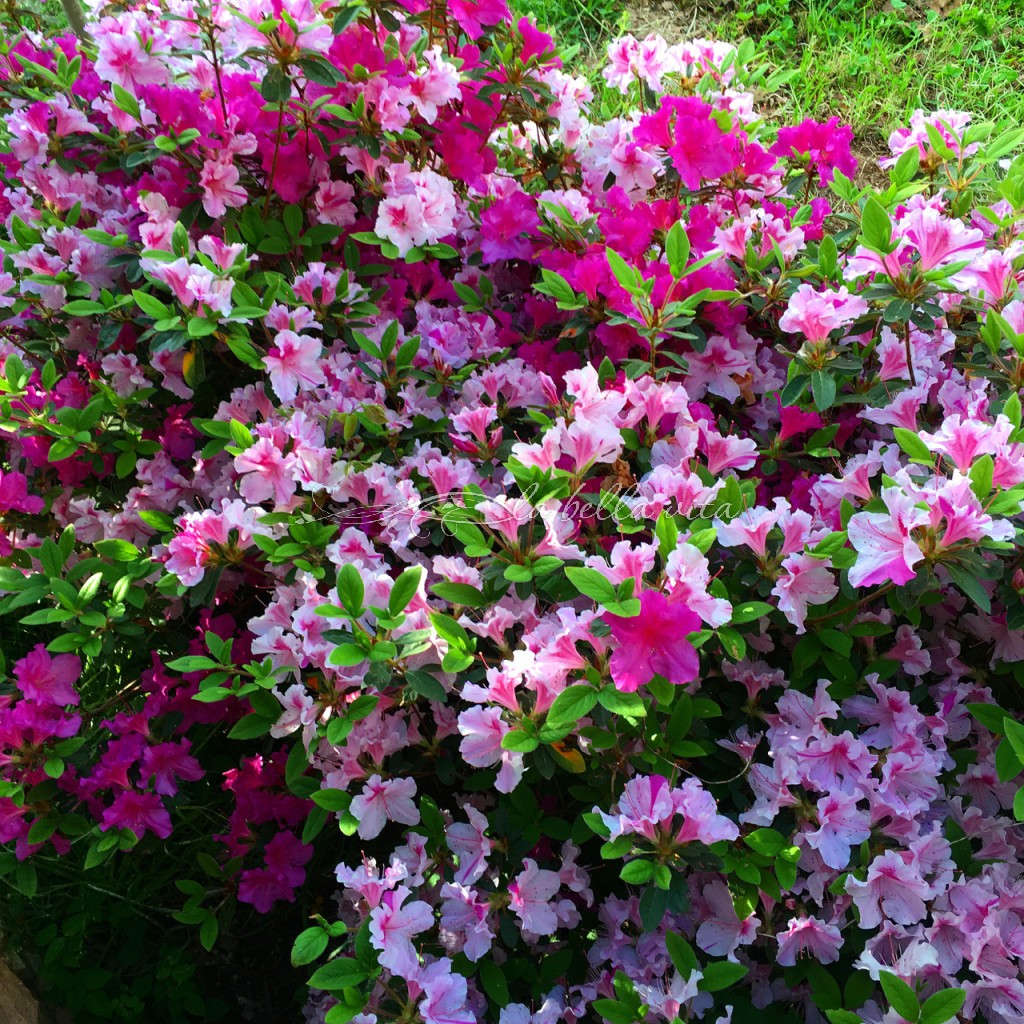 Print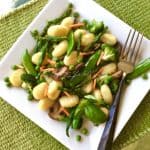 Gnocchi Primavera with Spring Asparagus and Peas
Author:
Prep Time: 0 hours
Additional Time: 0 hours
Cook Time: 0 hours
Total Time: 0 hours
---
1 lb. potato gnocchi (homemade or packaged)
2 – 3 Tbsp. olive oil
4 Tbsp. butter
1/2 medium size onion, diced
3 large cloves garlic, minced
Your Choice of Vegetables, What I Used
1 cup broccoli, cut into small florets
1 cup green peas
1 cup snap peas
2 cups asparagus spears, cut into 2″ long slices, dry ends discarded
1 – 1/2 cup sliced bella mushrooms
1/2 cup matchstick carrots
any spring vegetable of your choice
1/2/ cup Parmesan cheese
heavy cream if desired (at room temperature)
---
Instructions
Bring a deep pot of water to a boil; add about a tablespoon of salt to the water.
Add the gnocchi or pasta of your choice; cook to al dente according to the package directions.
In a large, deep frying pan, heat the olive oil and butter on medium heat.
Add onions and saute for one minute, then add the garlic and saute for another minute (do not burn the garlic).
Add the vegetables and cook until a little soft, but still firm, for about 5 minutes. Do not overcook, the vegetables should be a brilliant color.
Salt and pepper to taste; add more butter if necessary.
Pour into a large serving bowl.
Add about a half cup of parmesan cheese.
Add the gnocchi or pasta.
If desired, add heavy cream to desired consistency
---