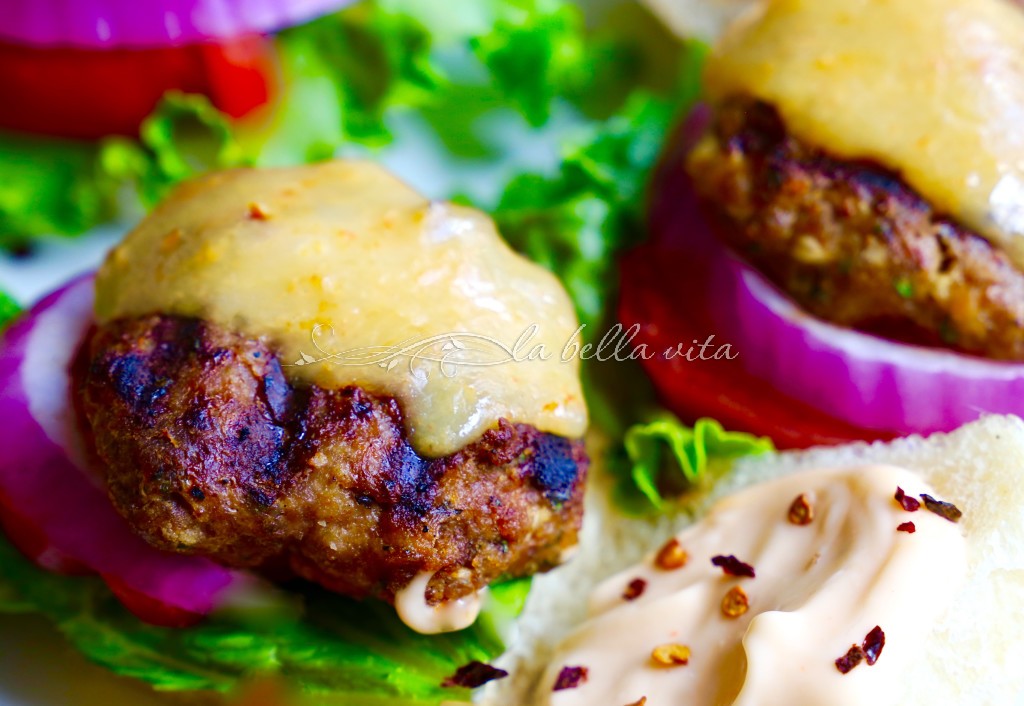 Oh my goodness! I put my recipe creative thinking cap on over the weekend and came up with these outragiously delicious Jalapeño Cilantro Lime Turkey Sliders with Habanero Cheddar cheese.
How good are these mini burgers? My husband devoured 3 at one sitting. And he's a guy that never orders nor eats turkey burgers . . . ever! There's the testimony, my friends!
There's nothing dry or dull about these turkey sliders . . . but what they are is MOIST, bursting with flavor and simply addictive. I substitute turkey in a lot of recipes: bacon, sausage, meatloaf, chili, and even Bolognese sauce. Honestly, when prepared correctly, turkey replacement in beef recipes is outstanding and so much better for our health. Use dark meat too, it has more flavor.
These turkey sliders are not too hot either, but you will get that wonderful after taste of just the right amount of spicy heat . . . just enough to tingle your taste buds.
The sriracha-mayonnaise sauce can be as tame or as flaming hot as you like it. We like it on the tame side so that we can taste all that is going on in the burgers. But it's up to you on how hot you want these to be.
For a party, you might want to have 3 platters of sliders: one platter with a minimal amount of spiciness in the sliders, a second platter prepared the way I've done for you here in this recipe post, and then one last platter loaded with some "need-some-water-to-put-out-the-fire" hot turkey sliders. This way everyone has a choice.
Now I know that some folks don't like cilantro, so there isn't a heavy amount in this recipe, only a quarter cup of it. But if you're like my family, you love the stuff, so go ahead and double the cilantro. For my first attempt at this recipe, I wanted to play it safe, and in my opinion, I'd increase the cilantro the next time.
Just sayin'.
What you will love besides the cilantro inside the turkey mixture is the garlic, chili-lime sriracha sauce, the creamy, spicy sriracha sauce (2 different types of sauces), the paprika, chipotle pepper flakes, etc. The combination is crazy-good!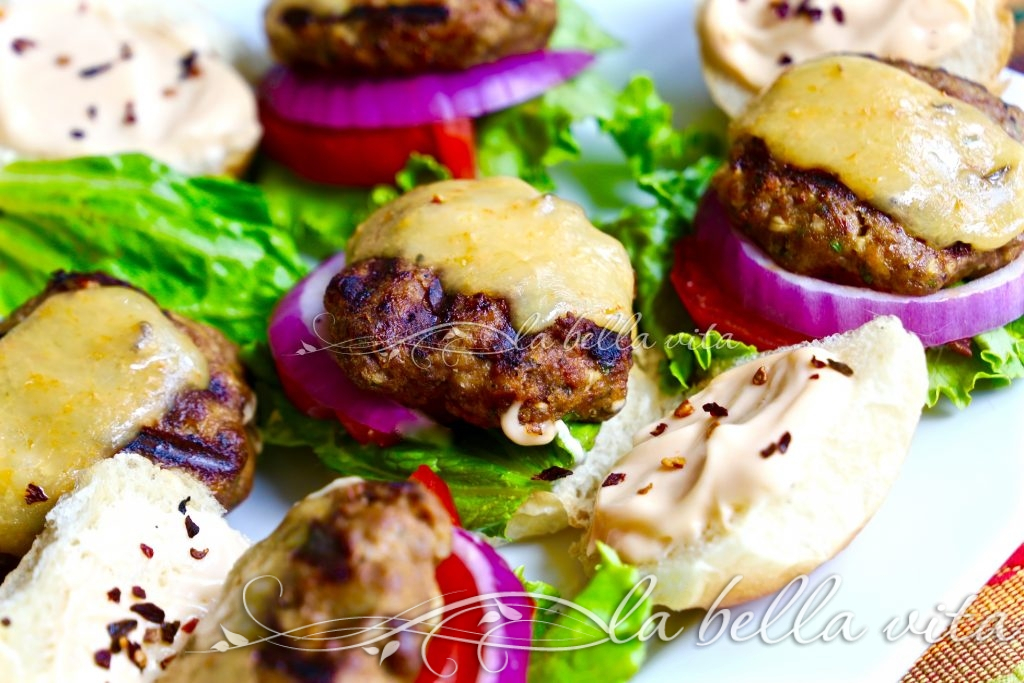 We prefer recipes with a lot of various flavors singing a symphony inside. You won't be able to just pick up on one single flavor in these turkey burgers . . . they blend perfectly together like a melody, PERFECTLY!
Double or triple this recipe to form a party's worth of sliders and freeze them until your get-together or event. So easy!
These spicy turkey burgers couldn't be easier to make! Just combine the ground turkey, jalapeño (or green chili), cilantro, onions, and spices in a large mixing bowl. Blend well and then form the little slider sized burgers. Grill or sizzle them on your stove top. Garnish with all of the pretty colorful red onions, tomatoes, and vivid green curly lettuce.
Done!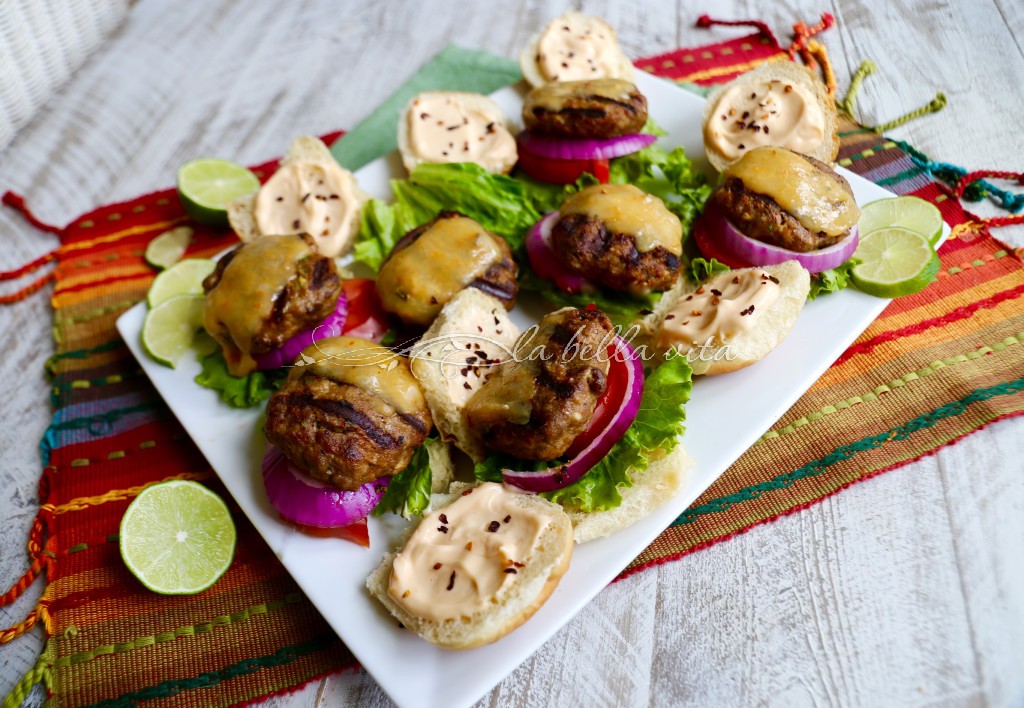 These mini turkey sliders might be small in size, but they are

huge

in spicy, smoky goodness and packed with lots of love!
Print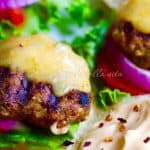 Jalapeno Cilantro Lime Turkey Burgers with Habanero Cheddar
---
Scale
Ingredients
For the Turkey patties
2

lbs. ground dark turkey

1

jumbo egg

2 Tbsp

. olive oil

1 cup

plain panko crumbs

6

green onions, finely chopped, including the light green portion of stems

¼

cup chopped cilantro

2

–

3

Tbsp. freshly chopped jalapeño pepper (or chopped green chili from a can)

4 Tbsp

. chili lime sriracha sauce

4 Tbsp

. spicy creamy shiracha sauce (I used Bookbinders brand)
several pinches of paprika
several pinches of chipotle pepper flakes
sliced habanero cheddar cheese
slider sized buns
butter
For the Spicy Sriracha Sauce
1 cup

mayonnaise or Miracle Whip (which we use)

¼ cup

creamy spicy sriracha sauce
Garnish
Curly green lettuce
Thick slices of tomato
Red onion, sliced thick
Spicy Sriracha Sauce
chipotle pepper flakes
sliced limes
---
Instructions
Blend all turkey burger ingredients together.
Set overnight for all of the flavors to marry (this isn't totally necessary, but it will really make a difference in the flavor throughout the sliders).
Place a small amount about the size of a golf ball into the palm of your hand and gently pat into shape.
Butter both sides of buns.
Grill the buttered buns slightly to a nice crisp on the inside; do not burn. **This prevents the buns from falling apart with the hot sliders inside.**
Slice the habanero cheese, only one or two thin slices are necessary on top. Use more if you want more fiery, hot flavor in your burger.
Place curly lettuce on the bottom of a each slider bun.
Place a thickly cut tomato on the lettuce.
Place a thick cut red onion, only 1 or 2 rings, on top of the tomatoes.
Spread 1 heaping tablespoon of creamy spicy Sriracha sauce on the top half of bun.
Sprinkle chipotle pepper flakes on top of sauce.
Place the grilled turkey burgers on top of the red onion, tomato and lettuce.
Present in open-face style (or closed if you prefer); it's nice to see all of the colorful ingredients upon presentation.
Garnish platter with sliced limes.
---
.Thank
Thank you for kindly pinning this image on Pinterest:

.
Here are some other turkey burgers that caught my eye on the web:
Turkey Burgers with Cilantro Lime Sauce | Cooks with Cocktails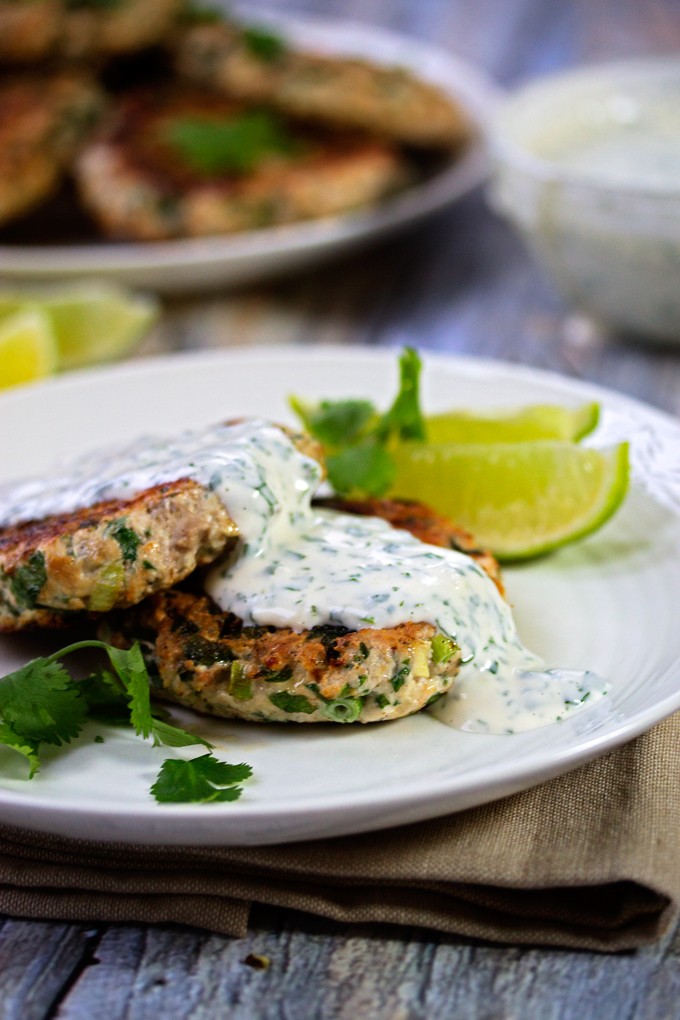 Grilled Jalapeno Pepper Jack Turkey Burgers | Cooking on the Weekends
Guacamole Turkey Burger | What's Gaby Cooking?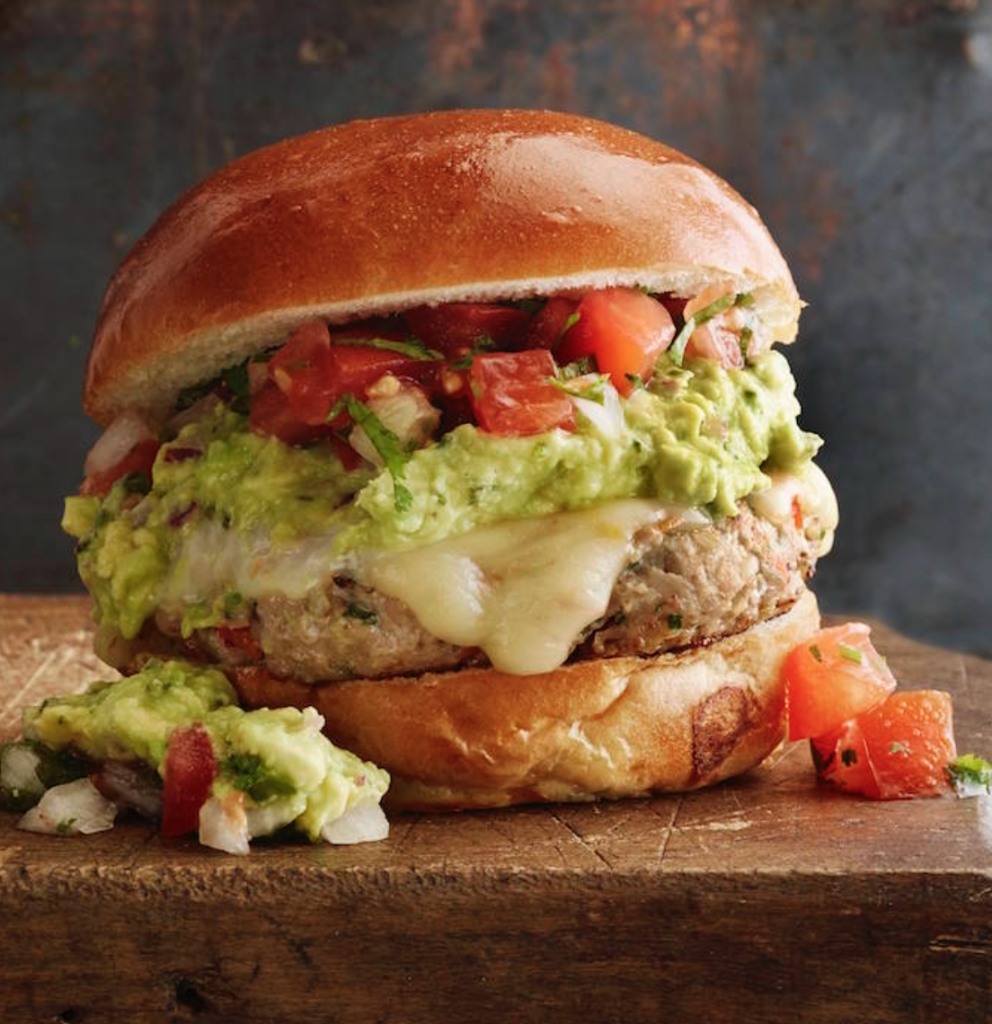 .
.