Jalapeño Cilantro Lime Turkey Sliders with Habanero Cheddar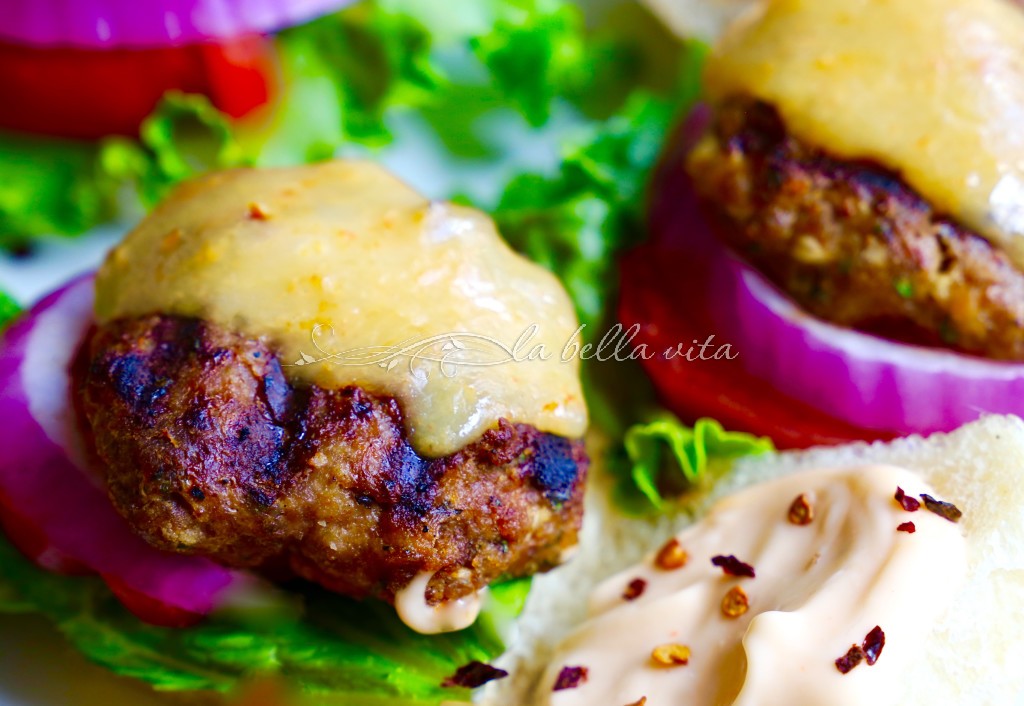 Oh my goodness! I put my recipe creative thinking cap on over the weekend and came up with these outrageously delicious Jalapeño Cilantro Lime Turkey Sliders with Habanero Cheddar cheese.
Turkey is a staple in our home and not reserved for Thanksgiving only. There are endless recipes for this low-calorie meat that can be unique and customizable to any taste preference. I substitute turkey in a lot of recipes: bacon, sausage, meatloaf, chili, and even Bolognese sauce. Honestly, when prepared correctly, turkey replacement in beef recipes is outstanding and so much better for our health. Use dark meat too, it has more flavor.
Besides, turkey has a lot of benefits for swapping out beef: Turkey costs less than beef. Plus it helps you reduce your red meat consumption and better than beef for a more sustainable environment. And nothing can beat how versatile turkey is in developing new recipes. These mini turkey sliders are proof of how creative you can get with turkey.
But how good are these mini burgers? My husband devoured 3 at one sitting. And he's a guy that never orders nor eats turkey burgers . . . ever! There's the testimony, my friends! There's nothing dry or dull about these turkey sliders . . . they're MOIST, bursting with flavor, and simply addictive.
Spiced Just Right! Not too spicy and not too bland!
These turkey sliders are not too hot either, but you'll still get that wonderful after taste of just the right amount of spicy heat . . . just enough to tingle your taste buds. The siracha-mayonnaise sauce can be as tame or as flaming hot as you like it. We like it more on the tame side so that we can taste all that's going on in the burgers. But it's up to you how hot you want these to be.
For a party, it's a good idea to offer 3 platters of sliders, each with a different level of spice and heat: one platter with a minimal amount of spiciness in the sliders, a second platter prepared the way I've done for you here in this recipe post, and then one last platter loaded with some "need-some-water-to-put-out-the-fire" hot turkey sliders. This way everyone has a choice.
I realize that some folks don't like cilantro, so there isn't a heavy amount in this recipe, only a quarter cup of it. But if you're like my family, you love the stuff, so go ahead and double the cilantro. For my first attempt at this recipe, I wanted to play it safe, and in my opinion, I'd increase the cilantro the next time. Just sayin'. What you will love besides the cilantro inside the turkey mixture are the two (2) different sauces: chili-lime sriracha sauce and the creamy, spicy sriracha sauce. The combination is crazy-good!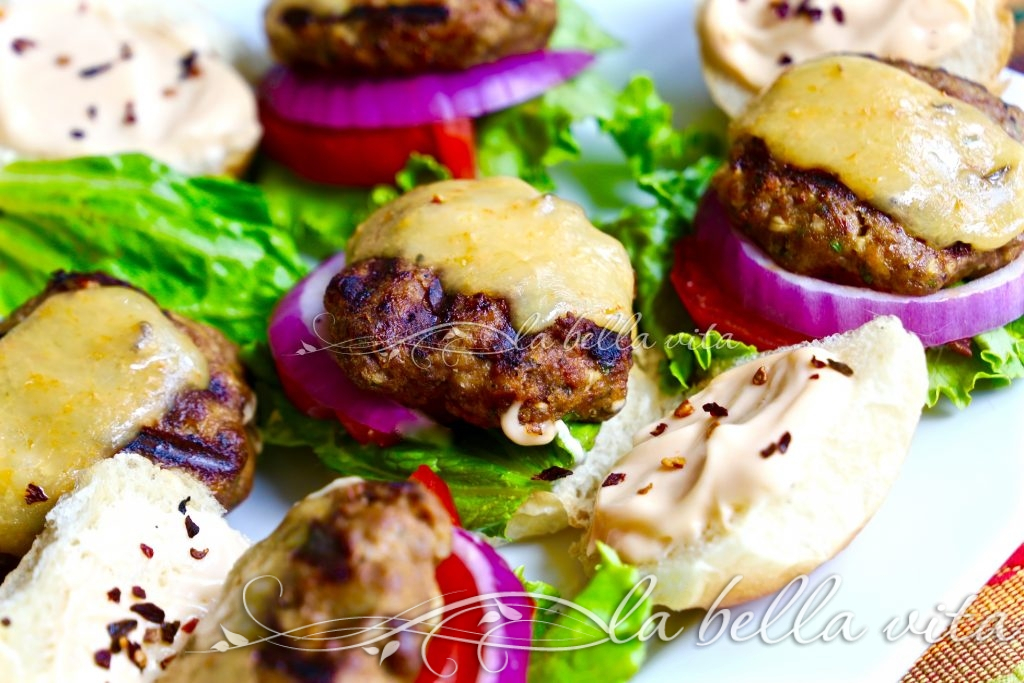 We prefer recipes with a lot of various flavors singing a symphony inside. You won't be able to just pick up on one single flavor in these turkey burgers . . . but the garlic, chipotle pepper flakes, paprika and more blend perfectly together like a melody, PERFECTLY!
You can also double or triple this recipe to form a party's worth of sliders and freeze them until your get-together or event. I wouldn't even wait for another get-together. I'd just thaw out sliders and heat them up either in a mini-broiler oven or nuke them in a microwave for a quick lunch! So easy!
These spicy turkey sliders couldn't be easier to make! Just combine the ground turkey, jalapeño (or green chili), cilantro, onions, and spices in a large mixing bowl. Blend well and then form the little slider-sized burgers. Grill or sizzle them on your stovetop. Garnish with all of the pretty colorful red onions, tomatoes, and vivid green curly lettuce. Done!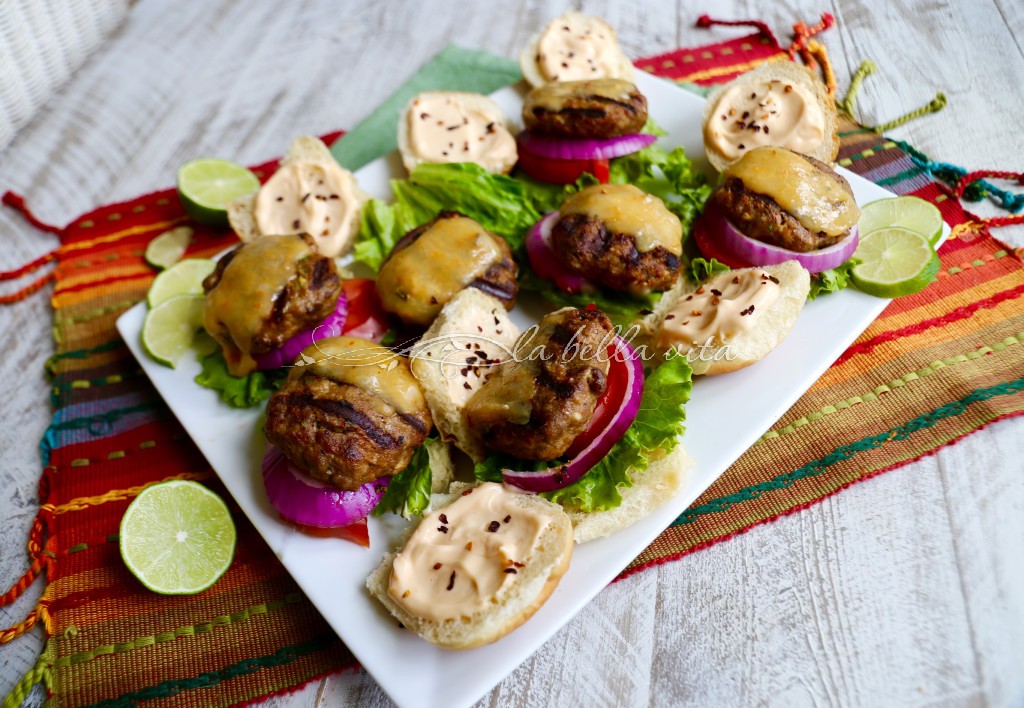 These mini turkey sliders might be small in size, but they are huge in spicy, smoky goodness and packed with lots of love!
.Than

.
Tips for More Juicy, Flavorful Turkey Sliders or Burgers
Go heavier on the herbs and spices added to the turkey meat. Since turkey is more bland than beef, you need to amp up the flavor with more seasoning. Limited only to your creative imagination, you can add poultry seasoning, Worcestershire sauce, garlic and/or onion powder, oregano, red pepper flakes, Italian parsley, and more.
Form 1/2″ patties using just enough patting, mixing and forming the meat; do NOT over mix or overwork the patties (the same goes for beef patties). Add the seasonings of your choice, mix and form the burgers only a little bit and stop. This avoids the patties from being too tough in texture.
Add chopped onions, cheese, or mayonnaise or oil to the turkey meat.
Once turkey burgers are formed, place them in either the refrigerator or freezer to help them keep their shape.
Don't press down on turkey burgers while cooking since that squeezes out the juices.
Heat the grill or pan on medium heat and generously coat the grill or pan with non-stick spray or brush it with oil. This prevents turkey burgers from sticking to the grill and becoming more drive and crumbly.
Invest in an instant-read thermometer so that you know the turkey burgers are not overcooked. Cook/grill to an internal temperature of 165 degrees F. Overcooking dries out the moisture and fat of the turkey, leaving a crumbly, dry burger.
Flip turkey burgers over only once.
Don't overcook turkey burgers.
Use creamy sauces to top turkey burgers, again seasoned well. I like garlic-based aioli. Avocados or guacamole also add more moisture.
Pile on moist condiments: pickles, tomatoes, soft cheese that melt well, roasted red peppers, fried eggs, and more.
More Turkey Recipes To Enjoy!
https://www.italianbellavita.com/2011/01/sun-dried-tomato-pesto-turkey-burgers-with-basil-aioli/ https://www.italianbellavita.com/2016/09/sundried-tomato-pesto-basil-pesto-turkey-bagels/ https://www.italianbellavita.com/2015/11/turkey-pesto-sun-dried-tomato-wrap-sundaysupper/ https://www.italianbellavita.com/2019/06/the-best-grilled-turkey-breasts-marinated-in-garlic-soy-and-ginger/ https://www.italianbellavita.com/2014/02/buffalo-turkey-chili-sundaysupper/
More turkey burgers found on the web:
Turkey Burgers with Cilantro Lime Sauce | Cooks with Cocktails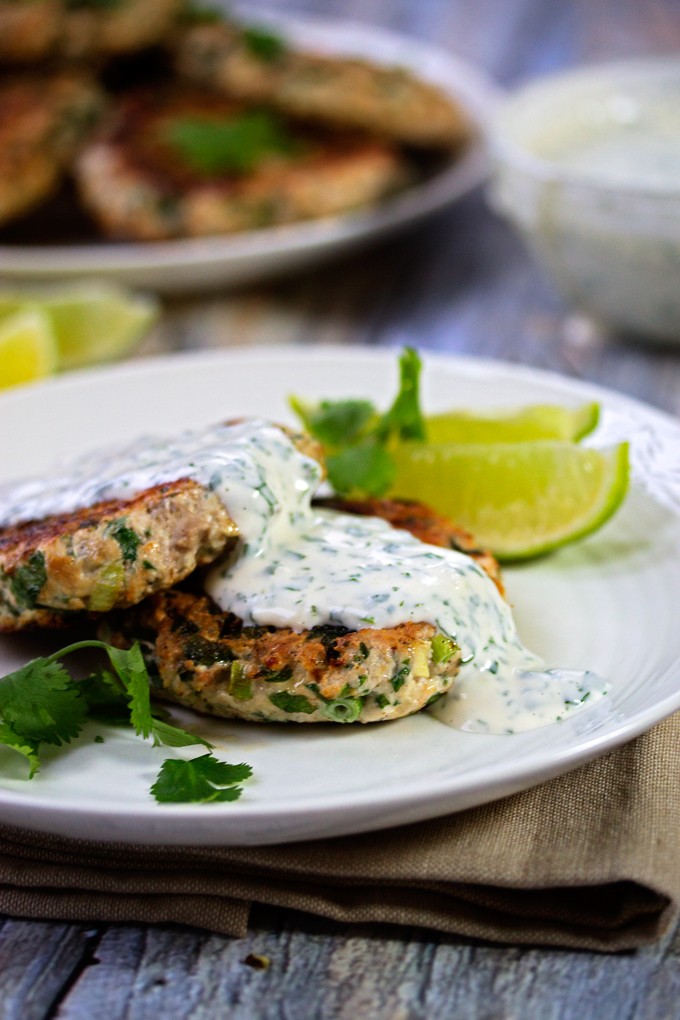 Grilled Jalapeno Pepper Jack Turkey Burgers | Cooking on the Weekends
This recipe post was originally posted in 2016 and updated in 2021
Do you enjoy La Bella Vita Cucina?
We'd love to have you as part of our community!
Subscribe below to receive the latest recipes, travel tips and gardening ideas straight into your inbox!
.
.