Chocolate Cheesecake with Espresso Mousse, Decadent, Creamy and EASY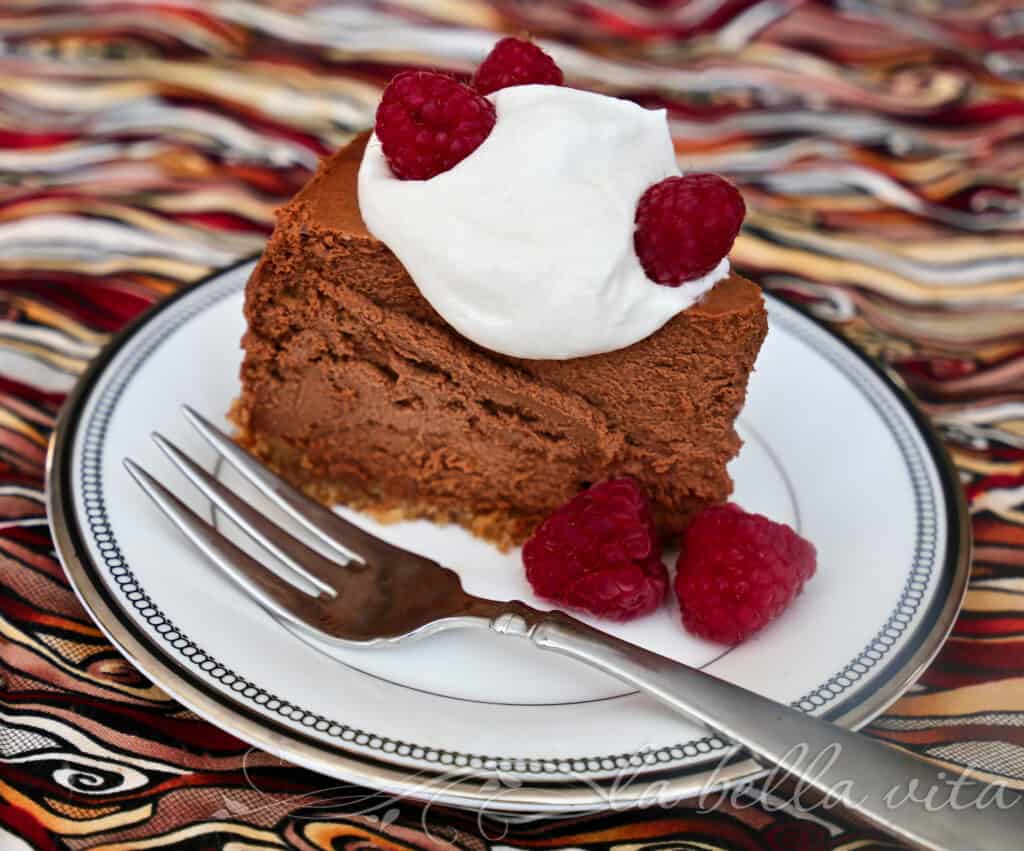 If you're craving something super chocolatey and over-the-top delicious, then this recipe for decadent and creamy Espresso Mousse Chocolate Cheesecake is the perfect dessert!
This cheesecake has been at the very top of my all-time favorite hits dessert 'playlist' since 1978 when my cooking journey cranked into passion mode! Each and every time I bake this bad boy, it never fails that the recipe is requested to the point of begging for it.
It's JUST. THAT. GOOD!
Don't say that I didn't warn you: This isn't any ordinary chocolate cheesecake!
Now do not let the simple appearance fool you.
It is absolutely DECADENT and RICH! You might be asking "So how is this cheesecake different than all the other cheesecake recipes?"
THE TEXTURE!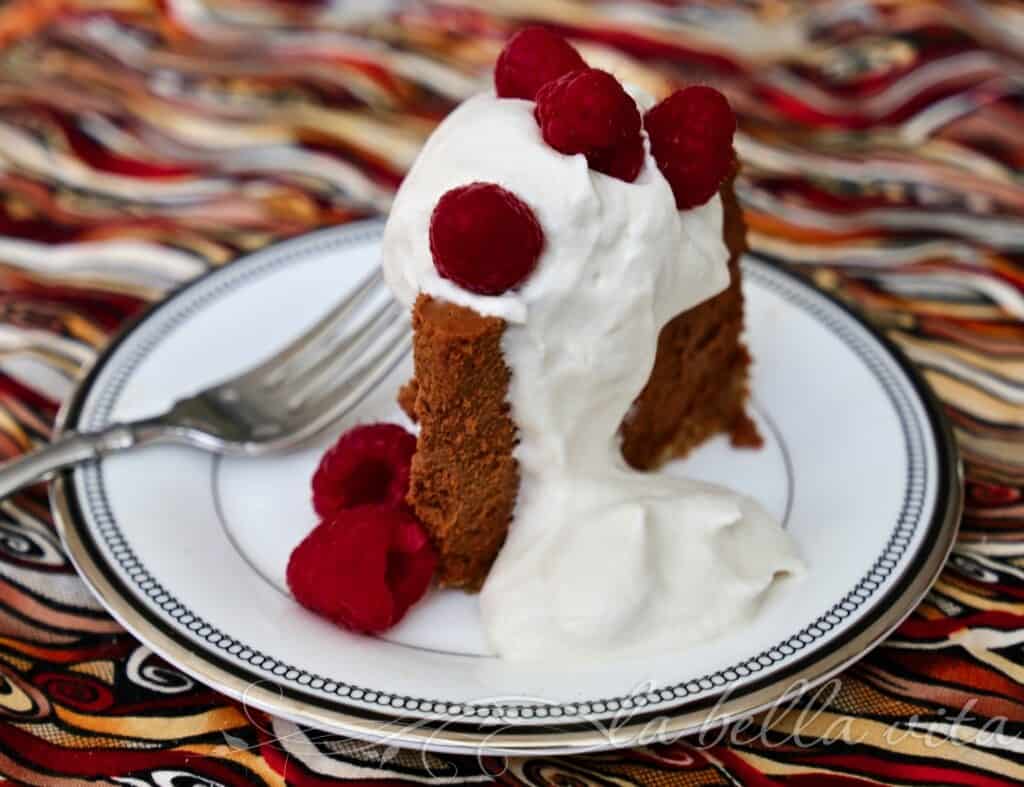 This chocolate cheesecake is hands-down, I pledge to you, the CREAMIEST cheesecake. The texture is the magical combination that's part delicate mousse and part dense cheesecake. It's indescribable and one that must be experienced to understand. Yet it's still super rich and decadent.
SMALL PIECES are in order because it is just that rich! The only thing that you might want to add is some sweetened whipped cream on top.
PERFETTO!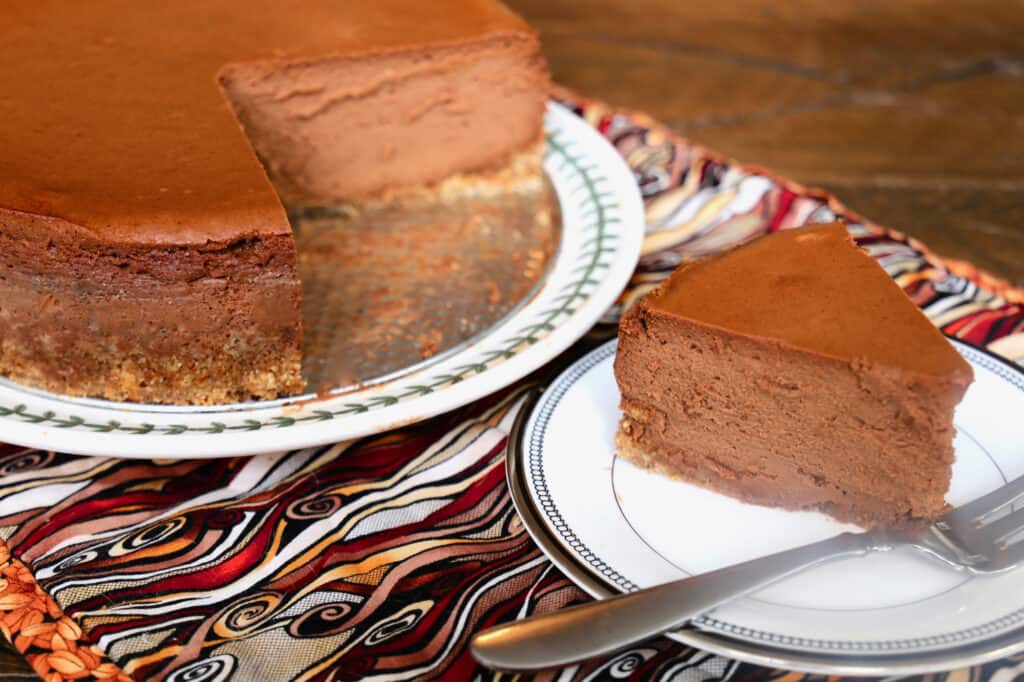 Two surprising ingredients that blend perfectly in this chocolate cheesecake are the espresso and the Kahlua (or Tia Maria) coffee liquor. Their flavors are very, very subtle and not overpowering at all. Just enough to create a heavenly flavor that truly enhances this chocolate cheesecake.
Another difference is the delicious crust that you'll absolutely love! It's not chocolate like so many crusts are in a chocolate cheesecake – – – it's a cinnamon, graham cracker crust that compliments the chocolate rather than overdoing the chocolate of this recipe.
What a nice change!
I have to give credit where credit is due. I first began reading Bon Appetit food magazine in 1978 when I graduated from college and was able to find the time to take my cooking to a higher level. I was finally employed full time with no tuition bills to pay, allowing me to splurge on the costs of gourmet cooking. Reading and cooking/baking from Bon Appetit and Gourmet magazines became my addiction along with growing an extensive cookbook library — reading and studying recipes during every moment that I could.
This recipe was one of Bon Appetit editors' favorite bakers' dozen best cakes!
Now how's that for a credible endorsement? A favored cake from the editors of Bon Appetit!
'Nuff said my friends.
And they were right!
Plus, this chocolate cheesecake is insanely easy to make . . . and it doesn't crack!!! Just allow time for the cheesecake to chill for 12 hours (overnight is fine too). And it just gets better with each passing day if there's any left!
To add some eye appeal, just add some fresh whipped cream, some fresh raspberries, and/or shaved chocolate curls. You don't need to doll this up, it shines all alone!
Tips For Making A Cheesecake
Plan ahead when making a cheesecake because it requires an overnight stay in the refrigerator. Cheesecake needs to be refrigerated for at least 8 hours to finish setting up. So you want to make sure that you have enough time to bake and chill your cheesecake before serving.
Have all of your ingredients ready at room temperature; about 30 – 45 minutes set out on the counter. This prevents the cheesecake from being lumpy from any hard pieces that didn't blend in well. The texture is so silky smooth when you follow this tip. It also helps the cheesecake bake more perfectly.
Do not overmix the cheesecake filling mixture which causes too much air to incorporate into the filling and that causes cracking.
Don't overbake a cheesecake which also causes it to crack.
Place a pizza pan or baking sheet on top mid-way through the baking time to prevent the top from burning.
Your cheesecake is finished baking when the outer ring is slightly puffed up and the middle has a little jello-like jiggle to it.
Continue to bake if the middle of the cheesecake is more liquidy. Keep the heat on and check back every 5 minutes until done.
If cracks appear the cheesecake might be a bit over-baked, so take the cheesecake out of the oven immediately. If cracks appear after baking, then the cheesecake was cooled too quickly . . . always let it rest for several hours after baking before chilling in the refrigerator.
Cheesecake can be prepared up to 5 days before serving when kept chilled in the refrigerator.
Cover the cheesecake with aluminum foil when chilling in the refrigerator.
Chilling sufficiently is crucial to let it 'set' and achieve that silky, velvety texture!
You can also freeze cheesecake by wrapping it with lots of layers of cellophane wrap.
If you'll be topping your cheesecake with fruit or creamy topping, it's OK to hide any cracks. They don't alter the flavor at all. Don't add toppings until serving time.
Serve cheesecake either at room temperature or chilled. If you cut into a cheesecake while it's still warm from the oven, the texture will be all wrong. It needs all of that time to chill and set properly.
Cheesecake is one of my favorite desserts and I'm happy to share more delicious cheesecake recipes that I'm pretty positive that you'll love:
Italian Mascarpone and Ricotta Cheesecake with Raspberries and Almond Crust
Blood Orange and Raspberry Swirl Cheesecake
Products that I recommend to help you bake this recipe:
Set of 3 springform pans (10″, 9″, and 8″)
PIN FOR LATER!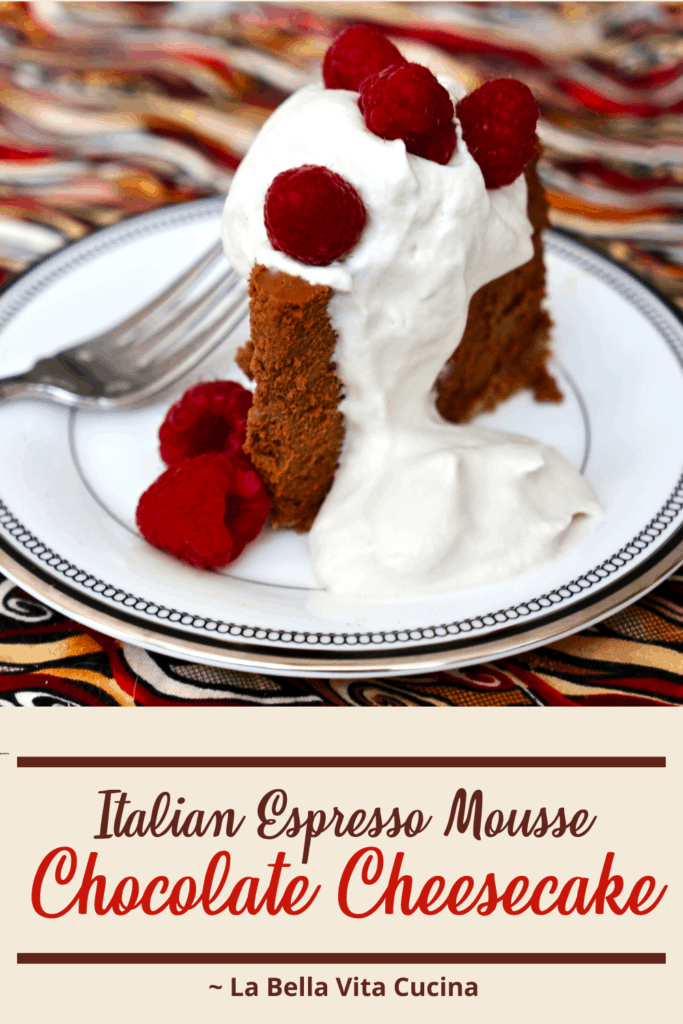 Yield: 12 servings
Chocolate Expresso Mousse Cheesecake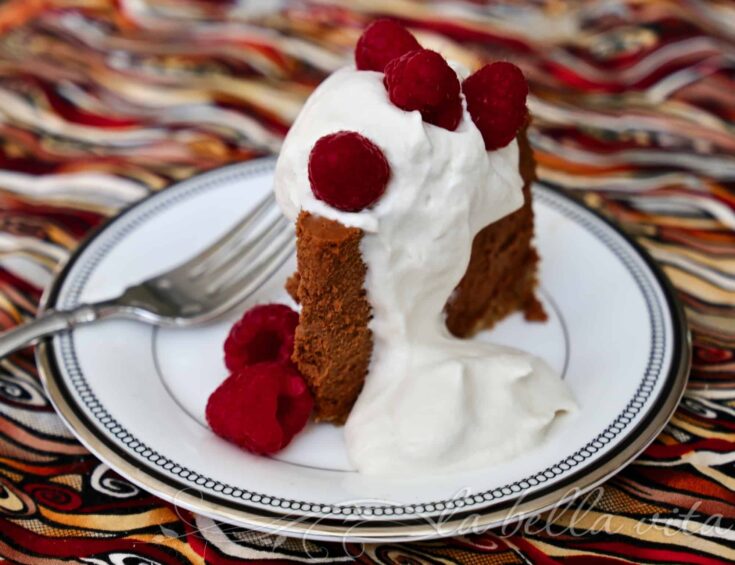 Get ready for a decadent chocolate treat! This is an extremely smooth textured and rich cheesecake that is deeply but subtly flavored with espresso, coffee liqueur, and chocolate. Small servings are definitely in order. I've been baking this for over 40 years and it never, ever fails to "wow" everyone!
Prep Time 30 minutes
Cook Time 1 hour
Additional Time 12 hours
Total Time 13 hours 30 minutes
Ingredients
Crust
3 cups graham cracker crumbs
¾ cup butter
8 Tbsp. sugar
1-½ tsp. ground cinnamon
Cheesecake
3 - 8 oz. packages (1-½ lbs.) cream cheese at room temperature
¾ cup sugar
3 jumbo eggs
1 - 8 oz. package semi-sweet baking chocolate squares
2 Tbsp. whipping cream
1 cup sour cream
1 tsp. instant espresso in ¼ cup hot water that is cooled (make sure the espresso is STRONG)
¼ cup coffee liquor (Kahlua or Tia Maria)
2 tsp. vanilla
Garnish
Whipped cream
Shaved chocolate
Fresh raspberries
Instructions
Butter all sides of an 8" springform pan. Wrap aluminum foil all around the outside sides and under the outside bottom of the pan.
Combine the first four (4) ingredients thoroughly. Press evenly and firmly onto the bottom of the buttered pan.
Preheat the oven to 350 F degrees.
Beat cream cheese until smooth.
Gradually add the sugar, mixing until well blended.
Add eggs one at a time and beat at low speed with a hand-held mixer until smooth.
Melt the chocolate with whipping cream, stirring frequently until smooth.
Add chocolate mixture to the cream cheese mixture, blending well.
Mix in sour cream, followed by the cooled espresso, then the liqueur and vanilla. Beat until well blended.
Pour into the springform pan and bake for 60 minutes or until sides are slightly puffed (the center will still be a bit soft, but will firm up when chilled).
Cool cake in the pan on a wire rack.
Refrigerate for at least 12 hours before serving.
Remove the sides of the springform pan and garnish.
Recommended Products
As an Amazon Associate and member of other affiliate programs, I earn from qualifying purchases.
.
Do you enjoy La Bella Vita Cucina?
We'd love to have you as part of our community!
Subscribe below to receive a FREE e-Cookbook and all of the latest recipes,
travel tips, and gardening ideas straight into your inbox!