Mardi Gras Bananas Foster Muffins
.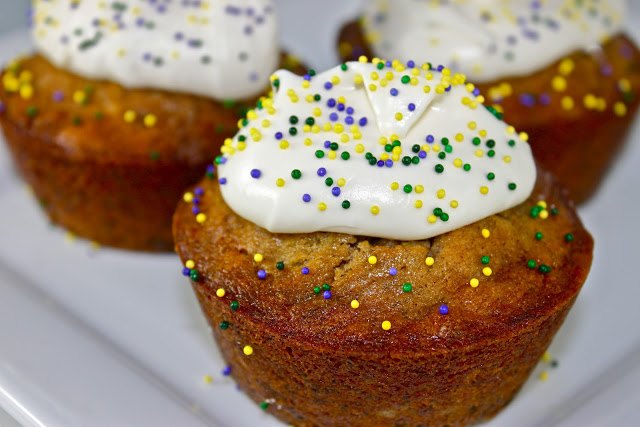 "Laissez les bon temps rouler"
Let the good times roll!

It's Fat Tuesday, the traditional day to feast to the max before the period of Lent when many of us give up something as well as spend time giving to others through 'good works'. This is also the week of Mardi Gras in the U.S. and Carnival in Italy, Brazil, and other countries.
Now I've only been to one Mardi Gras party in my entire life and it was a huge amount of fun! The host of the party was a Louisiana native and had fresh crawfish flown in for a gumbo. However, before those little critters met their stew, we held a crawfish race!
It was ridiculous and lasted quite a long time if you can imagine. All the more time to drink more bourbon and rum-based concoctions.
At the end of the evening, I enjoyed my first taste of the traditional Mardi Gras King Cake and was also the lucky winner of the piece of cake that had the baby Jesus figurine inside! The cake was superb and I was lucky to have the host's delicious recipe for this Mardi Gras specialty!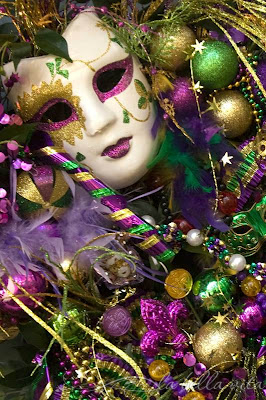 Bananas and New Orleans just scream Bananas Foster, a traditional flaming dessert. After googling this theme, I found some wonderful Mardi Gras Bananas Foster Muffins! Except for a few changes, I prepared the muffins according to the recipe, but used my own cream cheese frosting recipe. The addition of more butter flavoring to the frosting really adds some New Orleans 'bam' to ordinary cream cheese frosting.
I decided to drizzle the rum-sugar-cinnamon glaze on only 3 muffins and left the rest of the batch un-glazed. After a taste test, both my husband and I thought the glaze had an overpowering rum flavor that dominated the deliciously light muffins. The glaze idea was fine, but the dark rum is something I'll leave out in the future. I'll certainly make these muffins again . . . guaranteed! They rival a family recipe and quite honestly, I like these banana muffins much better than the recipe we've always made!
There's a bit of rum flavor in the muffins too, but since they've were baked, the flavor is very, very subtle with the alcohol evaporating out. I imagine that one could also simply add rum flavoring if they are opposed to alcohol.
I couldn't find any sugar crystals/glitter to sprinkle on top of the cream cheese, but found some tiny little sugar balls that fit the bill of the traditional purple, yellow, and green colors of Mardi Gras. Their delicacy mirrors the taste of these muffins!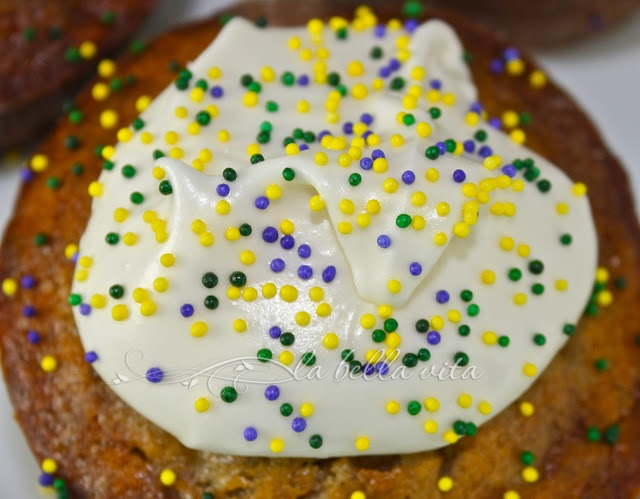 So my Mardis Gras trivia question to you is: What comes to your mind when you think of bananas foster? Are you imagining a rich and sinful, sugar-packed, caramelized indulgence? Or maybe you envision a dramatic, flaming dessert put together at your table by a trained chef, the sound of fire, and a sizzling sauce of rum, butter, brown sugar, cinnamon and some banana liquor? Or you might possibly equate it with a sweet aroma of a bubbling caramel rum sauce? Do you think of fresh bananas fried to perfection and then topped with ice cream? Or maybe you think of New Orleans or Mardis Gras?
Well, all of the above perfectly describes the classic and now world-famous dessert created and served at Brennan's in New Orleans, a beloved Big Easy institution since 1946. Bananas Foster was actually created by the Brennan family to honor a prominent business person, Mr. Richard Foster. This favorite perennial dessert gained global fame and today people come from all corners of the globe to taste the dish where it was born. Visitors for Mardis Gras can't get enough of this incredible dessert.
PIN FOR LATER!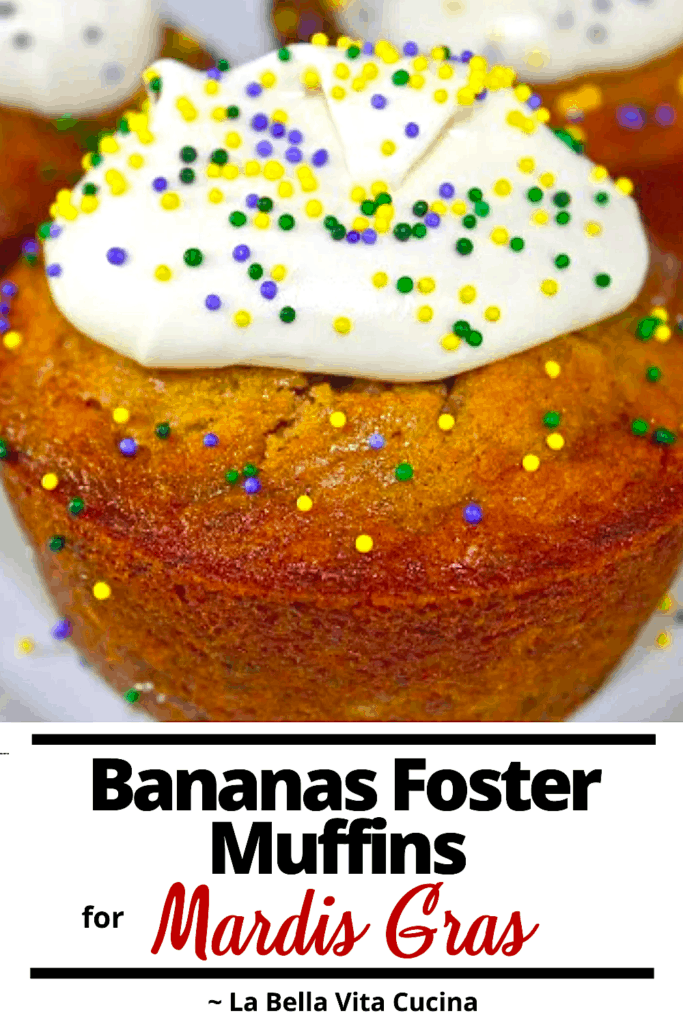 Mardi Gras Bananas Foster Muffins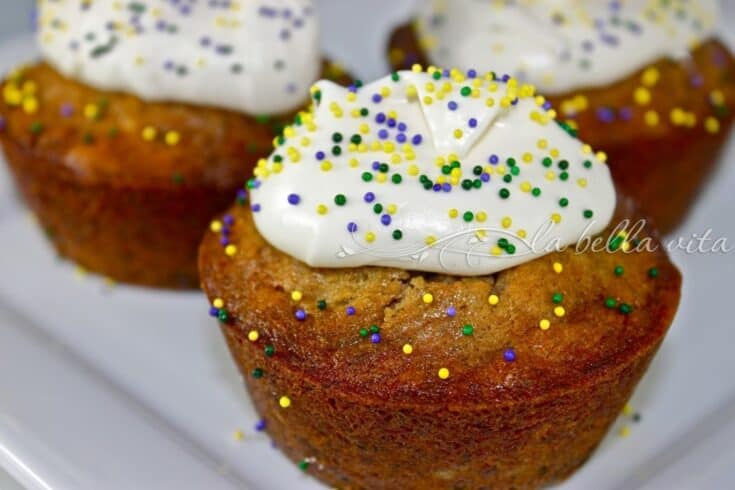 Ingredients
For the Muffins
1 1/2 cups white flour
1 1/2 teaspoons baking soda
1/4 teaspoon salt
1/2 teaspoon cinnamon
3 large ripe bananas, mashed
1/4 cup brown sugar
1/2 cup sugar
1/2 cup butter, melted
1/4 cup milk
2 tablespoons dark rum
1 large egg, room temperature
For the Rum Glaze (optional)
3 tablespoons dark rum
1 tablespoons sugar
1/4 teaspoon cinnamon
For Roz's Cream Cheese Frosting
4 cups powdered sugar
1 stick of butter, softened to room temperature
1 8-oz. package cream cheese, softened to room temperature
2 tsp. butter flavoring
(Note: This makes twice as much frosting as you'll need for the muffins, so you may want to double the muffin recipe or reduce this frosting recipe in half).
Instructions
Preheat oven to 350 degrees and fill two muffin tins with paper cupcake liners.
Sift together the flour, baking soda, salt and cinnamon into one bowl and set aside.
In a separate bowl, combine mashed bananas, brown sugar, sugar, butter, milk rum and egg and blend completely.
Add the dry ingredients a bit at a time and blend completely after each addition.
Fill the muffin cups about 3/4 full.
Bake for 15 to 17 minutes, or until the muffins have a rich golden color and spring back when pressed gently.
Top with Rum Glaze (optional)
While the muffins are baking prepare the rum glaze.
Mix the three rum glaze ingredients until the sugar is dissolve.
Brush over the bananas foster muffins while they're still warm from the oven.
Garnish with a dollop of cream cheese frosting and coarse purple sugar and coarse green sugar.
Prepare Cream Cheese Frosting
With a hand-mixer, mix all of the ingredients together, pouring in a little of the powdered sugar at a time, mixing well after each addition of sugar.
More recipes to celebrate Mardis Gras with a Bananas Foster flavor:
Bananas Foster French Toast from Food Banjo
Bananas Foster Cheesecake from Life, Love, and Sugar
Bananas Foster Bread Pudding from Will Cook For Smiles
This post was originally published in 2010 and was republished with new content and photos in 2021.