Grill-Roasted Corn, Black Bean and Avocado Salad with Cilantro Viniagrette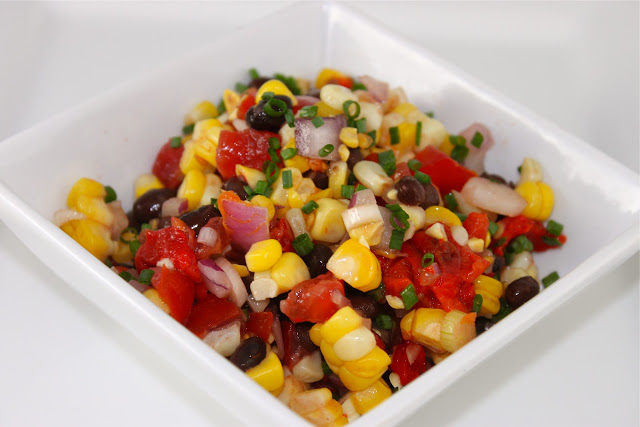 As my husband and I were having breakfast at our favorite local diner, our server said to us earlier this summer in July, "Happy Summer! Aren't you excited about all of the good eats on the grill now?" Well, yes, when you include Grill-Roasted Corn, Black Bean Avocado Salad Cilantro Viniagrette on the menu of delicious options!
I thought about her statement and the way her words reflect how we simply and traditionally connect food with every holiday and ritual of our lives! And the 'summer' holidays being one of our) favorite foodie holidays! What's not to enjoy in our tummies during summer? Grilled steaks, burgers, hot dogs, fish and/or chicken . . . yummy berry pies . . . ice cold watermelon, popsicles and fresh ice cream . . . and perfect potato and side salads.
Besides our own favorite tried and true recipes, deciding which 'new' recipes to try among the thousands shown in summer food magazines, TV food shows, foodie blogs and web-sites can be overwhelming! With fresh corn being harvested now, I felt instantly inspired to prepare Grill-Roasted Corn, Black Bean and Avocado Salad with Cilantro Viniagrette, as a new addition to our summer recipe line-up.
I used a basic grill-roasted corn and black bean salad as the base for the recipe that I developed. Then I added a cilantro and lime-based vinaigrette for that extra smack of flavor!
This is truly a yummy summer salad!
I made two versions of this corn and black bean salad. The first version has no avocados added since my husband doesn't like avocados and I also added some of my preserved roasted red peppers (frozen from last summer's garden). The second version does include avocados since I love them so much and Ro-Tel tomatoes with some lime and cilantro thrown in for some added zing!
Both versions are delicious!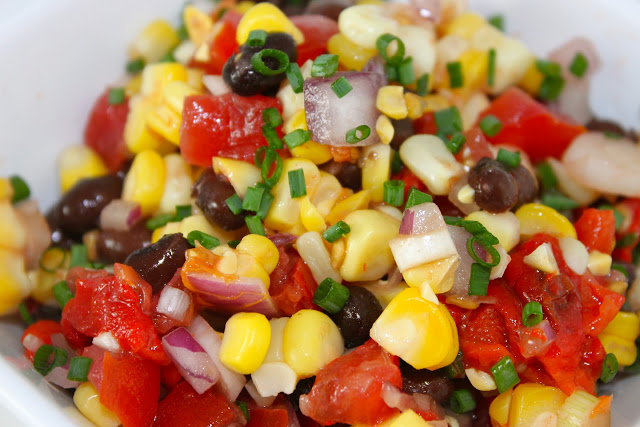 just look at that amazing summer vegetable color!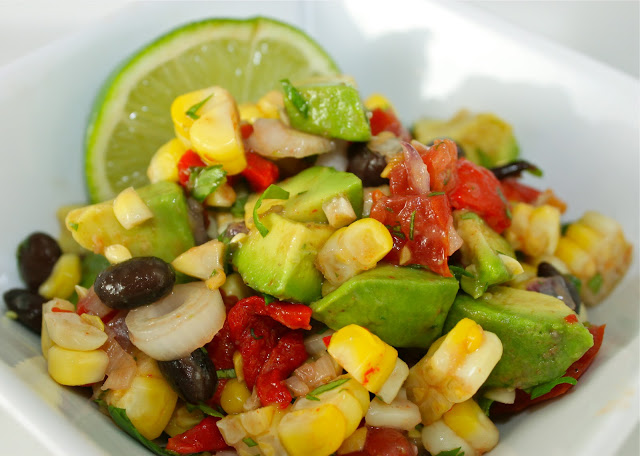 Version #2 with avocado added in and a small can of Ro-Tel tomatoes with lime and cilantro!
.
6 ears corn (or the number of ears that you prefer)
a tall pot of salted cold water
Heat grill to medium.
Fill large pot with cold water and 1 Tbsp. salt.
Place ears of corn with husks attached in pot for 10 minutes.
Remove corn from water and shake off excess.
Place the corn on the grill, close the cover and grill for 15 to 20 minutes, turning every 5 minutes, or until kernels are tender when pierced with a paring knife.
Remove the husks and eat on the cob or remove the kernels, or remove kernels to add to a salad.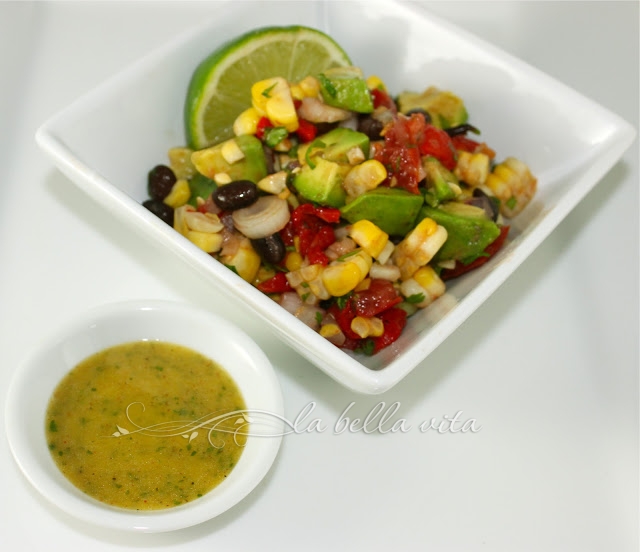 Serve with this tangy recipe for a cilantro vinaigrette to lightly drizzle on the salad. Adjust ingredients as you like.
Many thanks go out to Jessica, of Kitchen Belleicious, who was the inspiration behind this recipe duo!
Grill-Roasted Corn, Black Bean and Avocado Salad with Cilantro Vinaigrette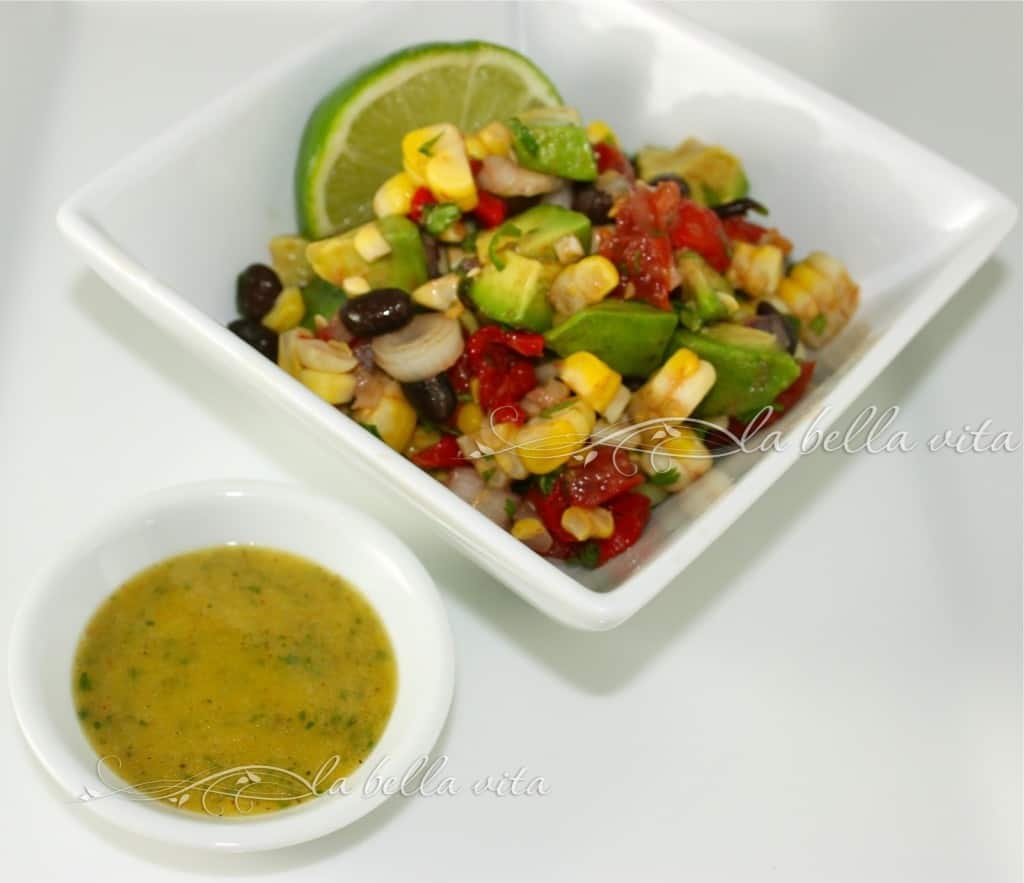 Ingredients
6 ears of grill-roasted corn kernels off the cob
1 can of black beans, rinsed and drained
1 large tomato, diced, or 2 cups cherry tomatoes, halved
1/2 red onion, finely chopped
2 avocados, peeled and cut into 1/2" cubes
1/2 cup roasted red peppers, drained and chopped (I freeze a batch of these every summer)
¼ cup fresh cilantro, chopped
¼ cup fresh chives, chopped
2 cans Ro-Tel tomatoes with lime and cilantro
Cilantro Vinaigrette
1/4 cup champagne vinegar
3/4 cup extra virgin olive oil
1/3 cup fresh cilantro, minced
1 Tbsp. freshly squeezed lime juice
1 Tbsp. fresh jalapeño pepper, minced
2 Tbsp. green onions, minced
2 tsp. garlic, minced
1/2 tsp. freshly ground sea salt
1/2 tsp. freshly cracked black pepper
1/4 tsp. ground dried chipotle pepper
2 Tbsp. sugar
Instructions
Prepare Cilantro Viniagrette
Combine all ingredients.
For the Salad
Combine all ingredients and serve immediately as a salad or with tortilla chips for an appetizer.
This gets better after it sets for a few hours if you have the time.
Refrigerate for 2 hours.
Need some more delicious and super easy, peasy summer-fresh, 'can't-get-enough' appetizers to enjoy?
Here are some super winner appetizers, guaranteed to DISAPPEAR in seconds!
.
.
.
and I just love to share my award-winning Guacamole with you! Here it is to add to any fun food get-together!
Can't Get Enough of Roz's GUACAMOLE!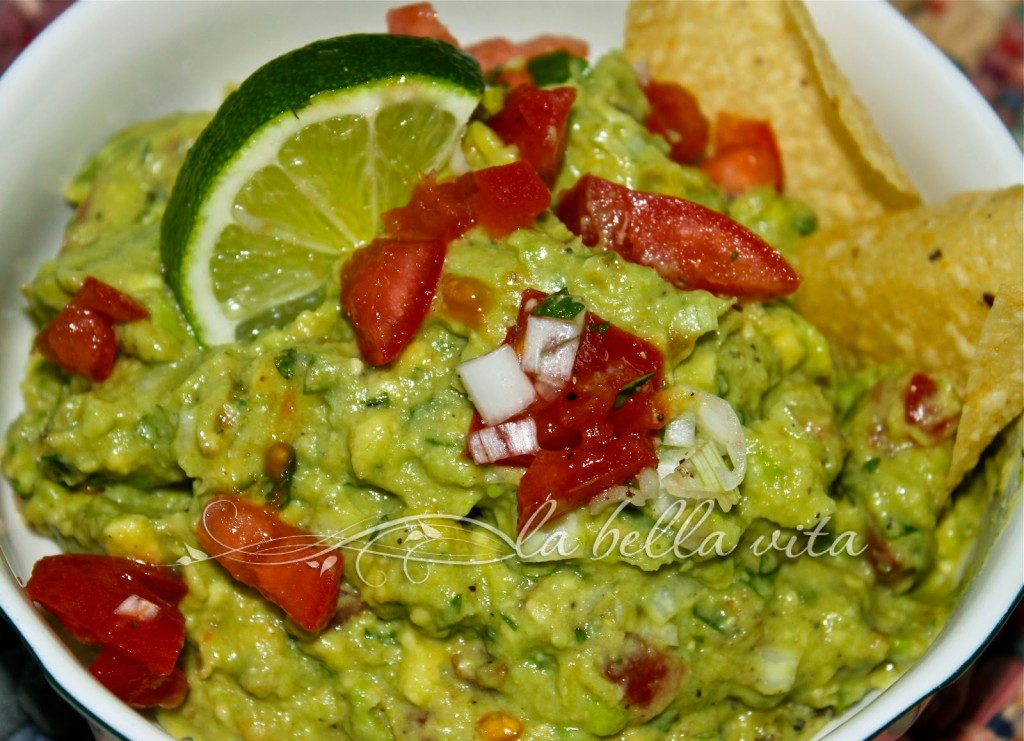 If you can, please let me know if you try any of my recipes, including those that I've shared here with you today. I'd love to know in your comment, what you think and I'd be happy to publish your comment at the bottom of my blog for all to read!
Grazie!
Enjoy this delicious Summer Fresh Corn Salsa!!
..