Pasta Quattro Formaggi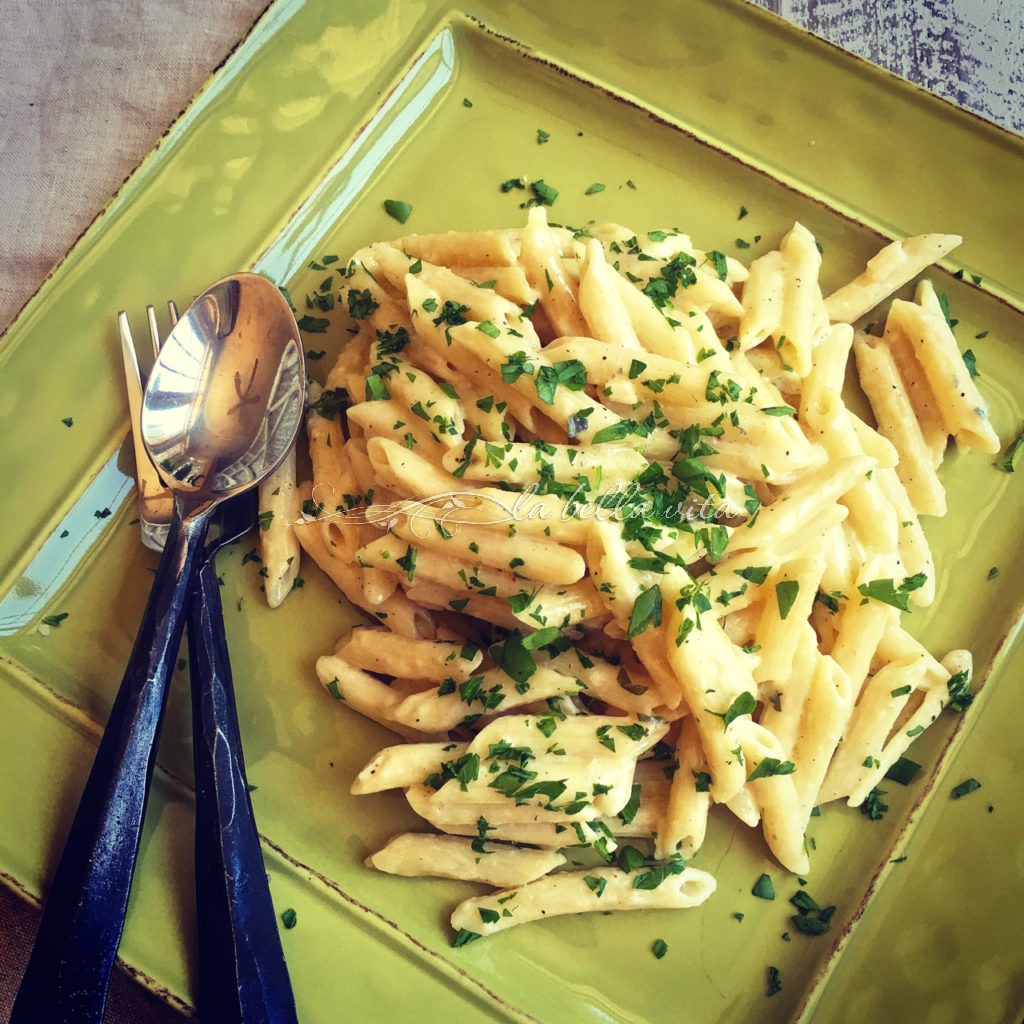 Cheese, cheese, and MORE CHEESE!
Who doesn't just love cheese? Don't lie now! Even if it is ever-so fattening (as in, just lather it on my behind), cheese just rocks! Whenever I serve Pasta Quattro Formaggi, which is Italian for "Pasta with Four Cheeses", everyone, especially kids, always scream for seconds.
The most commonly used cheese varieties for this recipe are parmesan, gorgonzola, fontina, and provolone or mozzarella. You can use any of your favorite cheese though. Some people use mascarpone or goat cheese, which may add some creaminess to the mix. Even 'Trader Joe's' has a blend that includes asiago cheese. But as my Italian family says, "You can never have too much cheese"! So throw a bunch in the pan. There's just something about cheese from Italy that perfectly stimulates taste buds and satisfies tummies around the world.
After a bowl of this (I hate to even think of the calories and grams of fat), it's time to go on one of those crazy cleanse diets . . . remember the cabbage soup diet? Ugh!
So like a big kid in a candy store cheese shop, dig into a creamy bowl of this decadent pasta, forget about the calories and fat, and simply enjoy!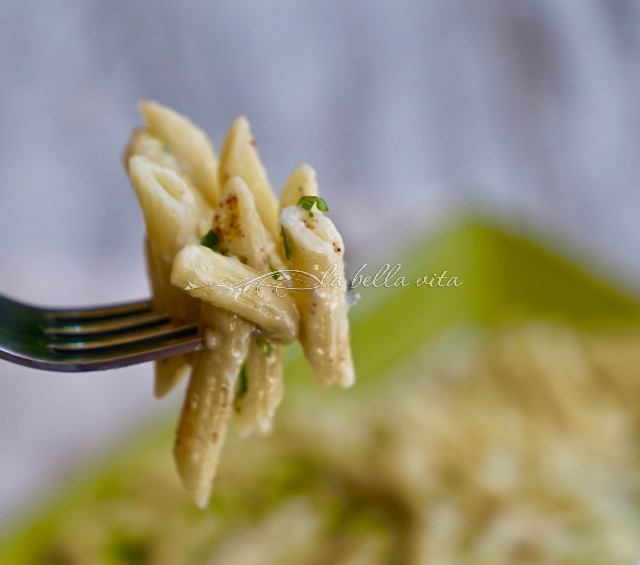 ** Please pin this image **

Print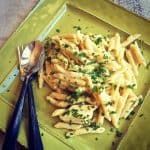 Pasta Quattro Formaggi
Author:
Prep Time: 0 hours
Additional Time: 0 hours
Cook Time: 0 hours
Total Time: 0 hours
---
1 lb. penne mezze (short penne)
1/2 cup heavy whipping cream
1 cup gorgonzola cheese, broken into small pieces/chunks
1/2 cup parmigiano cheese, grated
1 cup Fontina cheese, grated
1/2 cup Asiago cheese, grated
2 Tbsp. extra virgin olive oil
1 – 2 large garlic cloves, minced
1 – 2 dashes of ground nutmeg
4 Tbsp. Italian parsley, minced
freshly cracked sea salt and black pepper
---
Instructions
Bring tall pot of water to a rolling boil, add penne pasta and 4 Tbsp. salt.
Cook pasta for 5 minutes, until 'al dente'.
Heat a stove burner to medium-low.
In a large sauce pan, pour olive oil and add minced garlic; saute' garlic for about 2 minutes.
Add the heavy cream and all cheeses; do not use a very hot burner or everything will burn.
Add nutmeg, salt and pepper.
When pasta is finished cooking (after about 5 minutes), take a hand strainer to dip into the pasta water and strain pasta over the pot (much faster this way).
Put drained pasta in the sauce pan full of hot cheese sauce.
Add about a ladle-ful of pasta water to the pasta and cheese mixture.
Taste!
Add more cheese of the flavor you believe that it needs according to your preferences.
Add more cream if it needs it; or if it needs more pasta water, you can also add more at this time.
Pour the creamy pasta onto a large pasta platter.
Garnish with minced Italian parsley.
Serve immediately while the pasta and sauce is hot.
---
Notes
This can be refrigerated and enjoyed for a few more days. Just add more cream and/or grated cheese to get the refrigerated pasta to become creamy again after being in the refrigerator.
Enjoy this Pasta Quattro Formaggi !