Bolognese Risotto Stuffed Peppers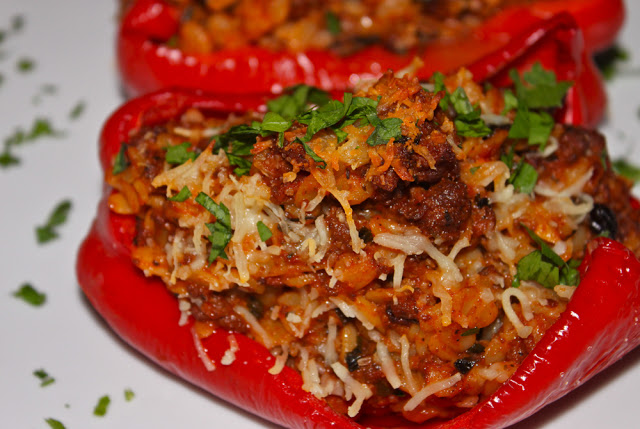 Mama mia! More red peppers! Well, I'm finished roasting and freezing peppers for the moment and just ready to prepare something for us to enjoy in the here and now. Stuffed peppers just sounded really good right now, and I just made these with what I had on hand, adding a little bit of this and a little bit of that (and writing it down as I went along).
Living way out in the countryside, I've got to keep a well stocked pantry and 2 freezers-full of frozen foods. This way I'm always fairly prepared and don't have to resort to wasting expensive gas driving to the nearest town for one or two items! We learned very quickly when we moved to the Carolina's that things are REALLY spread out from each other. Plus when I come home from my hour and a half long commute from work, I am in no mood to shop for groceries!
For this recipe, I used my family's Bolognese sauce recipe. Mr. M. and P. will not eat anything without meat, so a good Bolognese makes his tummy happy every time! Vegetarians can use marinara sauce instead, but it will taste different. The best flavored Bolognese is part beef, part pork, and part veal. At least that's the way we make ours.
The great thing about this recipe is that you can add what you like and delete what you don't like. I think these would also be great with some sauteed, chopped porcini mushrooms added, or some diced prosciutto too! Change the cheese varieties around, add some basil, etc!
Bill came home and dipped a spoon in some of the extra stuffing and said, "This is really, really good!" Now that's a super comment coming from this quiet-natured man.
Before and after baking the stuffed peppers
Bolognese and Risotto Stuffed Peppers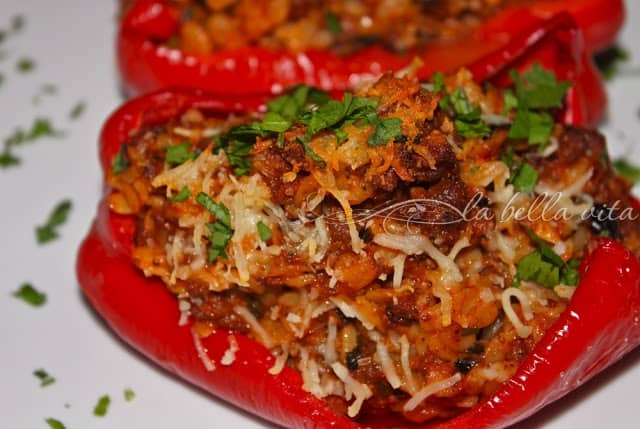 Ingredients
4 bell peppers (red, yellow or a mix), halved lengthwise, tops and seeds removed
4 cups Bolognese sauce (I use my homemade sauce)
1/4 cup risotto
3/4 cup grated Asiago cheese
1 tsp. red pepper flakes
1 cup chopped Italian flat-leaf parsley, cut fresh from the garden if possible
1 tsp. sea salt
1 tsp. freshly ground black pepper
Shredded Asiago cheese and chopped Italian flat leaf parsley for garnish.
Instructions
Heat up the Bolognese sauce in a large sauce pan.
Fill a large pot half-way with water.
Bring the water to a boil; add risotto and cook for half of the time indicated on the package directions (it will continue to cook in the sauce and peppers).
Add the cheese to the sauce.
Add the Italian parsley.
Add the red pepper flakes.
Add salt and pepper and taste, taste, taste.
Add more of whatever you prefer for your own taste.
Preheat the oven to 450 degrees F.
Place the pepper halves in a bread loaf (keeps them in place when snug in this pan).
Fill each pepper half with the stuffing.
Sprinkle more grated cheese on top of each stuffed pepper.
Sprinkle with chopped Italian parsley (or after they're finished baking if you prefer).
Cover the dish with foil and bake until the peppers are tender and the filling is hot, about 30 minutes.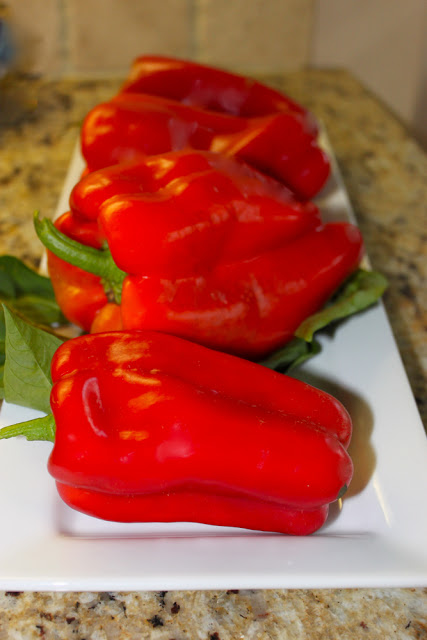 Such rich colors of summer!