Super MOIST Cinnamon Zucchini Cake with Cream Cheese Frosting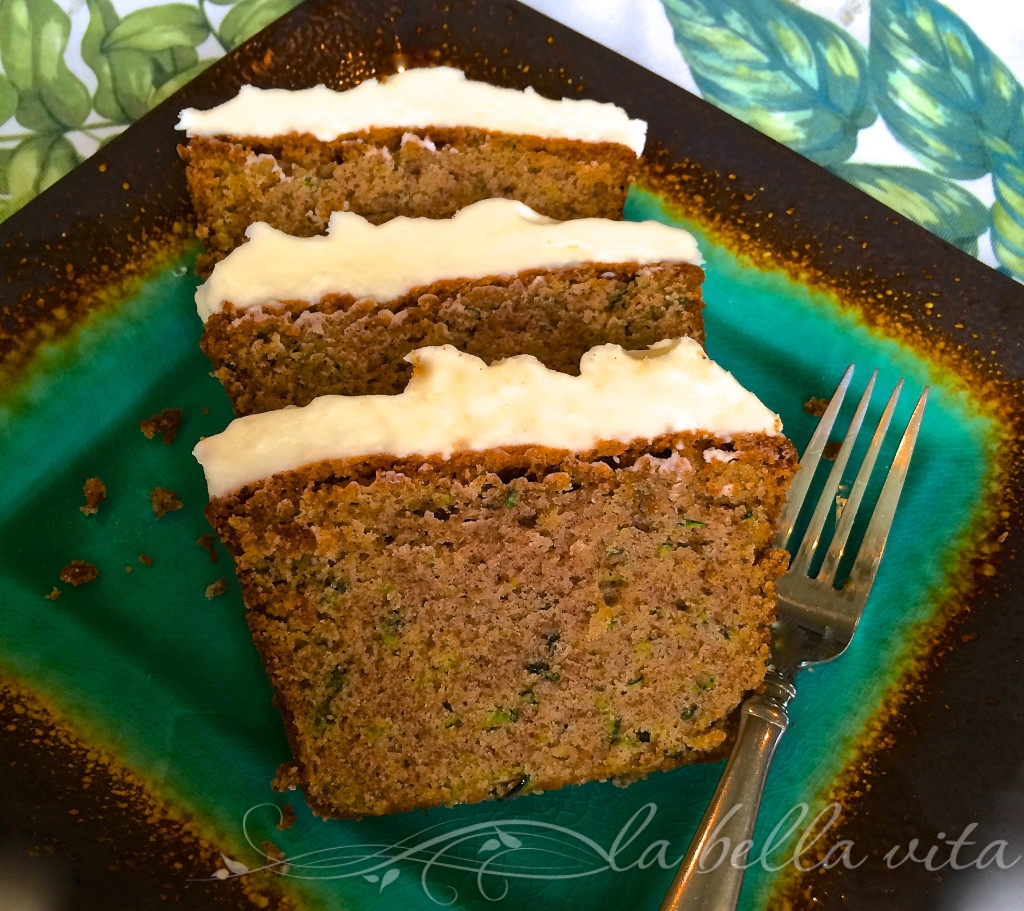 We have several reasons to be overjoyed with lots of zucchini ready to pick from a garden! But the BEST reason? It's time to bake one of my family's hands-down favorite summer cakes (which I realize that some folks call it a 'bread').
Incredibly moist, super-cinnamony, tender, light and airy, and when topped with a doubled amount of a butter-flavored cream cheese frosting, it's zucchini perfection! Although very similar to my outrageous Carrot Cake with Praline Filling , this Zucchini Cake is a little bit lighter.
Just HEAVEN IN SUMMER!
Perfect for dessert, a mid-morning coffee or tea sweet or for a mid-afternoon snack treat!
We double, triple, and even quadruple this recipe and freeze the extra cakes to enjoy throughout the year. They freeze beautifully! My husband and I bake these together not just because of the large batches that we make, but because he has to be the one to lick up any of the remaining cinnamony-batter! His eyeballs roll back in their sockets whenever he spoons the last bit into his mouth.
It's always so much fun when we are in the kitchen together and knowing that we've been baking these cakes since the 70's when a friend gave me her cherished recipe. It's a totally tried and true recipe — and we cherish it too!
HOW DO YOU USE UP ZUCCHINI?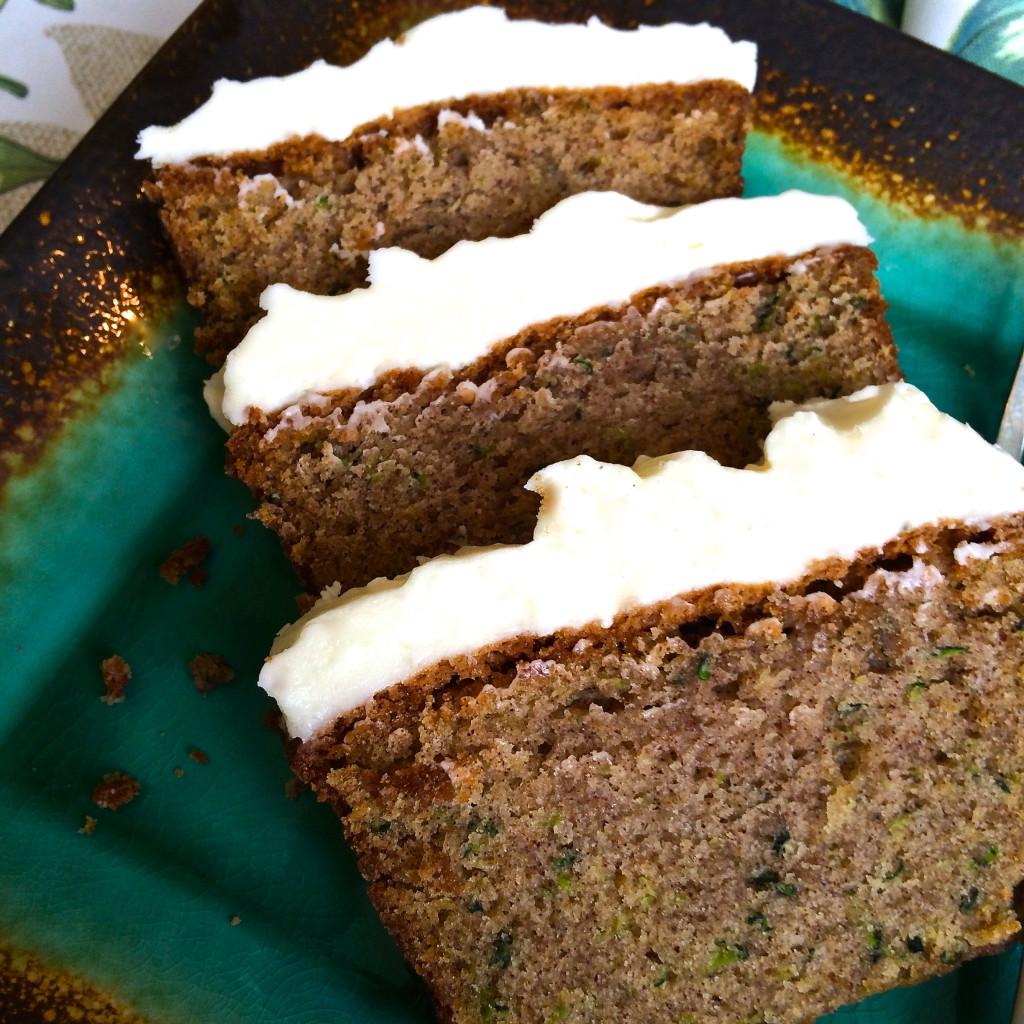 Tiny little pieces of the shredded green skin of the zucchini peak out from the baked cake, adding a bit of summer color!
.
Print
SUPER MOIST Cinnamon Zucchini Cake with Cream Cheese Frosting
Author:
Prep Time: 0 hours
Additional Time: 0 hours
Cook Time: 0 hours
Total Time: 0 hours
---
For the Cake
2 cups sugar
2 cups all-purpose flour, not cake flour
3 jumbo eggs
1 cup oil (I use canola)
1 tsp. vanilla
2 cups grated zucchini, use a hand-grater, somewhat dried out
2 tsp. cinnamon
3/4 tsp. baking soda
2 tsp. baking powder
1 cup chopped walnuts or pecans (optional, which we leave out)
For the frosting: (I double this to frost one cake)
2 cups powdered sugar
1/2 stick unsalted butter, room temperature
1 small 3 oz. package cream cheese
1 tsp. butter flavoring
---
Instructions
Preheat oven to 350 degrees.
Spray loaf baking pan (8 x 4 x 2-½") with cooking spray.
In a medium-sized mixing bowl, beat together the eggs, sugar, oil, and vanilla.
In large mixing bowl, combine the the flour, cinnamon, baking soda and baking powder.
Mix the dry ingredients with zucchini and nuts (optional) and then mix into the eggs-sugar mixture.
Blend well by hand.
Pour batter into the loaf pan leaving about ½ inch from the top.
Bake in preheated oven for 50 minutes; keeping in mind not to overcook, you want this cake MOIST.
For the frosting, beat all the ingredients together until light and fluffy.
Spread generously on top of cake/bread.
This zucchini cake/bread can easily be frozen when wrapped in heavy freezer aluminum foil.
---
Enjoy this Super MOIST Cinnamon Zucchini Cake with Cream Cheese Frosting !
.