Espresso and Chocolate Tres Leches Cake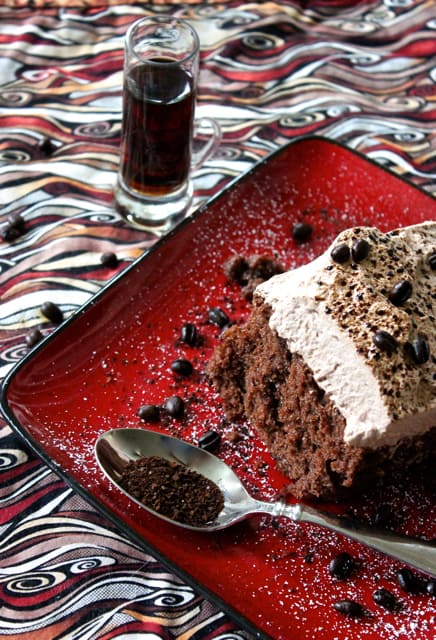 Ever since my trip to Italy with my parents, I have fallen totally and completely in love with Italian coffee! Especially espresso, Caffè Latte's and Caffè Macchiate. Pretty strong stuff to say the least!
I just love the combination of chocolate and coffee flavors. Since it's still rather warm outside, I thought it would be a good idea to make a delicious cold cake that everyone treasures, but with a twist: Espresso and Chocolate Tres Leches Cake!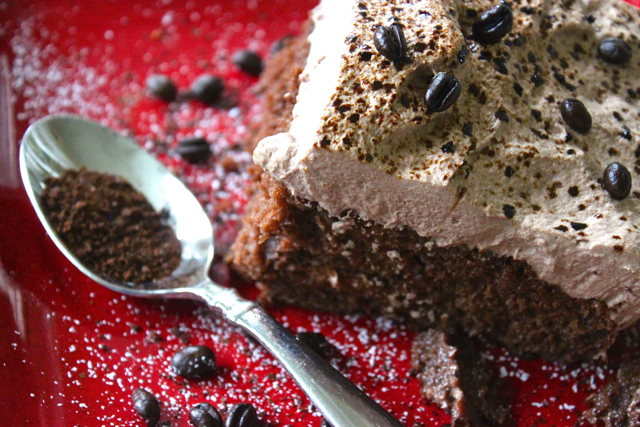 .
Many of you are familiar with the incredible tres leches cake from the Latin culture. It is just one of the best cakes, served cold, on the planet! So when I stumbled upon this recipe in which chocolate AND espresso coffee are added to the cake, I knew that I had to try it. It's not a complete 'no-bake' dessert because you do have to use your oven to bake the foundation of the cake.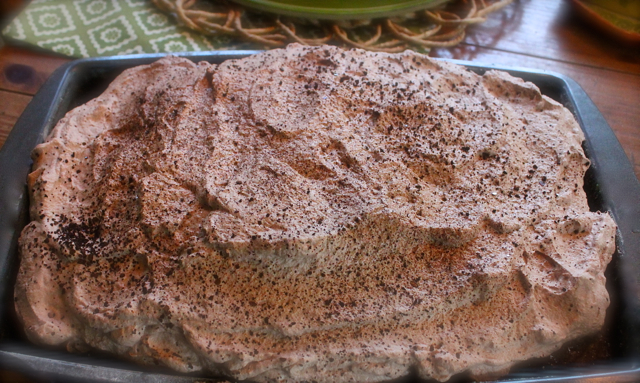 .
I amped up the coffee flavor of this dessert by adding several teaspoons of Tia Maria, a Jamaican coffee liqueur. There is a quaint story behind this liqueur that dates all the way back to the 1700's: A young Spanish girl was forced to flee Jamaica and the family plantation during a conflict. She was accompanied by a servant named "Maria" who carried a bit of jewelry and the recipe for the family liqueur. In honor of Maria's help in saving her life, the girl named the liqueur "Tia Maria".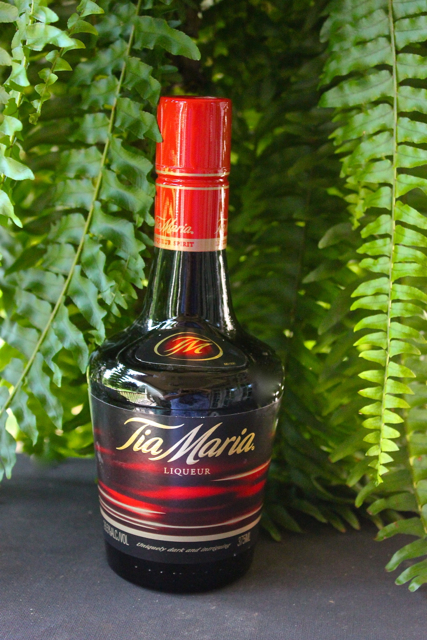 So you should now win the answer to that question if ever in a game of Trivia!
Tia Maria really takes the chocolate mousse topping from "tastes good", to "wow, now that's delicious!" This is a WOWZA dessert . . . unbelievably chocolatey, and java-y, outstanding!
Don't forget to sip a little of that coffee liqueur while you're in the kitchen!
PS: A BIG "THANK YOU" SHOUT OUT to my wonderful mother for sewing the gorgeous placemat that you see in the photos! These placemats are reversible and turn over to display a cute coffee motif! Love you Madre! xoxo
.
Print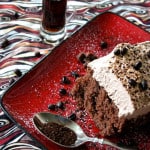 Espresso and Chocolate Tres Leches Cake
Author:
Prep Time: 0 hours
Additional Time: 0 hours
Cook Time: 0 hours
Total Time: 0 hours
---
1 (18.25 oz) milk chocolate cake mix
1–1/4 cups chocolate milk
1/2 cup canola oil
3 eggs (I use jumbo)
1 tsp. instant espresso powder or 2 tsp. instant coffee powder
1 (14 oz.) can sweetened condensed milk
3/4 cup evaporated milk
3 Tbsp. unsweetened cocoa powder
3/4 cups half and half
1 cup powdered sugar
1/2 cup unsweetened cocoa powder
3 cups heavy whipping cream
2 tsp. Tia Maria Jamaican Coffee liqueur (or Kahlua)
---
Instructions
Preheat oven to 350 degrees F (175 C)
Prepare a 9 x 13 inch cake pan with butter and flour.
With a mixer on low speed, beat the cake mix, chocolate milk, canola oil, eggs, and espresso powder together in a large bowl.
Mix until the dry ingredients are moistened.
Increase the mixer speed to medium and continue to beat for 2 more minutes.
Pour chocolate mixture into the prepared pan.
Bake for 30 minutes or until a toothpick inserted comes out clean.
Remove the cake from the oven and allow it to cool in the pan until is is no longer hot to the touch, but is warm.
While the cake is warm, poke holes all over the cake with a fork.
Whisk the sweetened condensed milk, half-and-half, evaporated milk, and 3 Tbsp. cocoa powder together in a bowl until the cocoa is mostly incorporated into the liquid.
Allow the cake to cool completely.
Pour this milk mixture evenly over the cooled cake. (You may even want to make more to pour over the cake to make it extra moist — totally up to you!)
Allow the liquid to soak into the cake.
Sift the powders sugar and cocoa powder together in a bowl.
Beat the heavy whipping cream in a stand-up mixer on medium speed for 1 minute.
While continuing to mix, add the sugar and cocoa powder mixture to the cream in 2 batches, allowing the first to incorporate before adding the second.
Increase mixer speed to medium-high and beat until soft peaks form and the cream is thickened and spreadable.
Add the coffee liqueur by gently folding it into the whipped cream mixture.
Spread chocolate whipped cream on the cake to serve.
Notes
I adapted this recipe by amping up the coffee flavor by adding the Tia Maria coffee liqueur, the original (without liqueur): AllRecipes.com
---