Risotto Stuffed Zucchini with Bolognese Sauce
When I first started heavy-duty gardening (back in the day), I planted more zucchini than I knew what to do with. My high school friend and neighbor, Claretta, came to my rescue with a superb recipe for stuffed zucchini. Needless to say, since it's now time for zucchini in our gardens, preparing this wonderful recipe immediately came to mind! You're going to love this Risotto Stuffed Zucchini with Bolognese Sauce!
I made a few changes to the original recipe by adding my family's Bolognese sauce to the stuffing instead of simply adding tomato paste. This time to make it more 'carb'-healthy, I used brown rice instead of white. But alas, I made it more fattening by pouring the entire contents of one regular sized bag of Italian-blend cheese to the mix instead of only sprinkling mozzarella on top.
Give and take, right? I mean, what's a whole bag of cheese? Just don't eat as much (if you can stop eating this stuffing, that is)!
Let's just say, Mr. Meat and Potatoes ate this for days on end and each time always raving about it (I make big batches of anything, even though it's just the two of us now in our home: just means more left-overs and easy cooking for days)! Like many recipes, Claretta's stuffed zucchini just gets better and better for a good 4 days . . . kept cool in the frig of course. But the flavors, oh man, they just marry like perfect soul-mate partners do!
Before writing this post, I contacted Claretta to ask her to share a little bit about her love of cooking so that I can give her credit for where the true credit is due. Being as generous and nice as she is, Claretta was happy to oblige! Not surprisingly she honed her cooking skills while growing up; learning how to cook from her parents who were both fantastic cooks. Her husband, Larry, (also a high school friend of mine) and she have always cooked their family meals together with their entire family crowding into the kitchen to cook up their feasts. As an avid cookbook collector, she also collects and tries new recipes.
Claretta says, "I have a huge file of our favorite repeat recipes . . . this zucchini recipe is one of them. It is a wonderful healthy alternative for pizza. I've made this recipe for so long that I can't remember where it came from. For all recipes I tweaked this to make it my own by varying the ingredients. Roz did too and I can't wait to try her variations, especially her sauce!"
You can either your own favorite meat sauce or If you prefer to prepare this for a vegetarian preference, just add a delicious Marinara sauce instead and eliminate the ground beef in the mix. You'll love this Risotto Stuffed Zucchini with Bolognese Sauce either way. TRUST ME!
Print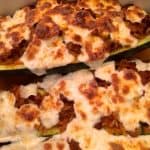 Risotto Stuffed Zucchini with Bolognese Sauce
Author:
Prep Time: 0 hours
Additional Time: 0 hours
Cook Time: 0 hours
Total Time: 0 hours
---
2 – 3 medium to large zucchini, cut in half lengthwise
2 Tbsp. olive oil
1 medium onion, chopped
1 lb. lean ground beef
2 large garlic cloves, minced
1 cup cooked rice (either regular rice, Italian Arborio rice, OR orzo pasta)
1 package shredded 5-Cheese Italian blend cheese
1/2 package of either shredded mozzarella, or Italian-blend shredded cheese
Bolognese sauce (see recipe on my blog), approximately 10 cups, add to your preference level
Mrs. Dash seasoning
Nature's Seasons seasoning
Accent seasoning
Italian blend dried herbs
---
Instructions
Scoop the pulp out of the zucchini halves, discarding any seeds.
Chop the pulp up
Chop up one zucchini (minus the seeds), including the green skin for extra color.
Boil a pot of water and cook the rice, Arborio rice, or Orzo pasta according to package directions.
Drain and set aside.
Heat the olive oil on medium heat in a skillet.
Add the onions and sauté until golden.
Add the garlic and sauté for about one to two minutes, being careful not to burn the garlic.
Add the chopped zucchini pulp and sauté for about 5 minutes.
Set aside off of the stove burner.
Meanwhile in another skillet, sauté the ground beef with the seasonings until dark brown and cooked completely through.
Add the Bolognese sauce to the cooked and seasoned ground beef and cook until hot.
Add the sautéed onions, garlic, and zucchini to the beef and sauce mixture.
Add the cooked and drained rice/risotto/orzo.
Add one entire package of Italian blend cheeses.
Make sure the entire mixture cooks through.
On the bottom of a large baking dish, layer some of the beef-sauce-rice-cheese mixture.
Place the zucchini halves on top of this layer.
Fill each zucchini half with the remaining beef-sauce-rice-cheese mixture.
Place in a 350 degree oven and cook for 1-½ hour, covered with aluminum foil.
Sprinkle the last ½ package of cheese on top during the last 15 minutes and bake uncovered until the cheese melts on top, bubbles and is golden brown, keeping an eye on the cheese so that it doesn't burn.
---
Notes
For vegetarians, just substitute a delicious Marinara sauce in place of the Bolognese sauce and don't include the ground beef in the stuffing mixture.
Adapted from my friend Claretta Gurganus Voelker, 1995, Ames, Iowa.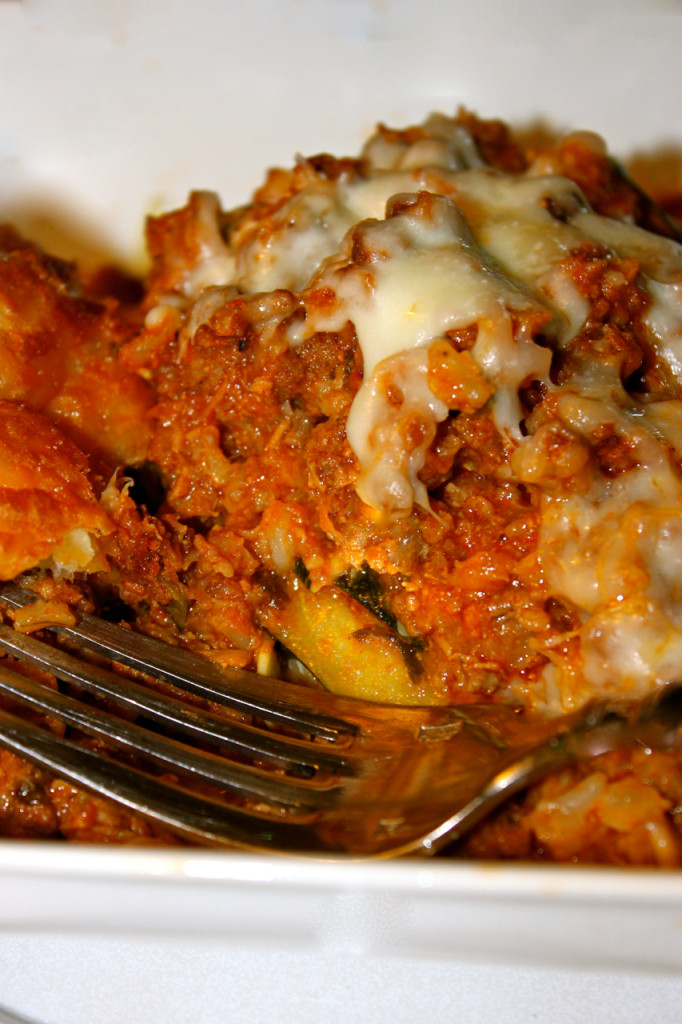 Grazie' mille to my dear friend, Claretta, for this outstanding fresh-from-the-garden zucchini recipe!
Enjoy this Risotto Stuffed Zucchini with Bolognese Sauce !