Bruschetta Pappardelle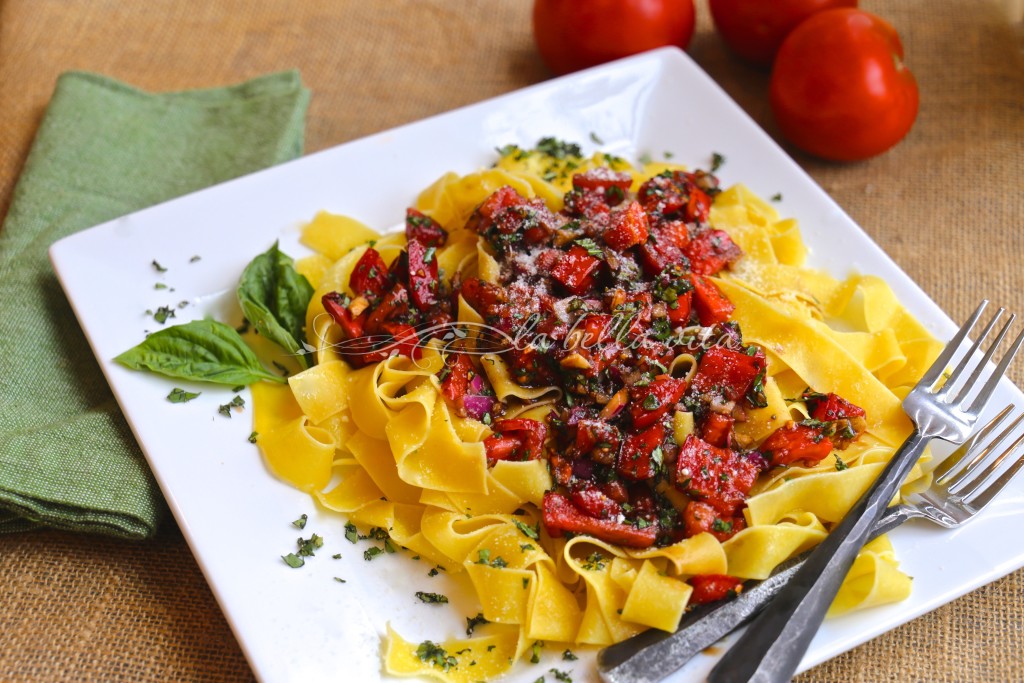 Fat-free, fresh, easy, bursting with flavor!
Sounds too good to be true. But seriously, here's a recipe that I adapted from "The Splendid Table, Recipes from Emilia-Romagna, the Heartland of Northern Italian Food" by Lynne Rossetto Kasper. I used pappardelle pasta instead of tagliatelle simply because I had some in my pantry. Perfect for Bruschetta Pappardelle!
Use only vine-ripened tomatoes, fresh basil and the highest quality of Modenese balsamic vinegar. Served cold on hot pasta, it's a perfect recipe for hot summer days.
If you can't find fine balsamic vinegar from Modena, Italy, than add some of the balsamic 'glaze' now available. It's thicker and more sweet than the commercial balsamic vinegar found in the United States.
So delicious, that even my husband asked for 'more' sauce. Something he, a super-picky eater, only does when he really likes!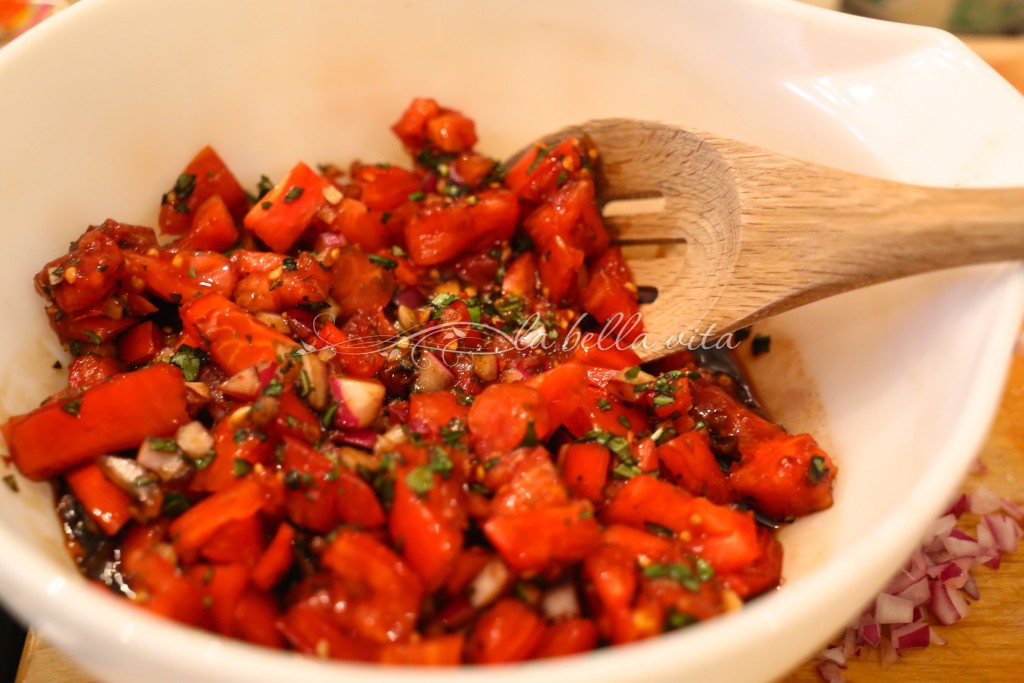 While the pasta water is coming to a boil, make the bruschetta 'sauce' since it needs to set for 15 minutes. Enough time to allow all of those wonderful flavors to blend together nicely.
I add sugar to taste in this sauce because it is a little too tart for us without it. If I had a lot of true balsamic vinegar, which is nearly like a sweet syrup, I'd avoid adding sugar. I haven't opened my family's heirloom balsamic vinegar yet. That has to be saved for super special occasions.
Don't make this ahead of time, Bruschetta Pappardelle is best when served as fresh as possible.
.
Print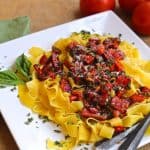 Bruschetta Pappardelle
Author:
Prep Time: 0 hours
Additional Time: 0 hours
Cook Time: 0 hours
Total Time: 0 hours
---
1 cup high balsamic vinegar (use the highest quality you can OR substitute 1/2 cup regular quality balsamic vinegar with 1/2 cup balsamic vinegar 'glaze)
sugar to taste to reduce the acidic flavor (optional that I added)
2 large garlic cloves, minced
1 medium red onion, diced
8 large vine-ripe tomatoes (about 3 pounds), cored and cut into bite-size pieces
2/3 cup minced fresh basil leaves
fresh-cracked sea salt and black pepper to taste
1 pound dried imported egg pappardelle or tagliatelle
1 cup Parmigiano-Reggiano cheese, shaved or grated
---
Instructions
Fill large pot with water.
Add about 2 Tbsps. salt.
Bring the salted water to a boil.
While the water is heating, prepare the Bruschetta Sauce
Pour vinegar in a medium sized bowl.
Add garlic and onion.
Marinate for 15 minutes.
Taste to determine if sugar is needed, add a tiny bit at a time until mixture is not too tart.
Add the basil, tomatoes, salt and pepper.
When water is boiling, drop the pasta in and cook for 5 minutes if using dried pasta, or for only 2 minutes if using fresh pasta.
Taste to make sure pasta is not over-cooked beyond al dente.
Drain pasta.
Toss pasta with the tomato mixture.
Top with parmigiano cheese.
---
Print .
Author:
Prep Time: 0 hours
Additional Time: 0 hours
Cook Time: 0 hours
Total Time: 0 hours
I hope that you enjoy this delicious recipe for Bruschetta Pappardelle!