Apple Caramel Cheesecake Bars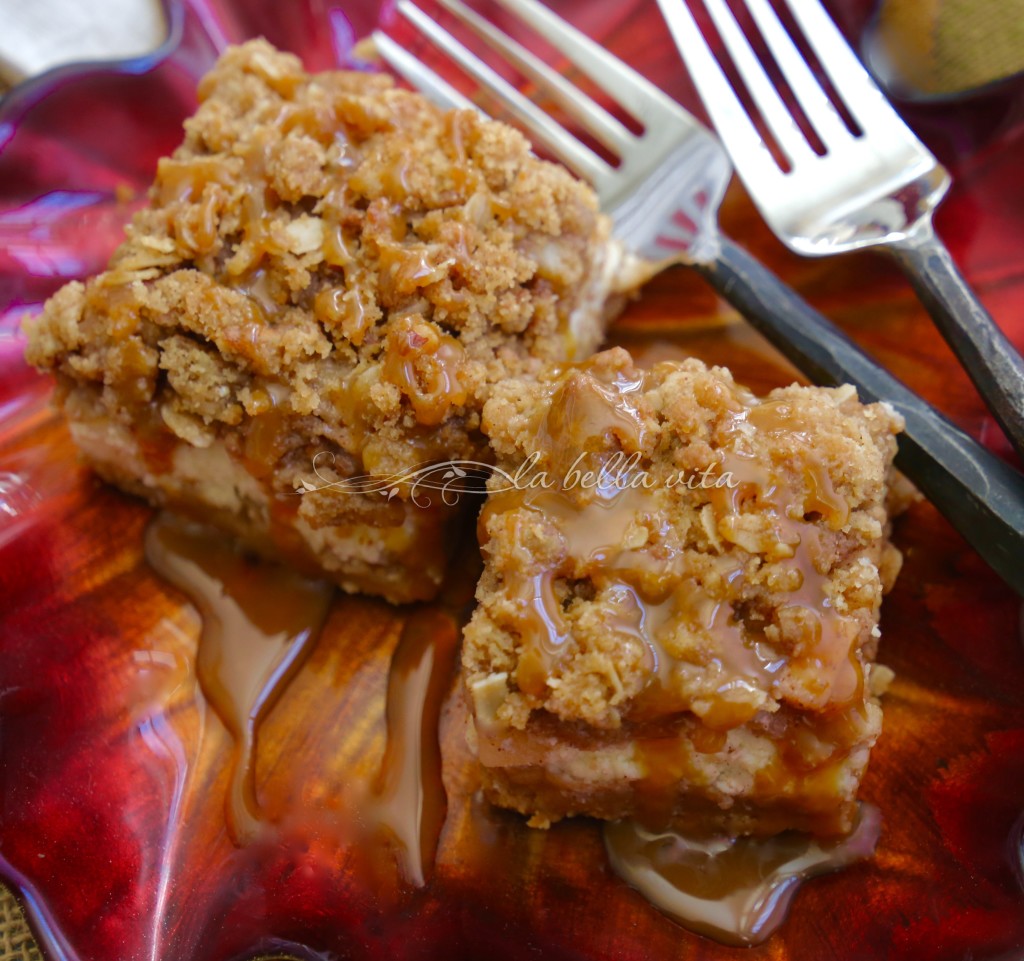 "Hey Mom, I need some apple recipes . . . it's apple season!" written in a text to me from my son in Chicago this week. Although he was really wanting a new pie recipe, I had my heart (and my husband's dessert-loving tummy) set on baking these outrageous Apple Caramel Cheesecake Bars instead . . . the apple pie recipe will come . . . just later, I texted back to him.
With the cooler temperatures of autumn quickly approaching, it's time to get baking again.
And what better to bake with in the crisp, golden days of fall than fresh apples? Apples coated in cinnamon and sugar, then baked and topped with a heavy, crunchy topping, and then . . .
drizzled with fresh caramel sauce?
Nothing could be finer!
Why not enjoy a nice glass of wine while preparing your apples?
Open up the windows, or go outside and enjoy all of the season's fresh air!
These "Pink Lady" apples are so vivid in color, aren't they?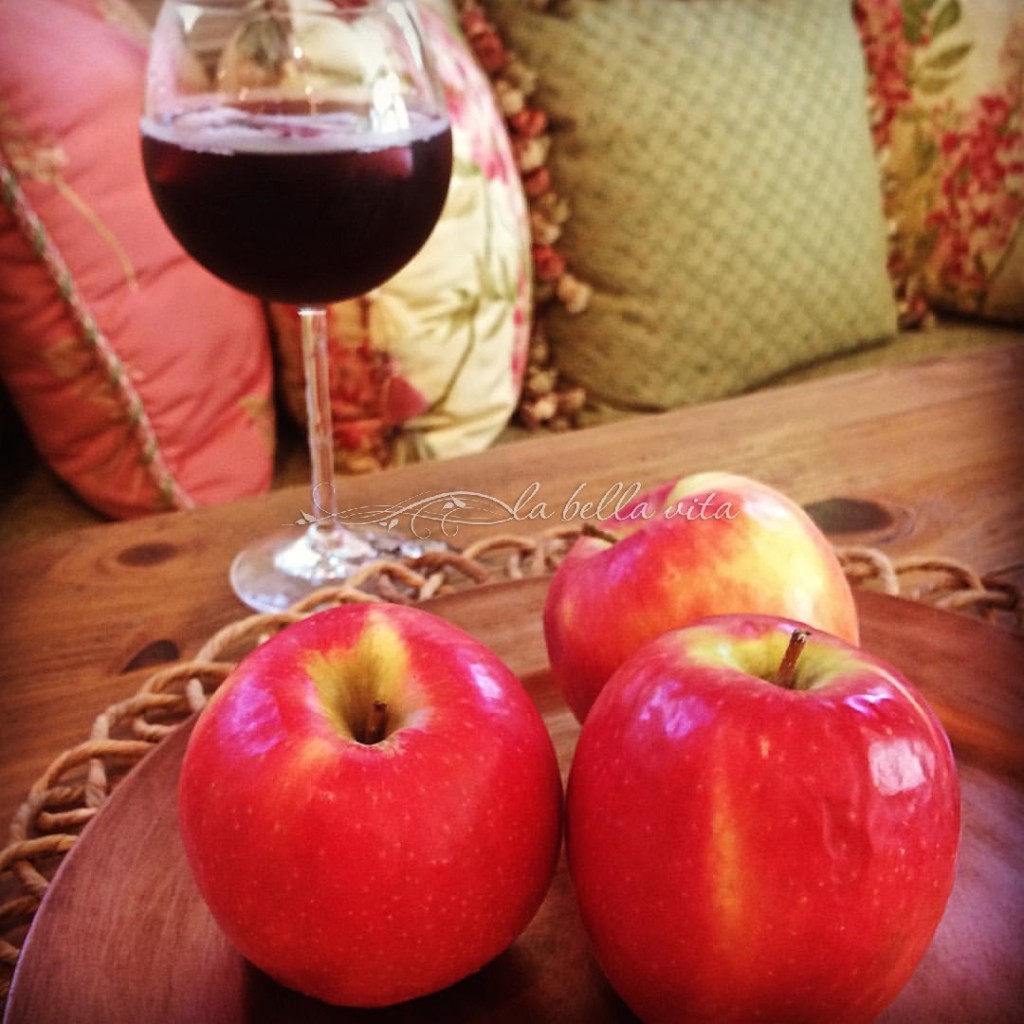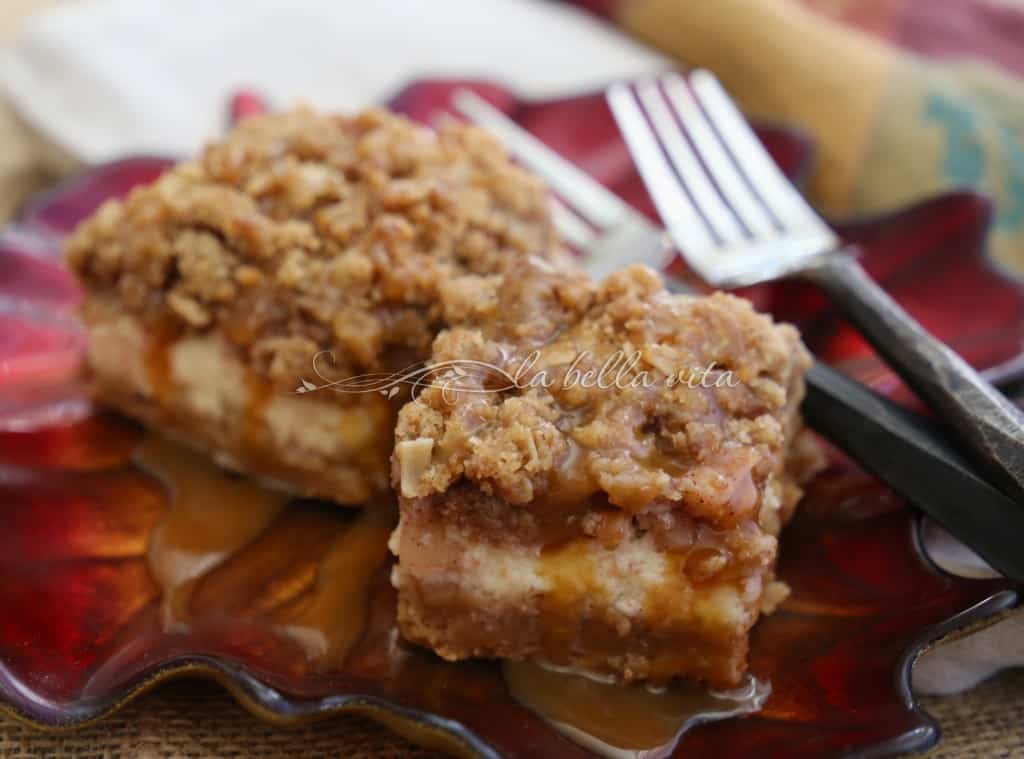 Kindly share the love and pin the following vertical image!
Thank you so much!

Print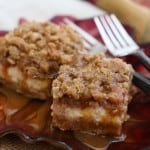 Apple Caramel Cheesecake Bars
Author:
Prep Time: 0 hours
Additional Time: 0 hours
Cook Time: 0 hours
Total Time: 0 hours
---
For The Crust:
1 cup butter (softened)
1 cup brown sugar (firmly packed)
2 cups flour
For the Cheesecake Filling:
4 lady apples (large Pink, peeled, cored, sliced, and diced)
1 1/2 cups granulated sugar (divided)
2 teaspoons ground cinnamon
2 mascarpone cheese (tubs Italian, or 8-oz. packages cream cheese or 1 of each cheese. Note: Mascarpone cheese offers a sweeter tasting filling)
2 jumbo eggs
For the Topping:
1 cup flour
1 cup firmly packed brown sugar
1/2 cup old fashioned oats (do not use steel-cut)
1 teaspoon ground cinnamon
1/2 cup butter (softened)
1 cup praline (chopped, coated pecans)
Garnish:
caramel sauce (fresh or store-bought)
---
Instructions
Preheat oven to 350 F degrees.
With foil, line a 3 X 9″ baking pan. Allow excess foil to hang over the sides of the pan.
For the Crust:
In a large bowl, beat the butter and brown sugar with a hand-held mixer on medium speed until creamy.
Add the flour and salt, beating until combined.
Press this mixture into the foil-lined pan.
Bake for 30 minutes. Allow to cool completely.
For the Cheesecake Filling:
In a large bowl, mix apples, 1 cup sugar, and 1 tsp. cinnamon.
Place the apple mixture in a colander that is set over a bowl, allow to stand for 30 minutes, giving an occasional stir.
While crust is cooling and apples are draining, in another large bowl, beat the mascarpone cheese, eggs, and 1/2 cup of sugar with a handheld mixer at medium speed until smooth.
Pour the cheesecake mixture on top of the cooled crust.
Spread drained apples on top of cheese mixture.
For the Topping:
In a medium bowl, whisk the flour with 1 cup packed brown sugar, 1/2 cup oats, 1 tsp. cinnamon, 1/2 cup (1 stick) butter, and 1 cup chopped praline pecans.
Sprinkle on top of apples.
Bake for 50 – 60 minutes until the center is set.
Allow to cool in the pan and then refrigerate until cold.
Using foil as handles, remove the cheesecake and cut into bars.
Drizzle with caramel sauce.
---