Cancun, Mexico for a Relaxing Escape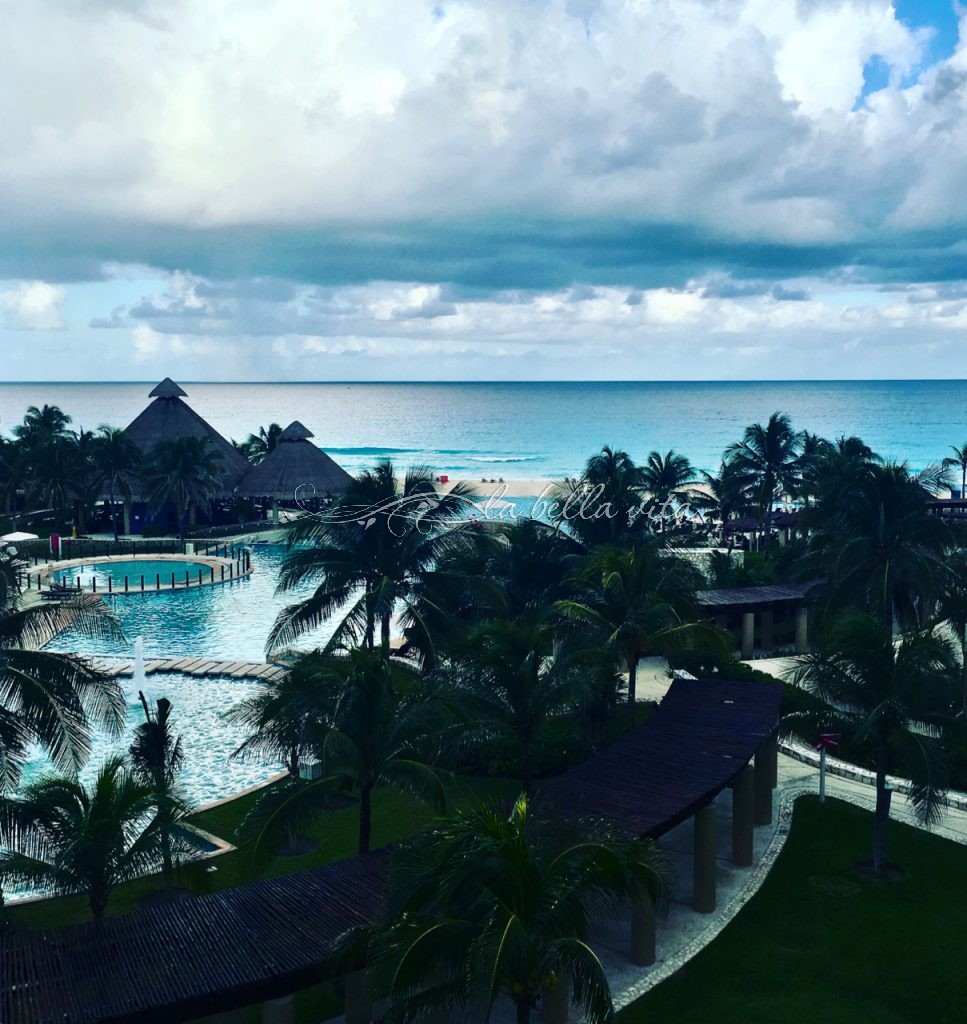 The view of dawn with the perfectly clear, turquoise Caribbean Sea and pristine sandy beach of Cancun greeted us the first morning of our recent sojourn. The color of the water is brilliant, unspoiled, crystal clear and mesmorizing! We spent the last week in Cancun, Mexico for a relaxing escape after recovering from two surgeries in one month. No need to go into the reason for the surgeries, just know that I have been absent for a good reason from my blog . . . I was on doctor's orders to lay still.
Meaning, I wasn't able to even to stand up in my kitchen. My husband has cooked every meal and ordered take-out for the last two months. What a trooper, he has been!
It's been rough for me to not be cooking and baking, but during my recovery down time, I've re-posted my absolute best seasonal recipes for you. I'm not out of the woods quite yet in terms of complete healing, so I'll slowly get back into the swing of things by sharing very simple and easy, but still delicious recipes in the next month or so. And then it will be the holidays! Time flies!
This amazing getaway was gifted to my husband and me from my sister and her husband. We stayed in their timeshare in Cancun due to last minute conflicts that they had with their travel plans. Turns out that their cancelled reservations were at the same time as my university's fall break. PERFECT! We are crazy-grateful to them for their kind generosity and thoroughly enjoyed this wonderful island and the peace and quiet it provided us (October is the slow time for Cancun since it is hurricane season).
So here is a brief overview of our trip of doing nothing but laying around the pool and on the beach (doctor's orders), dining out, going to the spa, and taking leisurely strolls on the pearl-white sand with the surf slapping at our feet. I'm not an easy person to relax, pretty much a triple-A type personality. But this peaceful escape was truly what the doctor ordered and I relaxed and restored the entire time. No excursions or tours, no scuba or snorkeling, na-da. Just rest amidst the warm Caribbean breezes.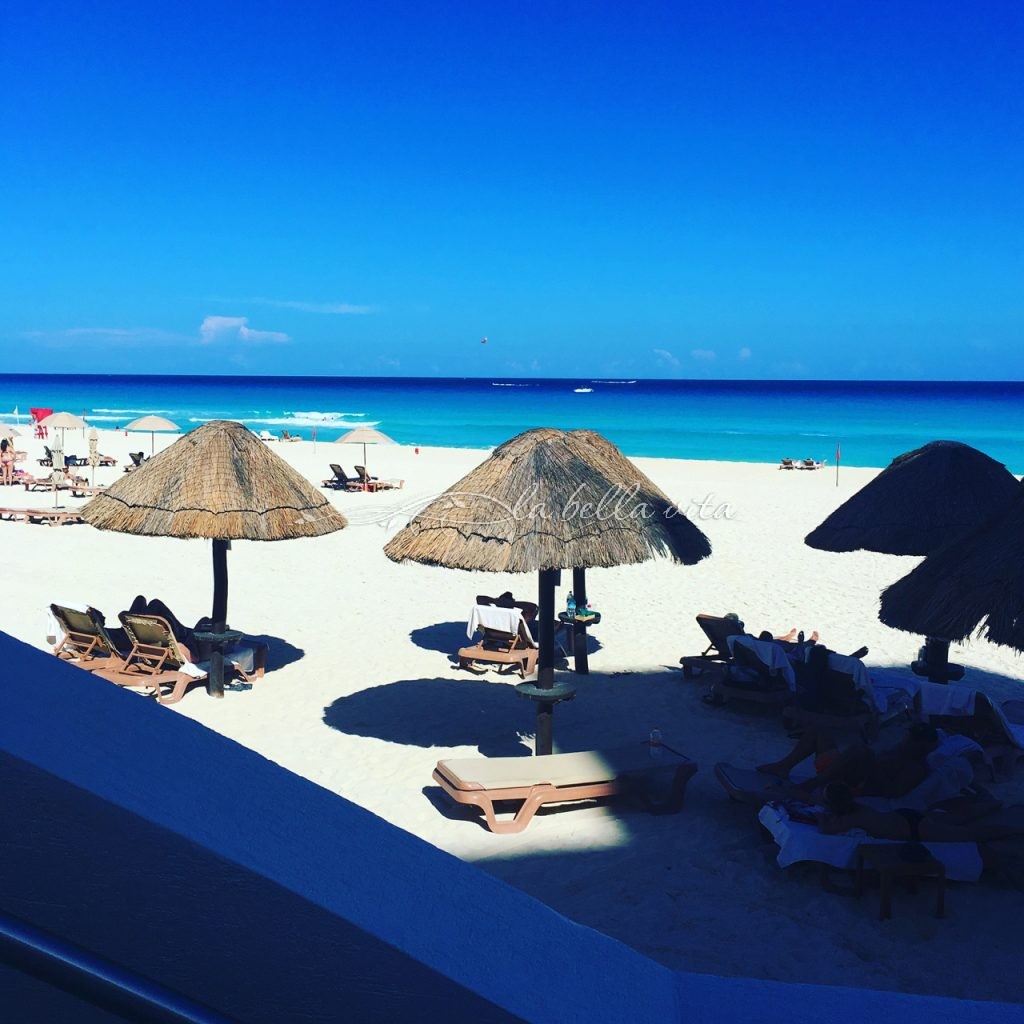 After the sun rose, we took a walk along this beautiful beach. The stunning colors stop you in your tracks!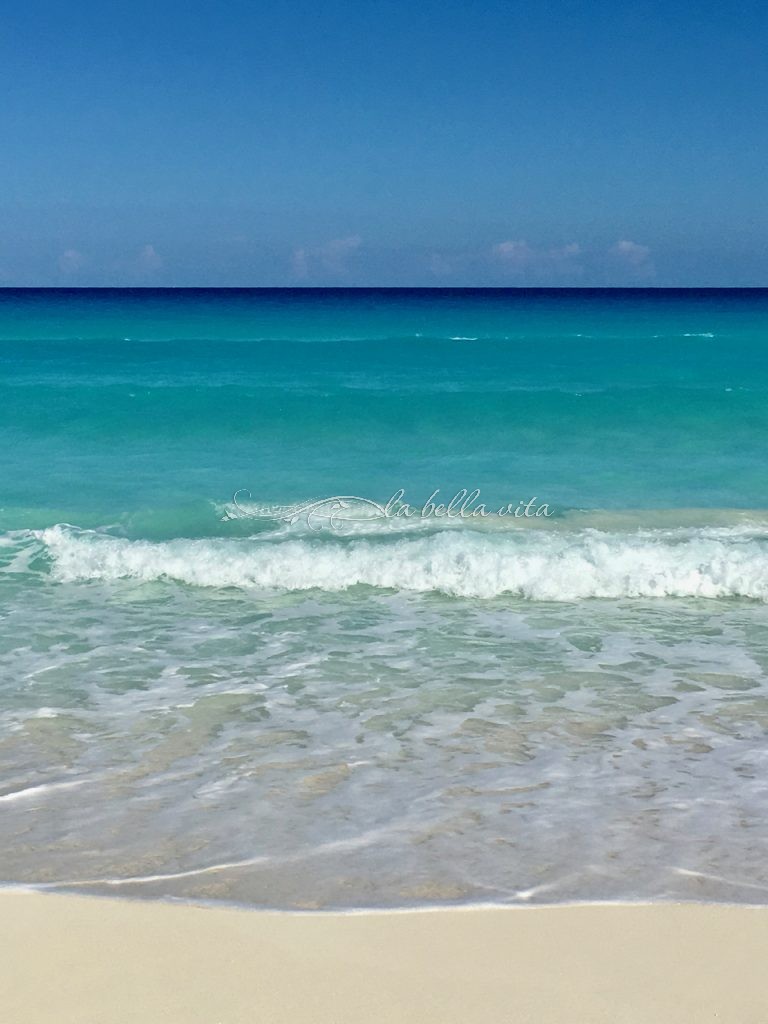 Amazing array of turquoise and blue colors!
After getting our toes sandy and wet, we went to the poolside bar to have some ice cold Corona's (no glass bottles due to breakage and protecting guests' feet). We always enjoy chilling with a local beverage to start off our getaways. It was interesting that whenever I asked for lemon in my ice water, I always received limes instead. When in Rome, huh? Limes in Mexico!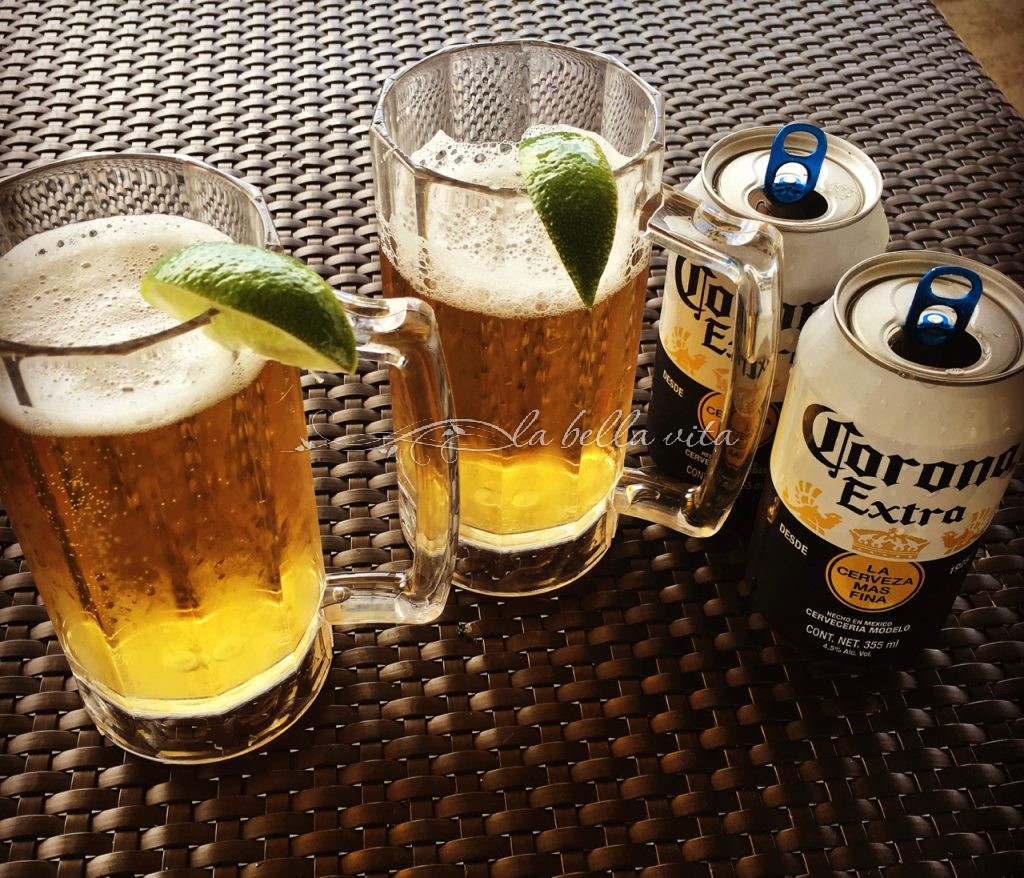 Tableside-freshly prepared guacamole from local Mexican avocados and super fresh pico de gallo with tortilla chips were the perfect snack before our big dinner plans the first evening. I prefer guacamole more chunky, but this is how the server prepared it and it was still yummy!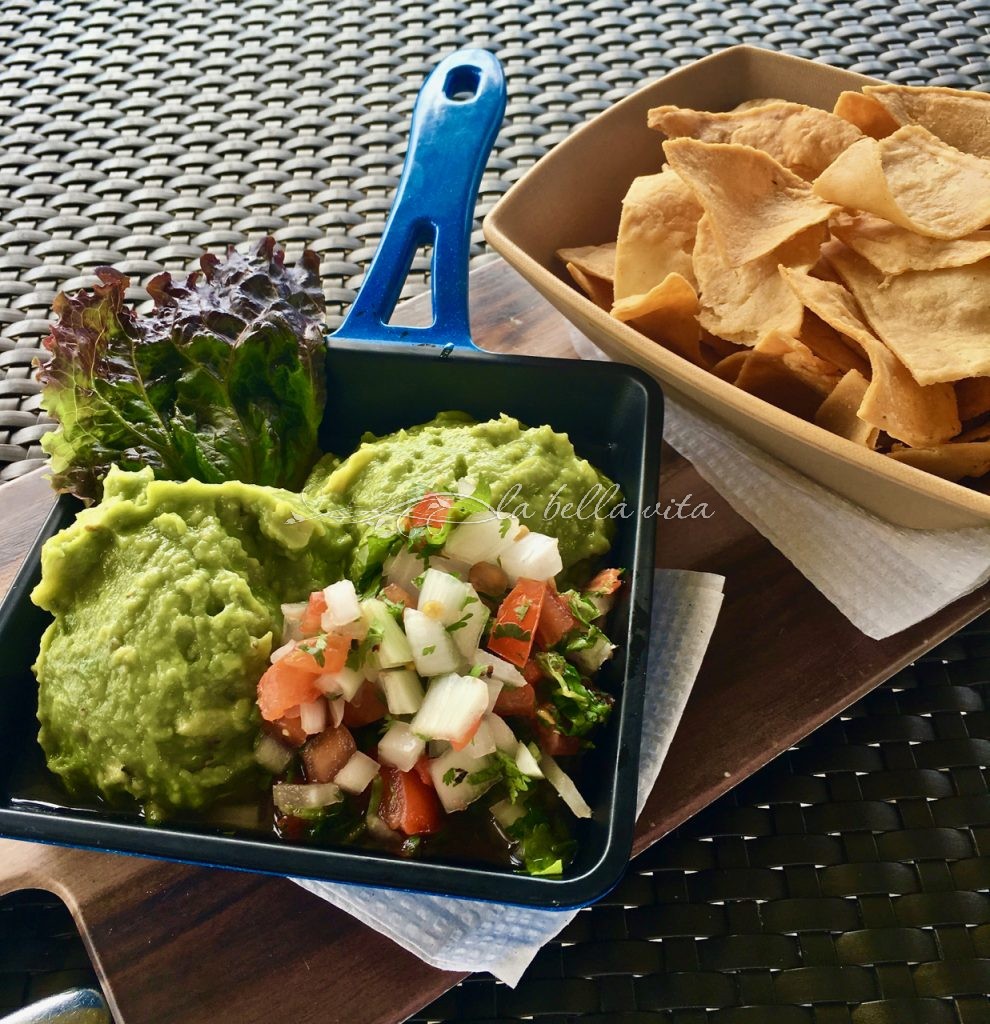 Walking back to our room, there was this beautiful handmade piece of painted ceramics, authentically Mexican in vivid and folk-artish colors and style.
The sun was shining from behind the piece, so it'slightly in the shadows. Can you guess what this piece represents?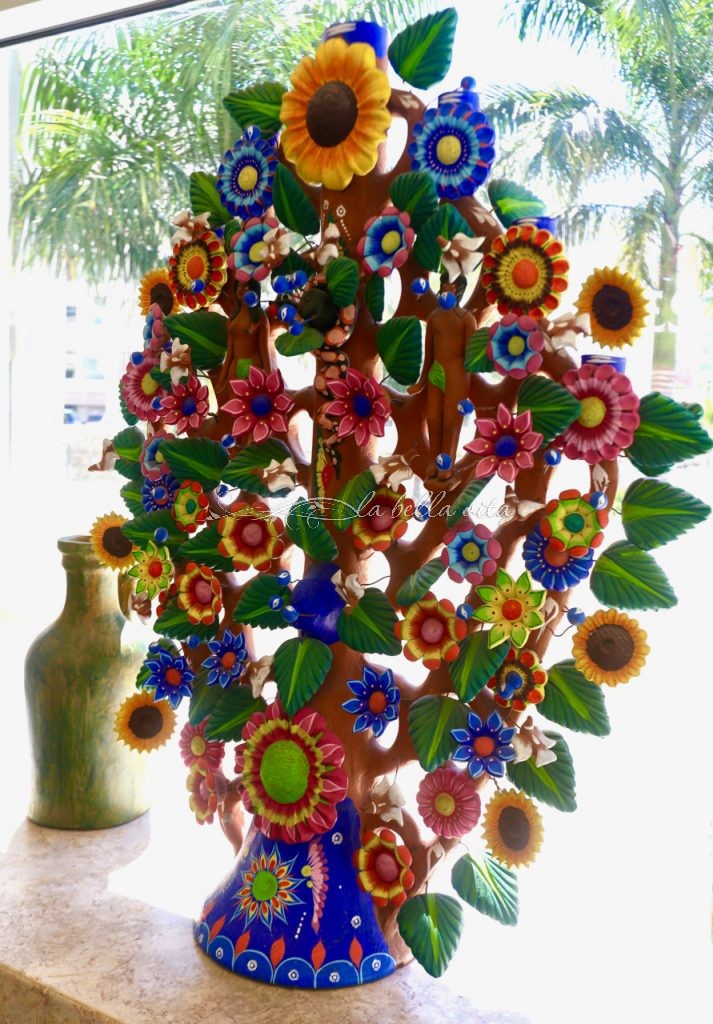 This next close-up should help you better figure out what this clay piece represents: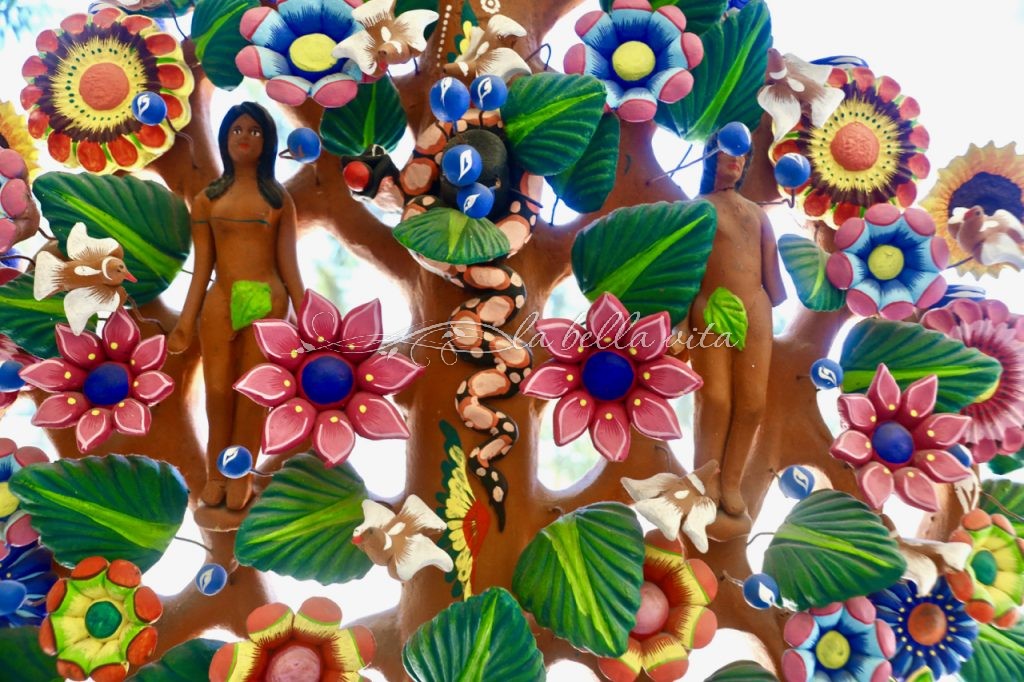 What is it? The Garden of Eden, Adam and Eve, with the devil/snake climbing the Tree of Life while tempting them.
I love authentic hand-made crafts from every corner of the world. And Mexican crafts are just so colorful and folkish.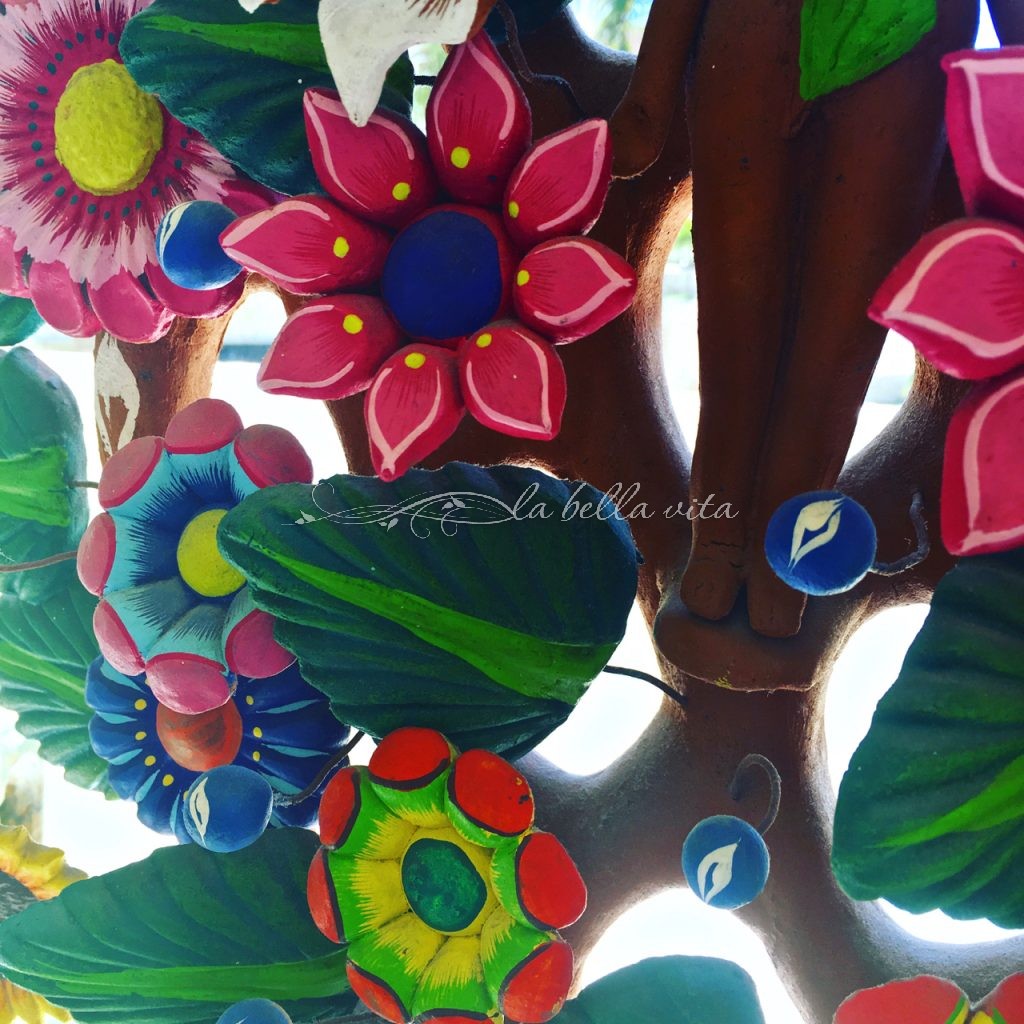 For dinner, we chose Harry's Prime Steakhouse and Raw Bar, since my doctor wanted me to amp up my protein during my healing. Funny, how your body tells you what it needs, since lately I crave a juicy burger or steak constantly! I know that there are less caloric and cholesterol-laden options to get my protein, but I've lost 35 pounds from these surgeries (and still losing from loss of appetite) so I'm not going to worry about eating beef.
This highly recommended restaurant (#1 for steaks in Cancun) had beautiful modern decor which we really love. An open kitchen and raw bar with outdoor seating on the water allows you to view all of the culinary action.
Stone, glass, wood, and fire with water pools stimulate your senses as you enter the front door.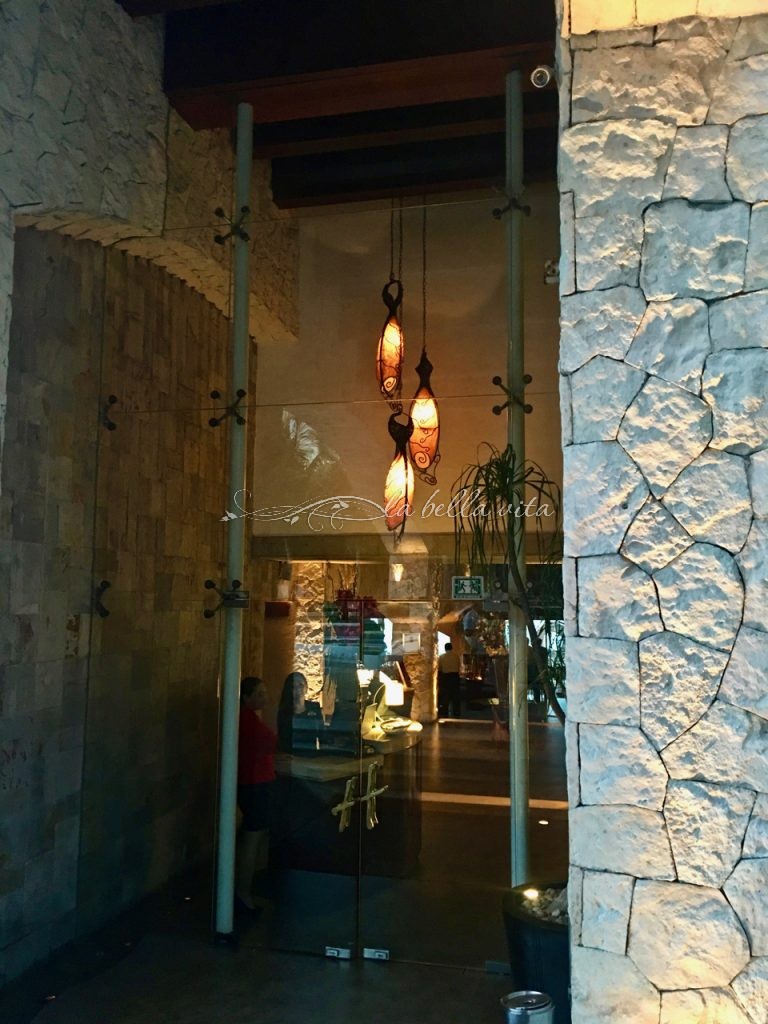 Below is a screen shot from Harry's website where you can find the menu as well. Very classy, modern, warm and inviting interior!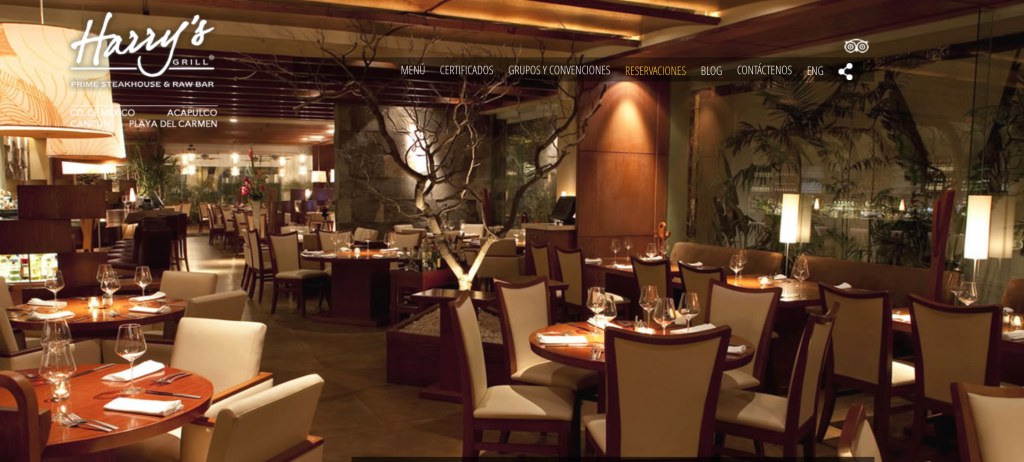 We were seated outside with a waterfront table. The gentle evening breeze was simply wonderful after spending a hot 88-degree day on the beach.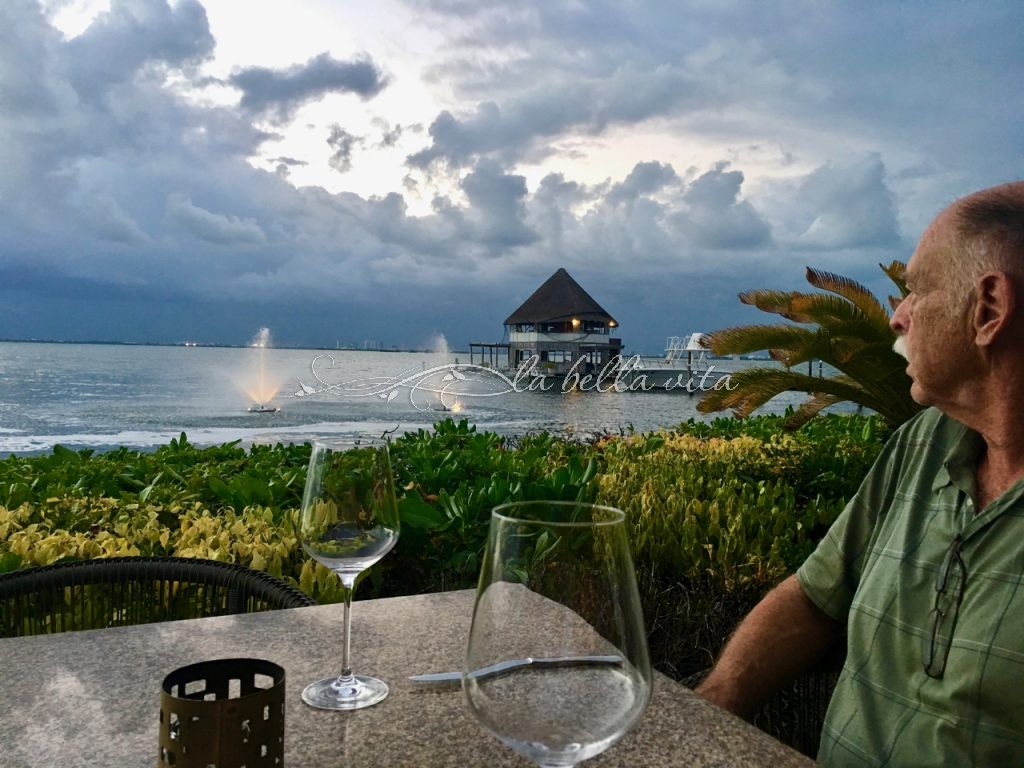 As always, we start off with a couple of chilled martini's. The service was superior here and as you can barely see here, provided with a grateful smile!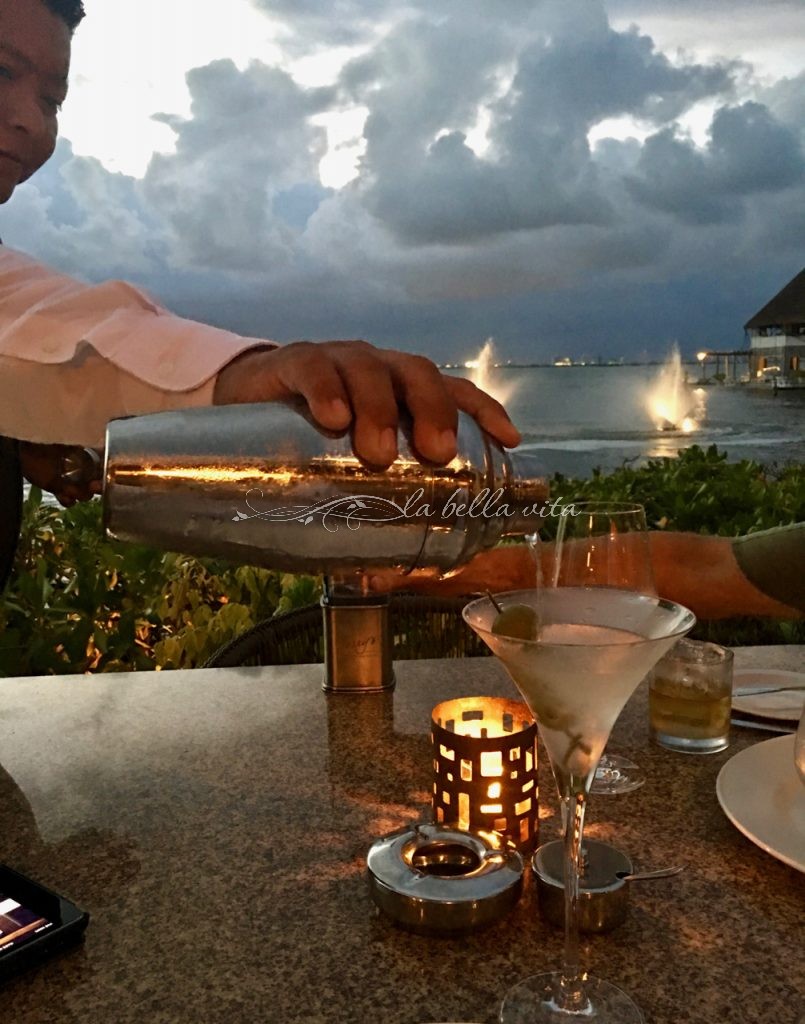 The selection of steak cuts was brought to our table. We chose to have the filet for two, with a few salads and garlic mashed potatoes.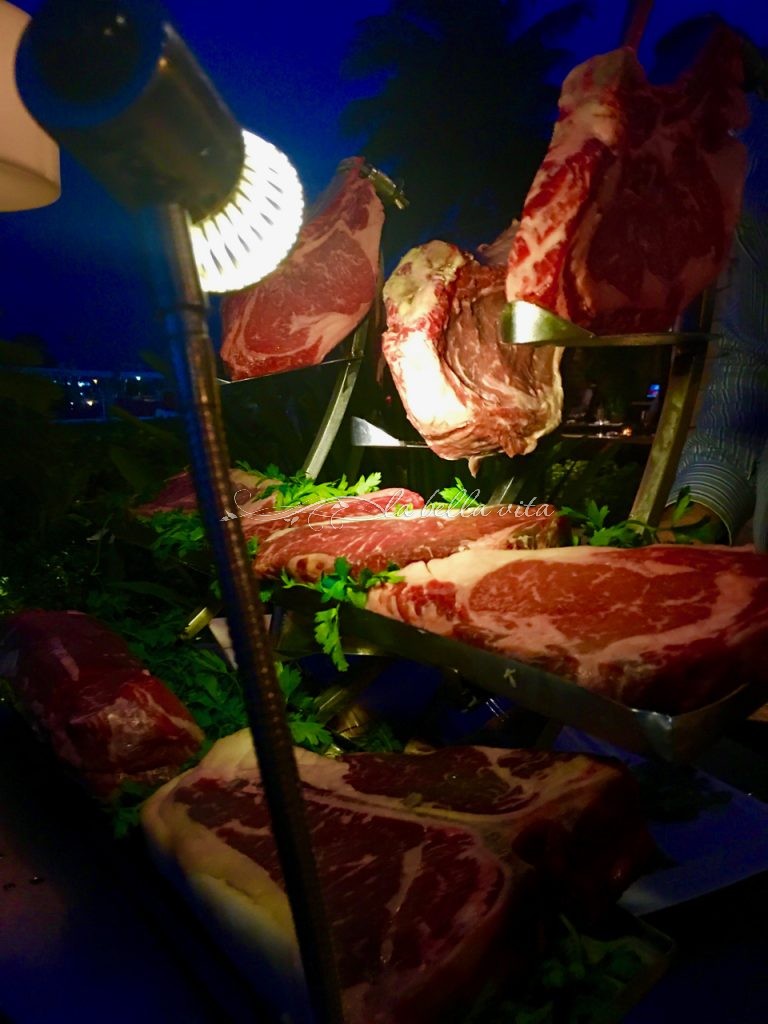 We truly had no appetite left to order dessert, but we were presented a surprise triple Mexican chocolate cake with chocolate frosting lathered on a half inch thick! No joke!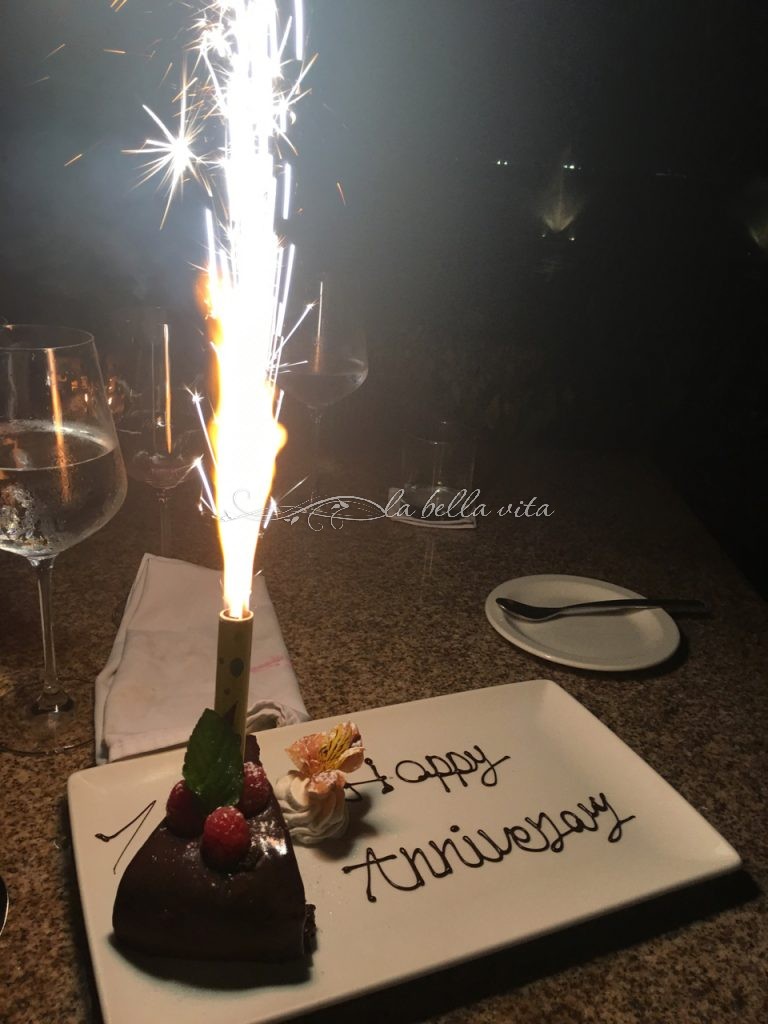 All in all, it was an unforgettable evening for our first night ever in Cancun. We look forward to returning to Harry's again someday!
In the next post, I'll take you to the #1 romantic restaurant in Cancun that was incredible, even if it was just a little tiny eatery way off the beaten path.
I hope you'll join me for that experience . . . along with a visit to the spa!