Cancun, Mexico – – Where to Go: Dining and Spa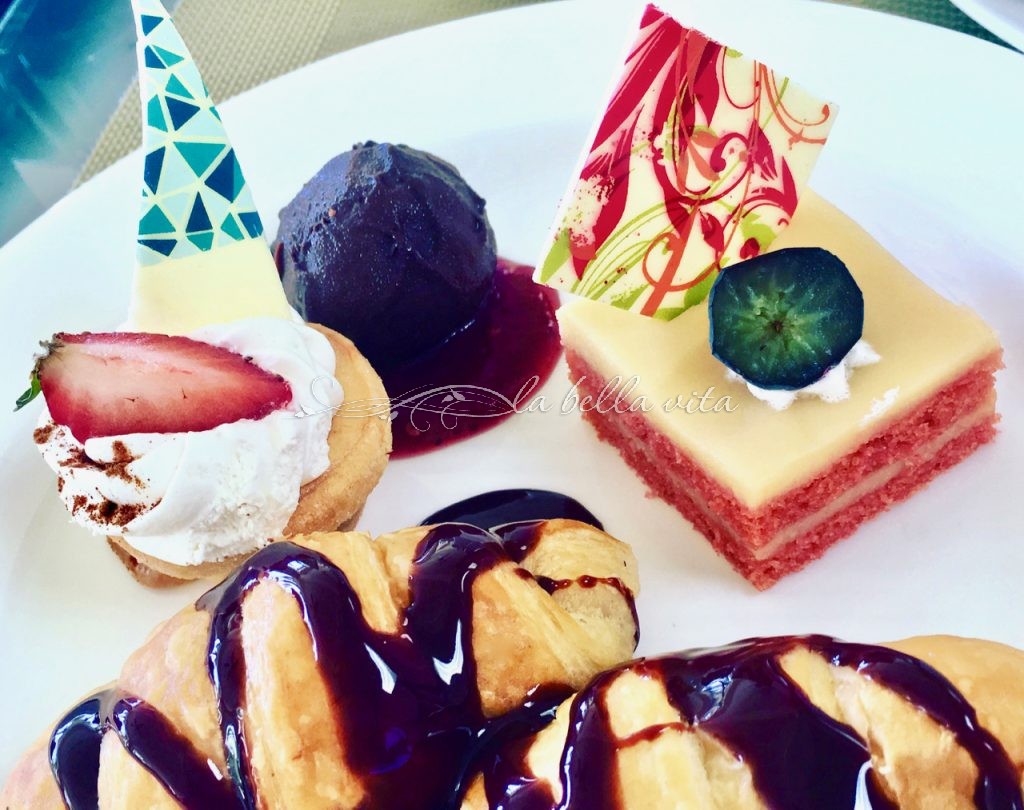 Breakfast on our third day in Cancun was at the resort's restaurant, "Oceano". A full buffet was offered that included these unique tiny, little sweets. I simply adore chocolate-filled croissants for breakfast as are often enjoyed in Italy. So I could not refuse the dark Mexican chocolate version (above). They were outstanding. The little cakes were pretty flavorless, but oh so pretty with the painted marzipan wafers on top. The chocolate cake ball in raspberry sauce was very good too!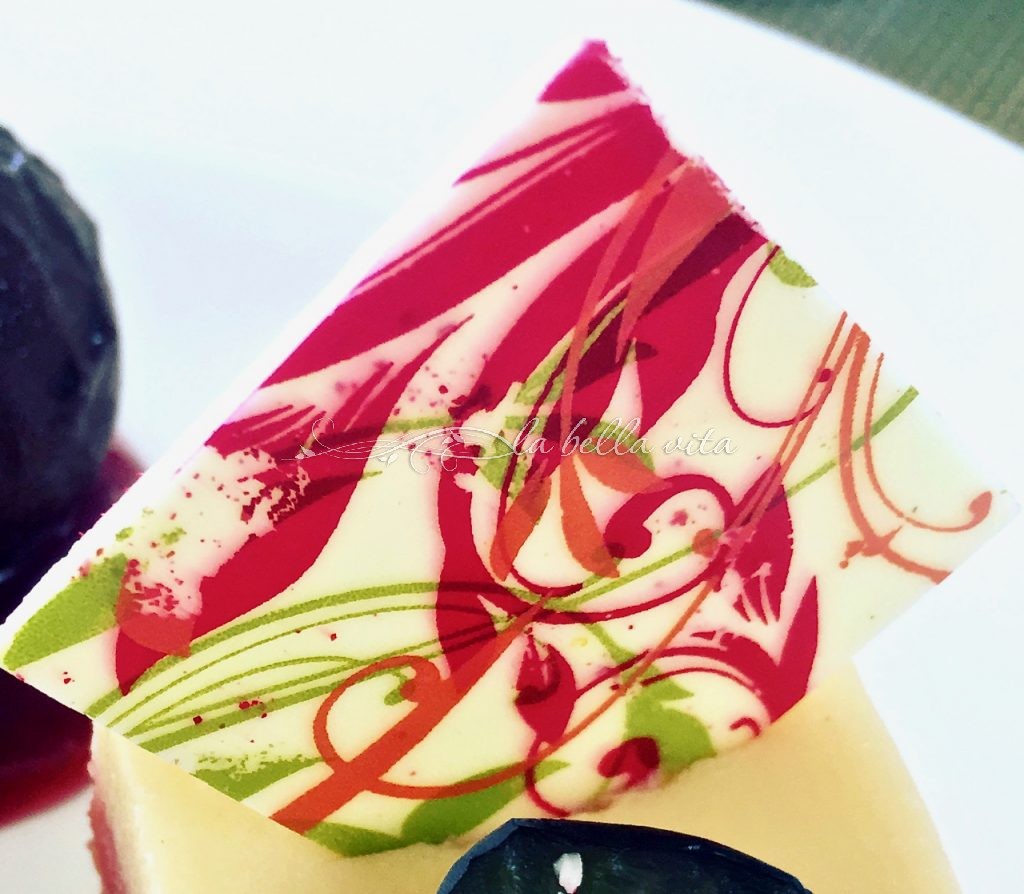 Close up of the intricate design of the marzipan . . . so unique and so pretty!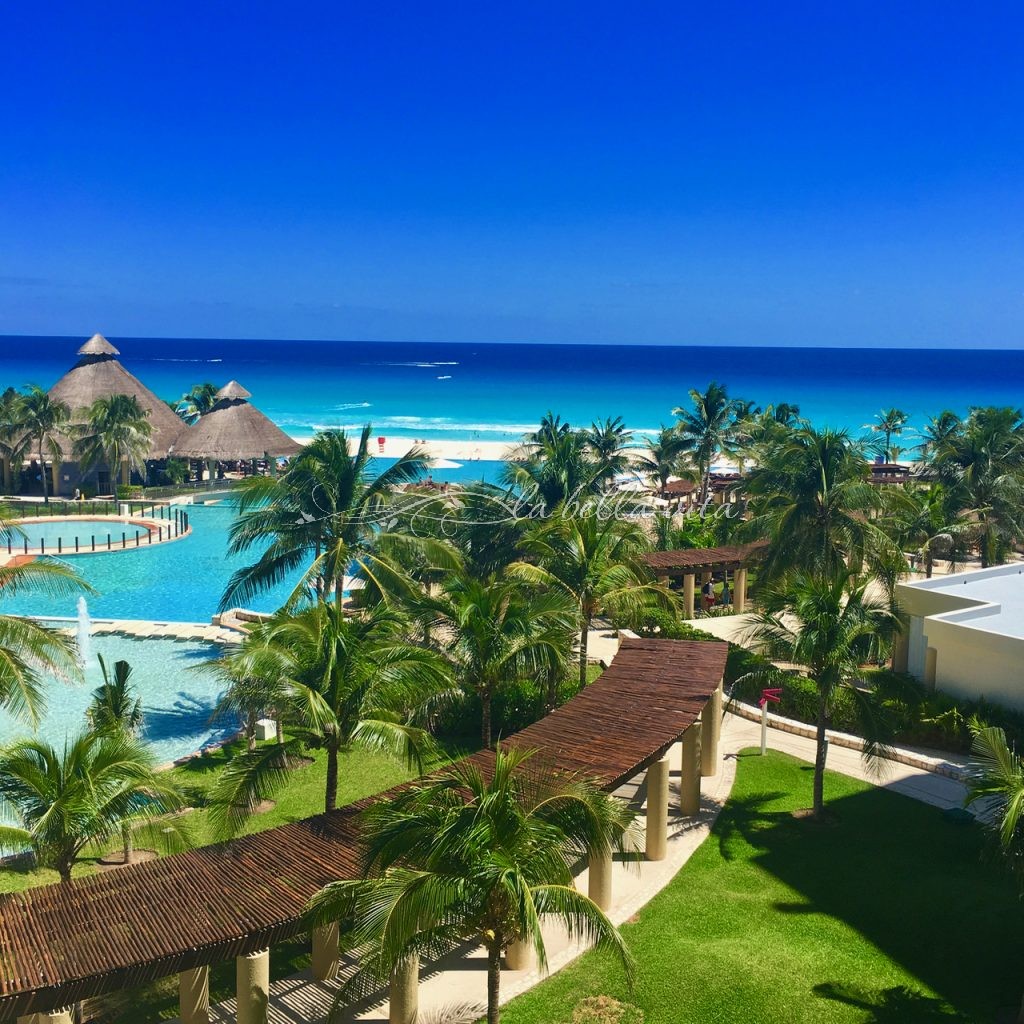 After breakfast, we took a stroll around the property. The wood-slat covered walkways were so attractive and functional for shade in the 88-degree temps!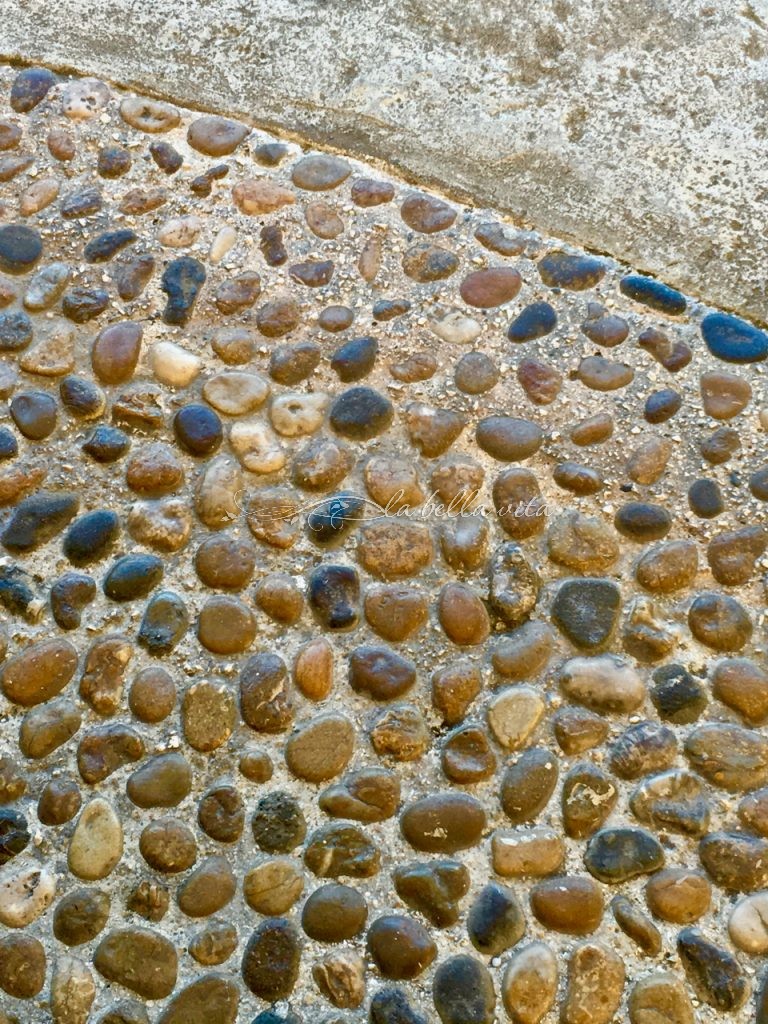 Every walkway included a variety of stone colors and textures. I love stone, so I couldn't help but snap a shot of them!
I saw these unusual fanned out palm trees that are pretty hard to find in our part of the country. Interesting, huh?
After our walk and time on the beach, it was off to the spa . . .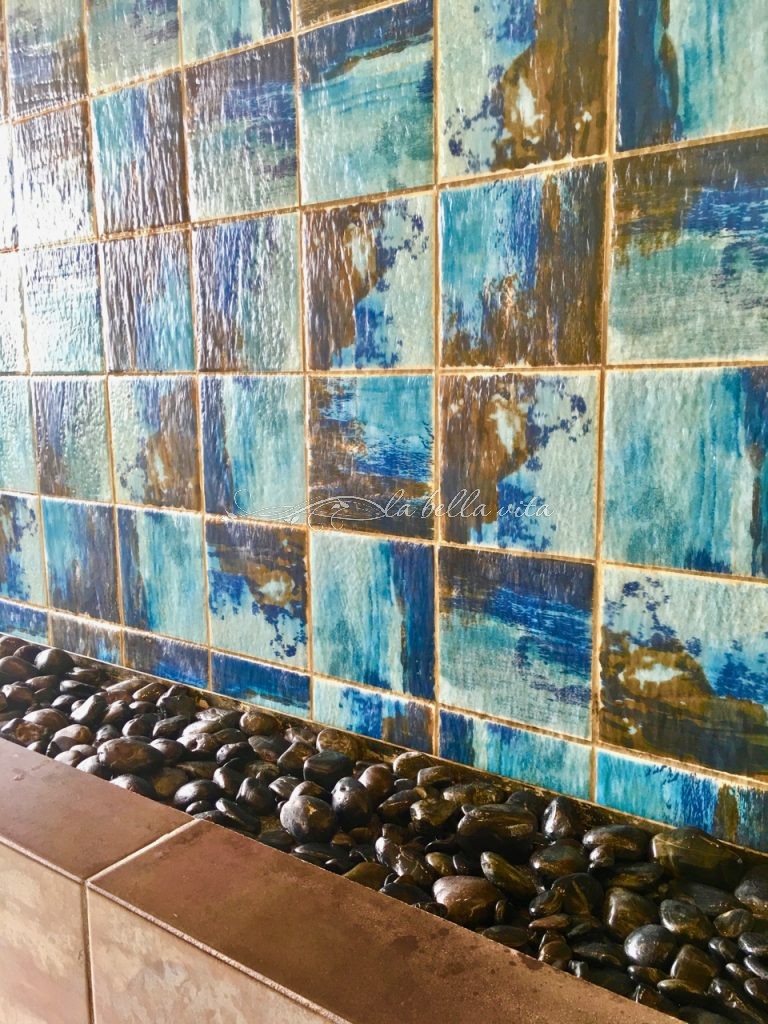 Upon entry to the spa, you are greeted by the sound of water flowing down a beautiful wall of tile into a bed of stones, all with a variety of colors mirroring those of the sea, sky and sand . . . truly a lovely and relaxing welcome!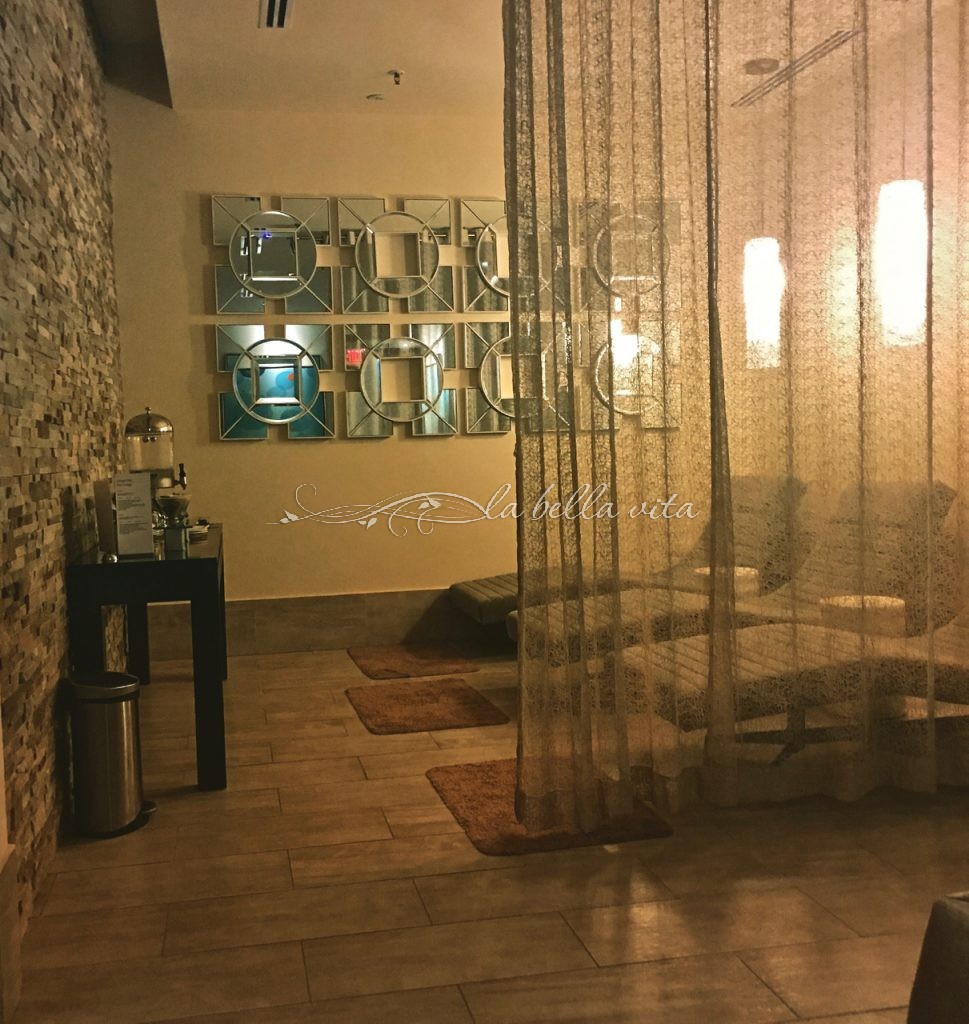 You are first taken to a relaxation area to enjoy a cup of tea before the treatment that you requested. I'd love one of these attached to my home!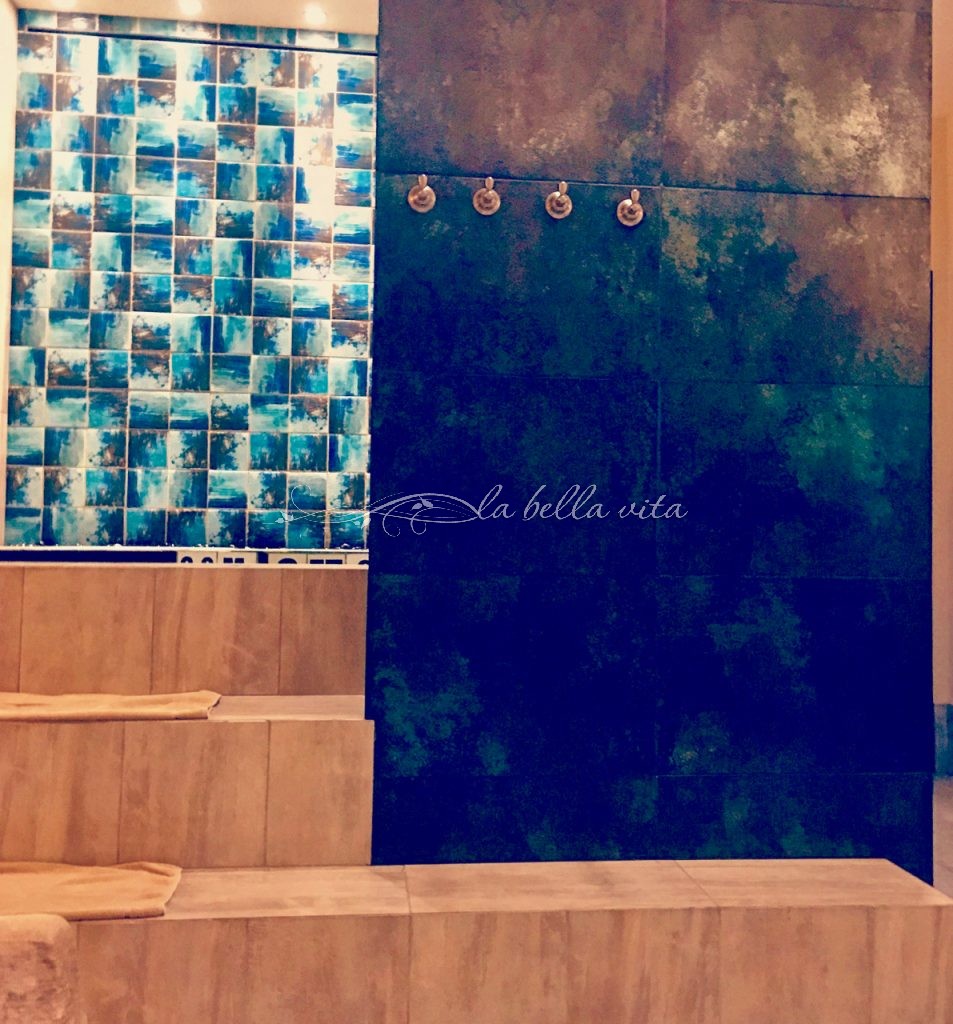 A bubbling jacuzzi is an option to enjoy for anyone in the spa . . . the colors and tiles all coordinating with those of the Cancun environment.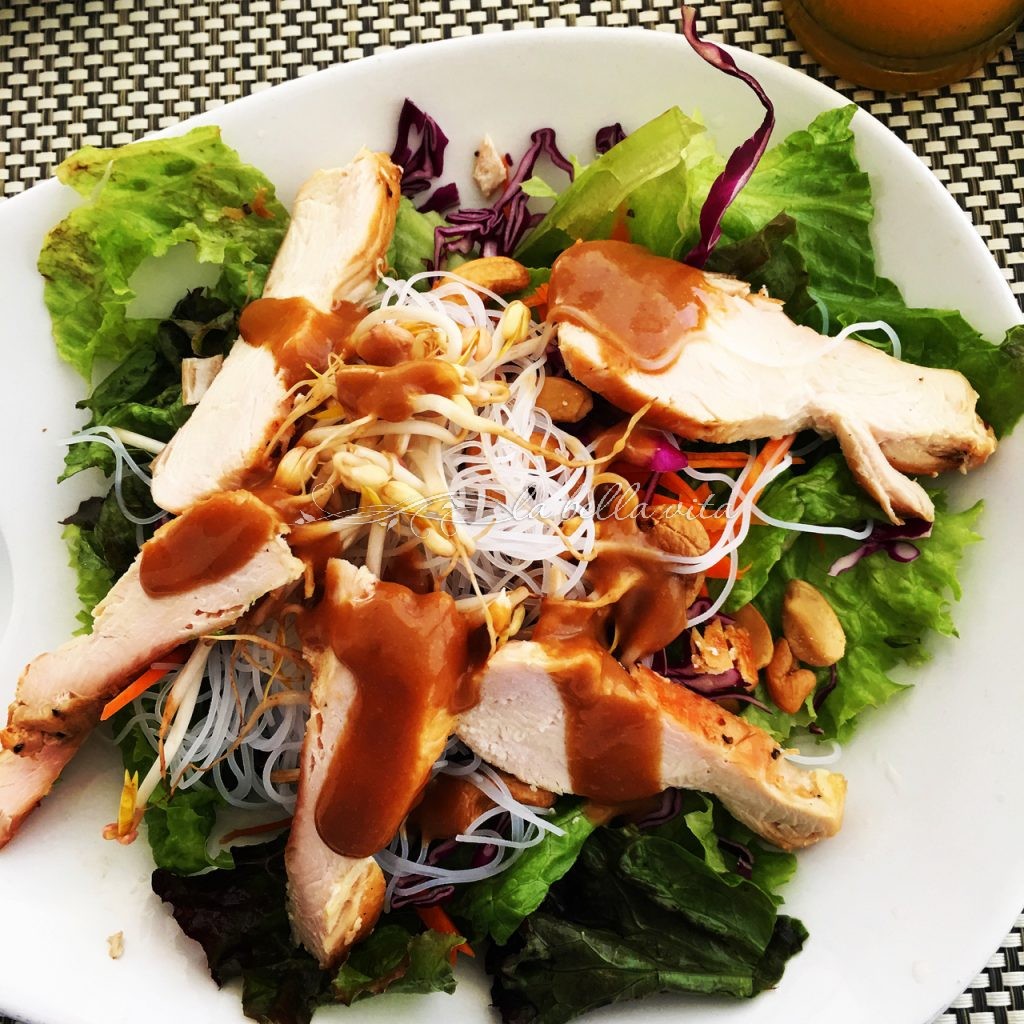 After my treatment, I enjoyed a delicious Thai chicken salad with peanut dressing. Light, delicious and perfect!
Later that evening we chose to have dinner at the highly rated and highly recommended "Peter's Restaurante" in downtown Cancun, a 30-minute drive away from the hotel district. The photo below is a screenshot of the web-site and here is the link to the complete menu. The following photos show a little bit of the restaurant and the selections from the menu that we chose, all taken on my cell phone. The lights in the restaurant were nicely dimmed so the photos look a bit yellowish as a result.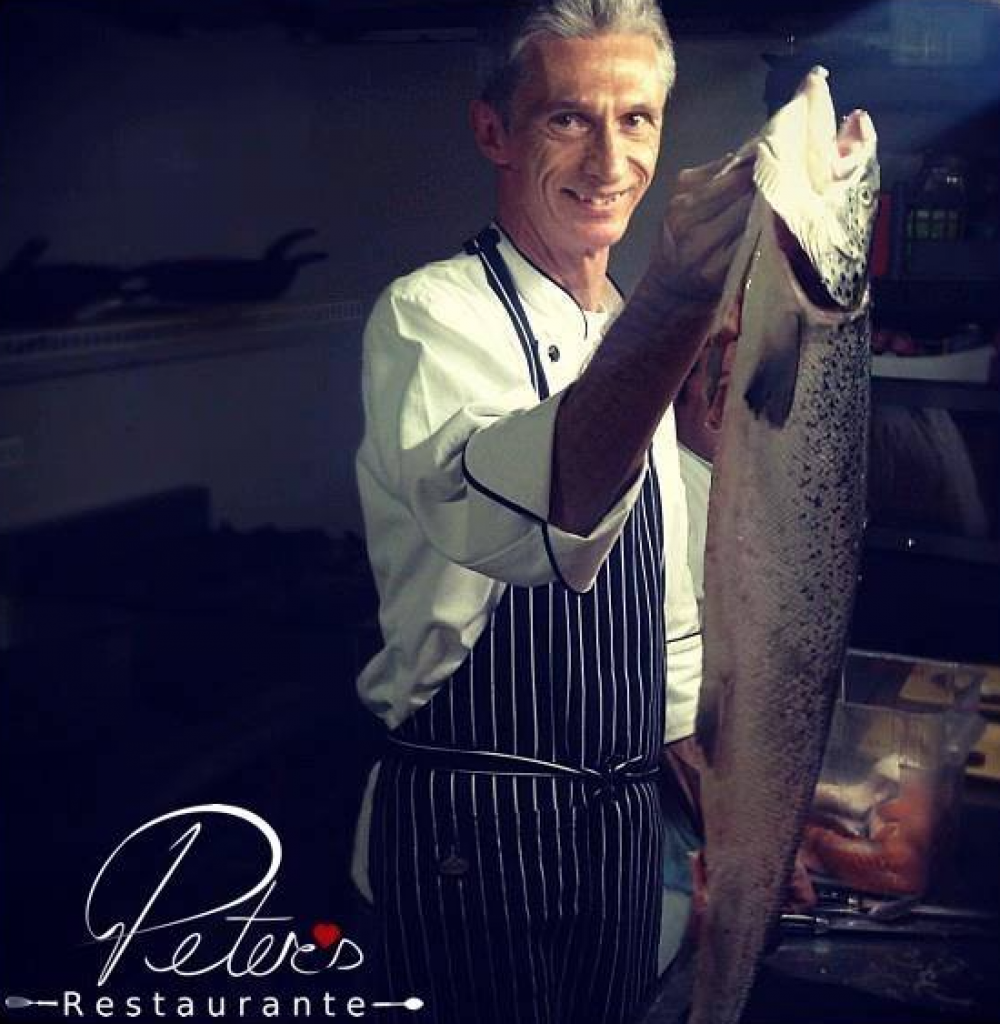 Peter's is a lovely, small, intimate, and romantic place with only about 10 tables.
Warm colors of deep reds, corals, and browns lend to the beautiful and contemporary atmosphere.
Fresh coral roses are everywhere and on the linen covered tables.
An extraordinary selection of music is played and at the perfect low volume.
Below is the bar and wine wall.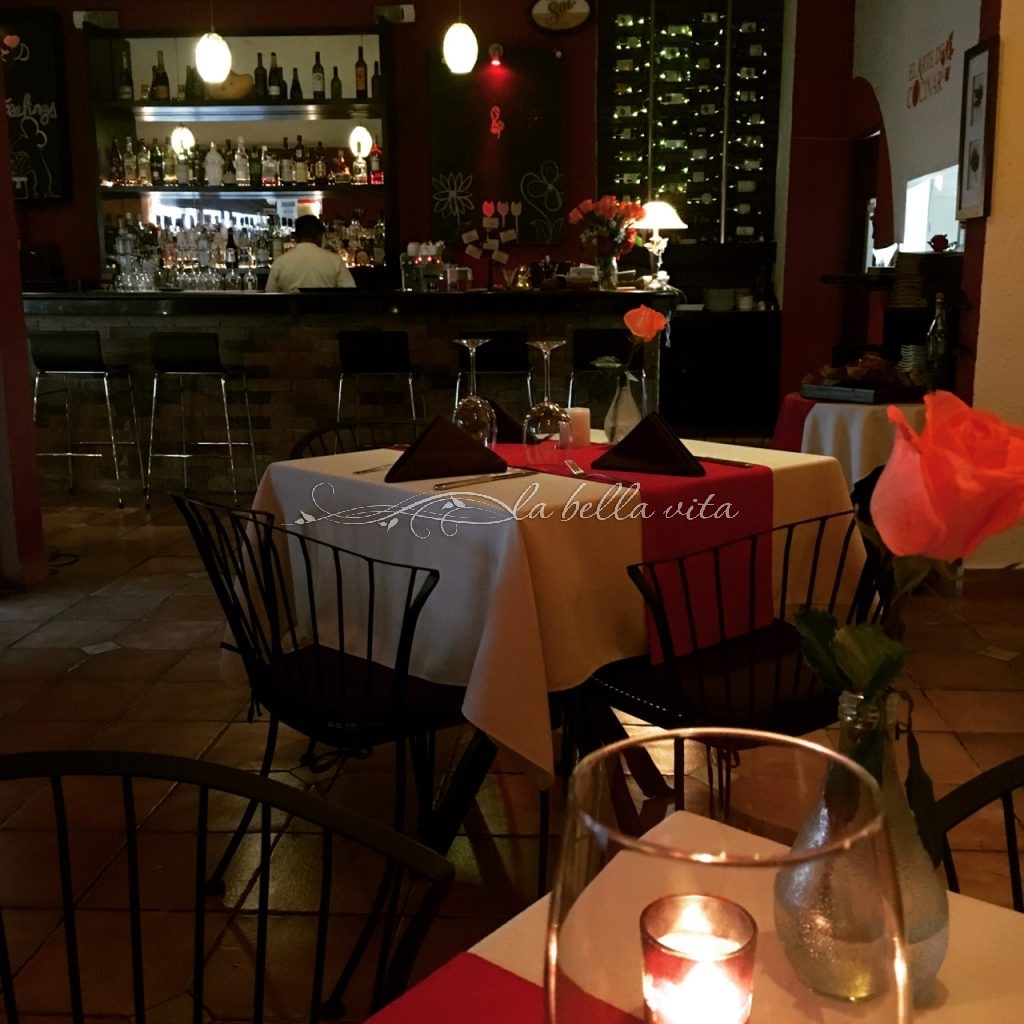 Candles are lit in just the right places and in votives on your table, lending to the soft light of the space.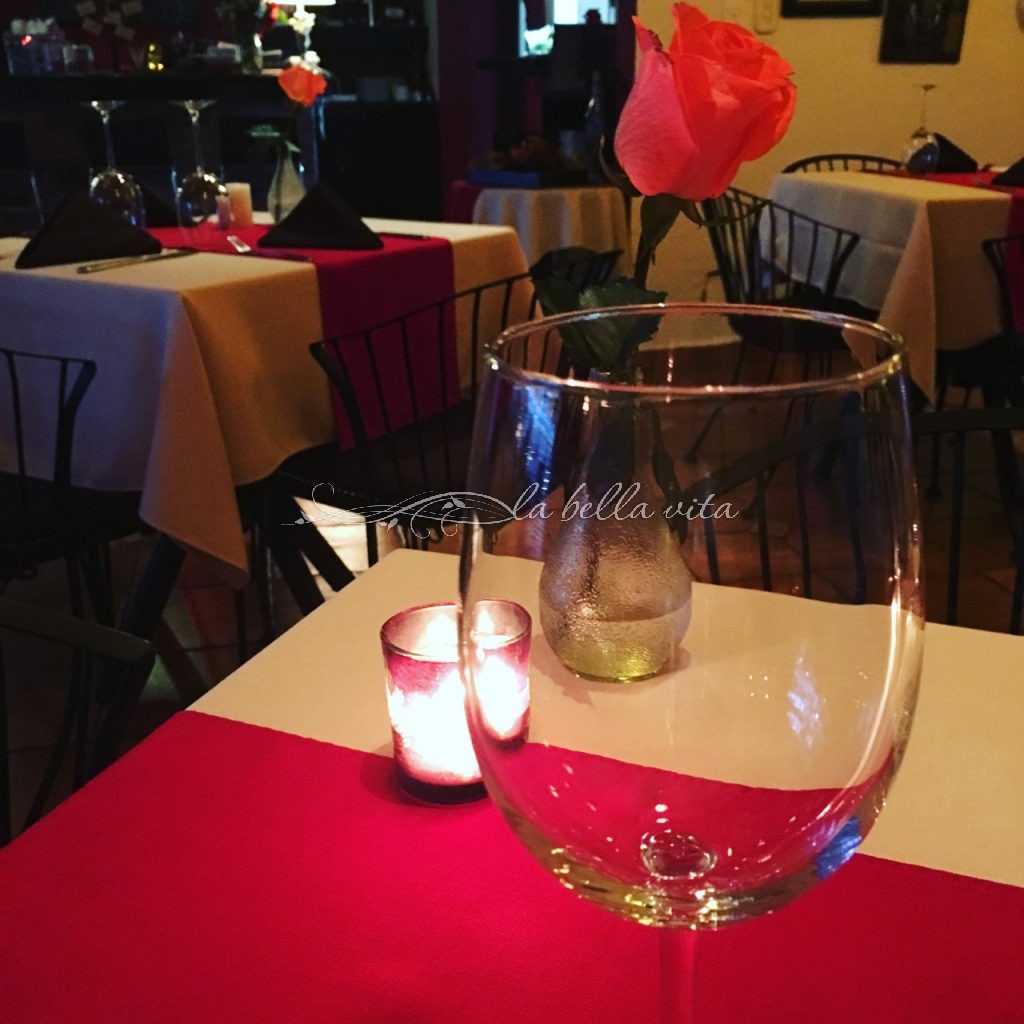 We began with an appetizer of porcini mushroom ravioli in truffle cream sauce. It was outstanding and very, very rich in flavor.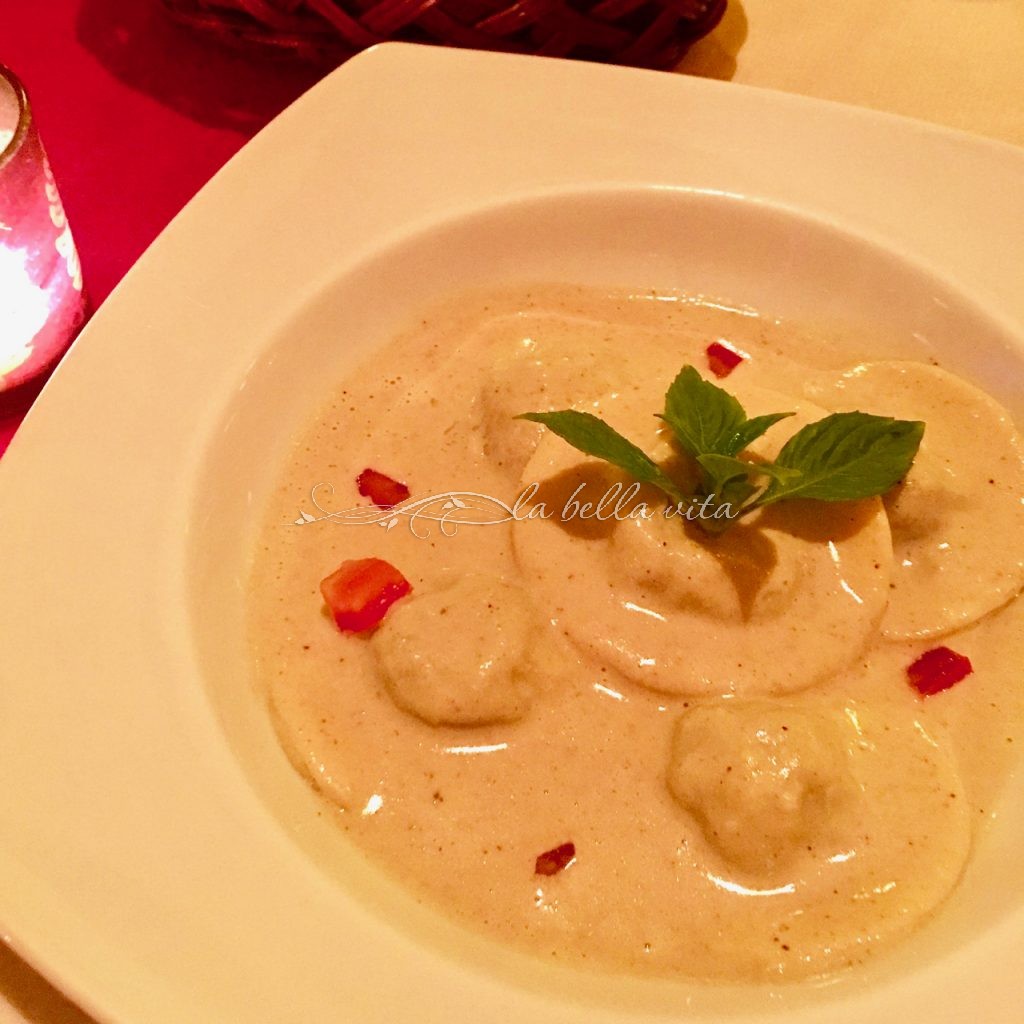 Our salads were ample and filling, with a light raspberry vinaigrette, blue cheese, dried cranberries and sesame seeds on tender mixed lettuce. You can see the size of the salad just by the height of it. Called the "Claudia Salad", it was pure heaven! I could have had one more and that would have been all that I needed for the evening!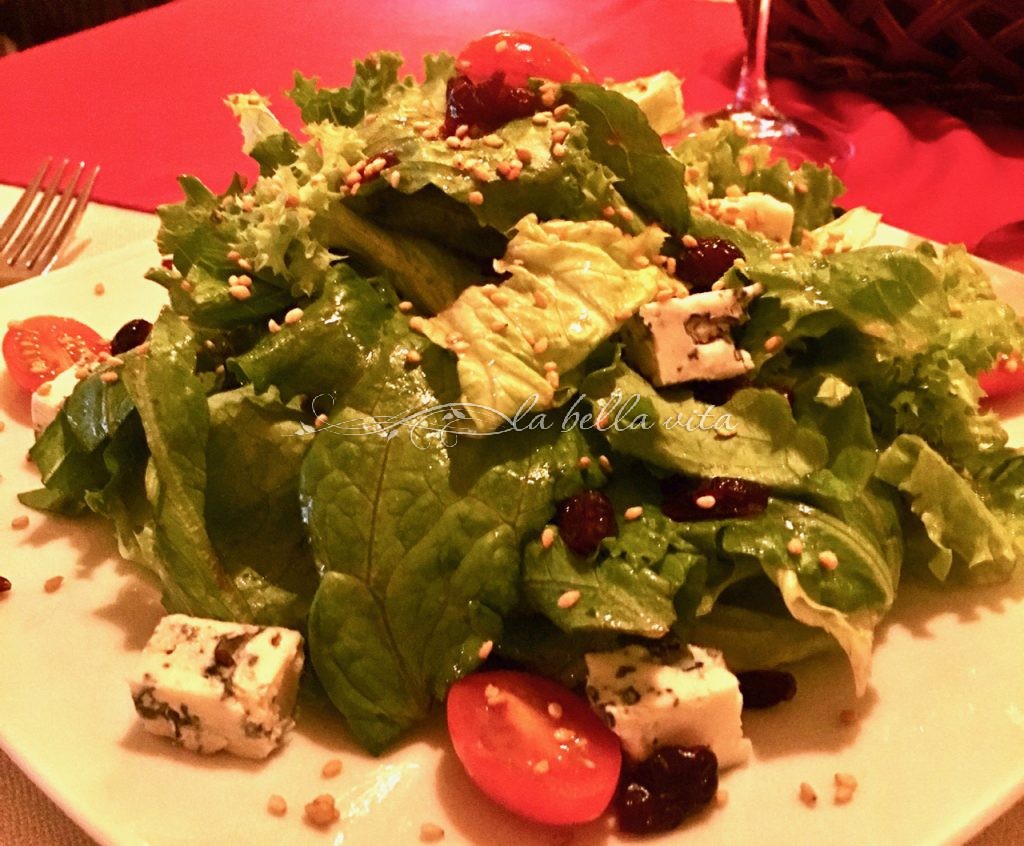 The menu is presented with Mexican peso prices, so divide by 18 and that's what the U.S. dollar value converts to. My husband ordered the pork tenderloin that was amazing . . . the photo follows the menu.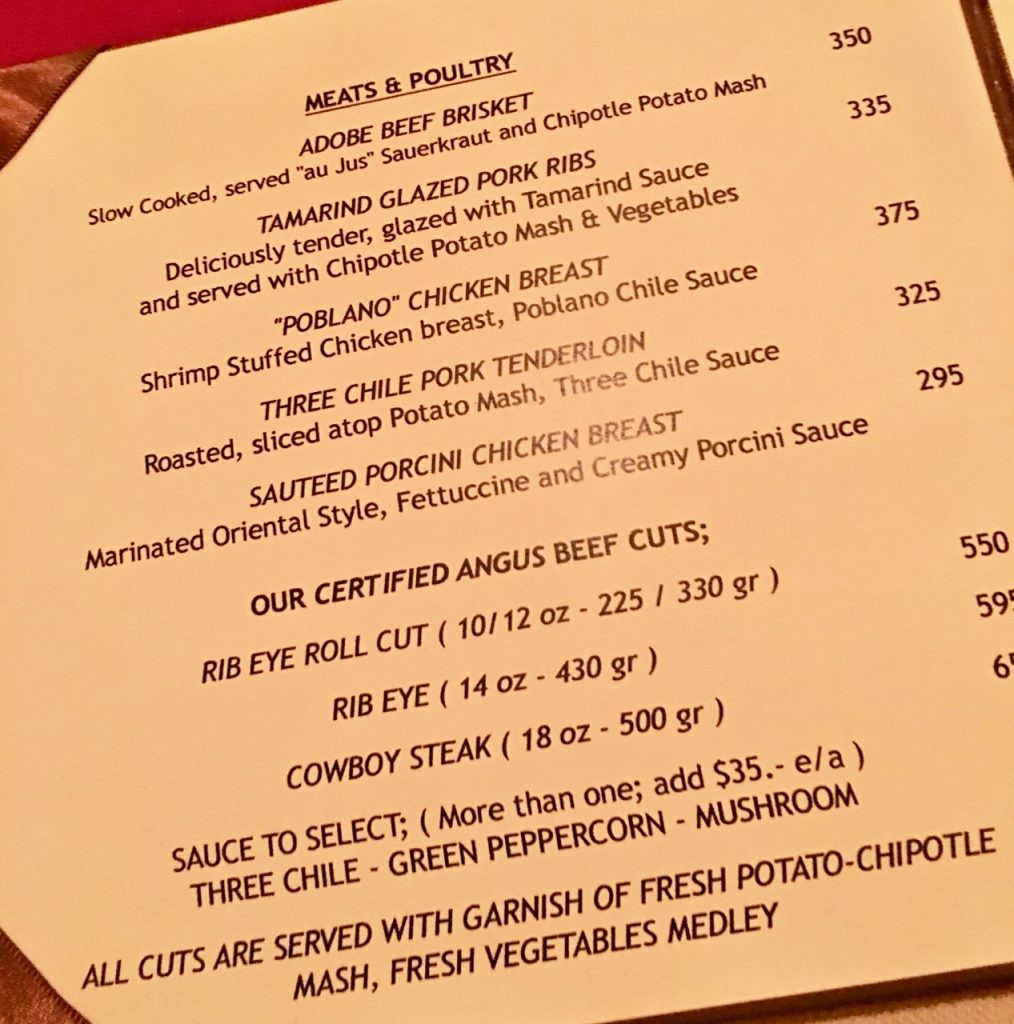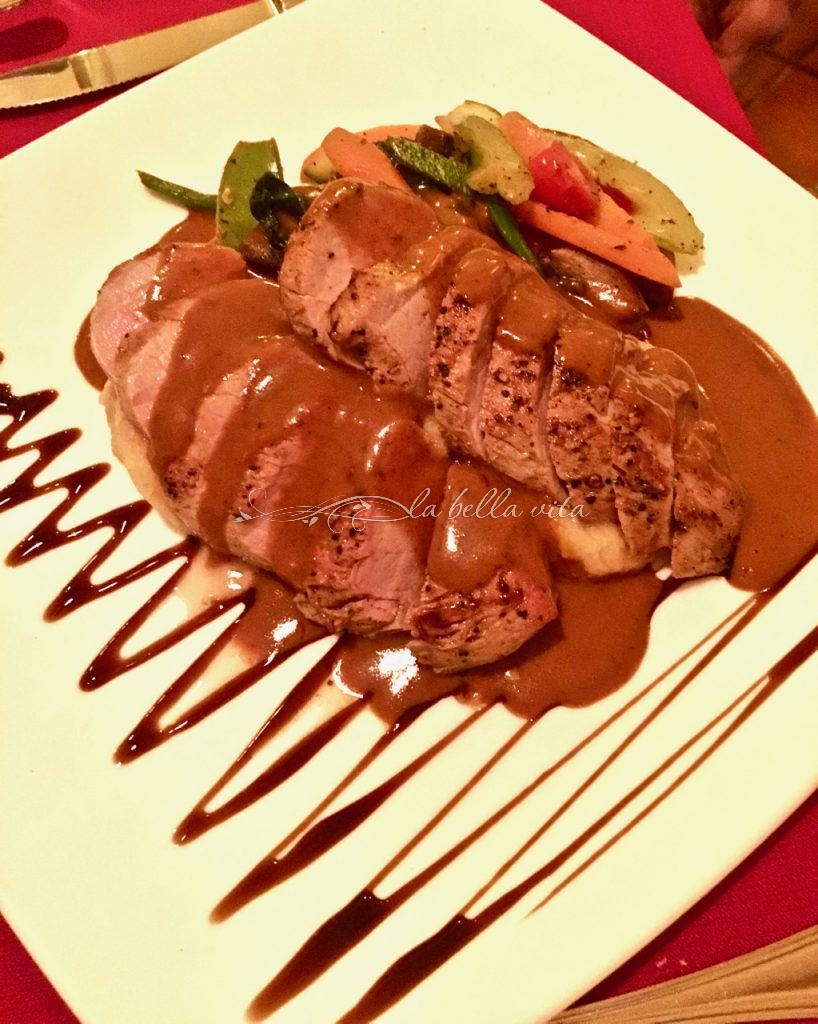 I had never heard of 'hogfish' before and after Peter explained that it was similar to red snapper only better, and a local fish from the waters around Cancun. So I decided to give it a try. Once again, this fish was perfectly prepared and impressive with a variety of flavors playing together! The polenta underneath my husband's pork tenderloin and my order of hogfish was the creamiest polenta that both of us have ever tasted! Seriously!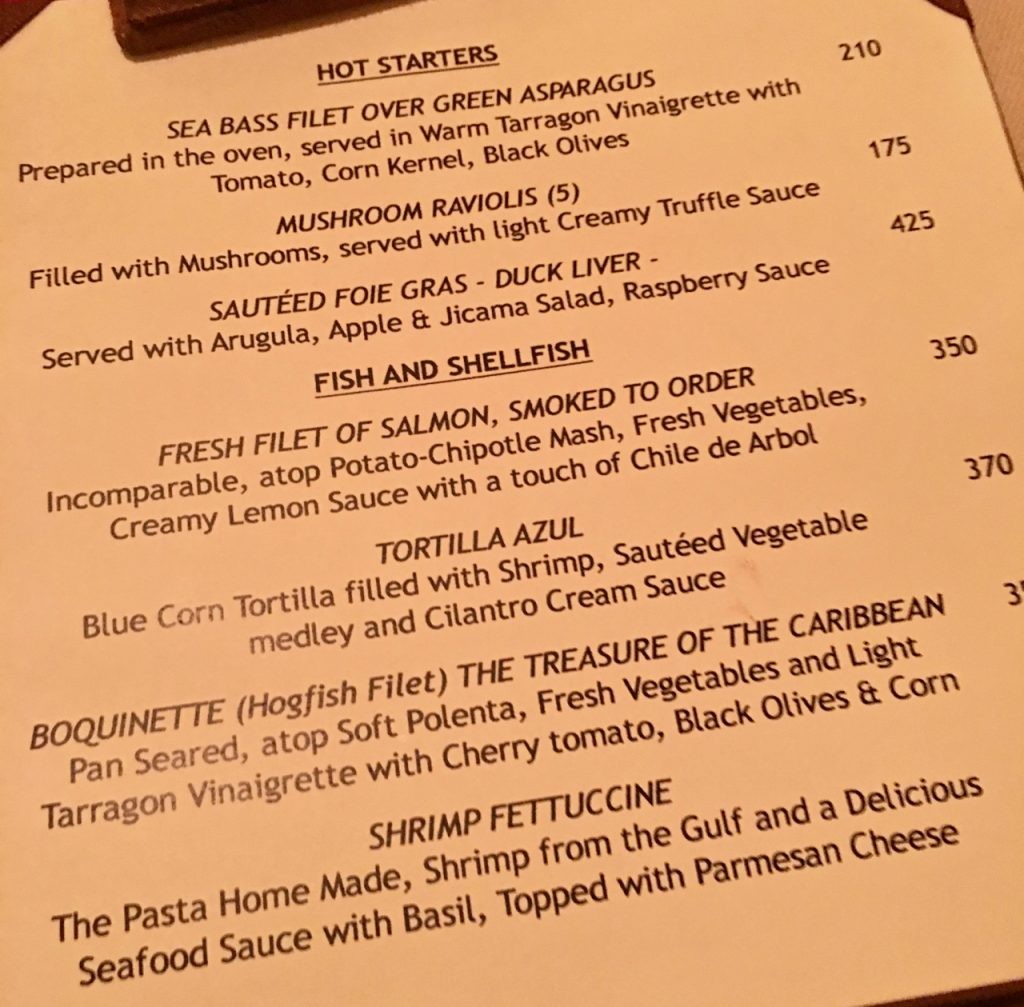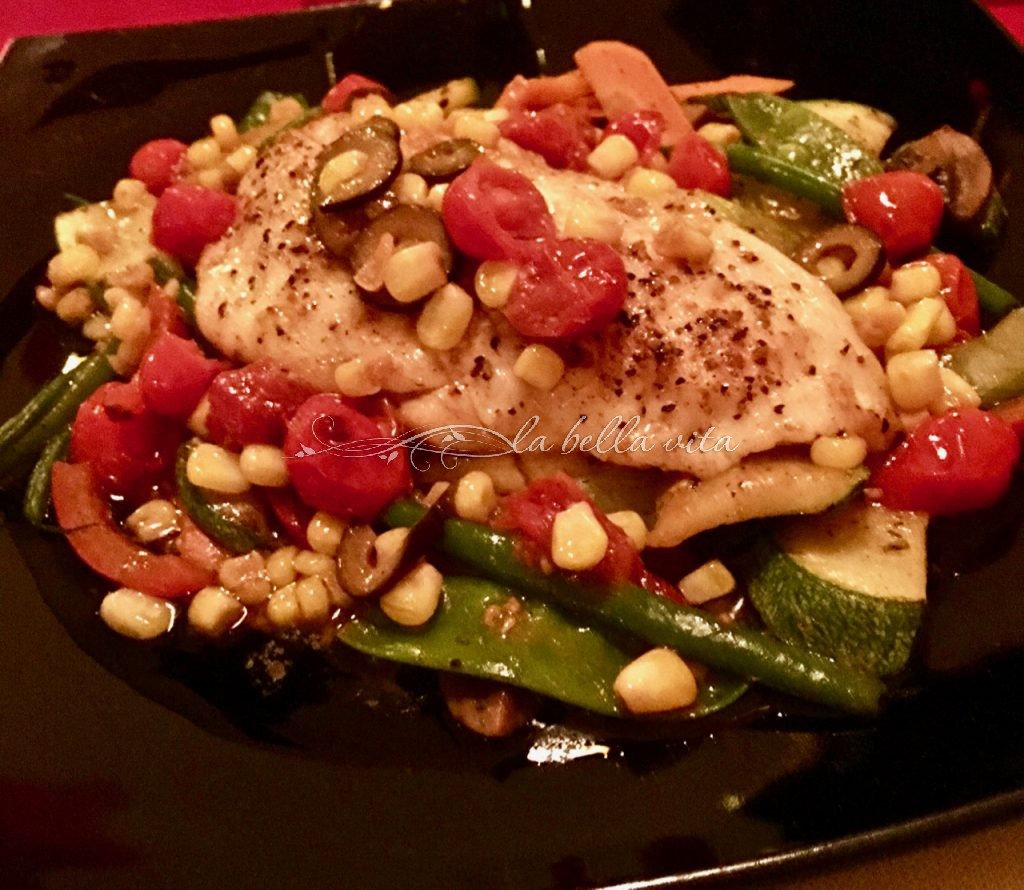 For dessert, my husband enjoyed a very large slice of authentically-flavored Key Lime Pie with Tiquila Sorbet. Perfect!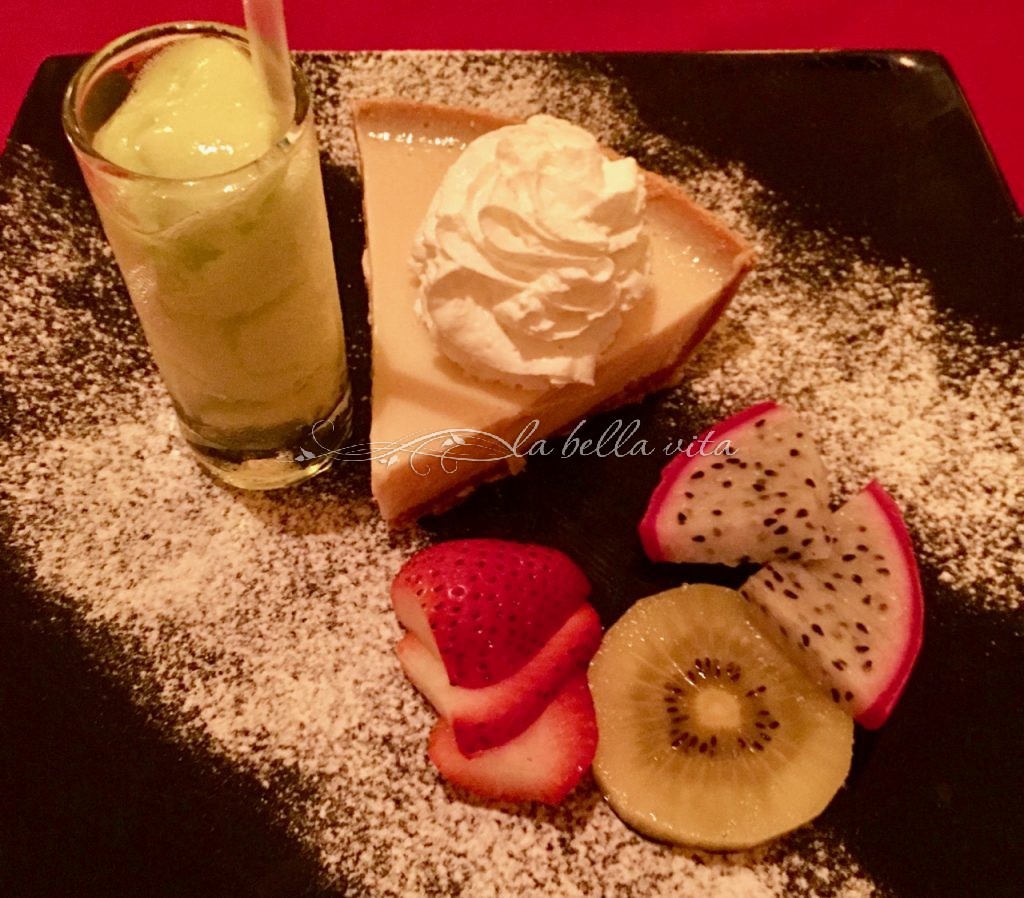 Since we were in Mexico, I had to try something made with Mexican chocolate. The Chocolate Mousse below was the best that I've ever tasted since it was a blend of milk and dark chocolate. Most chocolate mousses use milk chocolate only, so they are not as rich as this version. This mousse had a lot more density to it versus the very airy mousses that I've tried before. It was chocolate heaven in a dish!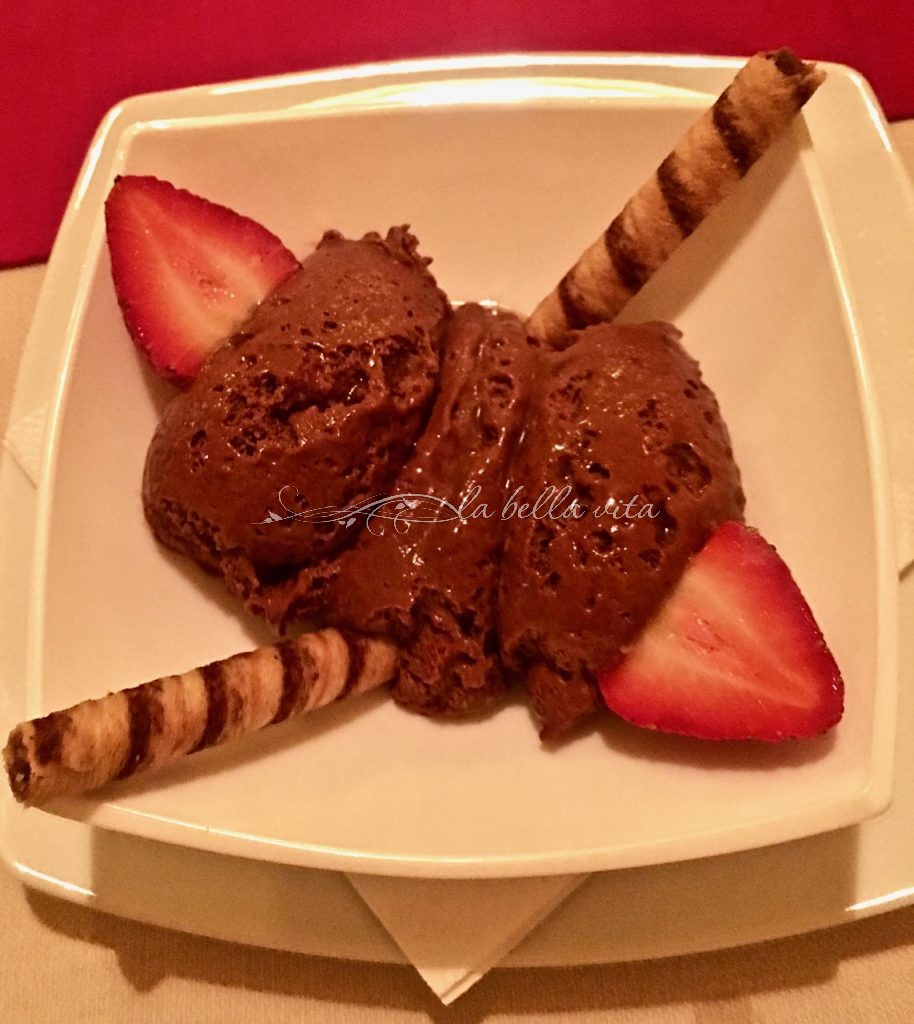 After finishing our wine, we returned to the hotel and slept like content babies after a perfectly delicious dinner and impressive dining experience at Peter's Restaurante in Cancun.
Do treat yourself if you are ever in Cancun and make a reservation to eat at Peter's!