Cheesy Asiago Artichoke and Spinach Dip
The weather is cooling off here in the South and it beginning to feel more like autumn. Colors are slowly changing in the woods, along with plump orange pumpkins and yellow gourds adding to the show. Hoping that there were some left, I just purchased some beautiful, cheerful mums for my front porch. Only a few plants in my favorite colors were left, so I quickly grabbed them up! With some of the colorful gourds that I picked up, I knew that I'd use them to present our favorite appetizer " Cheesy Asiago Artichoke and Spinach Dip"! Although wonderful any time of year, this recipe is beautiful served in cut-open and scooped out autumn gourds, squash and mini-pumpkins in colors that highlight the season. Perfect for fall entertaining!
Entertaining family and friends is one of our favorite things to do! Whatever the event, whether for our gourmet dinner group, a potluck gathering in the neighborhood, or just watching football with a big spread of mini-bites and appetizers, cooking for others is simply one of our simplest joys. Any or all of these gatherings always include this hot, Italian cheese-laden dip with spinach and artichokes. If you bring this wonderful dip to your next gather, count on it disappearing quickly!
Enjoy and have a lovely autumn!
Cheesy Asiago Artichoke & Spinach Dip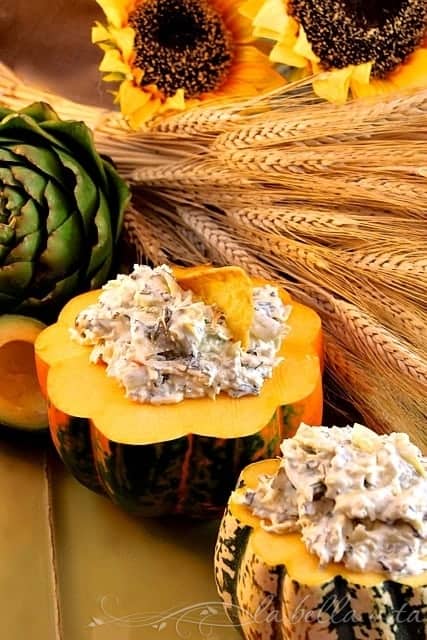 Ingredients
2 cans Artichoke Hearts, drained, quartered, and chopped
1 10-oz. package of chopped, frozen Spinach, thawed and drained
1 8 oz. package of cream cheese, softened
1 cup Mayonnaise
1 cup Sour Cream
1/4 cup freshly grated Parmesan Cheese
1/4 cup freshly grated Romano Cheese
1/4 cup freshly grated Asiago Cheese
1/2 cup freshly grated Mozzarella (or Provolone) Cheese
3 cloves Garlic, minced
1/2 tsp. freshly-squeezed lemon juice
1/2 tsp. freshly cracked Sea Salt
1/8 tsp. freshly cracked Black Pepper
Instructions
Preheat oven to 350 degrees.
Butter a small baking dish and set aside.
In a large bowl combine all of the ingredients until well blended.
Transfer mixture to the baking dish and spread it out evenly.
Bake for 30 minutes, or until the top is golden brown and bubbly.
Serve with your favorite crackers, bread, or pita chips.
Enjoy this delicious and Cheesy Asiago and Spinach Dip !