Home-Made Tagliatelle Pasta in Bolognese and An Autumn Tablescape
This is a re-post from October, 2014, four years ago while my mother was still alive and whirling around in my kitchen with me. Because my blog is primarily for journaling life on a country acreage, in the kitchen, in the gardens, and on the road . . . to maintain the integrity of the blog, I simply wanted to re-share this autumnal recipe and tablescape that I had posted from the past . . . yet keep it in its original presentation.
For the Bolognese Sauce that I prepared with my mother over the weekend, a fresh batch of pasta was also made to go along with the sauce. The pasta shape that we chose was tagliatelle, the traditional pasta from Bologna and the Emilia-Romagna and Marche regions of Italy. Tagliatelle are long, flat ribbons of pasta, very much similar in shape to fettuccine and is classically served with Bolognese sauce. When freshly rolled out, the texture is a little bit less smooth than what you get with a packaged, dry pasta. But this porous texture is exactly what makes it perfect for thicker sauces made from beef, pork or veal.
OK, OK, OK, I know what you're thinking when you look at the photo above with the amount of sauce dolloped on the top of the pasta (that had already been gently mixed with the sauce). I do know that when in Italy, only a little bit of sauce is blended into pasta. But I also know that my husband is crazy-nuts about this sauce and always wants more, more and MORE sauce on his pasta. What can I say? He's a typical American who just wants more sauce.
It makes him happy.
And that's what I like . . . happy people around my table.
So before you might think that I don't know how to properly serve pasta with sauce in the authentic Italian way, I assure that I know how to toss it all together correctly, but that first and foremost, I'm more concerned about a happy tummy for my husband . . . and truthfully for anyone who wants it served this way. 'nuff said.
After you make your pasta (here's a link to my family's recipe), get ready to ROLL!!!
Here is a step-by-step photo presentation of my mother working a fresh batch of pasta into some beautiful noodle shapes . . . this time for Tagliatelle!
If you prefer to make your pasta with the nifty Kitchen Aid Pasta Roller Attachment, here is the quick link to purchase it (and it was on sale for 50% off when I posted this!):
KitchenAid KSMPRA 3-Piece Pasta Roller & Cutter Attachment Set
or you can click on the photo of the Kitchen Aid Pasta Roller below:
After using the first flat pasta sheet rollers, you then remove that attachment (if using a Kitchen-Aid) and place the noodle attachment on your machine . . . pre-selecting what shape of noodle you want to make. We selected the 'tagliatelle' pasta shape (flat and somewhat wide . . . not as thin as spaghetti or linguine, yet not as wide as fettucini) for this pasta dish.
Rolling out the tagliatelle!
If you really want to be totally and completely traditional, you can always slice the noodles by hand OR use a traditional Italian chitarra. A chitarra is a pasta cutter made of wood and wires on which sheets of pasta are pressed into strips of pasta captured in the wooden box below the wires. These are nearly impossible to find in the United States, so I found it online and am sharing the link. This is exactly the same as the one that I have in my own kitchen:
With the electric Kitchen Aid pasta attachments, it takes only a few minutes at the most to produce fresh pasta . . . word of warning! HAVE A DEEP POT OF WATER BOILING, SALTED and READY for this fresh pasta to be put in the water. It only takes another 3 minutes maximum for perfect 'al dente' cooked pasta. Obviously, you must have your sauce hot as well, and ready to just plop in the pasta upon it's brief swim in the hot boiling water!
If you'd like to have a great resource on making fresh pasta, gnocchi, and risotto in your own kitchen, I highly recommend this cookbook:
And now for a tablescape for your fall entertaining!
This is how I decorate my kitchen table with an autumnal feel. I use the SAME decorations every year, but sometimes if something lovely strikes me, I'll pick it up and add it to my annual tablescapes. The only things that have been added this year to this autumn tablescape are the round woven wicker 'placemats' and the wooden green painted chargers under the plates. You can see how I use these in the spring and how I keep the same natural and green theme of my home in this tablescape from spring to autumn.
These foundational colors carry into the Christmas holiday too and all I do is add more reds and/or pinks to the color scheme . . . see where I'm going with this? Spend wisely on nice things . . . and then save and store them carefully . . . using them over and over again . . . adding a few new things when you like . . . and always reuse and recycle! This always leaves you with such a good feeling inside while enjoying an visually beautiful aesthetic in your home!
These are the wonderful things that add continuity in your family customs and that can be passed down in your family if carefully tended to and stored! You will be remembered throughout the years at your family's table, I guarantee it!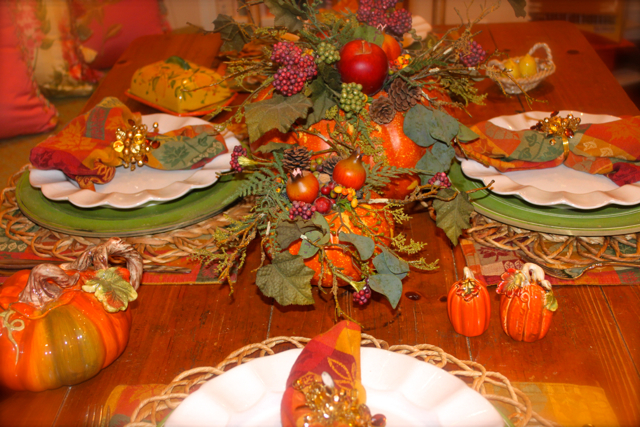 Our acreage is located in the woods way out in the country and so I incorporate a lot of natural colors to blend with our surroundings. Lots of various earthy shades of green are the primary color which I carry through all of my decorating, even as the seasons change.
I hope that you have a beautiful and delicious autumn season!!!