Pasta with Roasted Tomatoes, Garlic and Basil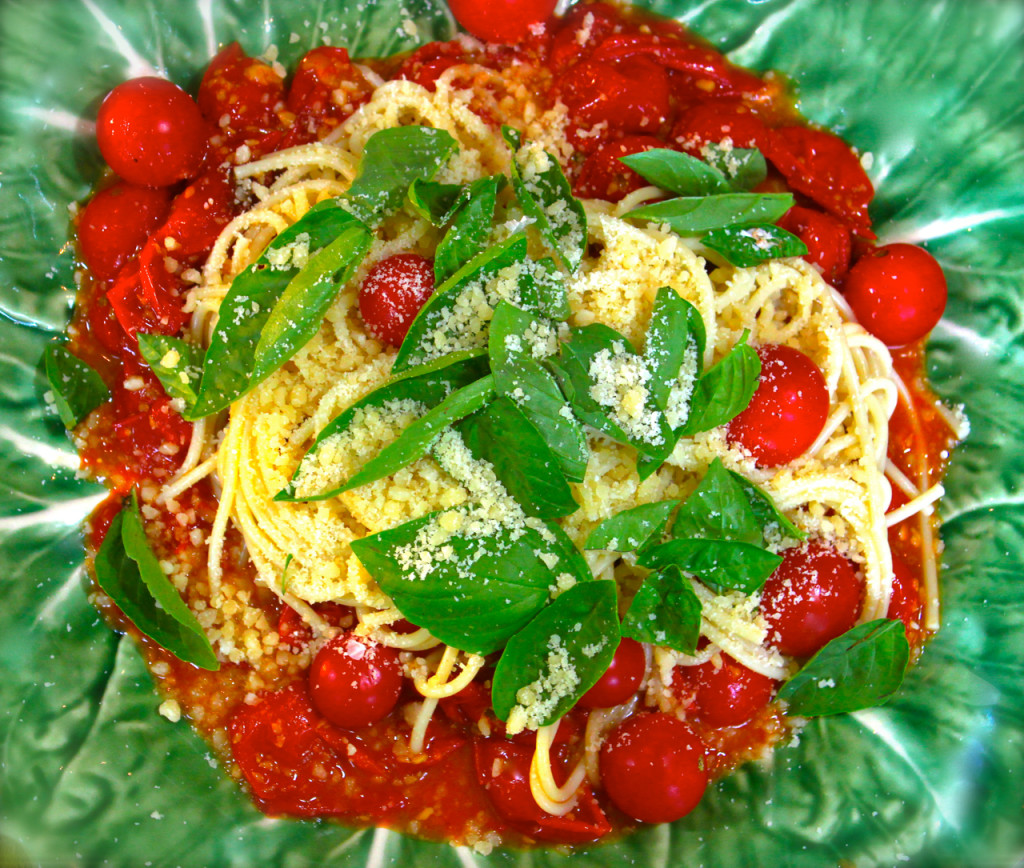 Have you ever plopped a freshly-picked cherry tomato into your month?
And I mean, you picked it and plopped it all by yourself . . . with no waiting time, no truck delivery time from some far away place, no retail store, and not even a farmers' market in between the time of picking that little red ball and the time of plopping it, still warm from the sun, onto your tongue!
Well, let's just say, the flavor of this experience is like eating candy in the garden!
Even our culinary-savvy Golden Retriever, "Buckeye", waits patiently for fresh tomatoes every summer! When Buckeye was a younger fellow, he would sneak straight into the garden to eat the cherry tomatoes straight off the vines while we weren't watching . . . that was until we put up a deer fence around the gardens!
Buckeye was really bummed! No more fresh cherry tomatoes without begging!
.
Here's a super easy recipe for you to enjoy the true intense flavor of summer's garden-fresh cherry tomatoes in your home.
Let me warn you, this sauce is not like the processed sauce you get in the store . . . it's FRESH and you'll taste the difference!
And I do mean EASY and FRESH! On your table in less than 30 minutes!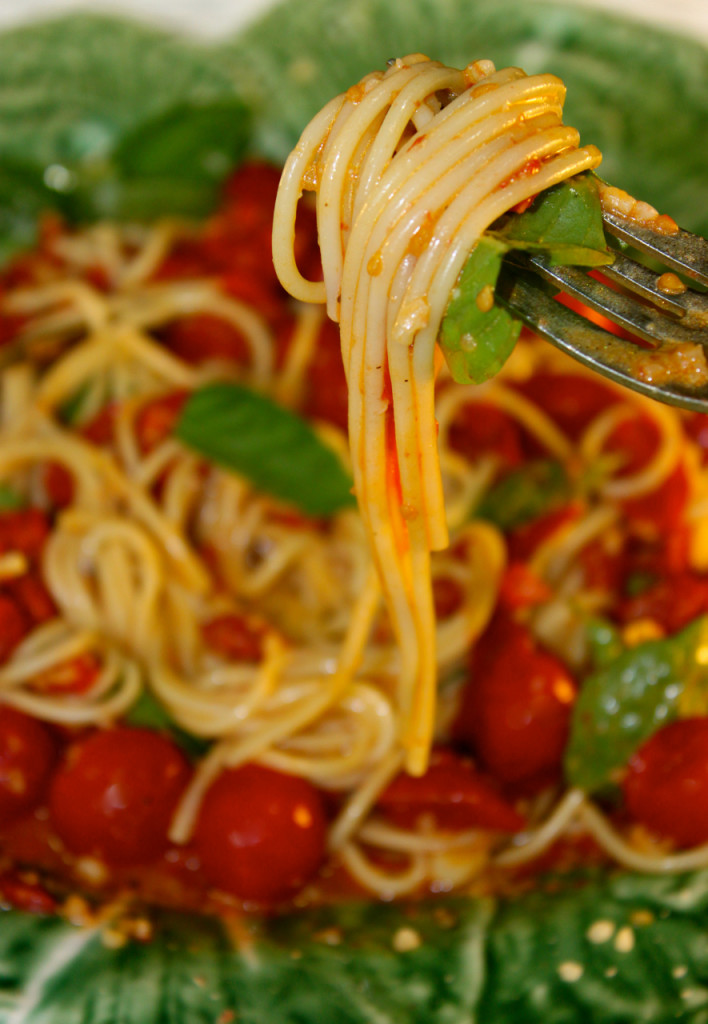 Here are the secrets to getting this on the table FAST for those hungry peeps in your life:
Have everything on hand and ready by the stove:
Roast the cherry tomatoes the day before in olive oil and garlic (if you prefer to do things ahead of time like I do). If you do this, just refrigerate the roasted cherry tomatoes for a day or two . . . max!
Pick or buy your fresh basil and garlic.
Freshly-grate some good Parmesan (Parmigiano) cheese (If you happen to have the 'rind' from the cheese left over, SAVE IT to throw into the sauce and remove it after the sauce 'brews').
Grab that "oh-so-good-for-you" olive oil and a nice heavy pan.
Ready?
Here goes:
SERVE with love!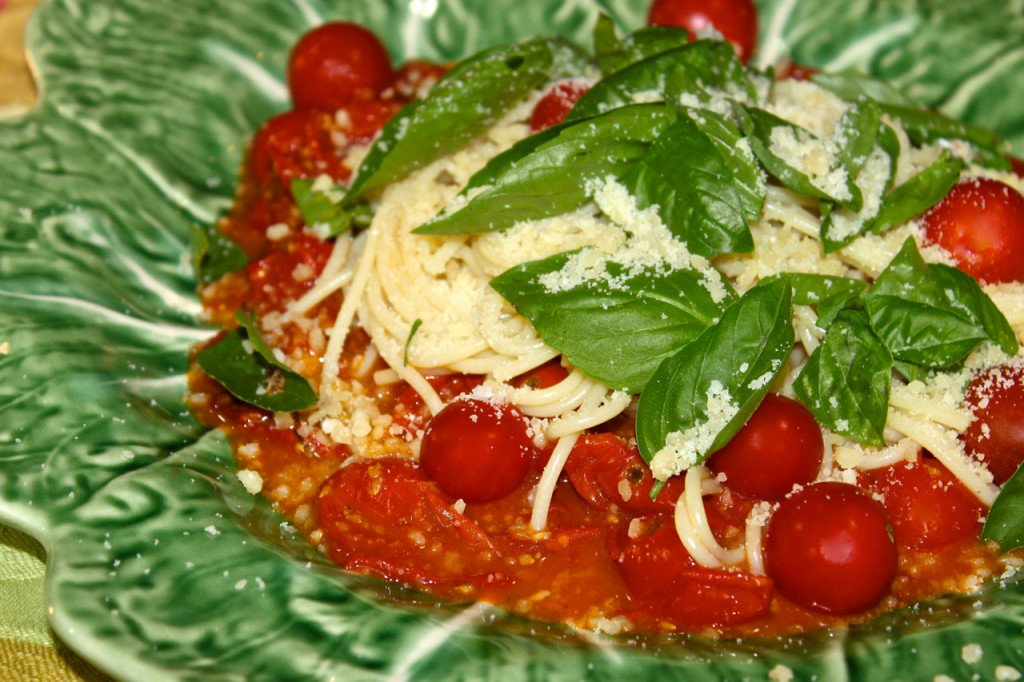 For the meat-eaters in your family, such as my husband, 'Mr. Meat and Potatoes', simply add your favorite Italian meatballs into the pasta and sauce (hopefully made ahead or purchased from a high-quality 'ready-made' brand to save you time). I like to include a few meatless meals into my nutrition, but my husband is not on that bandwagon AT ALL, and his tummy needs to be as happy as mine!
Print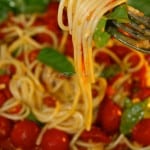 Pasta with Roasted Tomatoes, Garlic and Basil
Author:
Prep Time: 0 hours
Additional Time: 0 hours
Cook Time: 0 hours
Total Time: 0 hours
Yield: 2 servings 1x
Cuisine: Italian
---
Roasted Cherry Tomatoes
4 cups cherry tomatoes, preferably freshly-picked from the garden
5 –7 large garlic cloves; 2 slices minced (and 4 –5 cloves SLICED, and set aside to be used later in the sauce)
2 –3 Tbsp. olive oil
freshly-cracked sea salt
Thin Spaghetti/Spaghettiini (half of a box for two servings)
Tall pot of boiling water
Freshly-cracked sea salt
SAVE some of the pasta water
Thin Spaghetti/Spaghettiini (half of a box for two servings)
Tall pot of boiling water
Freshly-cracked sea salt
Tomato Sauce
Roasted tomatoes (from above)
3 Tbsp. olive oil
4 –5 garlic cloves, sliced (that was set aside from above)
1/2 cup freshly-grated Parmesan (Parmiggiano) cheese
2 cups freshly-picked basil leaves
sugar, if the tomatoes are too tangy for you…..careful, sprinkle on only to the point of taking any tang out of them.
Freshly-cracked sea salt and black pepper to taste
Garnish
1/2 – 1 cup freshly grated Parmesan (Parmiggiano) cheese (to your taste preference)
---
Instructions
Roasting the tomatoes:
In a 450 degree oven, roast cherry tomatoes in olive oil and minced garlic until slightly browned and squished (keep an eye on this process).
Remove from oven and either use immediately or refrigerate for no more than 2 days.
Sauce:
In a large heavy pan, pour the olive oil and heat on medium-hot heat, and never on a hot setting (olive oil burns easily).
Add the slices of garlic and cook briefly until golden . . . making sure that the garlic does not burn.
Add the roasted tomatoes.
Add freshly-grated parmesan cheese, about a handful or ½ cup.
Add freshly-cracked sea salt to taste.
Simmer on low heat while pasta cooks.
Pasta:
In a tall pot, boil water with about 2 Tbsp. sea salt.
Add thin spaghetti (spaghettini) noodles and cook until 'al dente', no more than 7 minutes.
Do not throw away the pasta water!
With a hand-held strainer, remove the pasta from the water, tapping against the side of the pan, and place in the roasted tomato-garlic-Parmesan sauce.
After Cooking the Pasta:
Add adding the pasta to the tomato-garlic sauce, add some of the hot pasta water (½ cup or so) to the tomato-garlic sauce and pasta to help 'cream' it.
Add more grated Parmesan cheese (about 1 cup).
Add freshly-picked basil leaves (about 1 cup).
Blend gently.
Salt and pepper according to your taste preferences.
Add more Parmesan cheese to your taste preferences.
For Meat-Lovers:
Prepare ahead of time, your favorite Italian meatballs or purchased high-quality pre-made frozen Italian meatballs.
Heat meatballs and immediately add to the sauce mixture while the pasta is cooking.
---
Notes
If you find that the fresh taste of garden-fresh-picked tomatoes is a bit too tart for your preference, add a little bit of sugar at a time to take this to a better flavor for you….this is why many Italian cooks often add shredded carrots to their sauces . . . to sweeten and balance some of the tartness of the tomatoes.
AGAIN: this is totally up to you and your taste preferences.
My tomatoes needed about a teaspoon of sugar added this year; but I like the tartness and that's just me.
Serve with delicious garlic bread and a nice mixed greens salad!
---
Nutrition
Serving Size: Serves 2 People
Calories: 0
Fat: 0
ENJOY!!!
Do you enjoy La Bella Vita Cucina?
We'd love to have you as part of our community!
Click here: La Bella Vita Cucina to get the latest recipes, travel tips and gardening ideas straight into your inbox!