The Most Incredible Watermelon Salad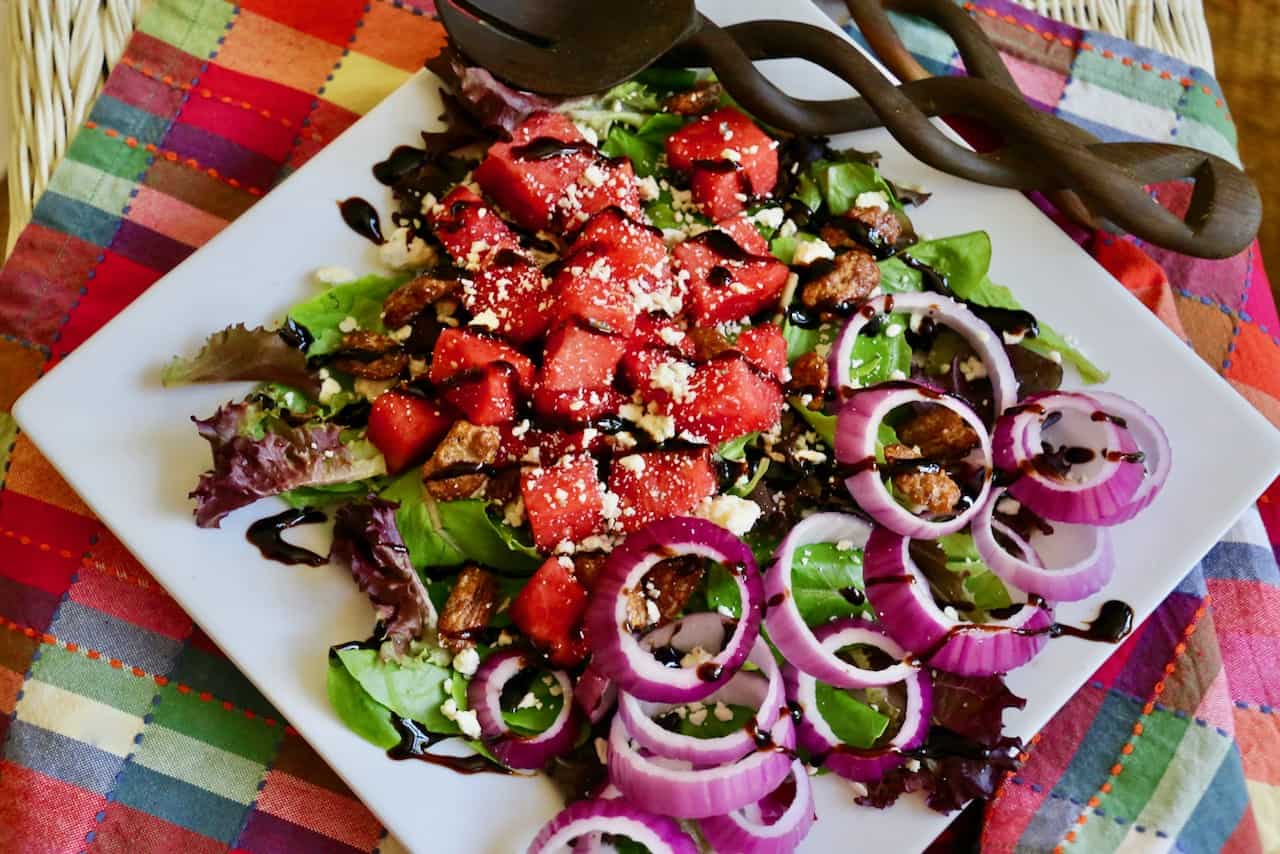 Watermelon salad has become wildly popular! After reading through a plethora of recipes, this is the most incredible watermelon salad of all! During these sizzling days of summer having a chilled watermelon salad is simply so refreshing! A godsend on these hot and sticky days!
And this salad is jam packed with so much flavor that your taste buds will be dancing a jig. An array of flavors is all here in this salad: the sweetness of the watermelon, the salty, creaminess of the cheese, the crunchiness of the praline pecans, the tanginess of the balsamic glaze, the freshness of the spring mix greens, and the sharpness of the red onions . . . getting hungry yet?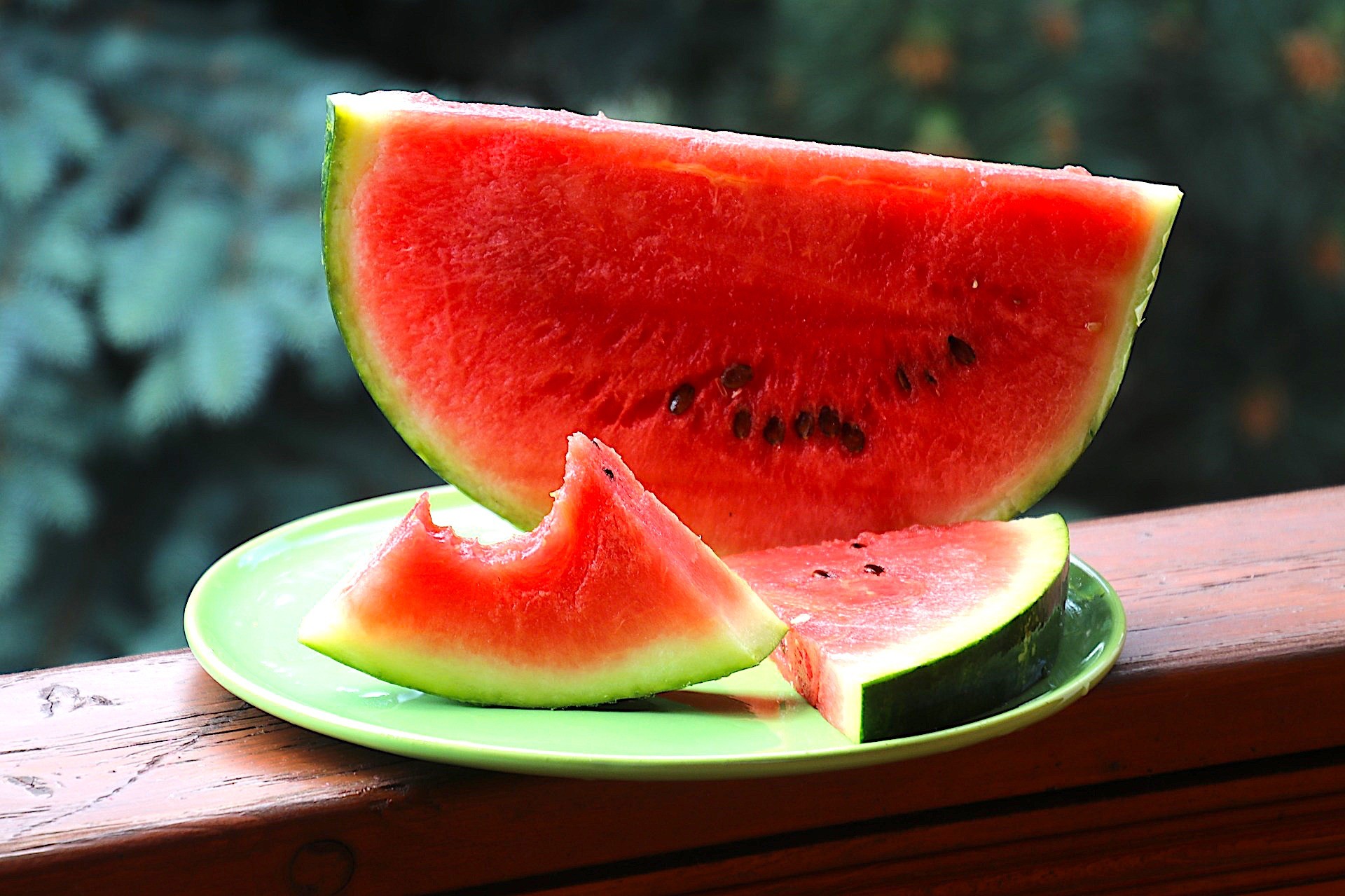 This recipe kicks up a simple watermelon salad with the addition of Italian Gorgonzola cheese crumbles, and a balsamic glaze drizzled all over sweet candied praline pecans! It's also so user-friendly that if you don't like Gorgonzola, you can swap it out and use feta or goat cheese. You can also use walnuts, almonds, pistachios or any nut of your choice. Plus this salad requires no cooking or baking that heats up the kitchen and is super easy to prepare in a snap!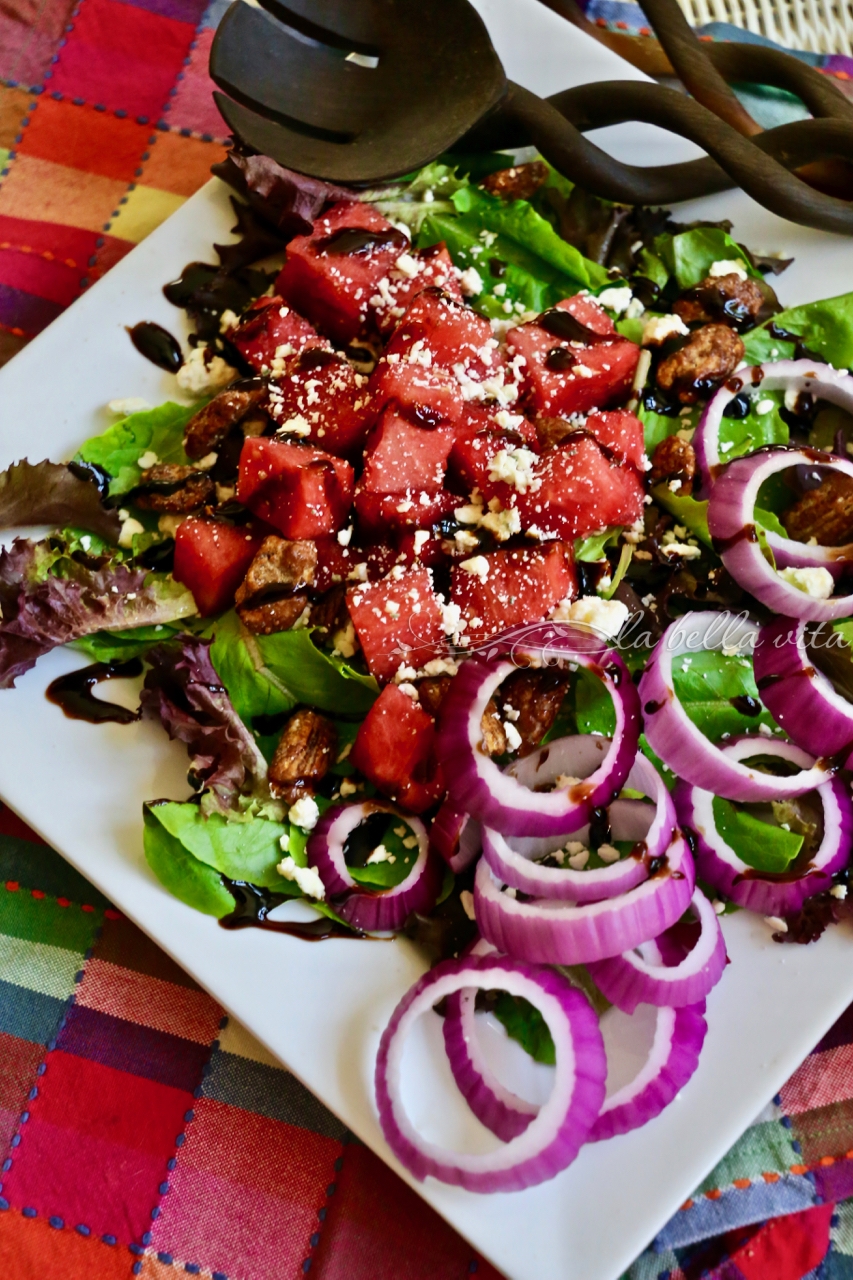 You can either purchase a good balsamic glaze or prepare your own by heating up the balsamico with some honey on a low heat stove burner, and stir until thickened. This sweet-savory balsamic glaze has the perfect amount of flavor to compliment the salad without overpowering it.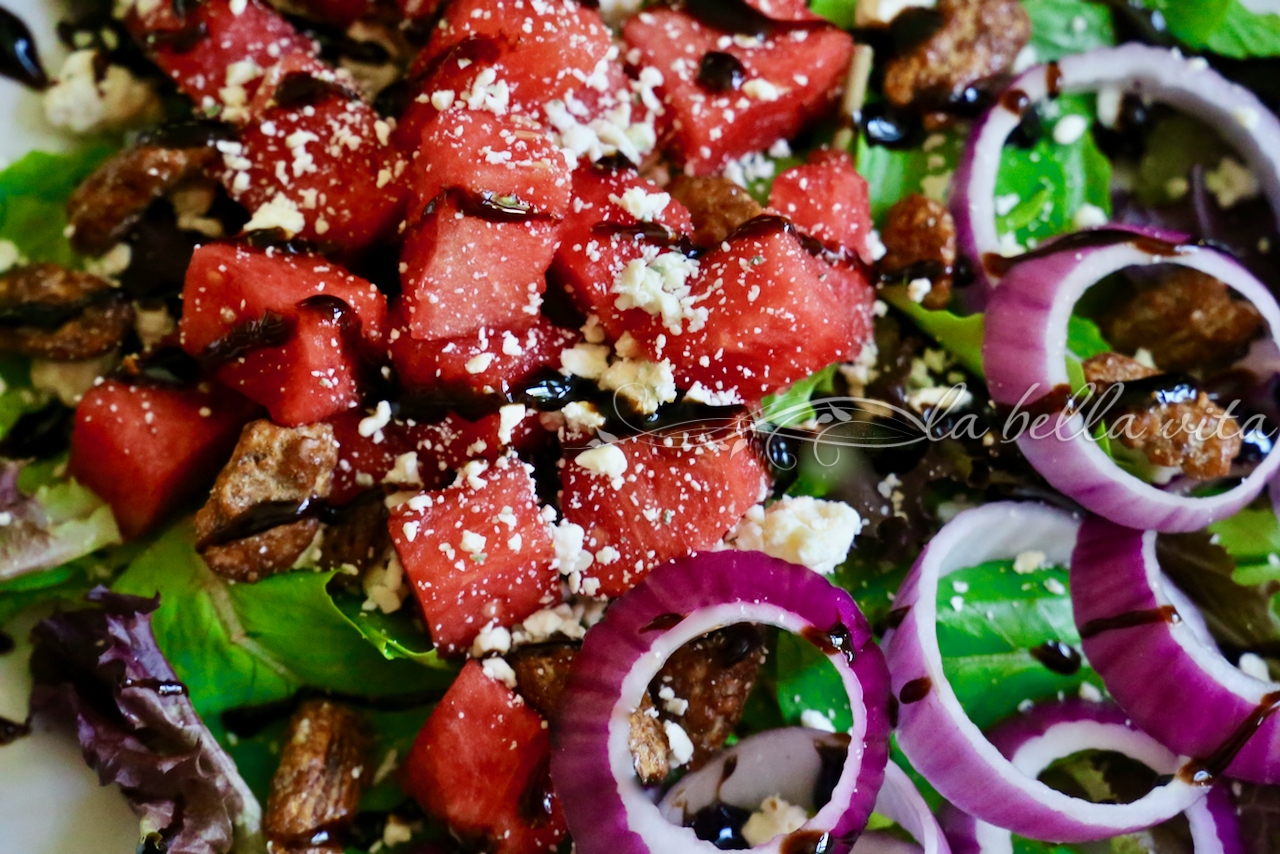 Sweet, juicy watermelon gets a savory boost from the salty Gorgonzola cheese. The red onion provides a second pop of bright color as well as some extra crunch. With the sugar-coated praline pecans, you've got a delicious, light salad to help keep you cool when the mercury is rising, whether for lunch or a light dinner . . . and most certainly for a brunch!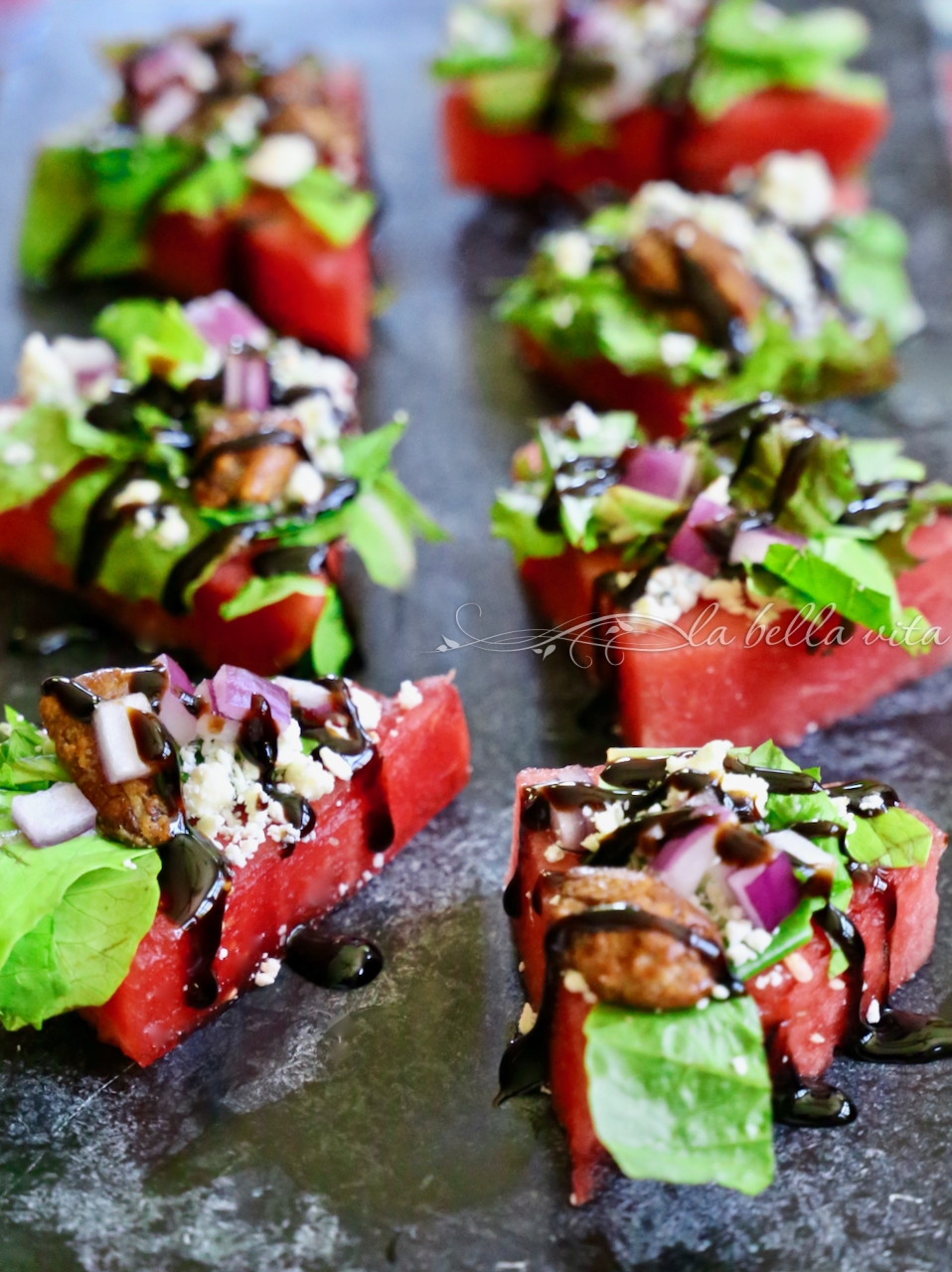 Another way to serve this incredible watermelon salad is to slice up more watermelon into triangle slices to serve as a 'plate'. You can use a nifty watermelon slicer to keep all of your slices even with an easy push or you can use a simple watermelon slicing knife for the job; both are great gadgets to slice melons. Guests can pick these up by hand and nibble without a fork or plate! Just layer on the ingredients on the triangles and place them on a nice serving platter (I used my soapstone platter that I chilled ahead of time) instead of plating the entire salad on a serving platter.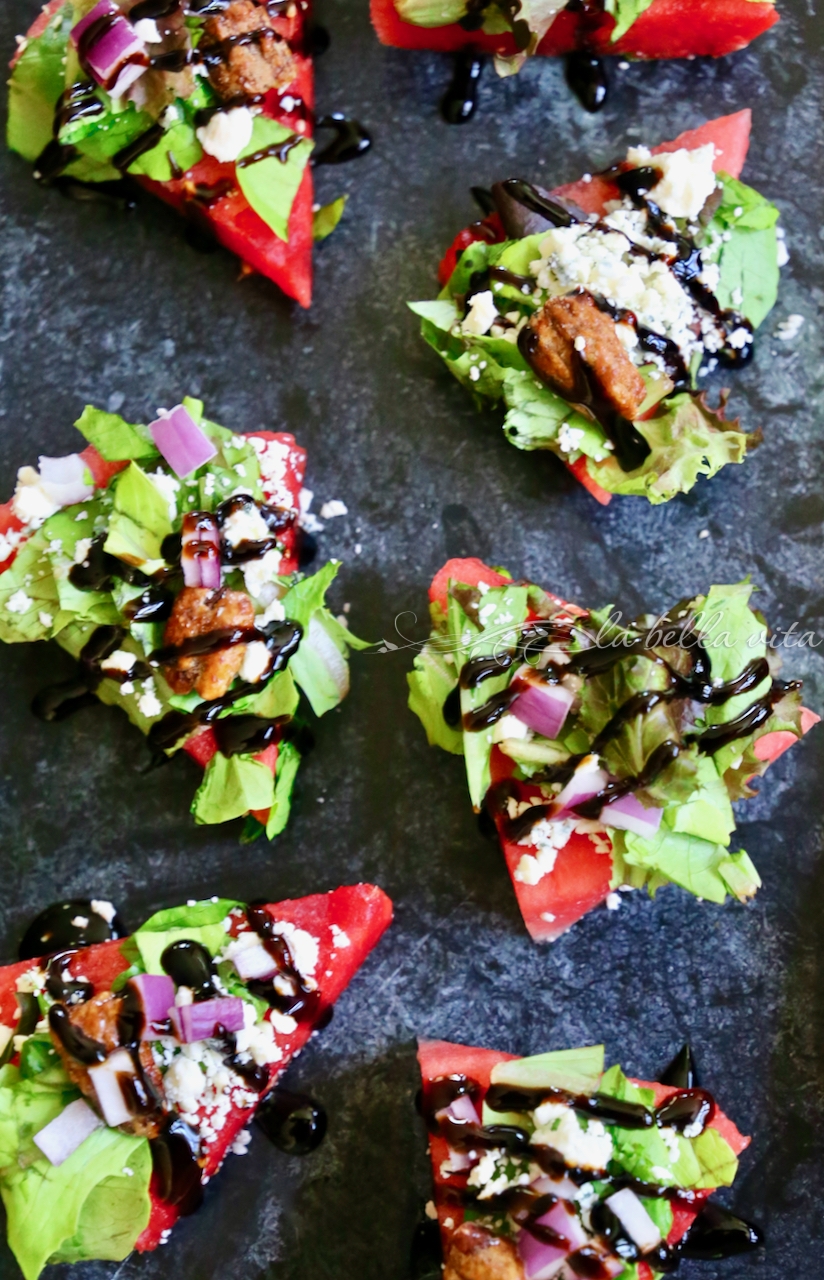 Incredible Watermelon Salad with Balsamic Glaze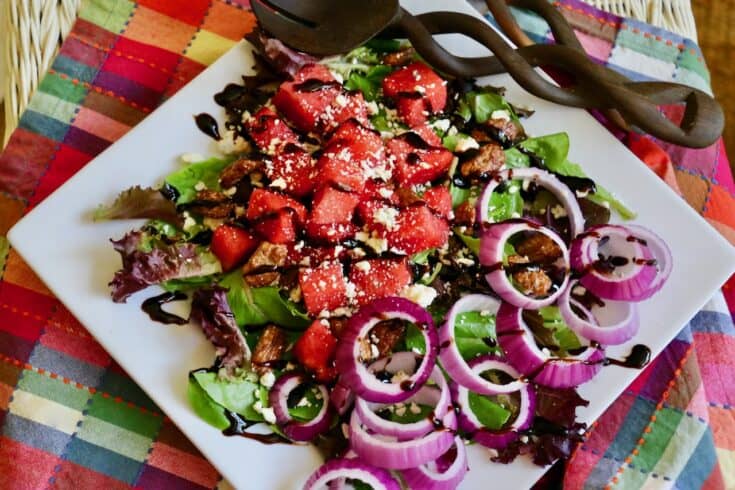 Instructions
Chill the watermelon for several hours or overnight.
Cut the watermelon into halves and then into 1" slices (you can also purchase pre-cut watermelon in the market).
Cut off the green rind from the watermelon slices and then cut into 1" cubes and or triangles, depending on how you want to serve this salad.
Slice red onion into 1/4" slices.
In a small pan, combine the balsamic vinegar, brown sugar (if necessary) and honey).
Bring to a boil over medium heat, stirring constantly until sugar is completely dissolved.
Reduce heat and simmer until glaze is reduced by half, about 20 minutes. Let cool.
Plate the fresh spring greens and then arrange the red onion slices on top of the lettuce.
Place the watermelon cubes on top of the lettuce.
Sprinkle with Gorgonzola cheese crumbles.
Sprinkle on candied praline pecans.
Drizzle balsamic glaze on top.
Serve immediately.

** A second way to present this salad is to slice more watermelon into triangles with the rind removed. Arrange watermelon triangles on a serving platter. Chop up the fresh spring green lettuce and arrange on top of each watermelon triangle. Sprinkle the Gorgonzola and praline pecans on top. Drizzle the balsamic glaze on top. Serve immediately.
Please share the love by pinning this image below:

Other Watermelon Salads that I found on the Web