Zucchini, Yellow Squash & Italian Cheese Torta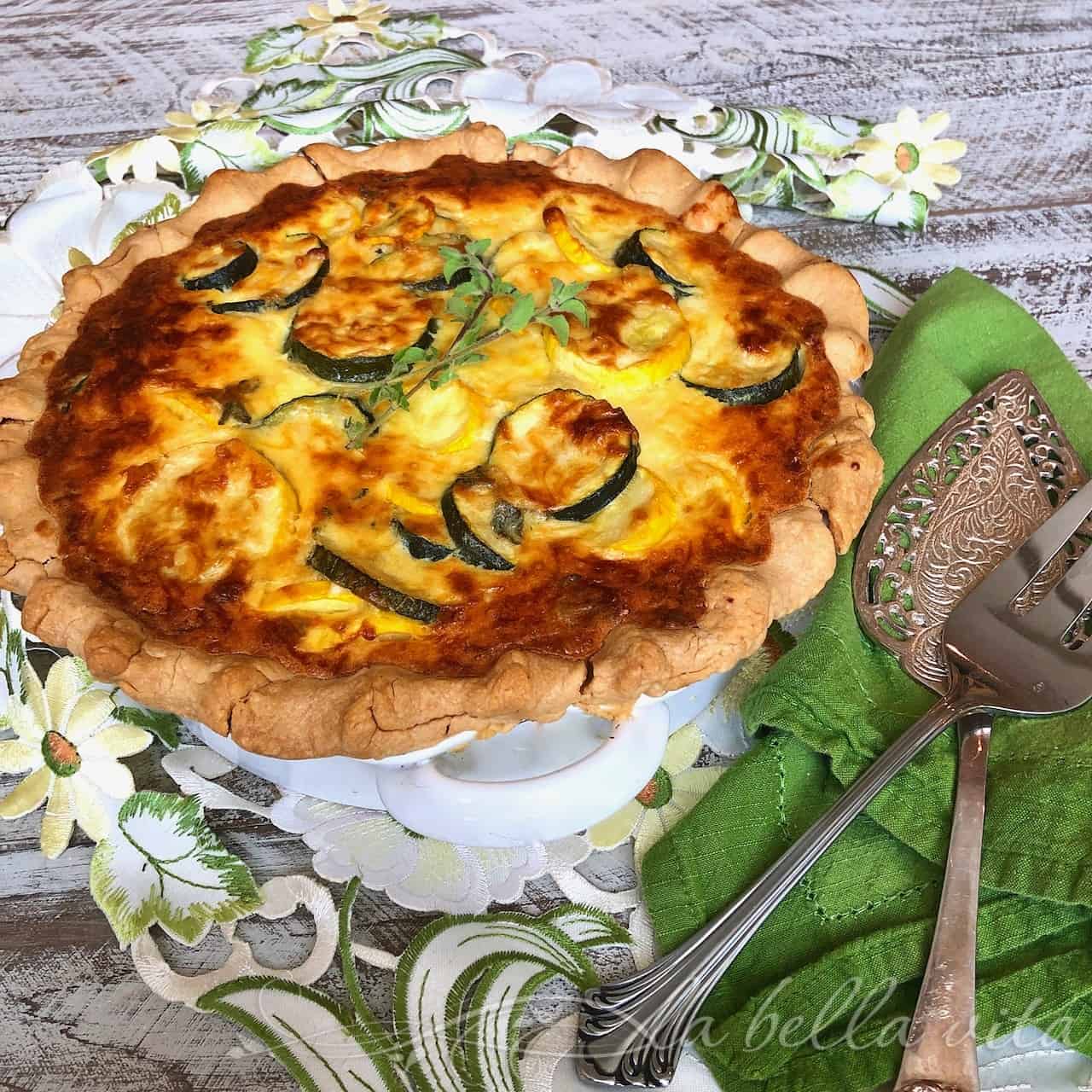 The zucchini and squash just keep coming in our gardens, don't they?
Gardens are overflowing at this time of year. Super fresh, brilliant colors, and outstanding flavor just waiting to be harvested and picked off the vines! I just hate to waste anything, so I get a bit overwhelmed with the enormous bounty that we're so blessed to have for end-of-summer recipes! Our gardens would not be complete without a variety of squash plants. Zucchini, yellow summer squash, butternut squash . . . always perennial favorites of ours.
The last recipe that we shared was a sweet way to use zucchini in a newly created Zucchini Banana Bread recipe that we combined Roz's best zucchini bread recipe and Bill's family banana bread. We hope that you check it out . . . it disappears immediately!
So a shift to something savory was on the brain today. For this torta we knew that we wanted a strong Italian cheesy overtone to it. With a strong Italian cheese blend of ricotta, parmesan, and a 6-cheese blend of all the good Italian cheeses, this Zucchini and Yellow Squash and Italian Cheese Torta will disappear fast. The garlic-infused aroma fills the kitchen with a wonderful scent that spreads everywhere in your home. Family and friends will be drawn into the kitchen with inquisitive minds and hungry tummies just waiting to get a taste. To us, it is one of the greatest compliments when someone comes in the door and says, "Something sure smells good!"
So let's get cooking with some simple step-by-step photos to help you:
Saute' onions in 2 – 3 Tablespoons of olive oil for about 8 minutes.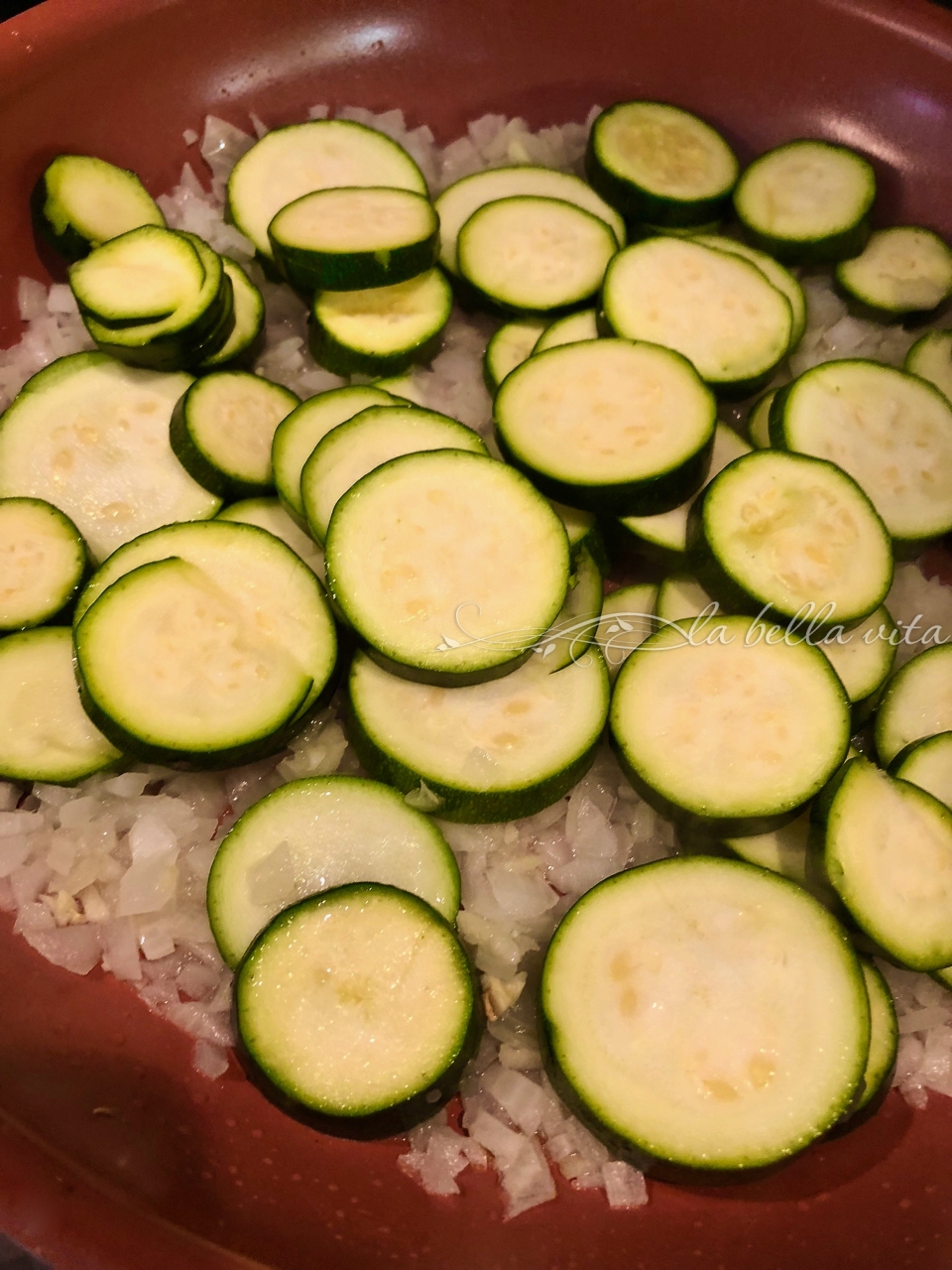 After salted zucchini has water 'drained' out, add to the pan of onion and garlic.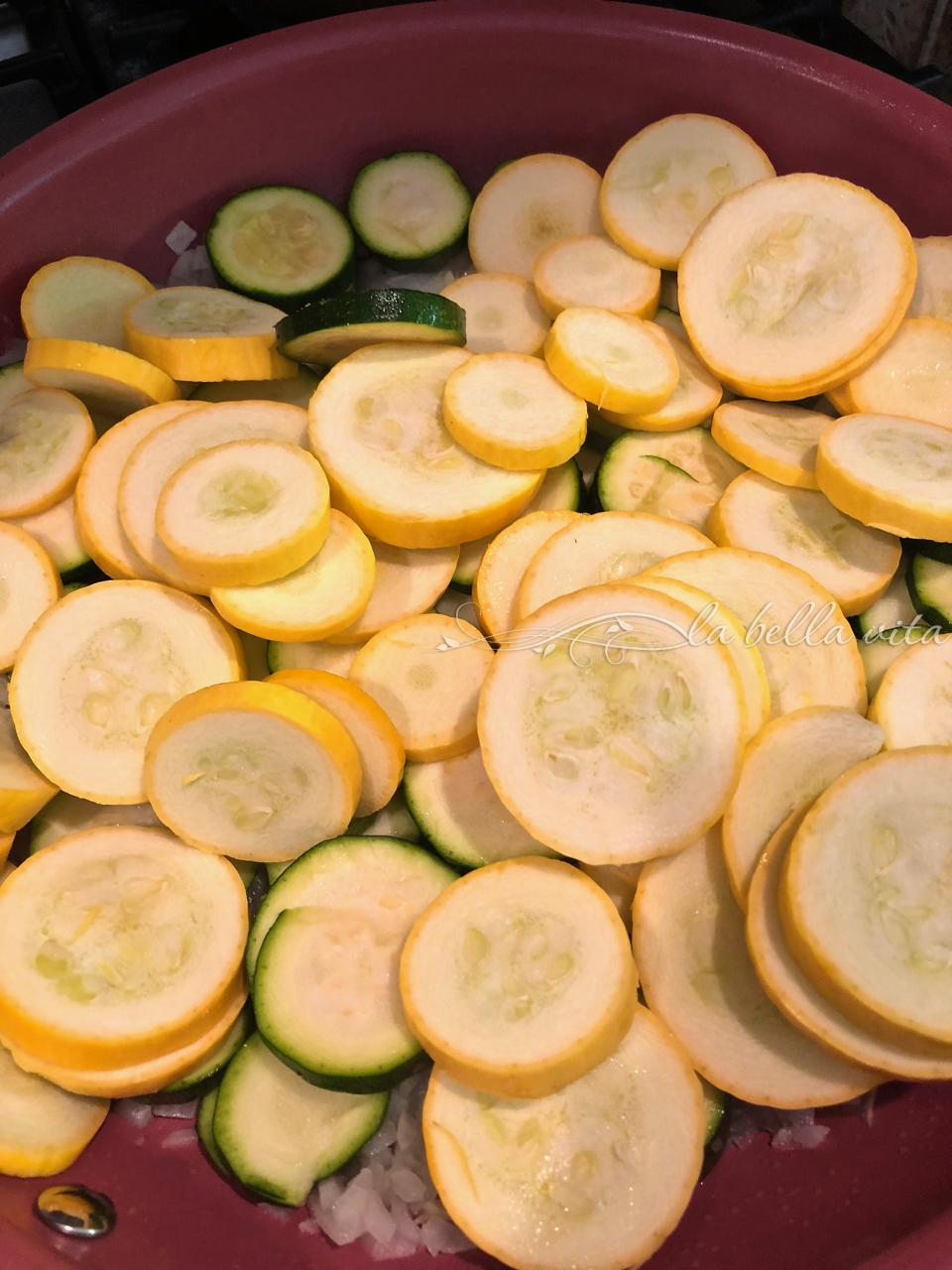 Add all of the 'salted and drained' yellow squash to the pan of onions and garlic to saute'.
Beautifully sauteed zucchini, yellow squash, onions, and garlic.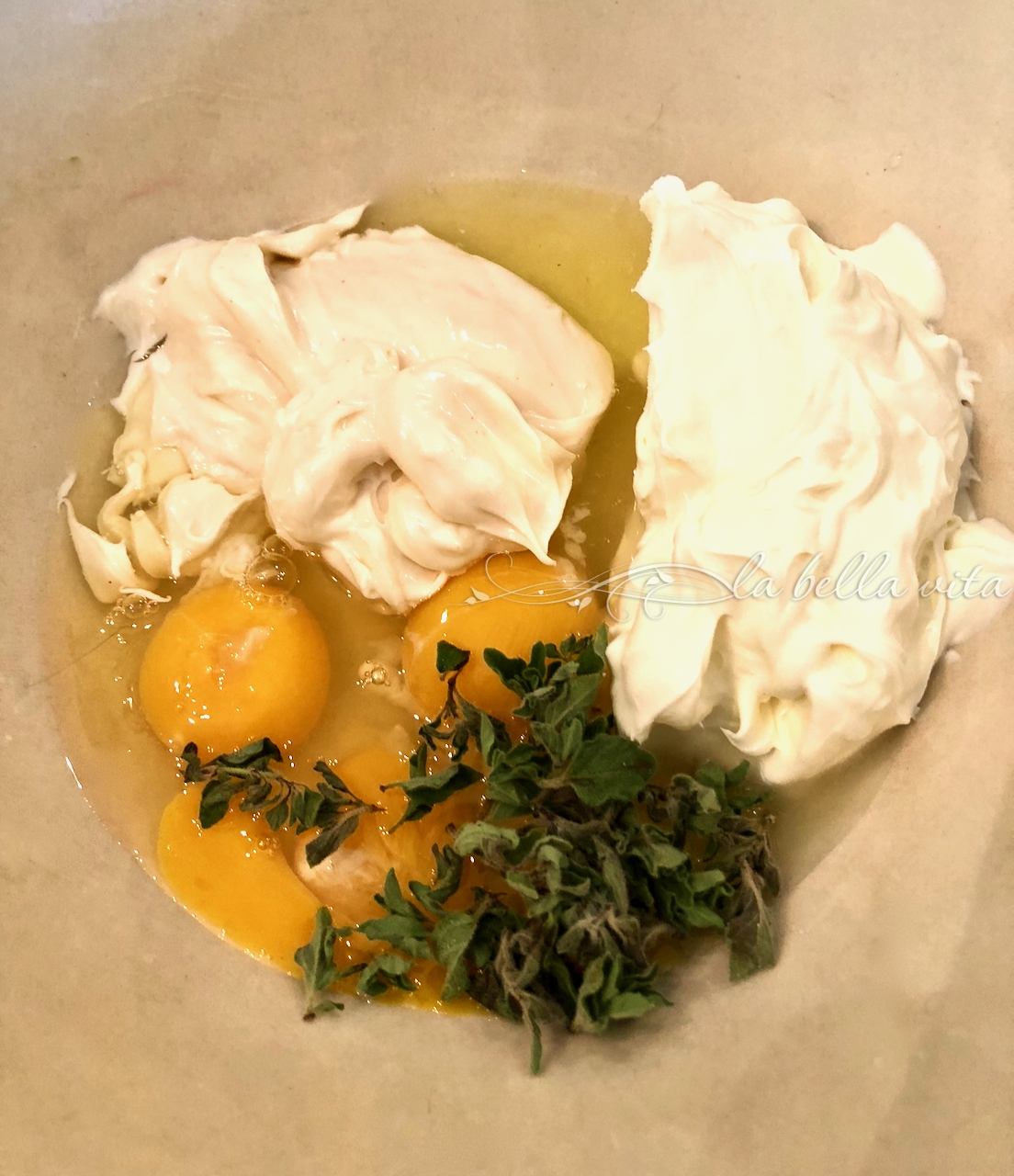 Now in a large-sized mixing bowl, combine the eggs, ricotta, salt, and oregano.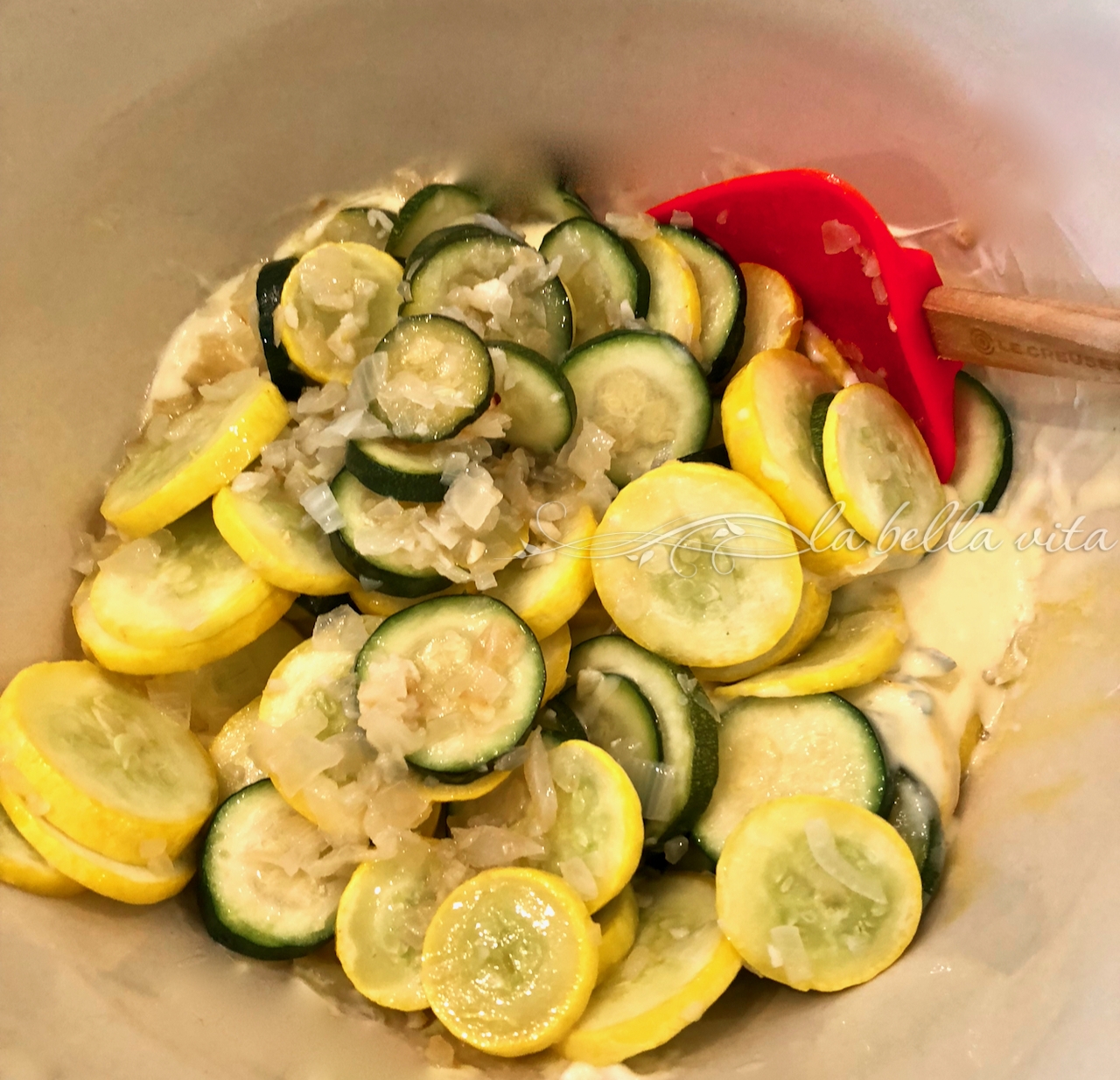 Next mix in all of the cheeses. The small addition of sharp cheddar adds a pop of color to the torta.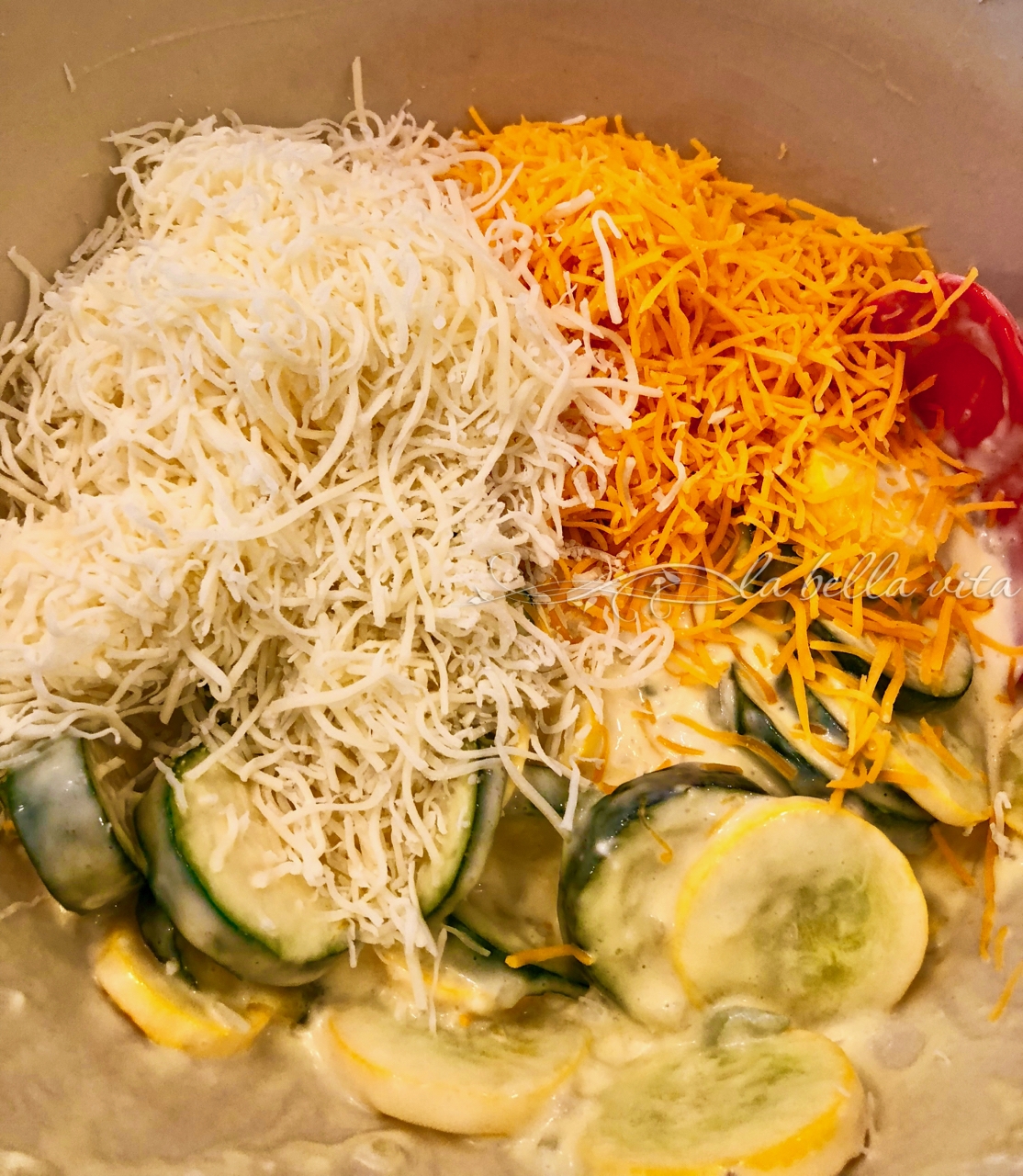 If pinched for time, take two or three ready-made 'deep dish' pie crusts instead of your own homemade pie dough and place in a pie or large tart baking dish. If you use your own homemade pie dough, you don't have to 'double-up' on the thickness of the torta crust….just roll it out to the thickness that you desire. Ready-made pie dough is already thin and thus the reason for doubling it up to make a decently thick crust.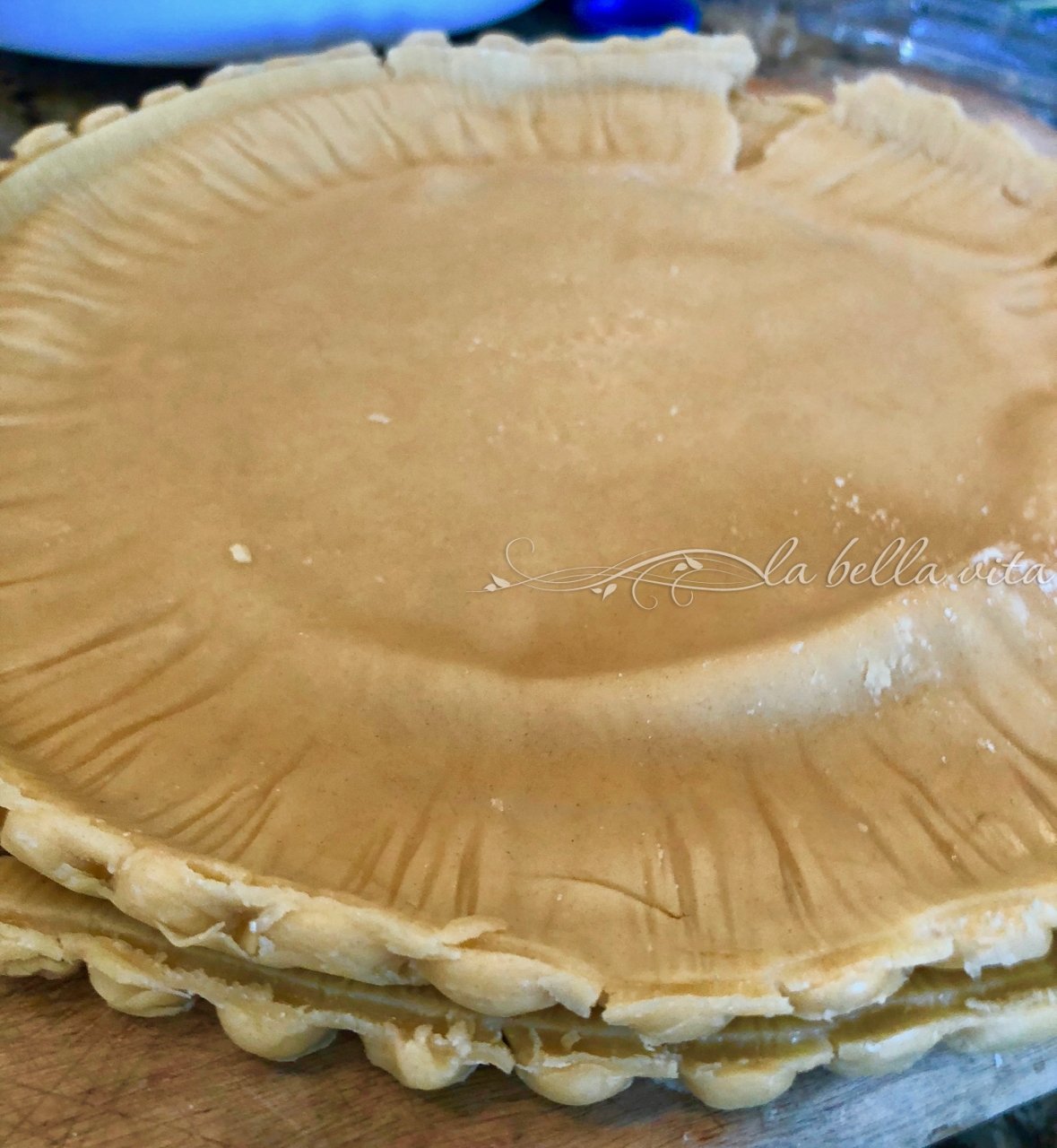 Example above of placing two ready-made deep dish pie crusts
on top of each other to then roll out into one thicker crust.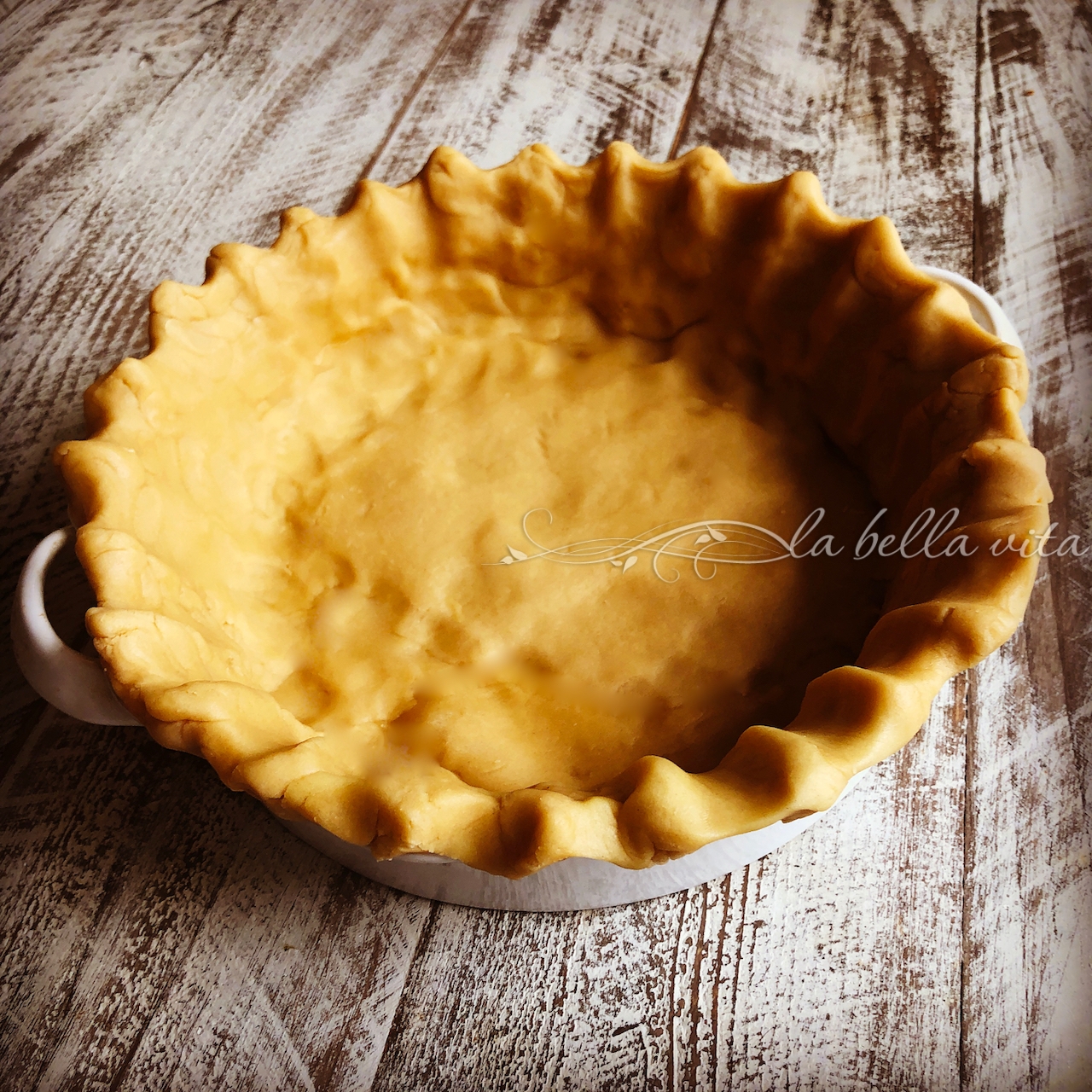 Prepare your pie dough in a deep dish pie pan or torta baking dish.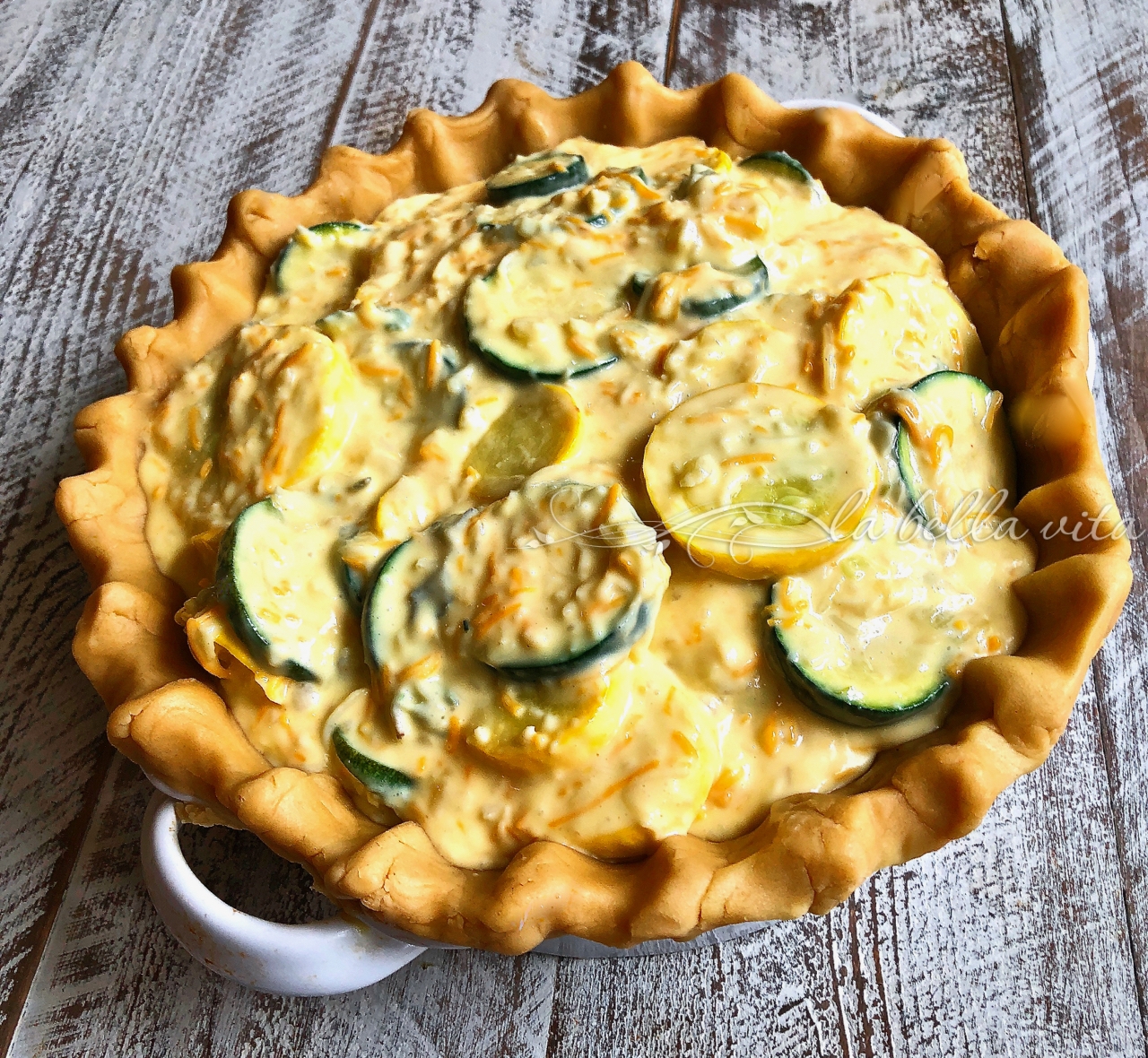 Fill the baked pie crust with the zucchini-egg-cheese filling.
Bake the torta in a 350 degree F oven for 60 – 70 minutes. Check the middle of the torta for doneness. Continue to bake for another 10 minutes or so if necessary.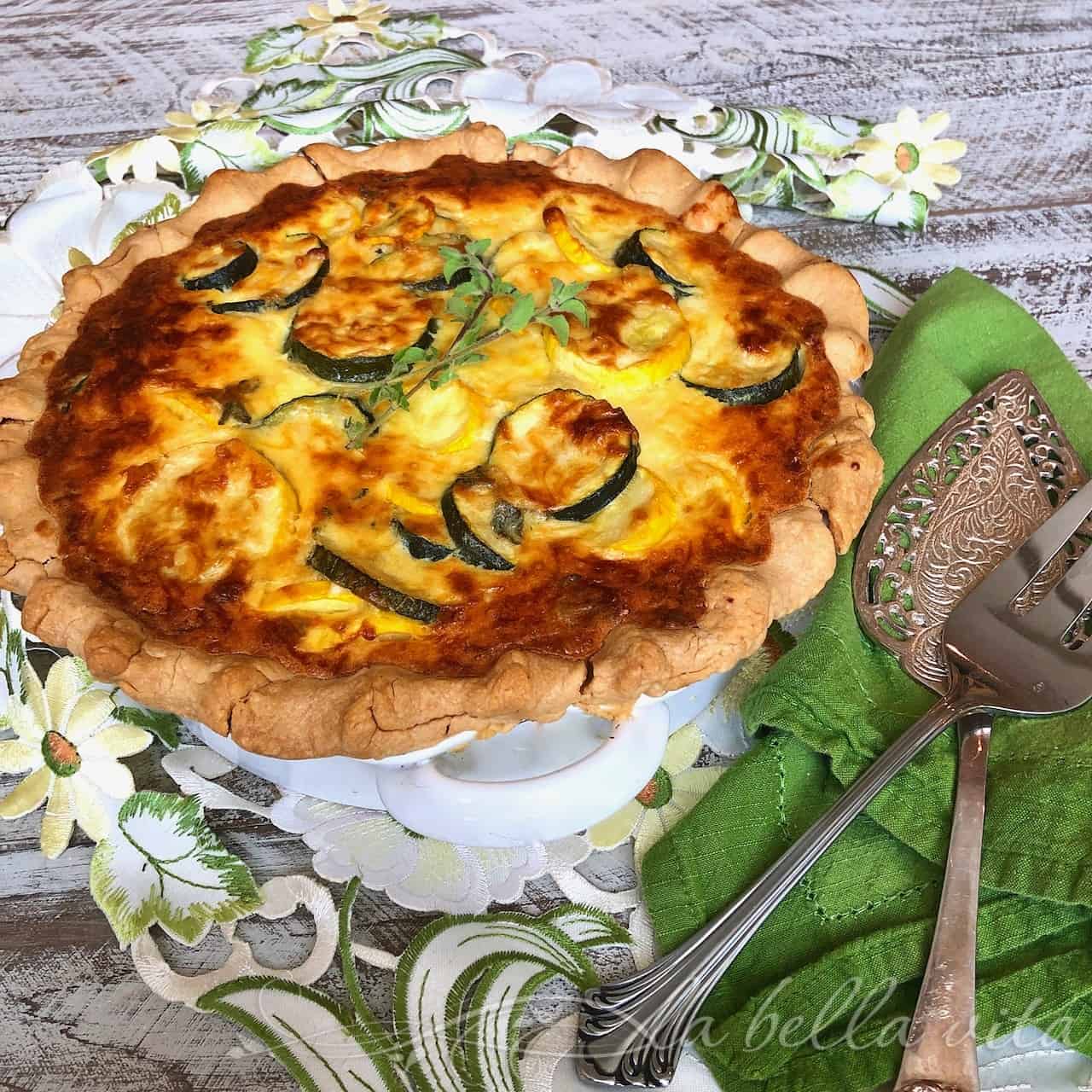 Enjoy!
Print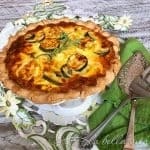 Cheesy Zucchini & Yellow Squash Torta
Author:
Prep Time: 0 hours
Additional Time: 0 hours
Cook Time: 0 hours
Total Time: 0 hours
---
3 Tbsp. olive oil
1 medium onion, diced
3 cloves garlic, minced
2 small zucchini, 'salted and drained', sliced
1 small yellow squash, 'salted and drained', sliced
2 ready-made pie crusts OR your own favorite home-made pie crust
6 jumbo eggs, beaten
1/2 cup ricotta cheese
8 oz. shredded Italian 6-cheese blend
4 oz. shredded sharp Cheddar cheese
1/4 cup Parmigiano (Parmesan) cheese, freshly grated
4 – 6 Tbsp. fresh-off-the-stem oregano….don't use this much if dried (cut amount in half)
1 tsp. salt
---
Instructions
Cut zucchini and yellow squash into thin 1/4″ slices and place over paper towels, sprinkle some salt over the slices and let sit for 30 min so the paper towels soak up all the water.

In a large frying pan, heat the olive oil and saute' the onions for 3 – 4 minutes, then add the garlic and saute for another 2 minutes; stirring so that everything is sauteed nicely.
Add the 'salted and drained' zucchini and yellow squash slices and cook for about 10 minutes, giving the mixture a stir now and then.
In a large mixing bowl, combine the eggs, ricotta, salt, and fresh oregano.
Add the zucchini-squash mixture to the large bowl of ingredients, and blend well, but gently.
Mix in the cheeses.
While the ingredients cook, prepare the torta dough: if pressed for time, use 2 – 3 deep dish pie dough and press them together in a manner to line the baking dish. Or simply use your favorite pie dough recipe.
Pour the filling into the pie dough.
Bake at 350 F degrees for 60 – 70 minutes. Cover at all times with aluminium foil. Bake for an additional 10 minutes if necessary.
When finished baking, allow the torta to cool in the baking pan sitting on a wire rack.
---