Italian Summer Vegetable Salad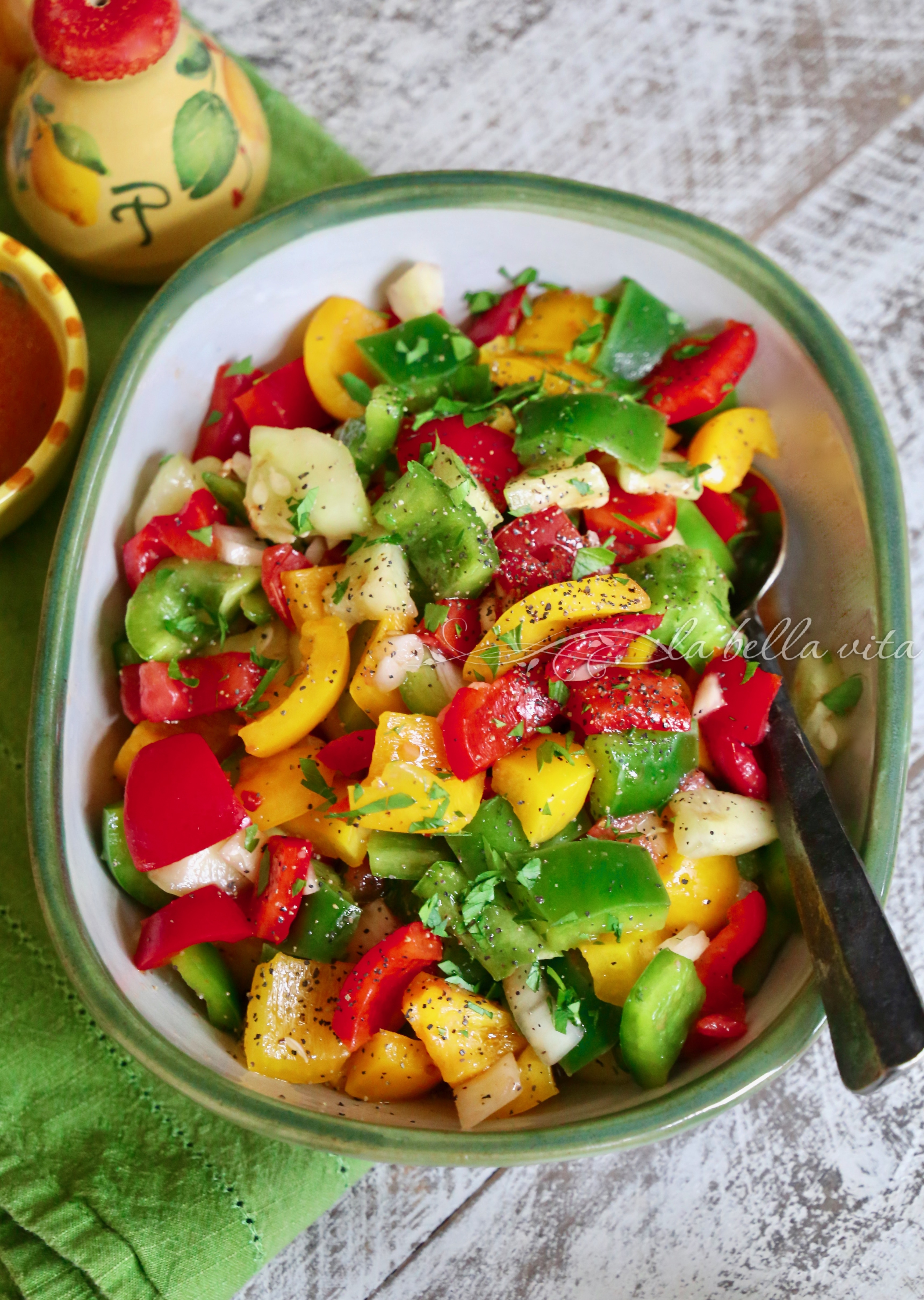 Every summer when vegetables are bursting with their most intense flavors, my family always prepares one of the most delicious veggie salads.
This is so simple! You can use whatever fresh . . . and raw . . . vegetables that are in season! The vinaigrette is also super easy to prepare. PLUS, no cooking, no grilling, no baking, no roasting . . . NO HEAT involved at all.
No sweat!
Simplicity is our way of life in the summer, so that we can get in all of the other fun, outdoor living that we enjoy so much: spending an afternoon boating out on the lake, watching a baseball game with hot dogs and cold beers in hand, participating in local arts and crafts festivals, or just sitting in our rocking chairs on our front porch while sipping cold ice tea.
In other words, we slow down and simplify. We intentionally get healthfully lazy . . . to live in the simple moment.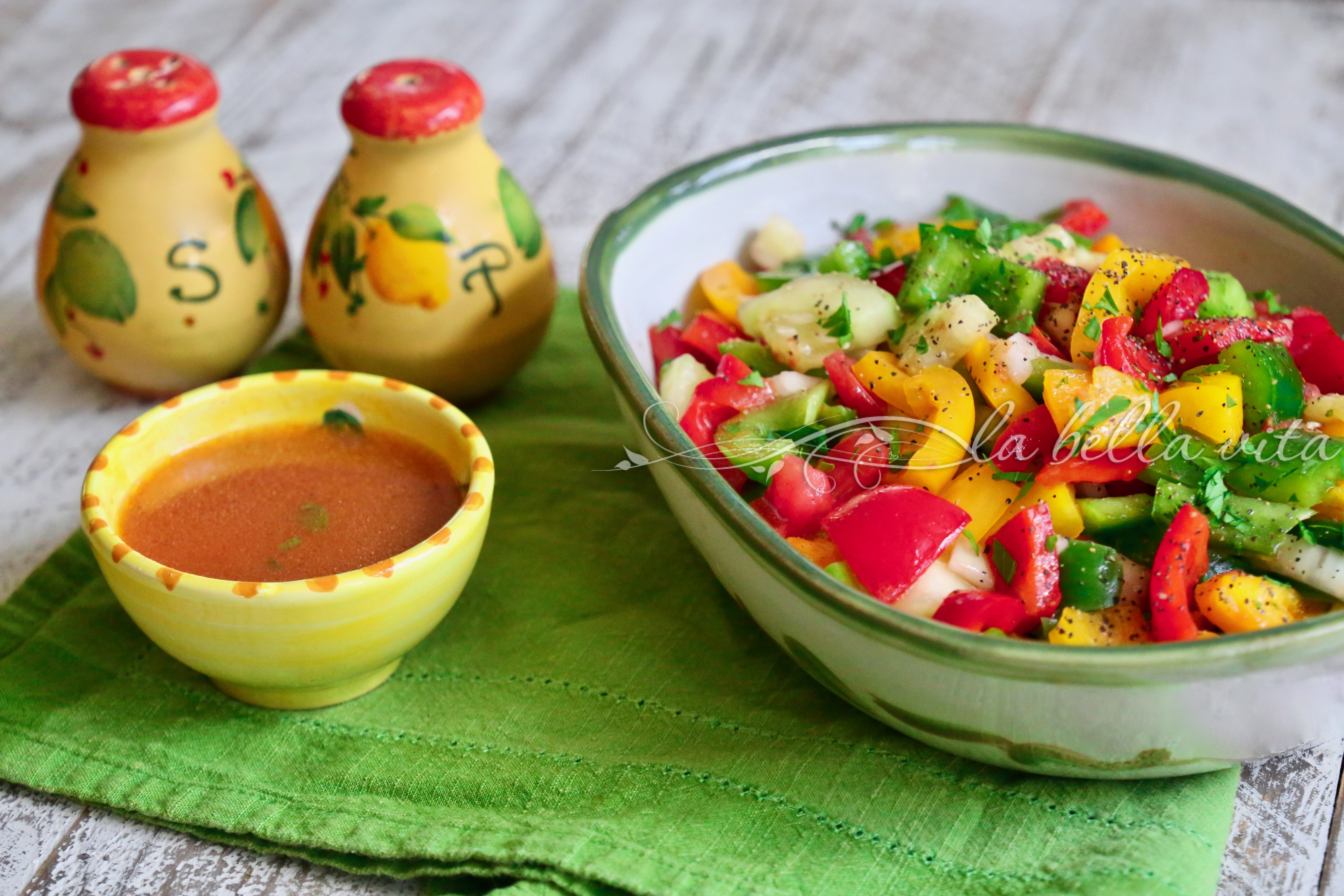 For this simple salad, just use whatever fresh vegetables that you have on hand, whether that's from your own garden, farmers' market, or local food store.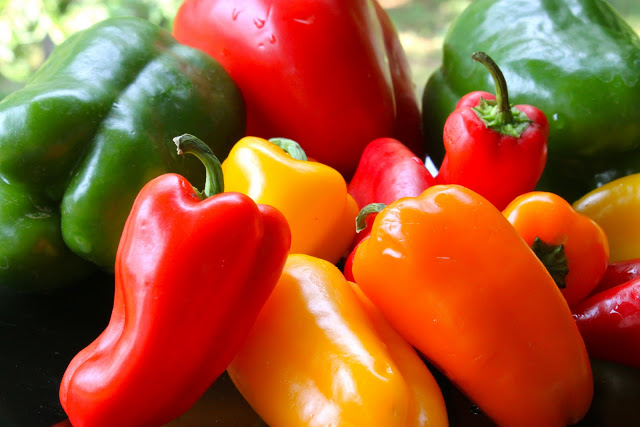 Isn't this just a beautiful sight? Such bright, vivid colors for this salad!
My family has always loved the taste of fresh Italian parsley, so lots of freshly diced Italian parsley is mixed in and then used to garnish the salad for a pretty presentation.
We grow our own herbs and enjoy using them in our cooking so much more than the dried and jarred stuff sold in the food stores. Now during the winter, it's a whole different story though. It's nice now that food stores are offering fresh herbs in the produce section during winter when our gardens are sleeping.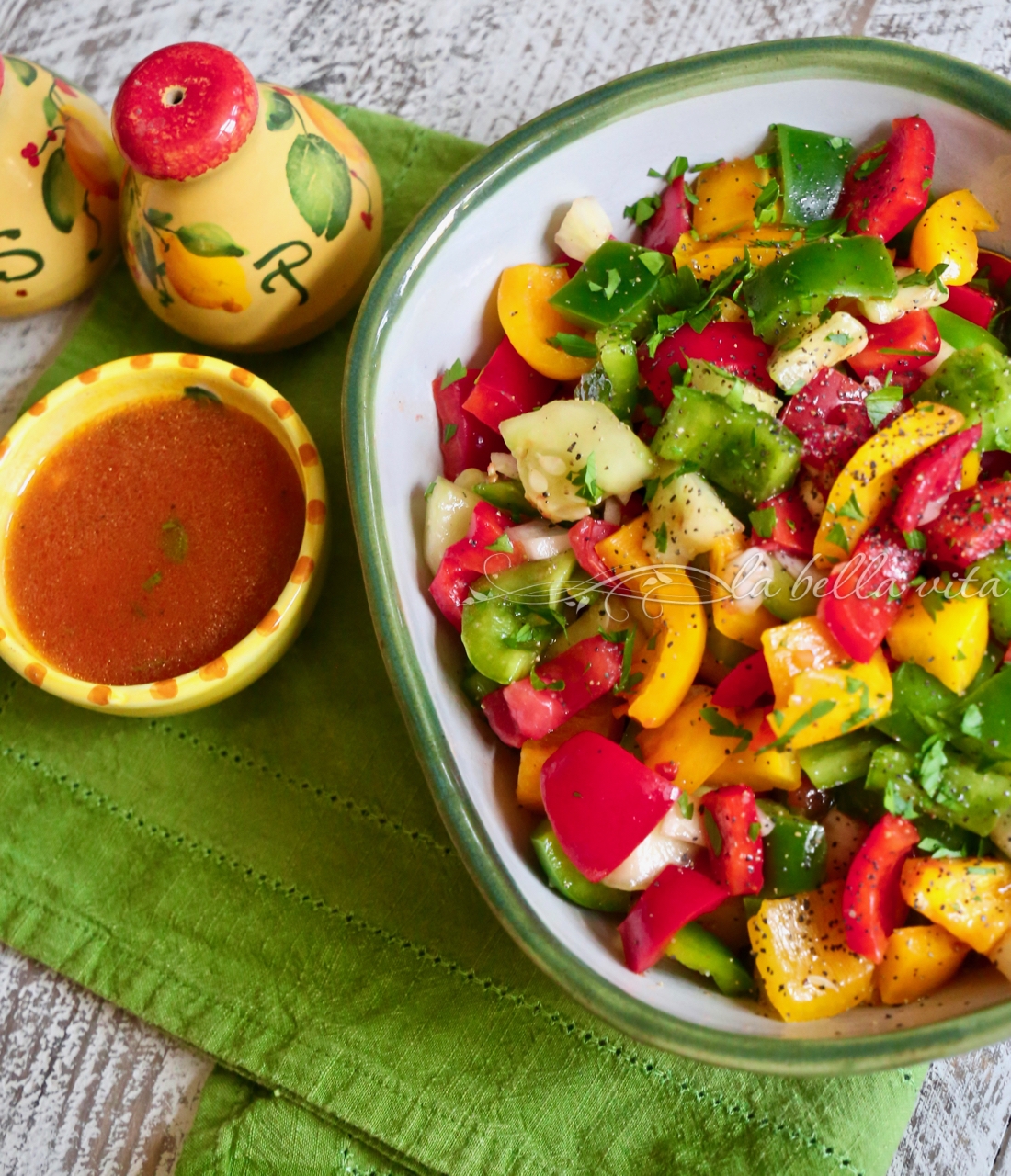 So really, that's it. Super easy and delicious. Can't beat that!
Please share the love and pin this vertical image: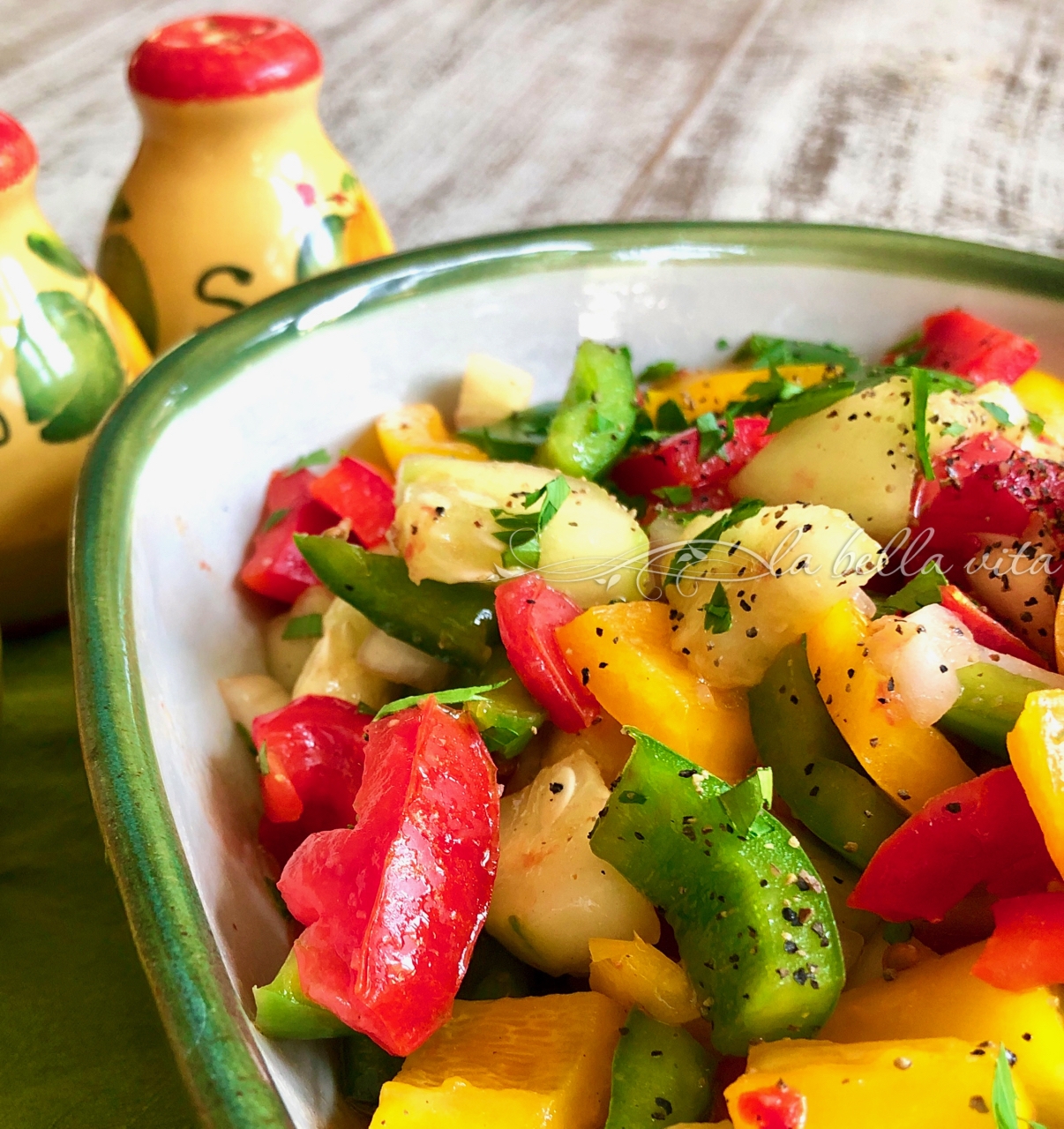 Here's the recipe for you:
Yield: 6 - 8 servings
Italian Summer Vegetable Salad
One of the most simple and delicious fresh summer salads to enjoy when gardens and farmers' markets are bursting with their bounty.  This is one of my family's perennial favorite salads that my mother prepared continually during summer's peak of flavor months.  You'll never tire of it!  Buon appetito!
Prep Time 15 minutes
Total Time 15 minutes
Ingredients
2 green peppers, with seeds and white pithy parts removed, then sliced and cut into 1/2" to 1" pieces
1 red pepper, prepared the same as the green peppers
1 yellow pepper, prepared the same as well
2 medium fresh tomatoes, cut into chunks (use more if you prefer)
2 small cucumbers, skin removed, sliced vertically in half, then sliced horizontally into chunks, remove seeds if you prefer
1 small onion or 10 green onions, diced into small pieces, using the green stem if you like ( I don't use the green leaves of green onions unless it is absolutely necessary for a recipe)
5 branches of Italian Parsley, remove all of stems and discard/compost, chop up the leaves
Italian salad dressing or vinaigrette (Good Seasons Italian dressing dry mix): Use red wine vinegar, olive oil and a tsp. of sugar when making this
2 tsp.. freshly grated sea salt
1 tsp. freshly grated black pepper
Instructions
Wash and clean all vegetables
Cut up peppers, tomatoes, cucumbers and onions
Place vegetables in a large mixing bowl.
Add vinaigrette/dressing . . . about 3/4 cup to start. Add more if necessary to coat all vegetables and still have a small pool of vinaigrette/dressing at the bottom of the mixing bowl.
For about 1/2 hour, place in the refrigerator to set aside the salad and allow it to macerate and marry all of the ingredients. The juice from the fresh tomatoes will blend with the vinaigrette and make a fabulous dressing. Add more salt to really make this sing!
This can be refrigerated for several days. If the frig is so cold that the dressing thickens, just allow the salad to set out about 1/2 hour before serving again.
Notes
This can be refrigerated for several days. If the frig is so cold that the dressing thickens, just allow the salad to set out about 1/2 hour before serving again.