Italian Cranberry and Orange Bundt Cake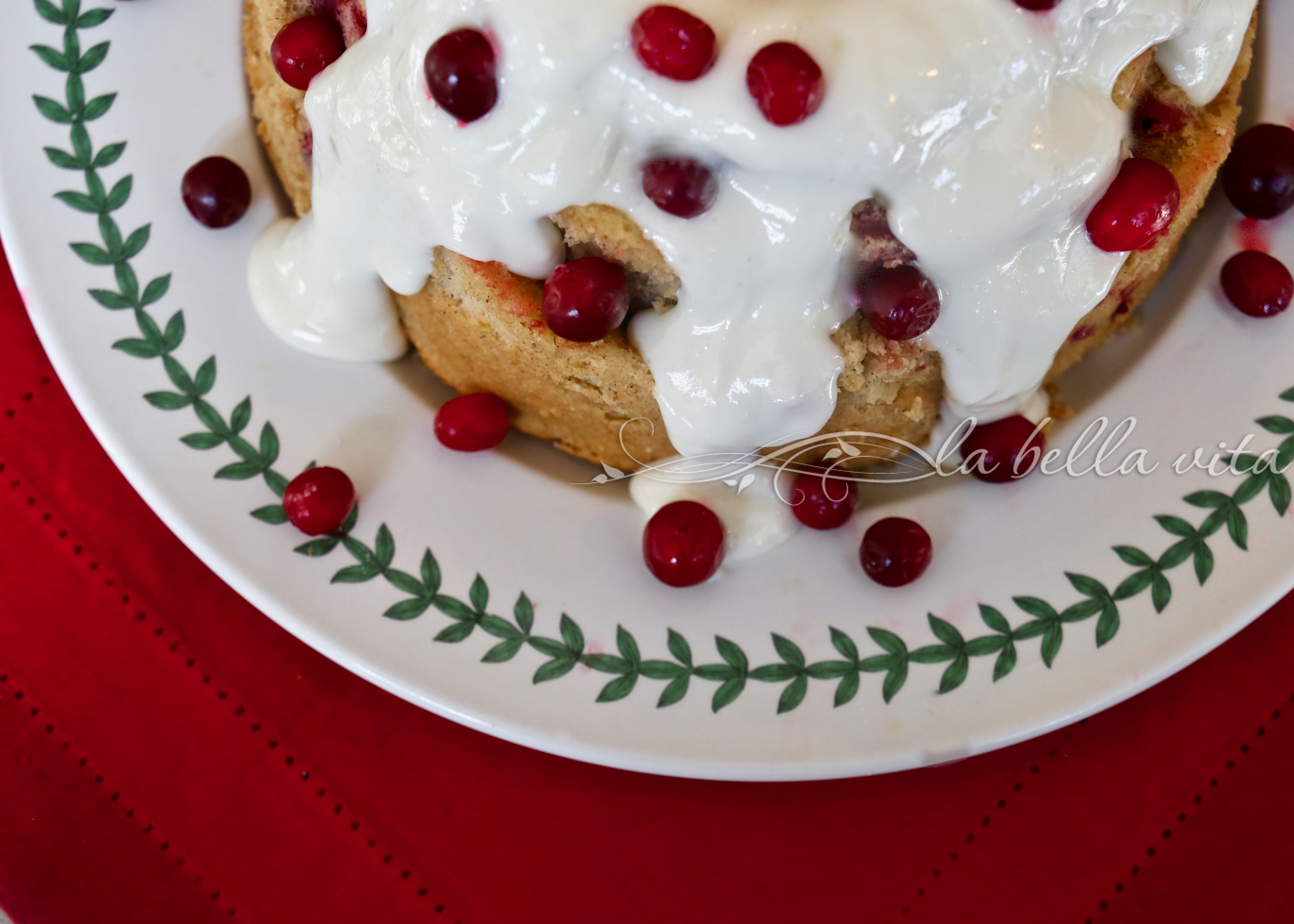 Growing up, my mother baked her famous little loaves of cranberry nut bread every holiday season for both Thanksgiving and Christmas. Which meant she always started early in order to have a lot on hand to give to anyone and everyone. Looks to me like its just about that time to bake holiday gifts right now in mid-October. This way I don't have to scramble which I hate having to do! Slow, easy, relaxed. Because chaos is guaranteed to happen at some point in the coming holiday months.
My mother never added orange to her yummy cranberry loaves of bread. Ever since Pinterest blasted onto the scene, I've read endless recipes that call for cranberries PLUS orange. I thought, "What have I been missing?" So with the repeated recipe titles of "cranberry and orange bread", I just had to try this flavor combination. No disrespect to my mother.
Well, the recipe that I found is just DIVINE! From "My Recipe Confessions", this Italian Cranberry Orange Pound Cake is from this day forward going to be gracing every holiday table of mine. Seriously, it is just that good! First time with the recipe and only a few changes: the ginger and cloves were eliminated because they just render more of a pumpkin pie flavor and I didn't want that at all. Everything else is the same. One note of warning: this cake is not fully baked at the end of 75 minutes. At least it wasn't for me. But that didn't stop us from enjoying all but 1 inch of the cake that was rather moist. Also, that's one of those easily covered-up boo boo's. Just drizzle more icing on those underbaked areas when you place slices of this on a platter.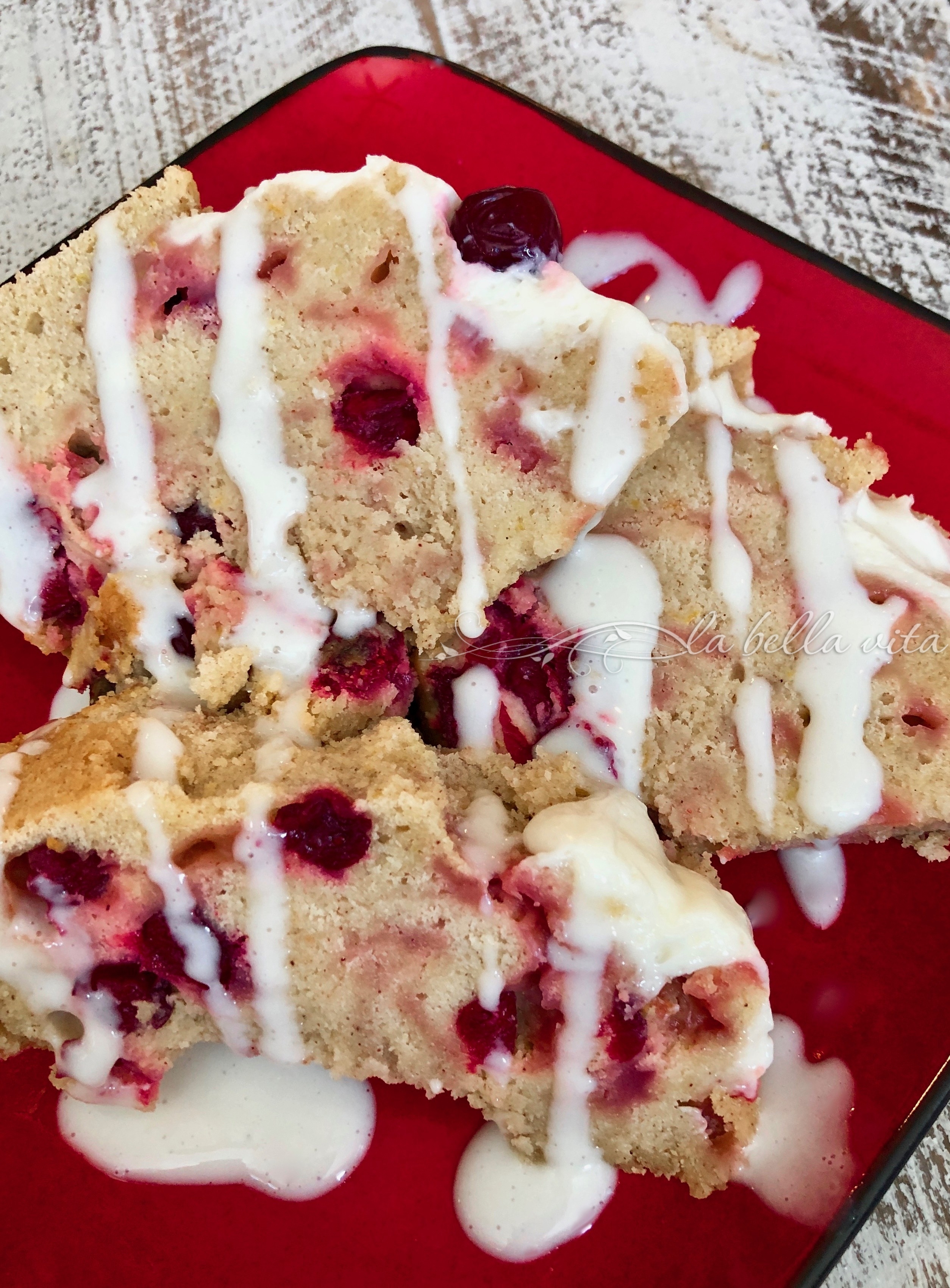 Now I know what 'the icing on the cake' really tastes like . . . perfection!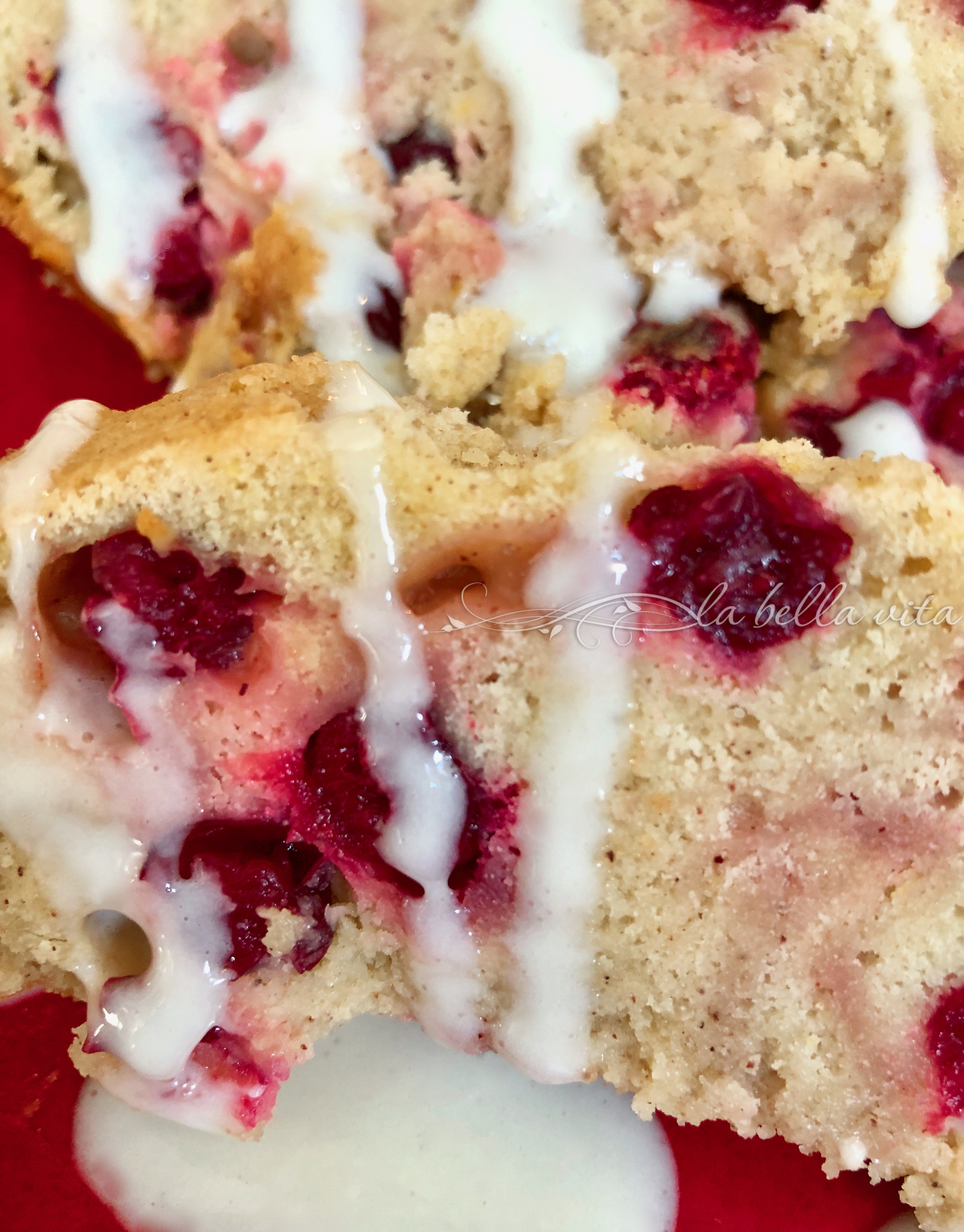 Please share the love and pin this vertical image:

Print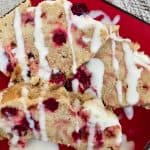 Italian Cranberry and Orange Bundt Cake
Author:
Prep Time: 0 hours
Additional Time: 0 hours
Cook Time: 0 hours
Total Time: 0 hours
Category: Desserts
Cuisine: Italian
---
Description
A super moist cake laced with fresh cranberries and enhanced with a hint of orange is truly delightful with the batter sweetened with mascarpone cheese.  Even those who don't care for cranberries will love this wonderful cake.  The drizzled icing adds another layer of delicious perfection.  Garnished with cranberries, this cake brings beauty to the table too!
---
For the cake:
3 cups flour
1 tsp. baking powder
1/4 tsp. salt
4 eggs, at room temperature
1 cup unsalted butter, softened
2 cups sugar
1/4 cup orange juice (freshly squeezed is best)
2 Tbsp. orange zest
1 tsp. vanilla
1 tsp. cinnamon
1/2 cup buttermilk
1/2 cup Italian mascarpone cheese
3 cups fresh or frozen cranberries (if using frozen, make sure that they are dry on the outside)
For the glaze:
1–1/2 cups powder sugar
1/3 cup orange juice (fresh squeezed is best)
Mix together.
For the Cream Cheese Icing:
8 oz. cream cheese, softened
3 – 4 cups powdered sugar
whole milk or heavy cream (to thin the icing down if necessary, which I did several times)
Mix together.
---
Instructions
Preheat oven to 325 degrees F.
In a medium-size mixing bowl, mix flour, baking powder, and salt together. Set aside.
In a large mixing bowl, cream the butter and sugar until light and fluffy. One at a time beat in the eggs.
Stir in the cinnamon, mascarpone cheese, orange juice and zest, and vanilla until well combined.
Add half of the flour mixture to the butter mixture. Mix in buttermilk and then mix in the remaining flour mixture, stirring until all dry flour disappears into the batter.
Gently fold in the cranberries (towel-dry frozen cranberries them so that they don't "bleed" into the batter).
Generously grease a very plain bundt pan.
Don't use a highly decorative bundt pan with deep grooves as the cranberries will get stuck in the grooves and your cake won't release nicely after baking.
Bake for 75 to 80 minutes. Insert a knife in the center; if it comes out wet and gooey, it needs to bake a little more.
Remove the cake from the oven and let it rest for 5 minutes. Then turn the cake over onto a wire cooling rack with a baking sheet underneath.
While the cake is warm, brush the orange glaze all over the cake with a pastry brush.
Allow the cake to cool completely.
Drizzle the cream cheese frosting over the pound cake.
---
Thanks for stopping by! And happy holiday baking!