Grilled Prosciutto, Fig and Marinated Mozzarella Pizza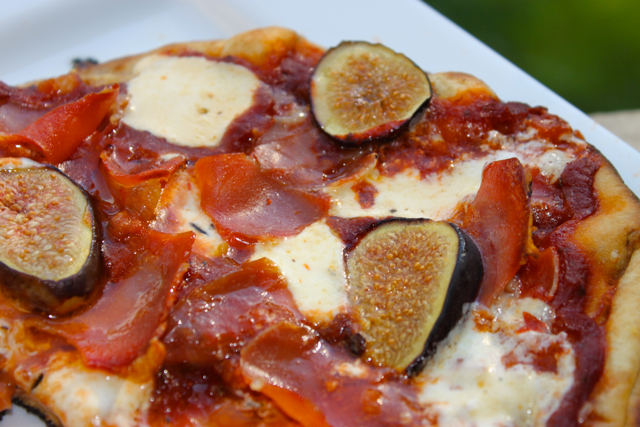 FIGS! One of those fruits and vegetables that have a brief moment in time as the limelight of a season.
Figs are included in that group of "now you see them, now you don't" fruits. The time is now to find figs in the market, and I had one more little basket left to use from my shopping. Plus it's still perfect time for us to make 'grilled' pizzas with a focus on those sweet blue-skinned gems. What came to mind? Grilled Prosciutto, Fig, and Marinated Mozzarella Pizza!
Fig trees produce twice a year, of which one is this present moment. Yet in some places, it's a real truffle-hunt to find them (my little town for instance). To find the fig treasure I had to drive 50 miles to Whole Foods to nab up a few baskets and have my 'eureka' moment'. Our acreage is miles away from any market that offers non-everyday foods.
Upon my discovery, I dove in with an over-expression of delight and enthusiasm.
My husband thought I had lost my mind . . . he just wanted sausage pizza, period. No surprise there! Which of course, I gladly prepared a separate pizza for him! Now for some of you the temperatures are starting to feel a bit more like autumn, but here in South Carolina, it's still warm. September and October are not the time to go to football games all bundled up in sweaters with small bottles of peppermint schnapps tucked in your pockets to keep you warm during the game (oops, did I just tell you that I did that in the freezing Midwestern months of football?)
No, not at all ! Grilling outside is still the norm this time of year here, especially if you're into tail-gaiting at football games! Grilling this pizza with the interplay of seasonally fresh figs with their jammy sweetness and prosciutto's saltiness is a perfect excuse to spend the warm afternoons and cooler evenings outside in Southern Septembers. Add in the tangy, creamy marinated mozzarella cheese and a drizzle of balsamic vinegar and the results will send your tastebuds into Italian nirvana!
One of the best things you can grill is pizza! And all because pizza benefits from a real fire and your grill is hotter from an actual fire than your oven.
A close-up of my Grilled Prosciutto, Fig, and Marinated Mozzarella Pizza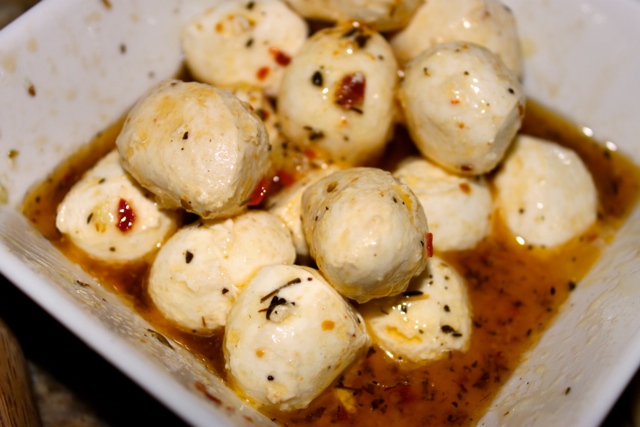 .
you can find these marinated soft, fresh mozzarella balls on the olive
and antipasto bar at Whole Foods or Fresh Market.
they REALLY make a huge difference in taste and texture!
.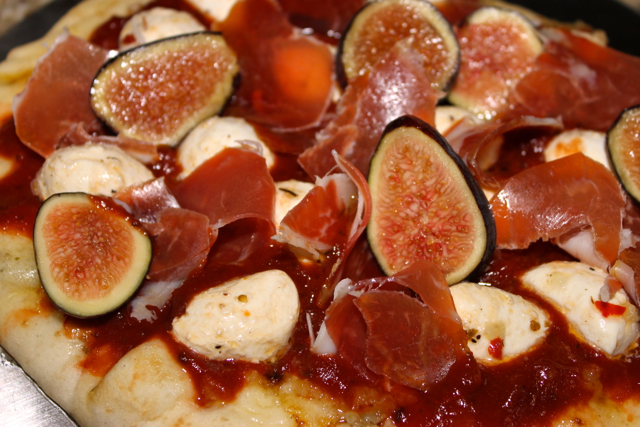 spread the olive oil-minced garlic mixture on the dough and then
load up the dough or naan bread with the yummy ingredients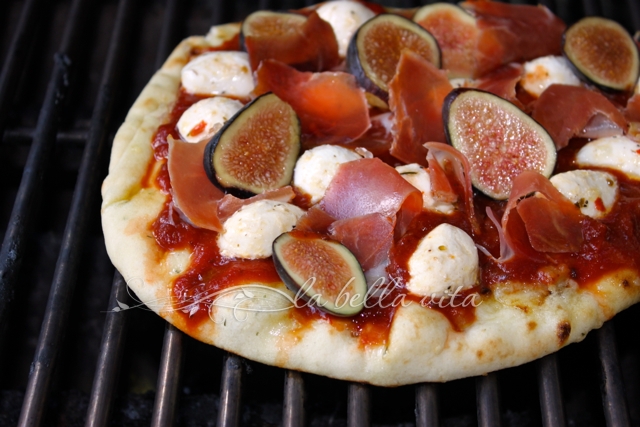 place the prepared uncooked pizza on a hot grill
for about 5 – 10 minutes, keeping a sharp eye on it
if you have a pizza stone it will help prevent burning the bottom of the dough
.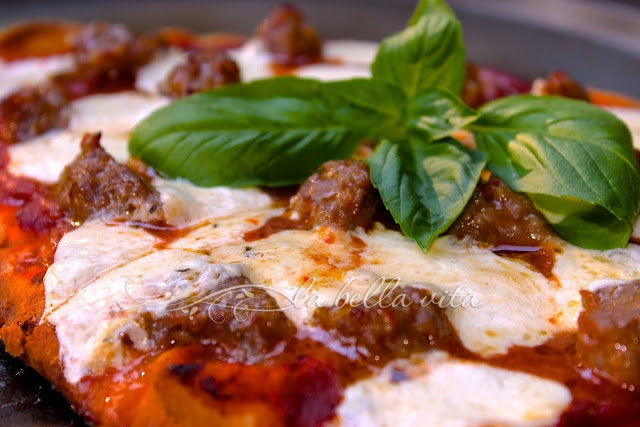 and as promised, a simple sausage and cheese grilled pizza for my husband!
Please share the love and pin this vertical image:

Print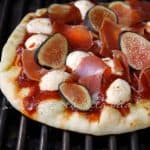 Grilled Prosciutto, Fig and Marinated Mozzarella Pizza
Author:
Prep Time: 0 hours
Additional Time: 0 hours
Cook Time: 0 hours
Total Time: 0 hours
Category: Pasta
Cuisine: Italian
---
Description
Grilled pizza is one of the easiest and delicious ways to enjoy pizza.  Great fun for the family and friends to add toppings on their own personalized pizzas!  Wonderful tips for successfully grilling pizza are provided at the end of the blog post.  Mangia!
---
2 – 3 Tbsp. extra-virgin olive oil
3 cloves garlic, minced
1–1/2 cups pizza sauce (either homemade or store bought)
1 cup fresh marinated mozzarella, small balls, cut in half
6 – 8 black mission figs, sliced lengthwise, stems removed
8 slices of prosciutto, torn into thin strips
2 Tbsp. fig balsamic vinegar (regular balsamico vinegar is fine too)
2 Tbsp. extra-virgin olive oil
freshly cracked sea salt and pepper to taste
Home-made pizza dough.
If in a hurry, use "Naan" bread for individual pizzas.
Other topping options
Shaved Parmesan
Fresh basil leaves
Fig jam or spread
Rosemary
Red pepper flakes
Arugula leaves
---
Instructions
Prepare pizza dough according to directions.
Let set overnight in the refrigerator.
Roll out the dough to the size(s) that you desire
Mix the minced garlic with the olive oil.
Spread generously on the pizza dough (blend more garlic and olive oil if you need more for larger or multiple pizzas).
Next generously spread on the pizza sauce.
Layer on the prosciutto strips.
Scatter sliced figs on top.
Grill on a medium-hot grill until cheese is ooey, gooey melted all over!
Keep a close eye on the grill because the dough may burn.
If you have a pizza stone, have it pre-heated on the grill and USE IT to prevent the dough from burning.
If you see that the dough is burning and the cheese is not quite as melted as much as you prefer, then just finish it off for 5 minutes in a very hot oven.
Serve with olive oil and balsamic vinegar to drizzle on the pizza.
---
Tips for Grilling Pizza
1. Make sure your grill is hot enough, in fact, your grill should be incredibly hot. If it's not hot enough, the pizza dough won't crisp up nice and firm. A good rule of thumb is to allow a charcoal grill to heat up for at least 30 minutes before grilling whereas a gas grill only needs 15 minutes.
2. Both types of grills should reach a heat level of at least 550 degrees F. To test the grill's heat, hold your palm about 4 inches above the grill grate and count how many "Mississippi's" it takes before you need to pull your hand away. If you can count 5 "Mississippi's," then you're good to go.
3. Create direct and indirect heat zones: Using two different heat areas is the key to a great grilled pizza. Use the direct heat zone on your grill for grilling the dough first without any toppings, and then use the indirect heat zone for cooking the pizza once you add the toppings. Here's a great method:
Put the pizza pie (no toppings) onto the direct heat side of the grill, leaving the grill lid off. Grill dough for 3 minutes.
Next flip the pizza, put the toppings on, and move the pizza over the indirect heat side.
Place the grill lid on and let the pizza cook for another 3-5 minutes, or until the toppings are hot and melted.
4. Set up a workspace near your grill to place all of the toppings and sauces you'll put on your pizzas. Moving fast due to the grill's high heat is critical, so make sure that everything is within arm's reach of the grill.
5. Prepare all your ingredients ahead of time and place them on your workspace next to the grill.
6. Have the right grill tools at your side on your workspace area – Grilling tongs and a spatula will be your best friend when you're grilling pizza. You can also grill your pizza on a if pizza stone if the recipe calls for it.
7. Use smaller rounds of dough instead of one larger balls of dough.
8. Roll the dough out to about 1/4″ thick minimum. However, a little bit thicker dough makes it easier to handle. When rolling out the dough, make sure that it is an even thickness to prevent thick areas of dough that won't cook through completely. Use a rolling pin if you need to.
9. Once the pizza dough is rolled out, brush on some olive oil which helps prevent scorching the crust and from sticking to the grill grates while grilling.
10. Naan bread, as used in this recipe is a great substitute for those too busy to make pizza dough from scratch. Some grocery stores carry fresh pizza dough also.
Do you have any great tips to share for grilling pizza, either on a charcoal or gas grill?
Mangia!
Enjoy this Grilled Prosciutto, Fig and Marinated Mozzarella Pizza
Note: This post may contain affiliate links; view my Disclosure Policy for details. We earn a small percentage from any purchase you make by clicking on these links at no extra cost to you.