Best Ever Potato Latkes with Italian Herb Yogurt Sauce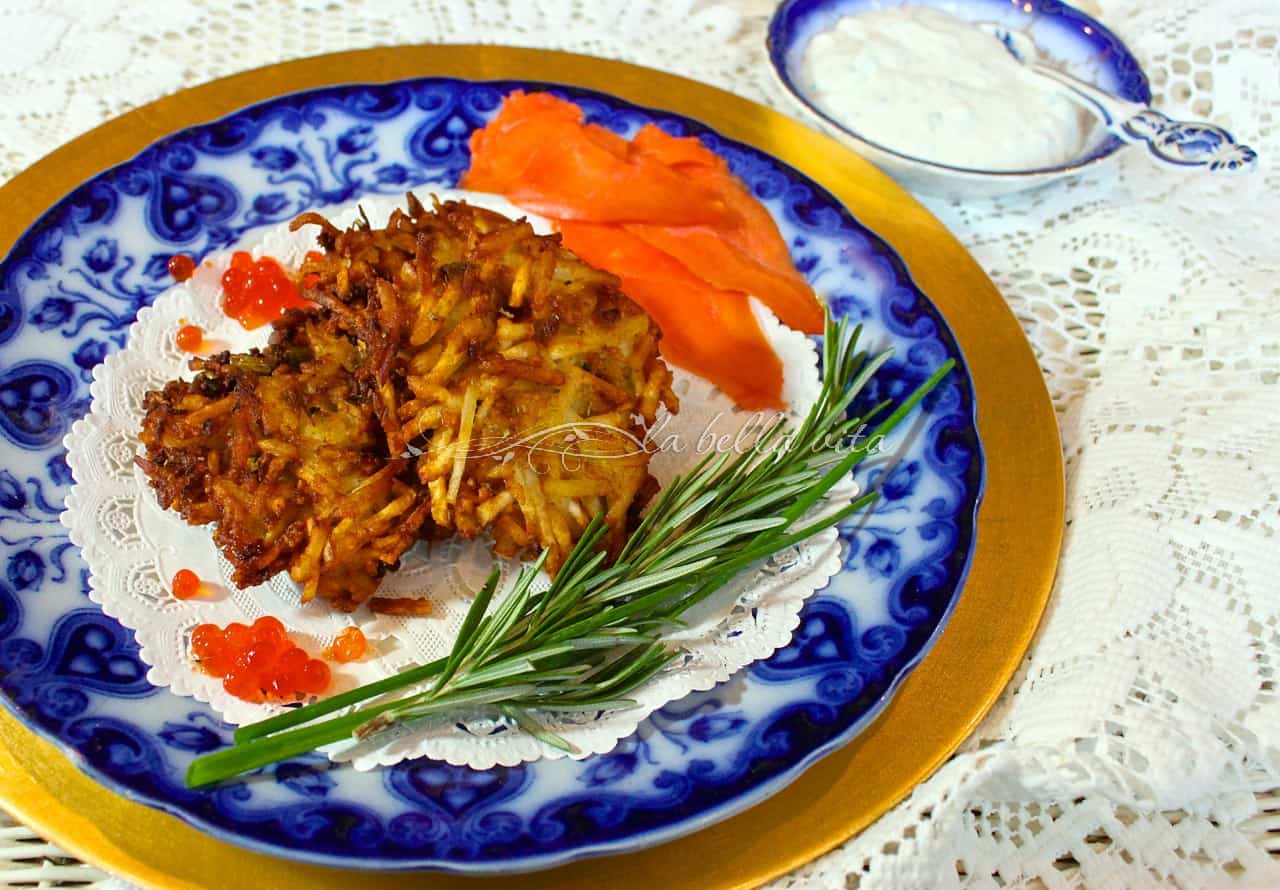 December 2nd – 10th marks Hannukah and the Festival of Lights this year!
To my Jewish readers who have followed this blog over the years, here's wishing your family and you a most wonderful and spiritual time during Hannukah. What better way to celebrate the holiday with the yumminess of traditional latkes? Although most potato recipes are winners in my (cook)book, these are literally the Best EVER Potato Latkes with Italian Herb Yogurt Sauce that I created. If you're a carb-watcher, you just don't know what you're missing with these little potato pancakes!
"Latke" is the Yiddish word for "pancake" and is pronounced LOT-kah. These delicious potato pancakes are traditionally enjoyed for Hannukah because they're fried in oil that symbolizes the miracle involving the oil of the Temple menorah that lasted for eight days instead of only one. For nearly 1000 years, Jews eat oily foods during Hannukah to reflect and celebrate the significance of this event.
If you don't want to use potatoes to avoid the carbs, you can also use carrots, zucchini, cheese, or whatever you enjoy frying. Doughnuts, even filled with jelly are acceptable fried foods.
Latkes are traditionally served with sour cream and/or applesauce. So for my version of this dish, I was inspired to create a recipe with more healthy Greek yogurt with an Italian twist on the traditional sour cream sauce used for latkes.
First of all let me just say this: This recipe for Latkes is SUPER EASY PEASY and YUMMY!
I amped up my own version of latkes with an ample dose of garlic and rosemary, a traditional Italian herb combination among all of my family's potato recipes! Utterly and seriously irresistable! And if you've ever been to Italy, you now know from this source, that these are literally the two herbs that take Italian potatoes over the top!
These are seriously the Best Potato Latkes with Italian Herb Yogurt Sauce that will ever cross your lips!
You'll NEVER know that 'less-healthy' sour cream is replaced by 'more healthy' Greek yogurt.
– – I love this recipe and I know that you will too!
(disclosure: no compensation or free products were given to me for this recipe and blog post)
yogurt sauce amped up with lots of garlic, rosemary and chives!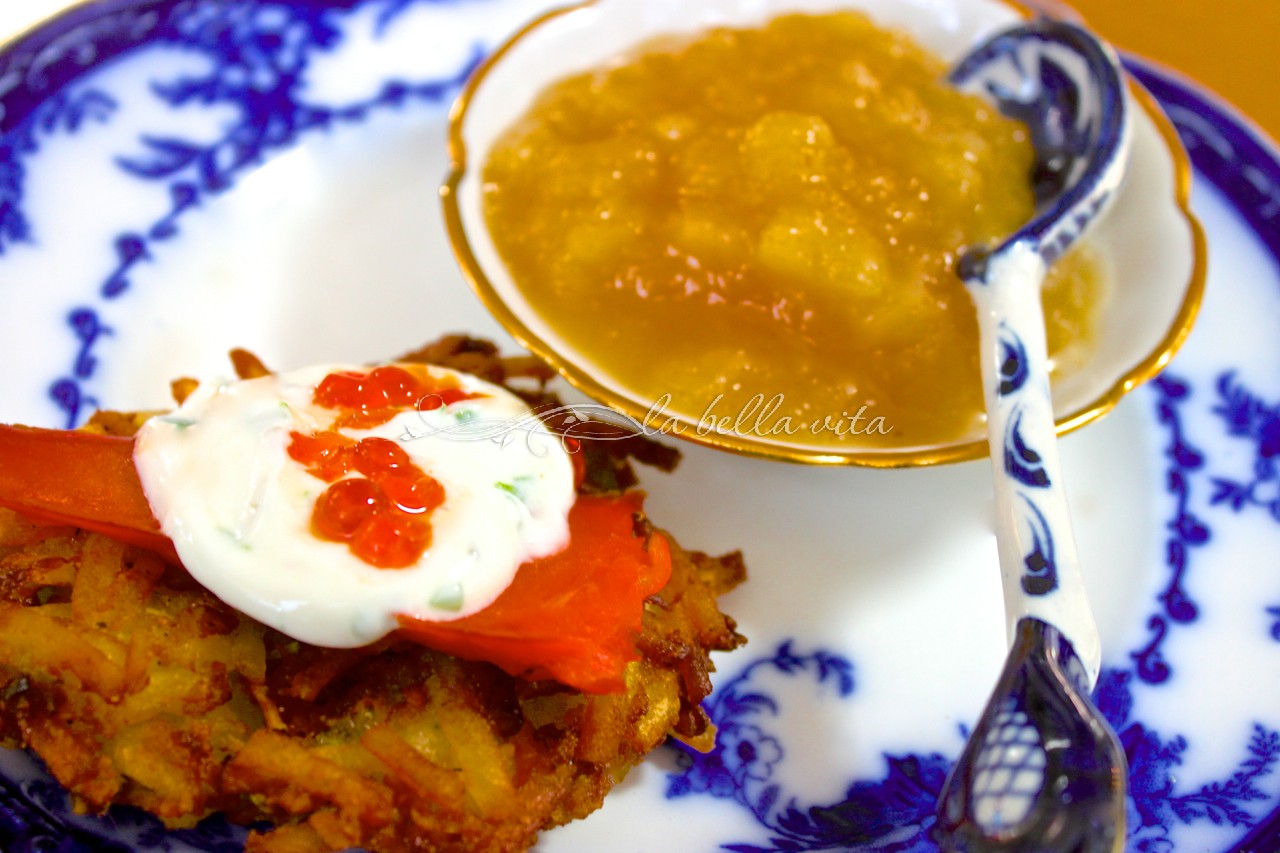 along with the Italian Herb Yogurt Sauce, also serve latkes with Lox (thinly sliced smoked salmon),
chunky applesauce and salmon roe (caviar)

Yield: 4 servings
Best Ever Potato Latkes with Italian Herb Yogurt Sauce
Ingredients
1-1/2 pounds baking potatoes, shredded
salt (sprinkle)
1 onion, chopped fine
2 cloves garlic, minced
2 eggs
3 tablespoons flour
3 - 4 cups or more of oil for frying in the pan
16 oz. sour cream or plain Greek yogurt
1-1/2 Tbsp. fresh, minced rosemary
2 - 3 cloves of garlic, minced
Instructions
Mix the shredded potatoes, onions, garlic, salt and eggs in a medium mixing bowl.
In a deep frying pan, heat the oil.
Shape the potato mixture into small pancakes about 3 - 4 inches wide by about 1" deep.
Carefully place the latkes in the hot oil and fry until golden brown on both sides.
Mix the garlic and rosemary in the yogurt or sour cream.
Serve hot.
.
Disclosure: Absolutely no compensation or free products were earned for this blog post. In fact, I purchased yogurt with my own personal funds to create this recipe. I do not endorse Chobani yogurt as being any better than other brand of Greek yogurt. This brand was on sale and that's what I purchased.
.