The Creamiest, Dreamiest Perfect Mashed Potatoes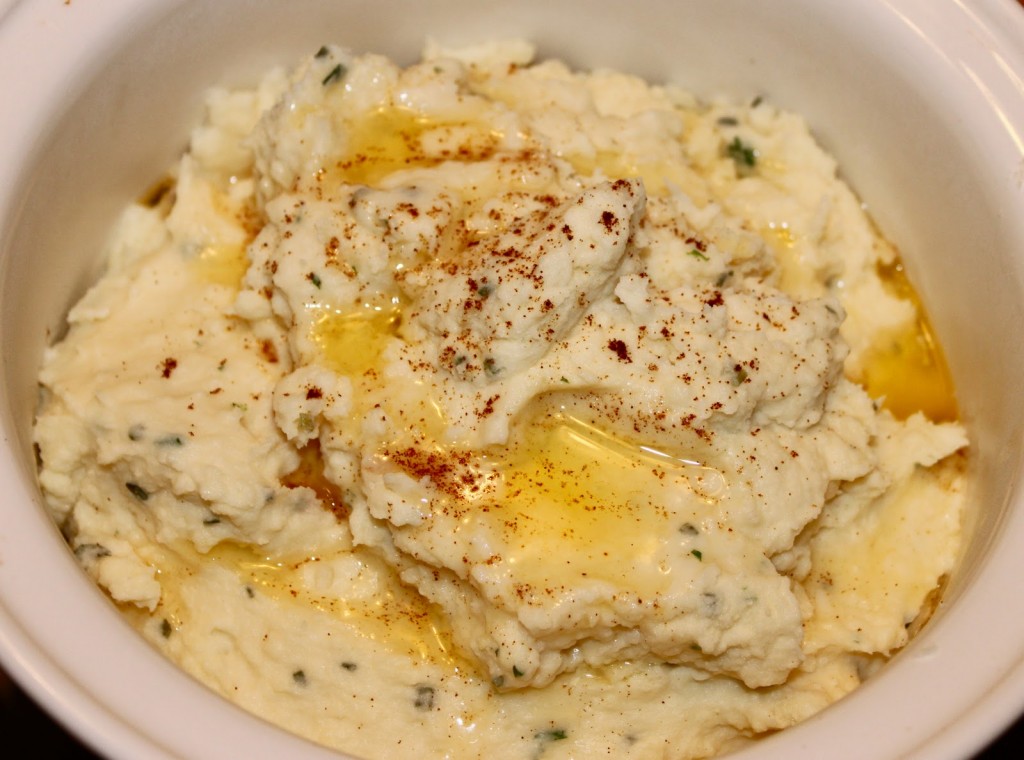 Private family recipes are those that we cling to and sometimes hesitate to share. I know that I have beloved friends who cannot part with their sacred family recipes.
And that's OK! I get that.
However, this is a family recipe that I know came from someone else. So why should I hoard it just for my family alone?
Are these mashed potatoes Italian; well, probably not . . . but with the fresh garlic included, these American mashed potatoes come pretty close! Besides, I'm American and not just Italian and I love all of our country's American food traditions for Thanksgiving! And who doesn't?
This is one of those recipes that one wants to keep within the family. But in the spirit of giving, I'm sharing this outstanding recipe with all of you. This recipe is from someone in my family and is a very old, cherished, and absolutely amazing recipe. It is always served at holidays in my family on which we smother with either more sweet creamy butter or gravy (when it is served for Thanksgiving). No matter which way anyone chooses to enjoy these potatoes, they are perfect, simply perfect each and every time!
One of the secrets to perfect mashed potatoes is to first crush up the cooked potatoes with a hand-held potato masher which is not always easy to find, so I've added the link to purchase one online. It's OK though to use a good quality hand-held mixer too, just remember not to over-beat the potatoes. I use Cuisinart products and have since forever, so LOOK WHAT I FOUND on Amazon if you need an electric hand-held mixer or want to gift one: Cuisinart HM 50 Advantage Advantage Electric Hand-Mixer.
Your family and friends will beg you to share the recipe! And isn't that one of the best compliments???
From my family to yours, I hope that you enjoy this delicious recipe and that you have the most blessed Thanksgiving!
Thank you for sharing the love and pinning this image: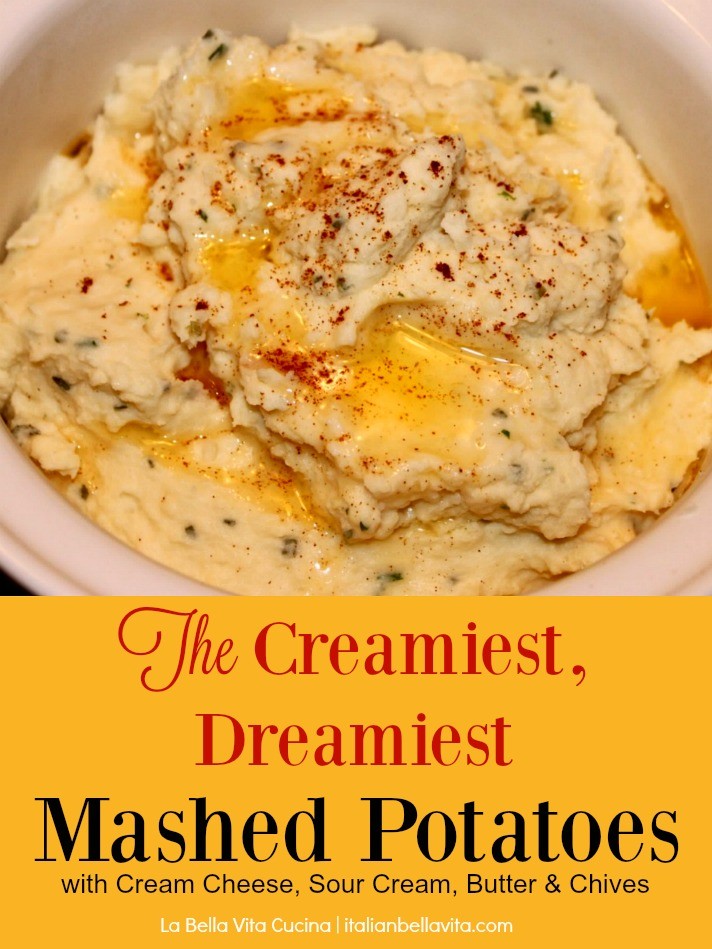 .
Creamiest, Dreamiest, Perfect Mashed Potatoes
This private family recipe was given to me by my mother-in-law and is absolutely over-the-top delicious.  These potatoes grace our table for each and every holiday celebration meal.  I'm sharing it with you because it is very special and oh so yummy.  If you prepare it, please write back and let me know what you think!  Enjoy and Bon Appetito!
Ingredients
4 lbs. Idaho russet potatoes (about 12 medium-sized potatoes), PEELED.
1- 8-ounce package cream cheese (softened to room temperature)
1 cup sour cream
2 teaspoons freshly cracked sea salt
⅛ teaspoon freshly cracked black pepper
2 cloves fresh garlic, minced
¼ cup fresh chives, chopped
4 - 8 Tbsp. butter
ground paprika
Instructions
In a large pot, bring water to a boil.
Add the potatoes and boil for 15 minutes or until a fork can be inserted easily.
Drain the water from the boiled, cooked potatoes.
Place potatoes in a very large bowl and mash with an electric, hand-held beater.
Beat in the cream cheese.
Beat in the sour cream, sea salt, black pepper, and garlic.
Beat at high speed until smooth and creamy!
Stir in the fresh chopped chives.
Spoon into a lightly oil-sprayed large baking dish.
Slice the butter and place the slices upright randomly all over the top of the potatoes.
Lightly sprinkle the top of the potatoes and butter slices with ground paprika.
Bake in a 350 (F) oven for 30 minutes or until lightly golden on top and the potatoes are heated all the way through.
For my family, this is LITERALLY the best, most creamiest, dreamiest PERFECT mashed potato recipe!
.
Do you enjoy La Bella Vita Cucina?
We'd love to have you as part of our community!
We're honored to share our treasured, time-tested family recipes with 'amore' from our cucina and acreage to you!