How To Pan Sear Steak To Perfection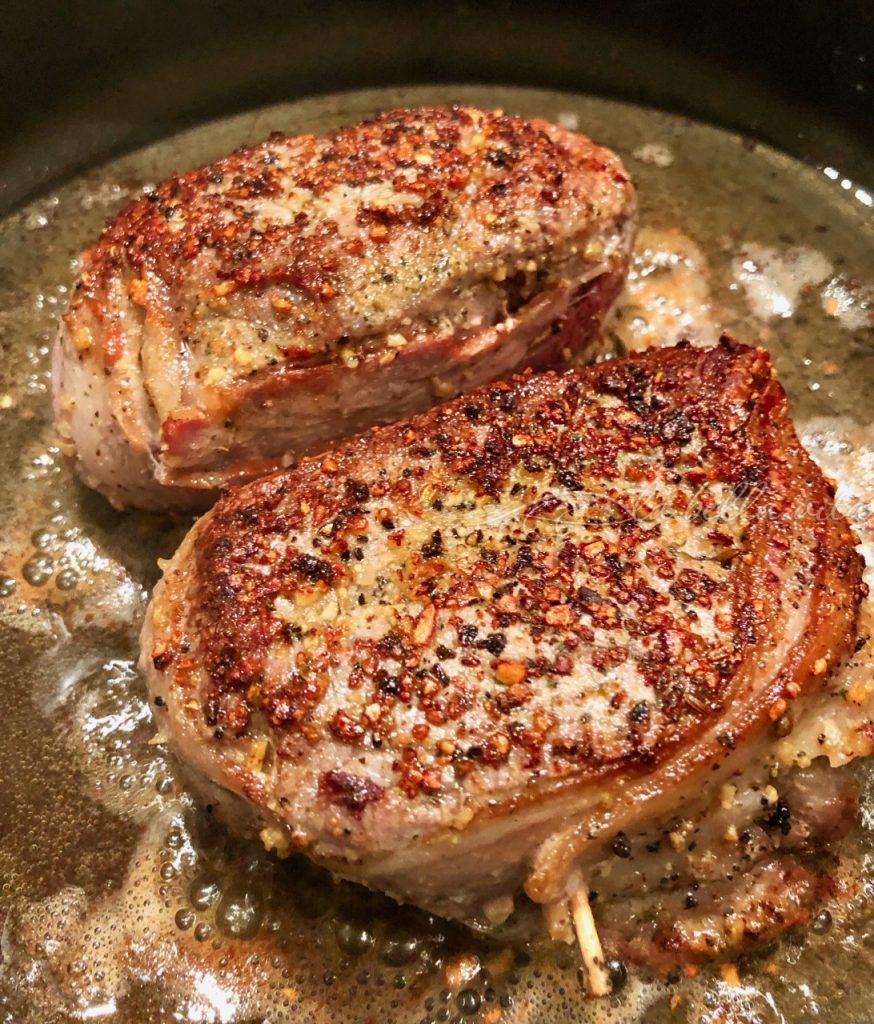 How to pan sear a steak is a snap that you can master! Any meal can turn into a special occasion with this fool-proof method.
If you're like me, then you really love putting a fabulous dinner on the table at the end of the day. For me, my weekday dinners need to whipped up quickly. So anytime I hear that something delicious is possible in less than 30 minutes, I'm all for it!

Recently, one of our amazing readers/followers and cook-extraordinaire, Kathy, wrote to me about her favorite method of preparing fabulous steaks — searing in a pan! I have to admit that I've never considered this before, but I promised Kathy that I would try it, take photos, and share the honest results here with the rest of you.
Well, I'm seriously speechless! My husband is speechless too! Who would have thought that a perfect steak can result from simply searing in a sizzling hot pan?
But you know, it makes absolute sense since most of us know that hamburgers sizzling in their own pan juices make better burgers than those that are grilled while the drippings fall into the grill itself. So yea, this is a fabulous, perfect-each-and-every-time method.
Kathy said that she found the recipe in one of my own trusted sources, "Cooks Illustrated" magazine. And you know those chefs test, test, and re-test every recipe before publishing in the magazine. It was there that she learned how fine steaks are finished in the oven just like how a lot of restaurants prepare steaks. She started cooking steaks this way many years ago and didn't know about this simple technique before she saw it in "Cooks Illustrated".
So if you want some really outrageous flavor in less than a half hour, then you've just found the right recipe!
Thanks Kathy!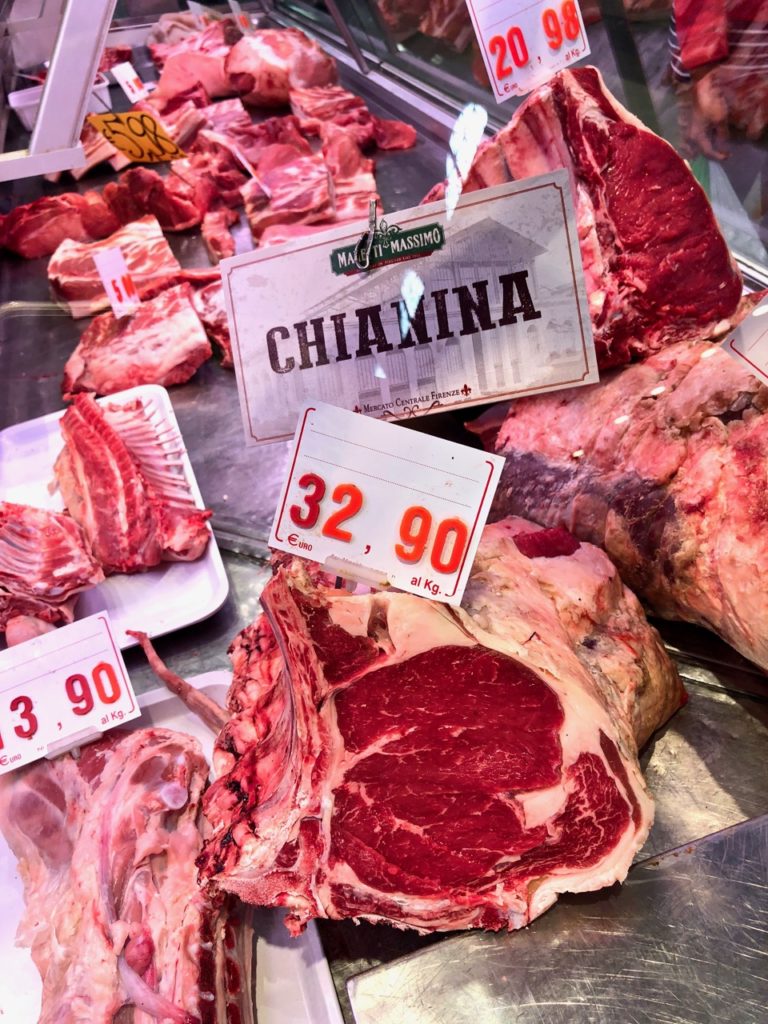 Kathy shares our love of filet mignon as a favorite steak cut. We also recommend rib-eyes with their fattier flavor from all of the marbling in the beef. I have to be honest, we buy most of our beef in the Midwest when we return to visit family. We just hard-freeze a variety of steaks and pork chops and then keep them in an ice cooler for their journey back to South Carolina.
The point is that it's important to buy the best quality cut of beef that your budget allows. Ask your butcher to custom cut your steaks to a minimum 2″ thickness.


It was fun chatting with Kathy who was pretty humble in telling me that she is an average cook at best. I'm sure she's much better than average! She loves to look for recipes, to find new favorites and new cooking techniques to try to improve. When she read about this technique for cooking steaks she loved it and hasn't made steaks any other way since.
Pan-Searing Steaks Method:
(Cook's Illustrated via Kathy)
Allow steaks to room temperature.
Pre-heat oven to 425 F degrees.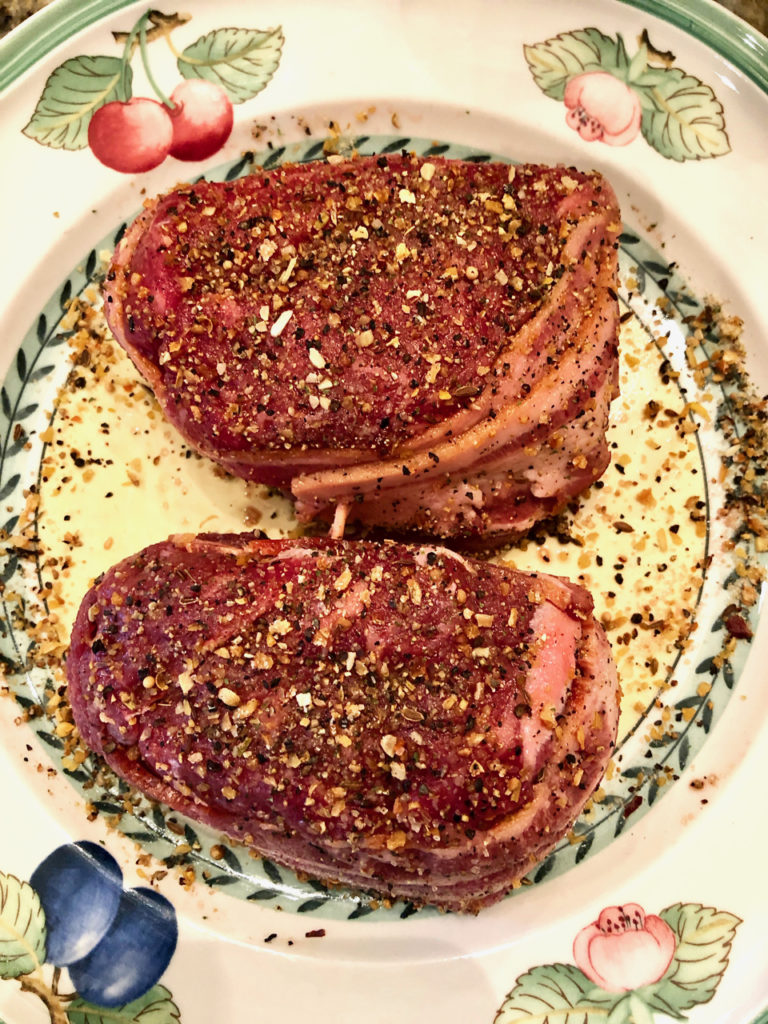 Season the steaks however you like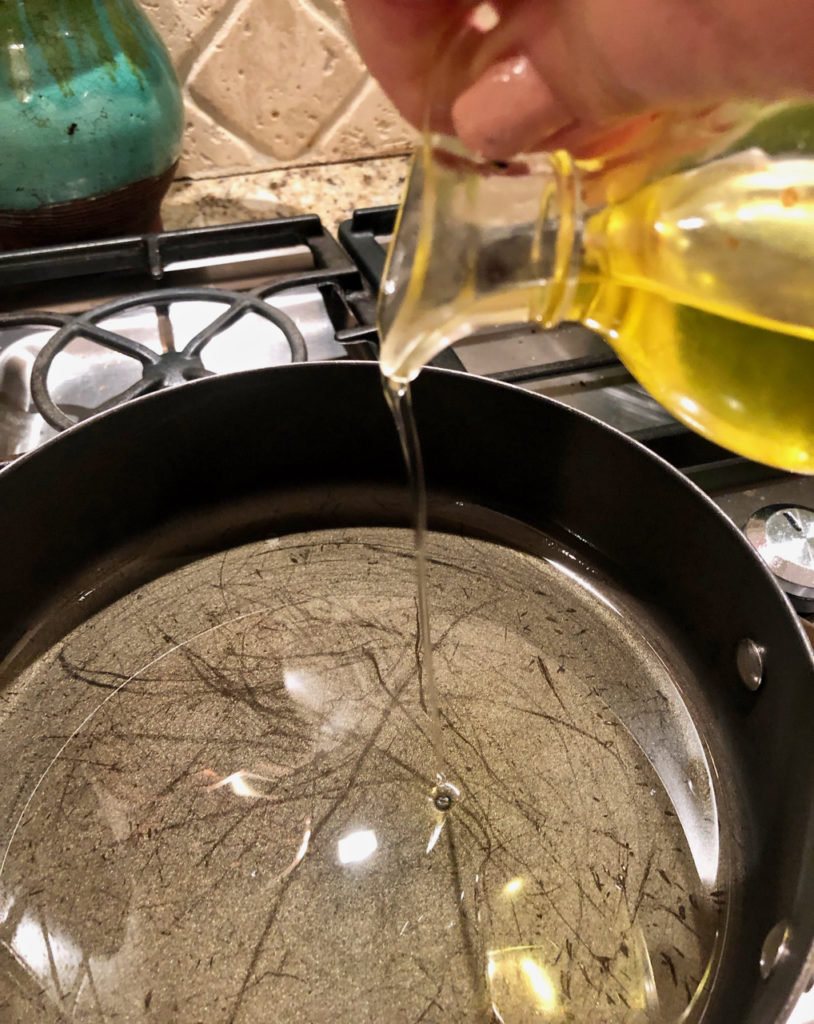 Heat an oven-safe skillet on high heat until very hot (about 4 minutes). Cast iron skillets are perfect for searing steaks.
Then add about 1 to 2 TBSP of oil to the hot skillet.
I also add a tablespoon of butter to the oil.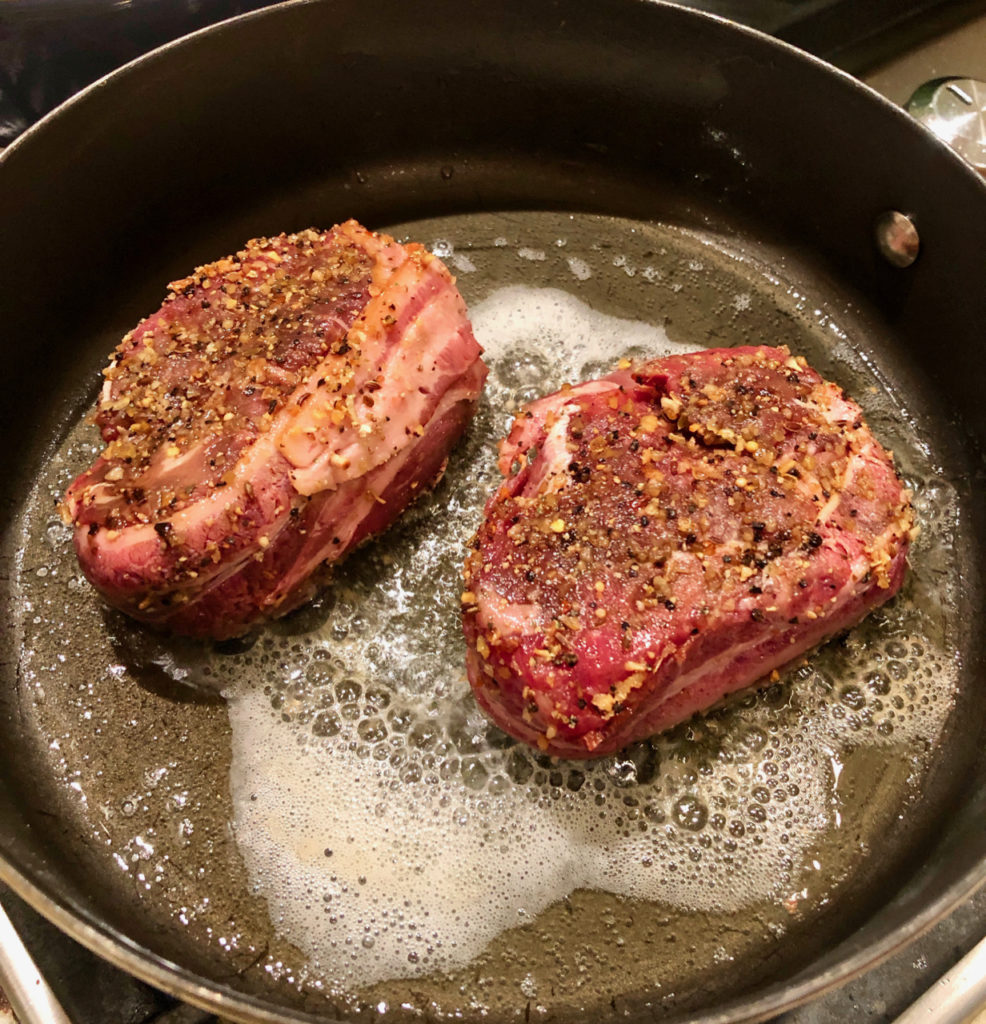 Place the steaks into the hot skillet on medium-high heat (Kathy always puts the "prettiest side down, since it faces up when served).
Sear steaks for two minutes on one side, leave untouched for a nice crust to form. If you try to turn it and it's stuck to the pan, leave it alone, it isn't ready yet.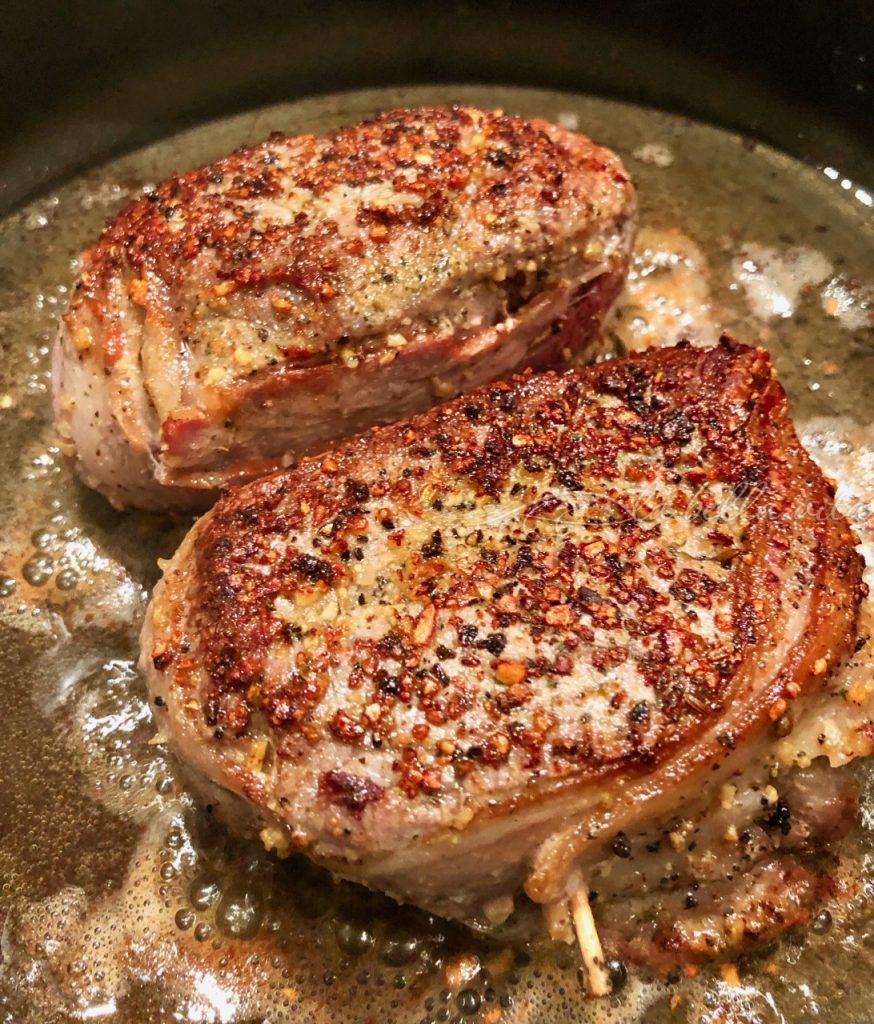 Flip the steaks over and sear for another two minutes.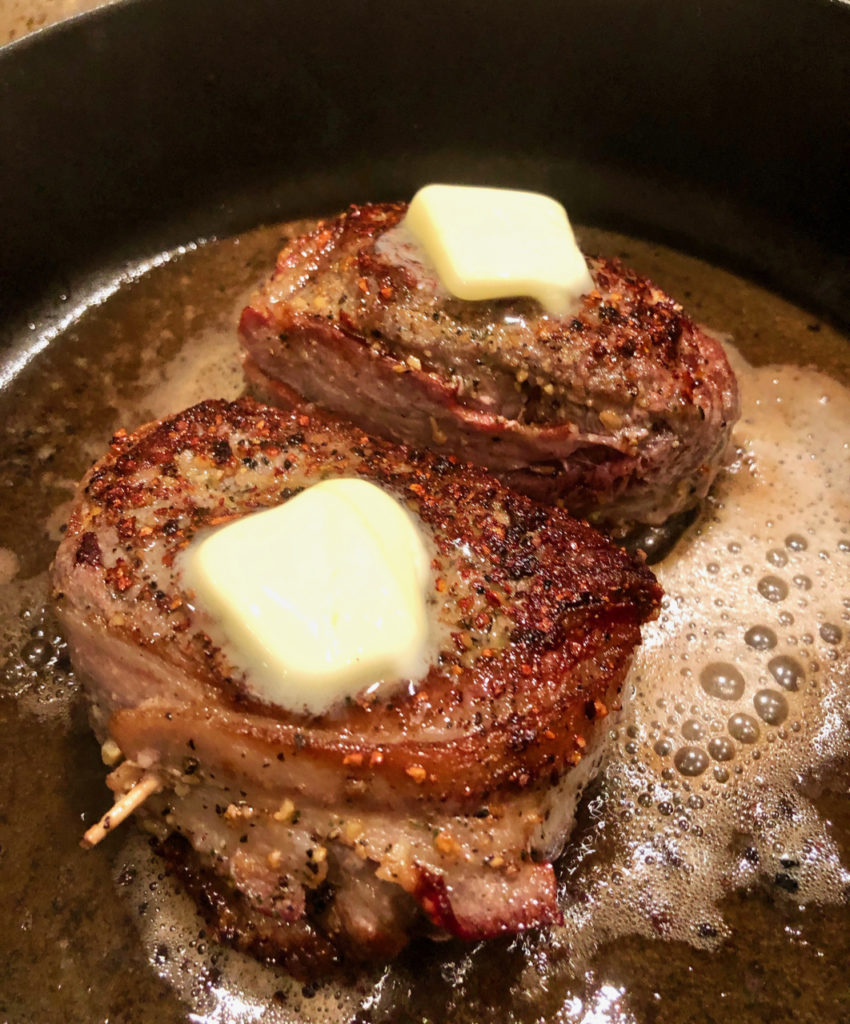 I put a patty of butter on top of each seared steak!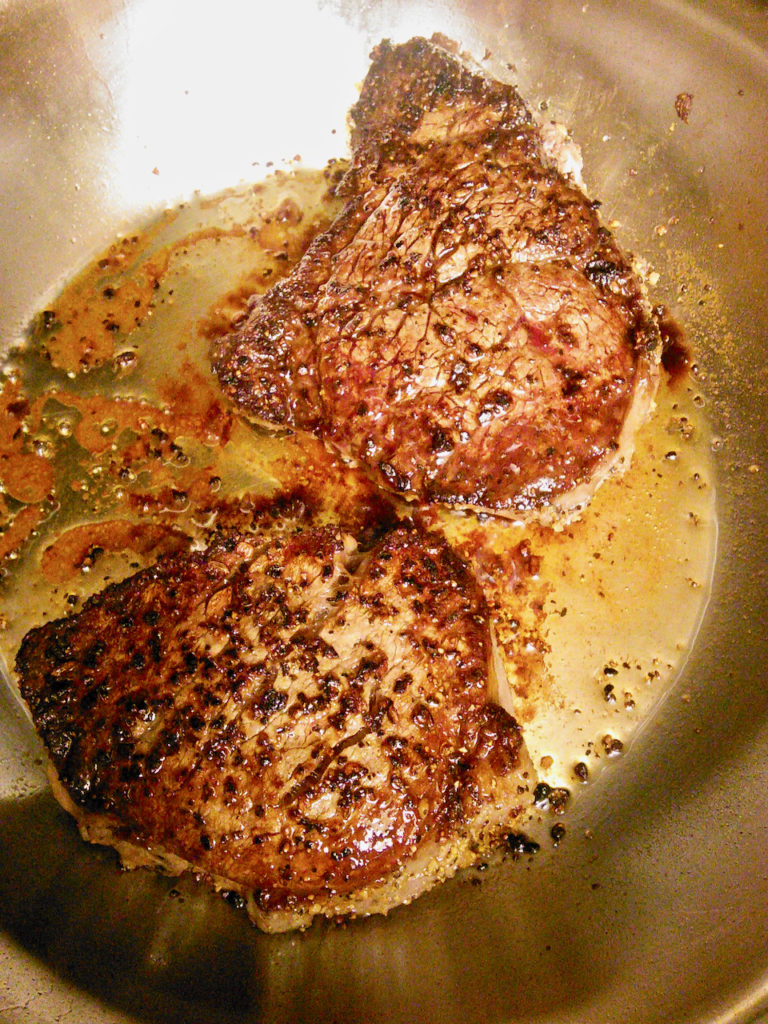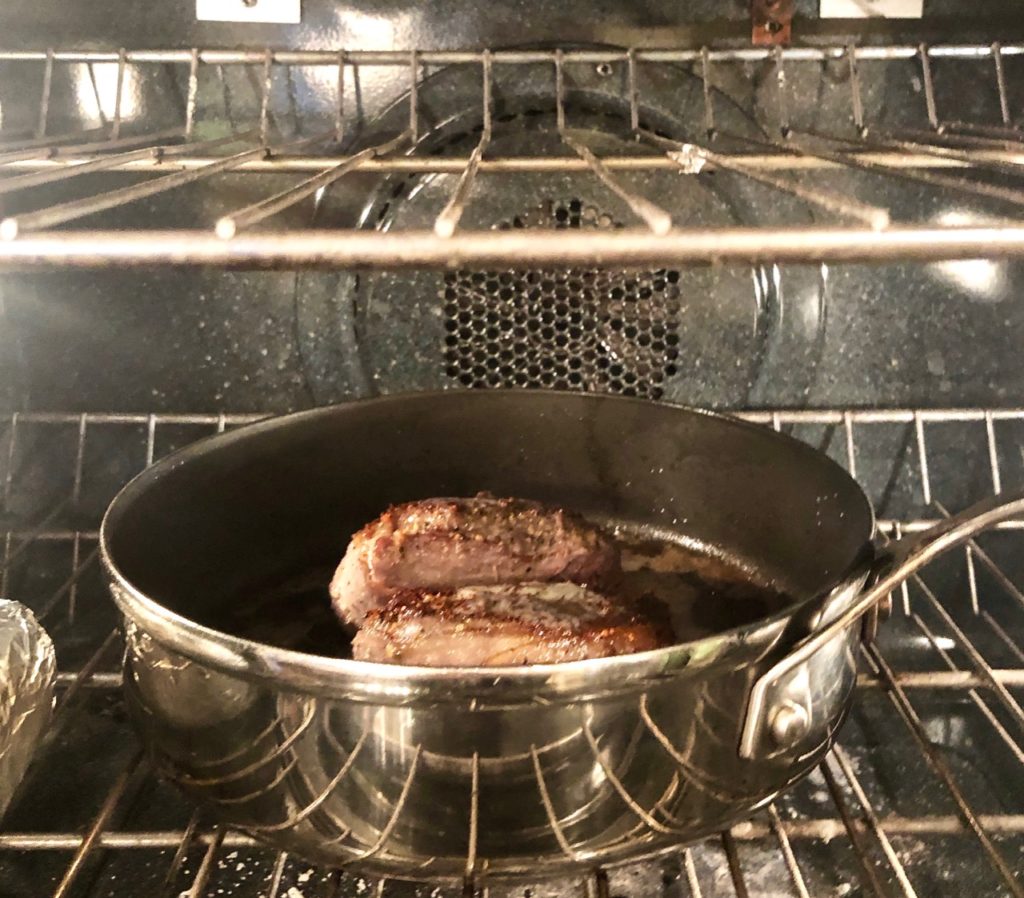 Insert an oven-safe thermometer into a steak. Set the thermometer to your taste. For rare to medium rare Kathy pulls her steaks out when the temperature reaches 120 degrees. She recommends the Oven Thermometers from Thermoworks.
If you don't have a thermometer, then place the steaks in a pre-heated oven for about 5 minutes for rare, 7 minutes for medium-rare, or until steaks reach desired doneness. Allow steaks to rest 5 minutes before serving.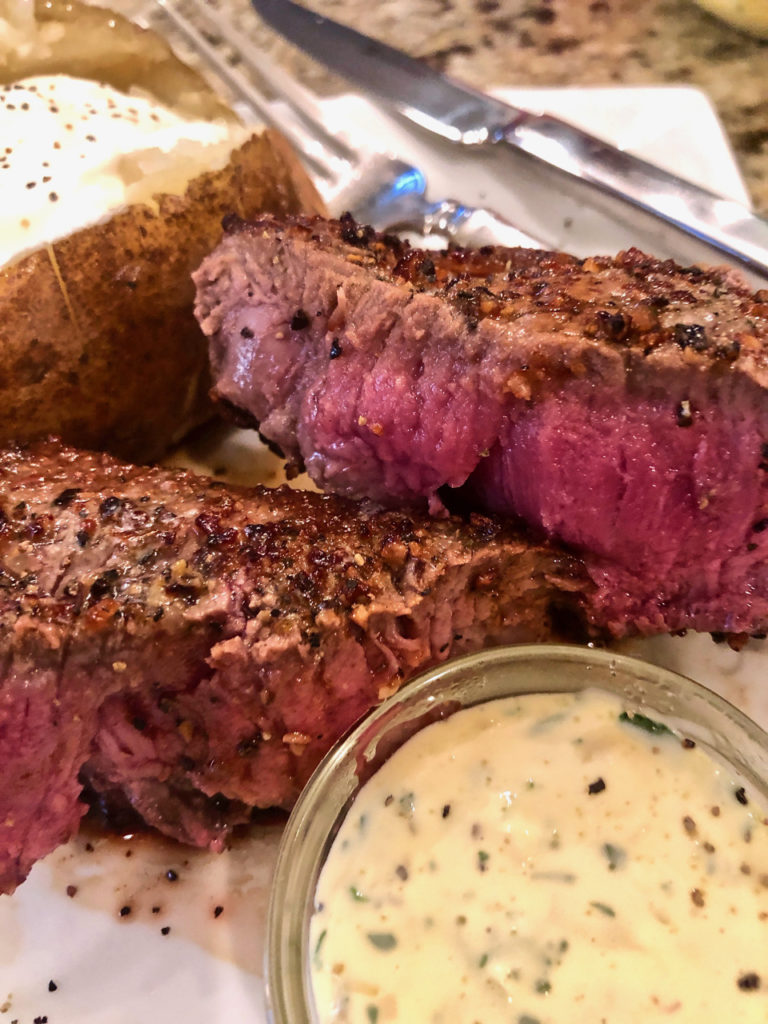 Perfectly cooked steaks with homemade Bearnaise Sauce!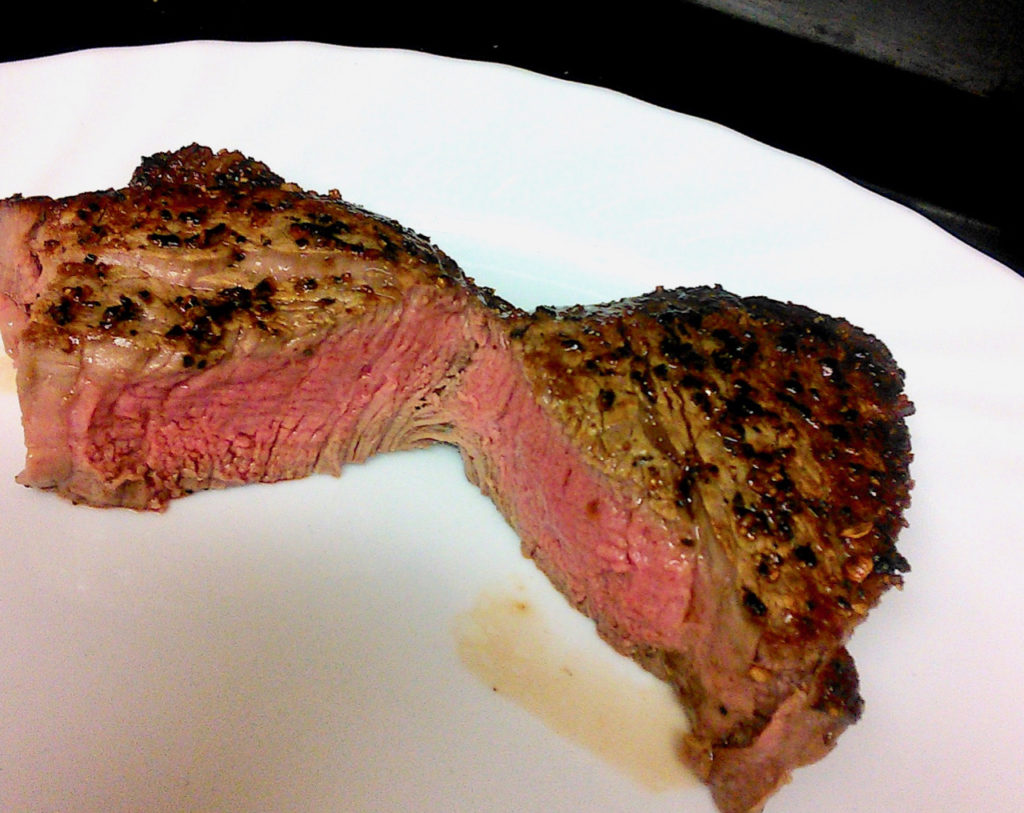 Tips for Buying and Preparing Steaks:
Always begin with buying the highest quality beef, typically "choice" to "prime". If price is not an issue, go for the gold and buy "aged" beef.
Choose a center cut such as a filet, rib eye, or N.Y. strip.
Look for a lot of white fatty marbling throughout the cut. This is the key element in a high-quality steak that maintains flavor and also keeps a steak from drying out quickly.
Have the butcher cut nice and THICK steaks. We go for 2″ or even more which guarantees that when you sear the steaks, the heat won't get to the center to overcook the middle. Moist and pink or pink/red on the inside and seared and browned on the outside.
Allow steaks to sit out of the refrigerator for 15 – 30 minutes. While setting out, season the meat with your favorite spices.
Use heavy skillets. Cast-iron skillets work wonderfully. Heat on the hottest temperature before adding some olive oil and/or butter — then turn the heat down to about medium-high. You don't want the oil or butter to burn.
Again, this is a wonderful way to prepare steaks and I know that you'll love it too!
Do you have any recipes that you'd like to share here on the blog? Just shoot me an email with you thoughts (and a photo or 2 or 3).
Thanks,
Roz