How To Make the Best Bearnaise Sauce from Julia Child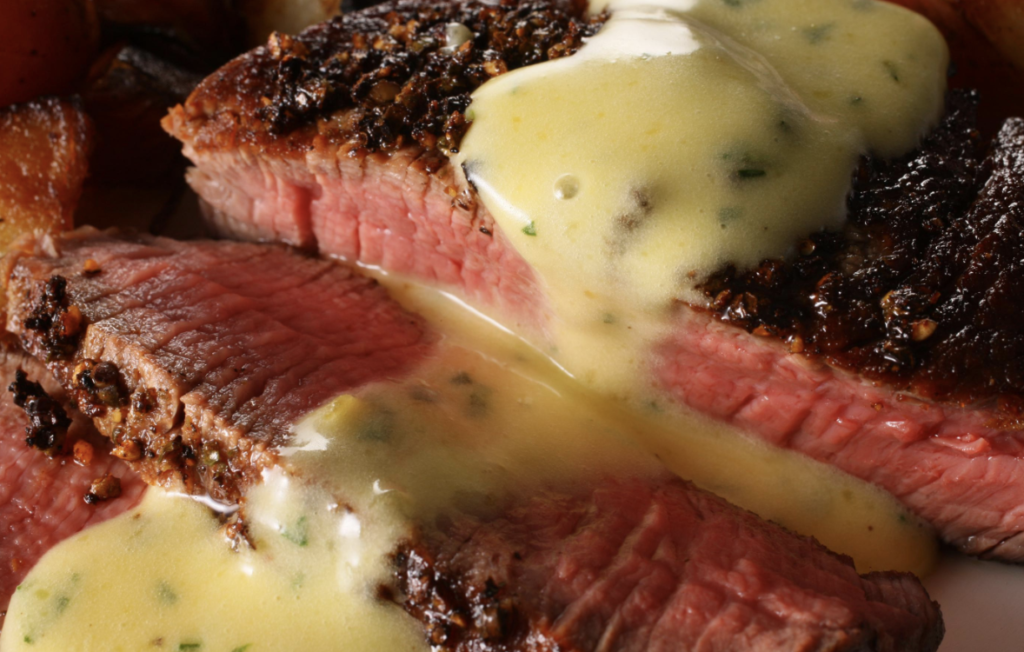 Only one thing is better than a perfect steak! A steak topped with a delectable bearnaise sauce!
The two are the perfect match-made-in-heaven food combination! With a French bearnaise sauce, an ordinary steak transforms into an elegant, flavorful dish to "wow" your guests!
We just returned from a trip to the Midwest and bought some "Iowa Beef" that's corn-fed for a richer flavor. So I immediately knew that I needed to whip up some bearnaise sauce to drizzle or dip the steaks in. For anything French, I turn to none other than Julia Child for her brilliant recipes!
You can prepare this bearnaise sauce in less than a half-hour! Plus you can make it ahead of time! Double-bonus!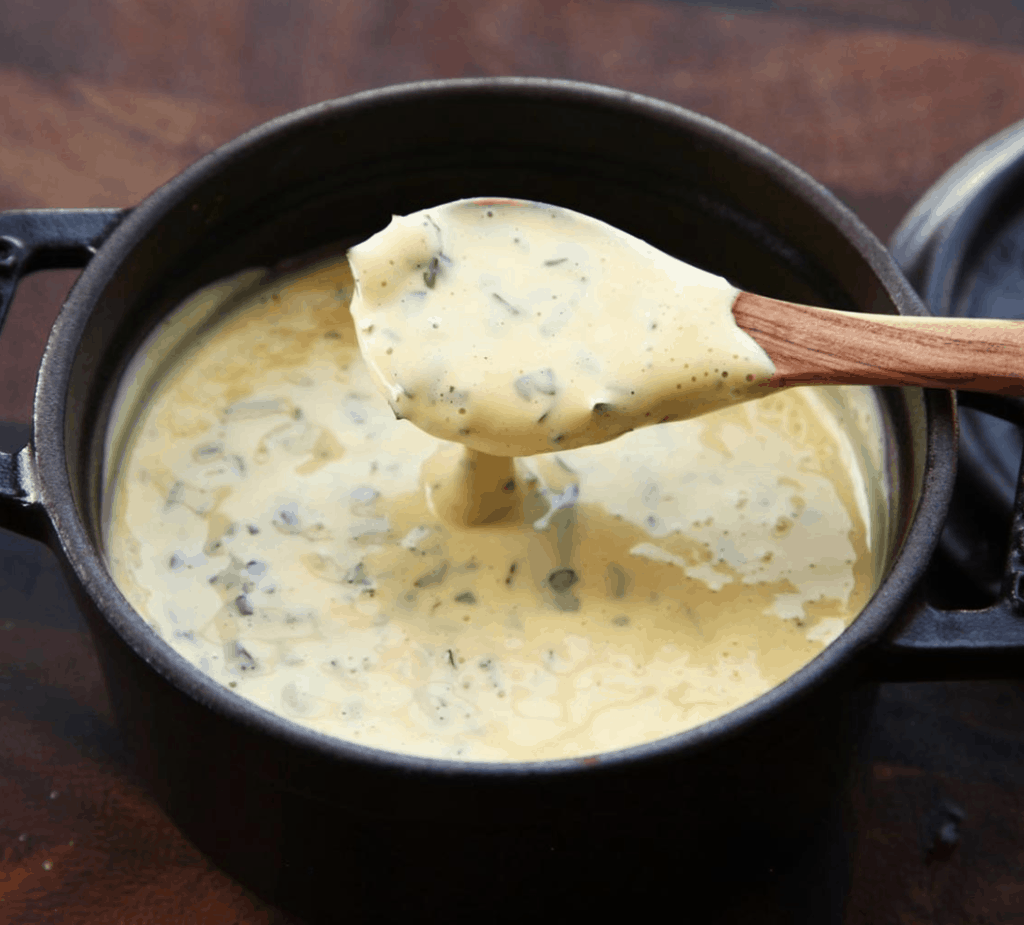 Bearnaise sauce is a sauce made of butter, egg yolks, lemon, champagne vinegar, white wine, green onions, and tarragon. It's not the same as Hollandaise sauce, although they are both from French cuisine.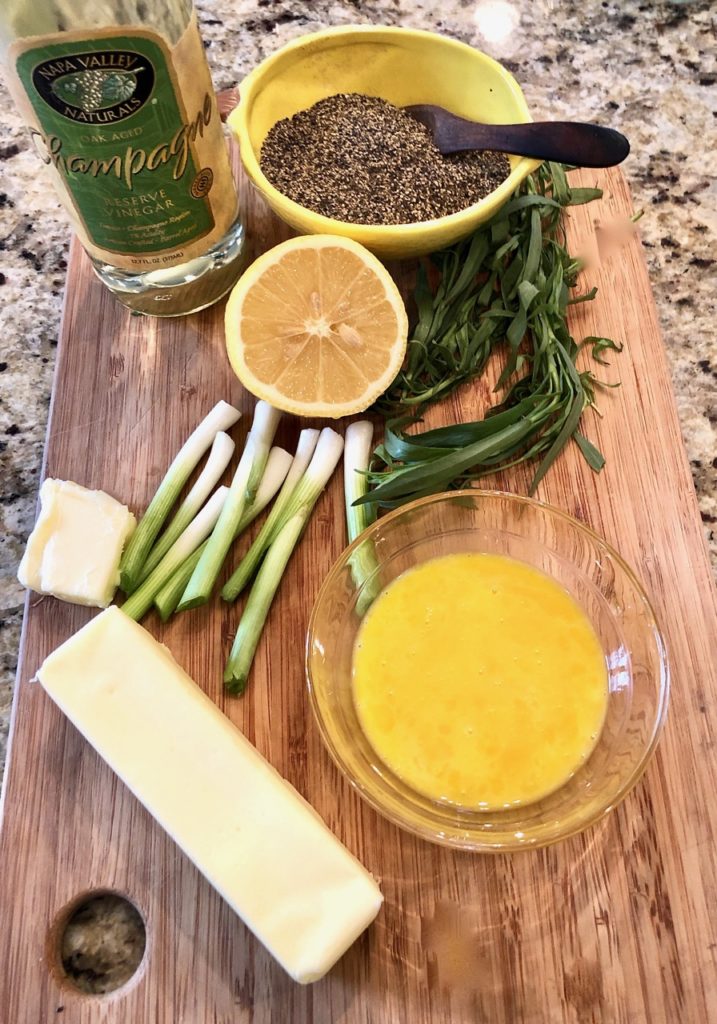 Always start by setting out the ingredients: butter, egg yolks, vinegar, green onions/shallots, tarragon, lemon, salt, and pepper.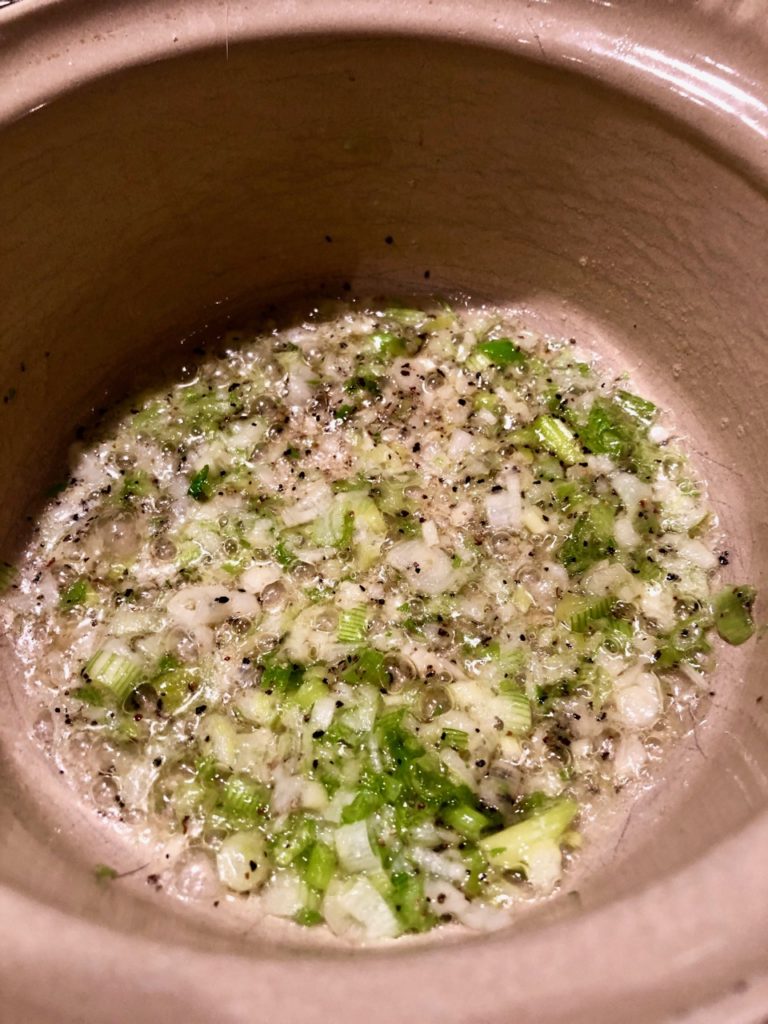 After mincing the green onions/shallots in butter, saute' them in a small saucepan. Then add the vinegar and wine … cook until evaporated. Set aside.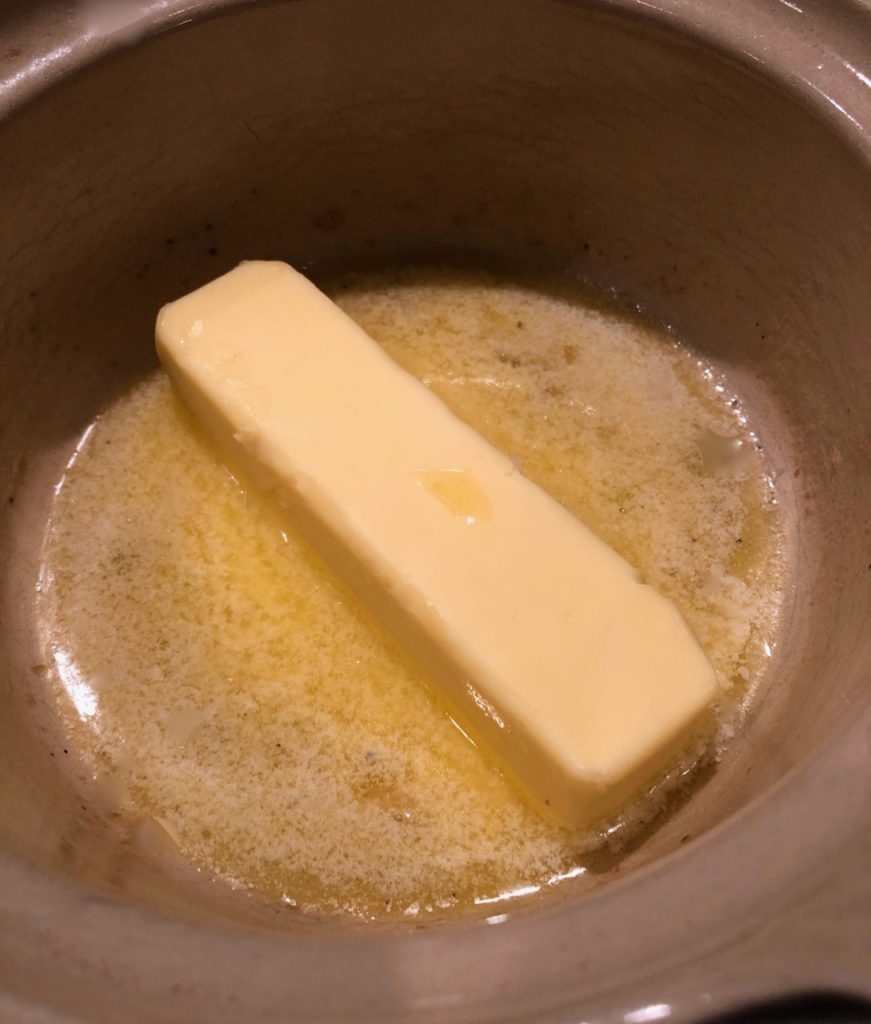 In a small saucepan, melt the butter. Cook until foamy. Set aside.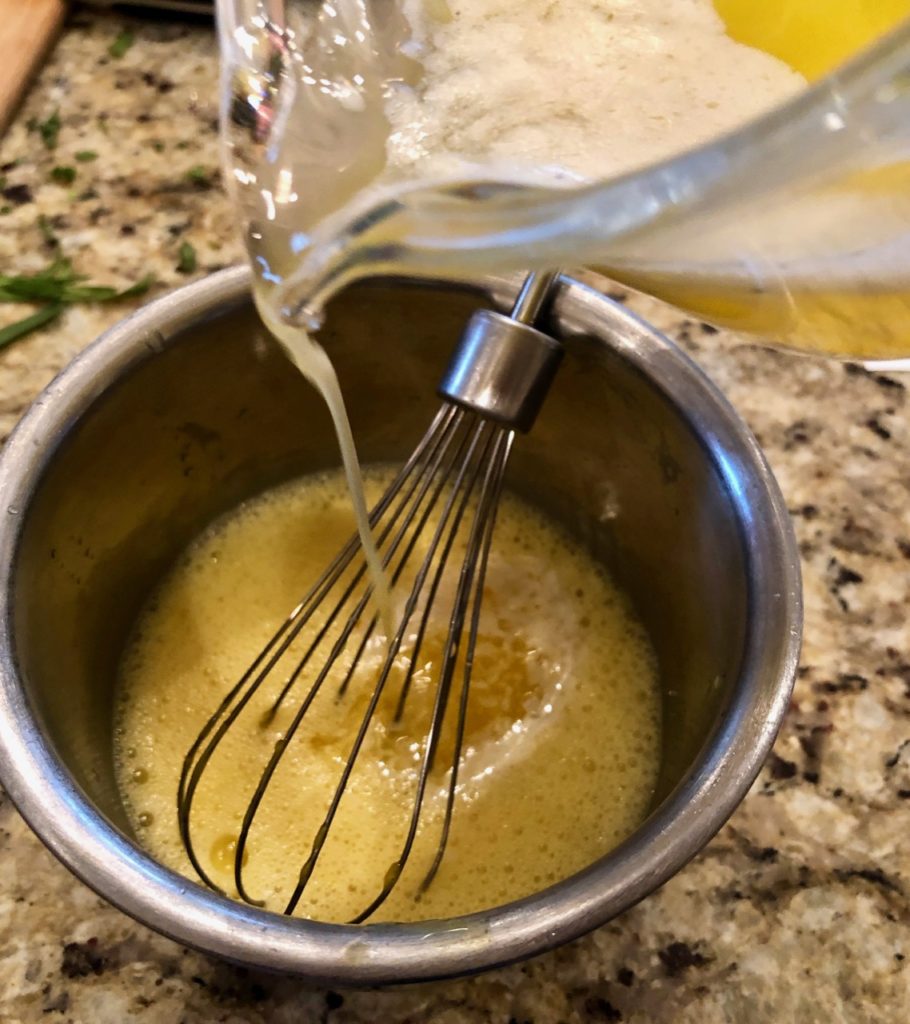 In a small bowl, slowly pour the butter into the egg yolks, stirring constantly.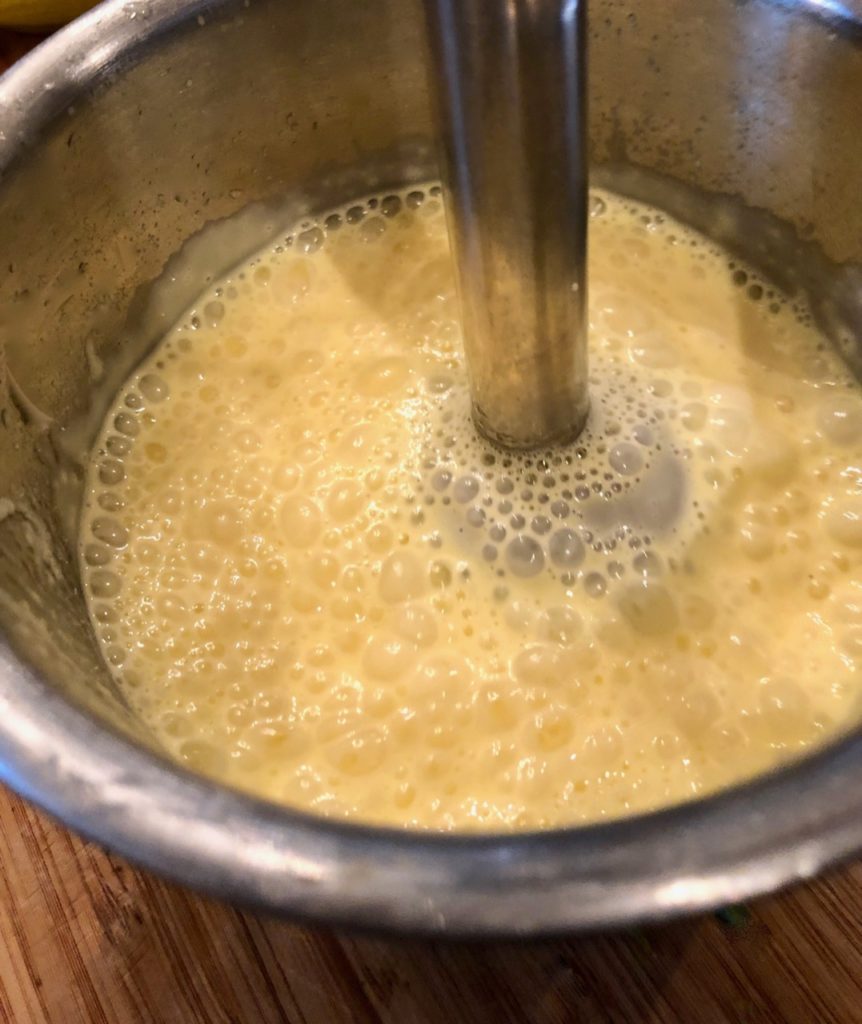 With an immersion blender, whip the egg-butter mixture for about 3 minutes until thickened and foamy. Very important for bearnaise sauce.
Add BOTH the green onion/vinegar mixture AND the minced tarragon. Whip again with the immersion blender until thickened.
Pour into a small container with a lid. Place bearnaise sauce in the refrigerator up to an hour before serving.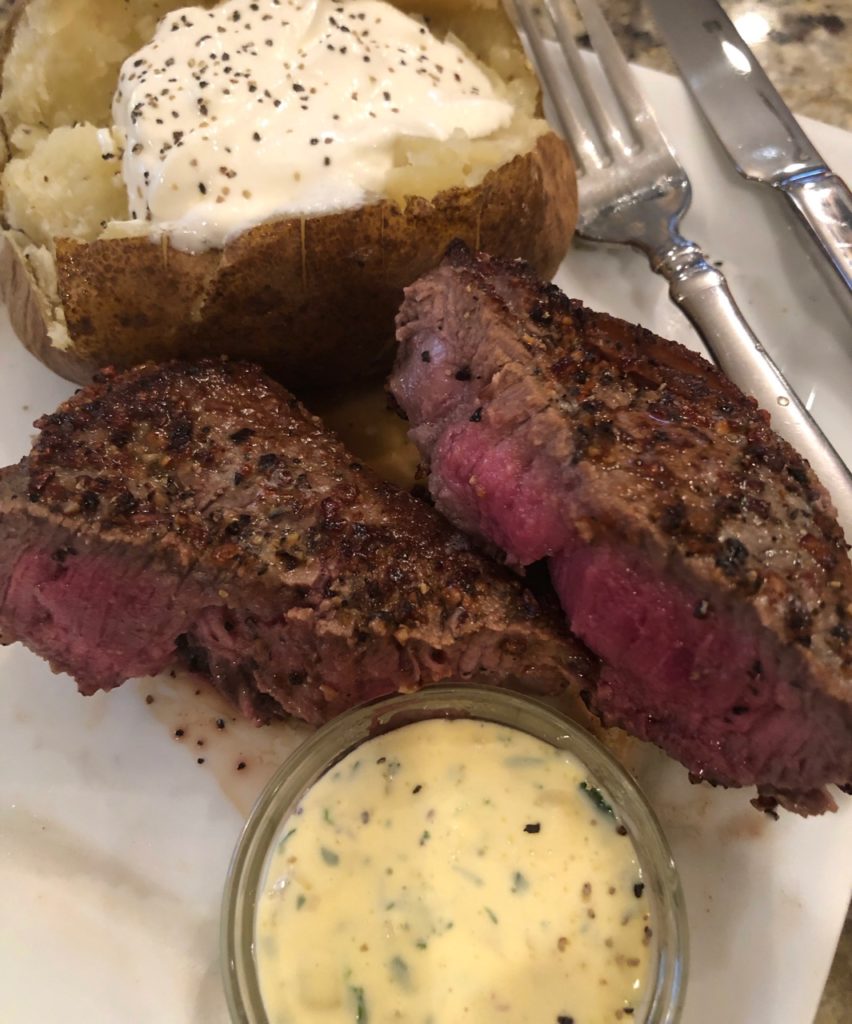 Ways To Serve Bearnaise Sauce
Obviously, bearnaise sauce pairs well with steak. You can't go wrong drizzling this sauce on any cooked meat. Give your steaks that extra 'wow' touch by brushing garlic butter on the meat while grilling or pan-frying. How about pork chops or chicken? Why not? Italian Pork Chops with Garlic and Rosemary.
Amp up your veggies too, whether they're cooked, roasted, or raw. It's delicious with carrots, broccoli, asparagus, green beans, and yes potatoes! Try it on Creamy, Dreamy Mashed Potatoes — it's just heavenly! This bearnaise sauce would really elevate the flavor for our Roasted Cauliflower
Salmon steaks. This combo is just as delicious as serving the sauce with steak. In Salmon, Peas, and Asparagus recipe, simply change out the lemon cream sauce for bearnaise sauce . . . or better yet . . . offer both sauces! Bearnaise would also be fabulous on Blackened Garlic Butter Redfish. It would go well with any firm fish too, such as halibut.
More Sauces that You Might Enjoy
Pin for Later!

Products Recommended for Making Bernaise Sauce:
A GOOD QUALITY Hand-held Immersion Blender
A Great Steak Recipe For You To Enjoy Some Bearnaise Sauce Drizzled on Top!
Enjoy this wonderful classic recipe for Bearnaise Sauce from Julia Child!
Print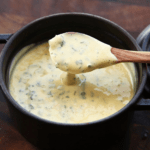 The Best Bearnaise Sauce from Julia Child
Author:
Prep Time: 10 minutes
Cook Time: 10 minutes
Total Time: 20 minutes
Yield: 1–1/2 cup 1x
---
Description
This bearnaise sauce from Julia Child is the perfect way to enhance a delicious steak to a new height of flavor perfection!  From ordinary to elegant with just a dollop on top.  Perfect on fish and vegetables too!  It can be made in advance to help free up your time in the kitchen.  Creamy and yummy, if you're a bearnaise fan, you will love this sauce!
---
2 sticks unsalted butter
3 tablespoons minced green onions or shallots
Kosher salt and freshly ground black pepper
1/4 cup champagne vinegar or white wine vinegar
1/4 cup dry white wine
3 large egg yolks
1 tablespoon fresh lemon juice (add more later to taste if preferred)
2 tablespoon finely chopped fresh tarragon
couple of pinches of freshly cracked black pepper
pinch of salt
---
Instructions
Melt 1 tablespoon butter in a small saucepan over medium heat.
Add green onions / shallots: stir to coat with butter.
Stir in vinegar and white wine, reduce heat to medium-low, and cook until vinegar and wine are evaporated, about 3 minutes.
Reduce heat to low and continue cooking green onions / shallots, stirring frequently, until tender and translucent, about 5 minutes longer.
Transfer green onions / shallot vinegar and wine reduction to a small bowl and let cool completely.
Melt remaining butter in a small saucepan over medium heat until butter is foamy. Transfer butter to a small bowl.
 Combine egg yolks and lemon juice in a small mixing bowl.
With an immersion blender, purée yolks and lemon juice until smooth.
With blender running, slowly pour in warm butter in a thin, steady stream.
Continue blending until a smooth, creamy sauce forms, about 3 minutes.
 Add in the tarragon and the green onion – vinegar and wine reduction.  Give everything a whirl for another minute or two.
Pour sauce into a medium bowl.
Season to taste with salt, pepper. 
---
Notes
Can be made 1 hour ahead.