New Orleans Bread Pudding with Caramel Whiskey Sauce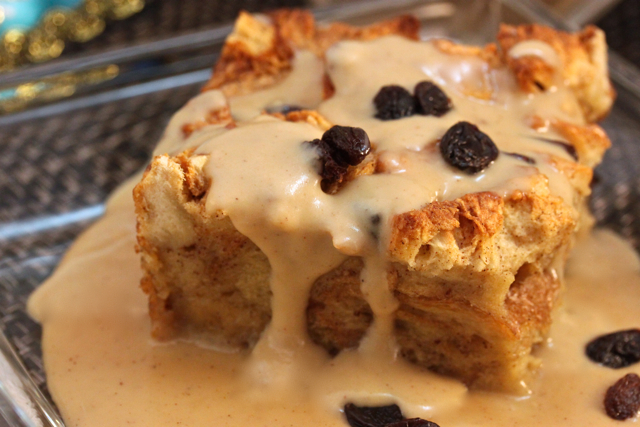 Hello gorgeous Bread Pudding! Why do you visit so seldomly?
So simple and humble, so comforting and delightful, yet always leaving my family and guests with united sighs of "m-mmm's and a-hhh's" on top of tears of gratitude and joy for your rare presence on the table.
Praise the heavens above for the simplicity and deliciousness of this New Orleans Bread Pudding with Caramel Whiskey Sauce! Simple cake or humble pie, you are not, dear decadent and sinfully rich BREAD PUDDING!
You are comforting, satisfying, and cruelly fattening at the same time . . . you, bread pudding, are a killer dessert! With caramel in the whiskey sauce drizzled on top, you will lead anyone to have an epiphany on a mountain!
YOU.ARE.JUST.THAT.GOOD . . . quite simply one of the best desserts. EVER!
No longer do I need to go to an eatery to enjoy your simple, humble delicious soft sweetness . . . I can make you in my own kitchen! And even better, I can share you too!
Now a few words of culinary wisdom advice: When making bread pudding, use hefty bread such as Italian, French, ciabatta or sourdough . . . and make sure it is at least 1 – 2 days old and dried out. Yes, you heard that right, this heft and dryness gives the bread pudding greater integrity in depth and prevents the bread pudding from resulting in a sloppy, soupy mess!
The rich vanilla custard sauce makes this bread pudding sing along with creating crispy, golden edges from baking. You pour the custard on top of the bread cubes just to the point of looking OVER-saturated. And that's a good thing – you want this puppy to be super-moist with creamy, cinnamon-y goodness! To top this recipe off is a sinful quality gained from the addition of caramel in the whiskey sauce . . . taking it far over other bread pudding recipes.
Another great bennie to making bread pudding is that you don't have to look very far outside of your everyday pantry ingredients to make this luscious, yet humble dessert: sugar, milk, cream, vanilla, bread, eggs . . . oh and yes, SOME BOOZE!
I am so IN LOVE! What could be more inviting to your family and guest than this rich and inviting bread pudding?
Your family and guests will in fact believe you to be a monster for having the audacity to prepare this and ruin their weight-loss progress! Trust me, they won't refuse! They'll just curse you, yet thank you for blowing their diet in a wonderful way! Their word of mouth about your cooking will give you a (great) reputation, I assure you!
Oh WAIT, just a minute before you leave, please!
Many of you know that the American custom of celebrating Mardi Gras before the Lenten season of fasting and prayer parallels that of "Carnevale" in Italy, Brazil and other Latin countries. During my visit to Venice, Italy, where "Carnevale" is celebrated in the most magnificent ways, I just HAD TO purchase some hand-made masks (both large and small). I use them in the decor of my guest bedrooms. They are beautiful, aren't they?
Here are some other wonderful Mardis Gras and Italian Carnevale recipes for you to enjoy that I've prepared over the years. I hope that you'll check them out; they are winning recipes as well!
Cinnamon Apple Cream Cheese Filled King Cake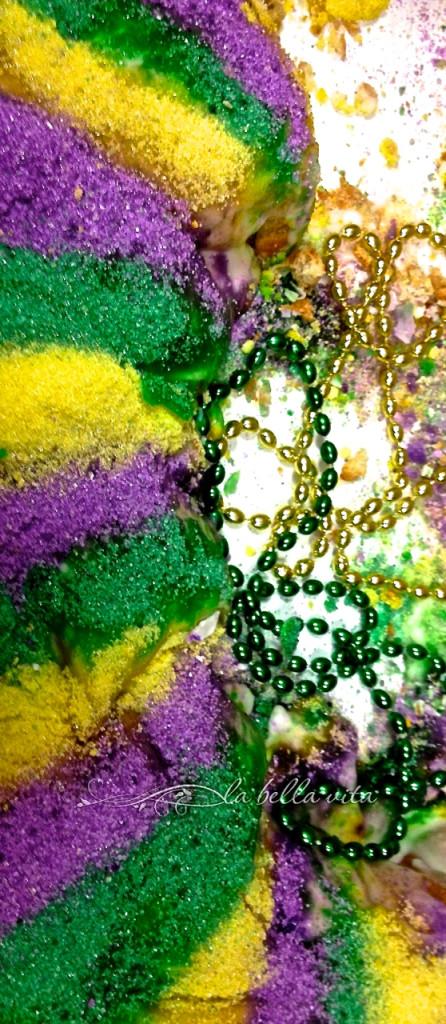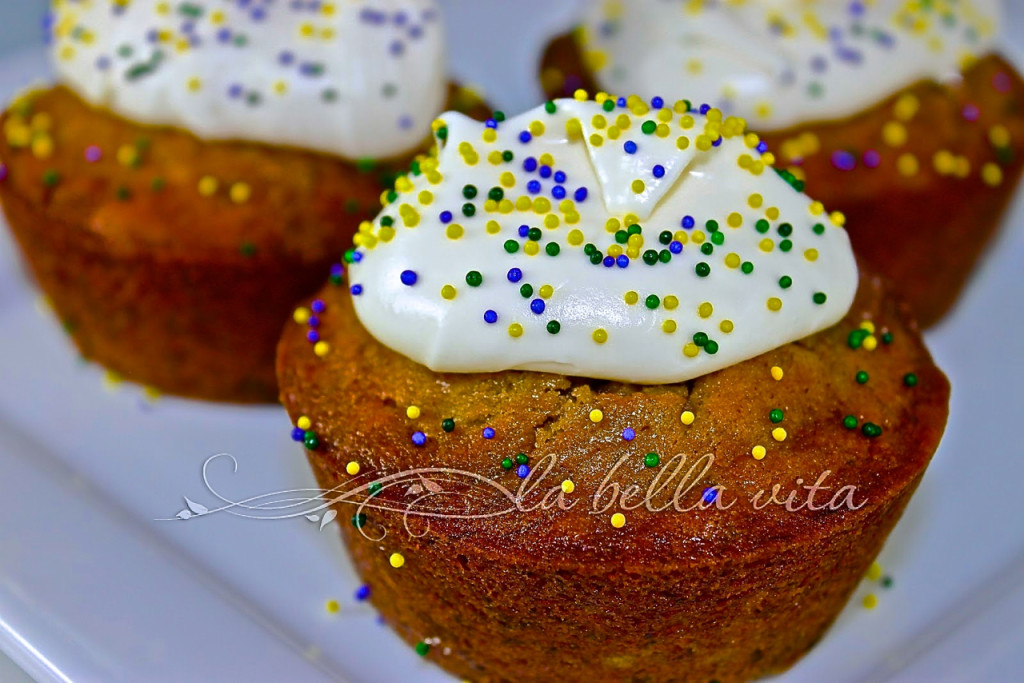 Buon Carnevale and Mardis Gras!
Print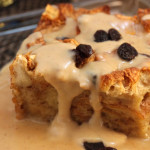 New Orleans Bread Pudding with Caramel Whiskey Sauce
---
New Orleans Bread Pudding With Caramel Whiskey Sauce
Ingredients
For The Bread Pudding:
1 cup raisins
1 cup whiskey (for soaking the raisins)
1–1/2 loaf of day-old Italian, French, ciabatta or sourdough bread
1–1/2 cup heavy cream
3 cups whole milk
5 jumbo eggs
3/4 cup light brown sugar
2 cups granulated white sugar
2 Tbsp. pure vanilla extract
2 tsp. ground cinnamon
1/4 tsp salt
For The Caramel Whiskey Sauce:
1 cup sugar
1 cup dark brown sugar
2 Tbsp. butter
2 Tbsp. water
1 tsp. cinnamon
2 cups heavy cream
1 cup whole milk
1 stick butter
1 egg
2 tsp. vanilla extract
2 Tbsp. cornstarch
1/2 cup whiskey (bourbon or rum)
---
Instructions
Instructions
For The Bread Pudding:
Soak the raisins in 1 cup of whiskey (bourbon or rum) and set overnight.
Drain the excess whiskey from the raisins the next day.
Pre-heat the oven to 350 degrees F.
Butter a large 10 X 13″ baking pan.
Lay one third of the bread cubes on the bottom of the pan, pack them in; try not to leave any big holes.
Sprinkle half of the raisins.
Lay a second layer of bread cubes, again as packed down as possible.
Sprinkle the other half of the raisins.
Layer the last third of bread cubes, tightly.
Make The Custard:
In a large mixing bowl, milk, heavy cream, eggs, white and brown sugars, cinnamon, salt, and vanilla extract.
Blend well with a hand-held mixer.
Assembly:
Press the bread crumbs down with a flat spatula.
Pour the custard all over the bread crumbs and raisins, covering thoroughly.
Let This Sit For 30 – 40 Minutes!
Bake in a pre-heated oven until the center is cooked, approximately 70 minutes (more if it isn't firm enough, use aluminum foil on top of the pudding half-way through baking in order to prevent burning).
While the bread pudding is baking in the oven, make the caramel whiskey sauce.
Prepare Caramel Whiskey Sauce:
In a small bowl, mix the cornstarch and whiskey (bourbon or rum) to make a 'slurry' and set aside.d
In a small saucepan, combine the white and brown sugars, butter, water, and cinnamon.
Cook until an amber-colored caramel sauce forms, about 10 minutes. Do not boil, set aside. (If the caramel color is not dark enough for you, add about a 1 – 2 tablespoons of molasses.)
In a large saucepan on medium heat, combine the cream, milk, butter, egg, vanilla extract and 'slurry'.
Heat well and then add the caramel mixture.
Bring the entire caramel whiskey sauce to a boil.
Reduce the heat to a gentle simmer and cook for 5 – 10 minutes until nicely thickened, stirring occasionally.
Serve both the bread pudding and caramel whiskey sauce WARM.
---