Classic New Orleans Muffuletta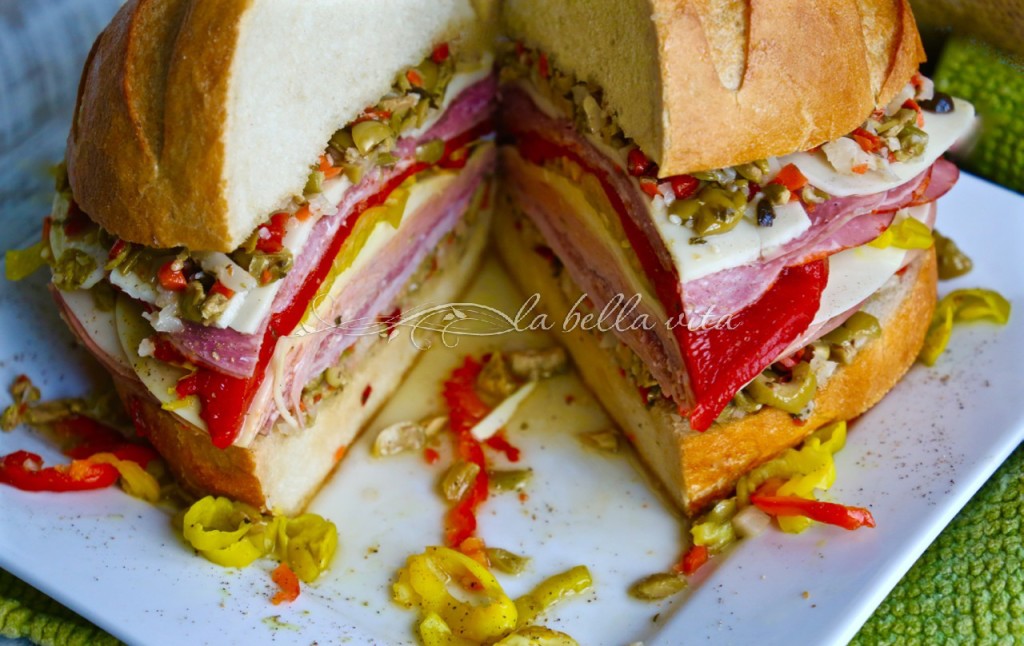 Layers and layers and MORE LAYERS of delicious Italian salami, mortadella, cappicolla along with more serious layers of Italian provolone and mozzarella cheeses . . . and all stuffed between two thick slices of freshly baked bread! What could top that in a sandwich? Adding an Italian olive salad, roasted red peppers, and more!
The classic New Orleans Muffuletta was created from all of these Italian deli goodies.
Muffulettas require a huge appetite and a big mouth to engulf each of the layers in one single bite.
Lots of napkins are in order . . . possibly even a bib!
And that's what you call a sandwich . . . nothing pansy about this sandwich. One that certainly wouldn't be served at tea time!
First created in 1906 by Italian immigrant, Salvatore Lupe, for Central Grocery located in the French Quarter of New Orleans, the muffuletta is a classic favorite that is enjoyed by both natives and visitors alike. The classic New Orleans Muffuletta is a must food indulgence when in The Big Easy!
.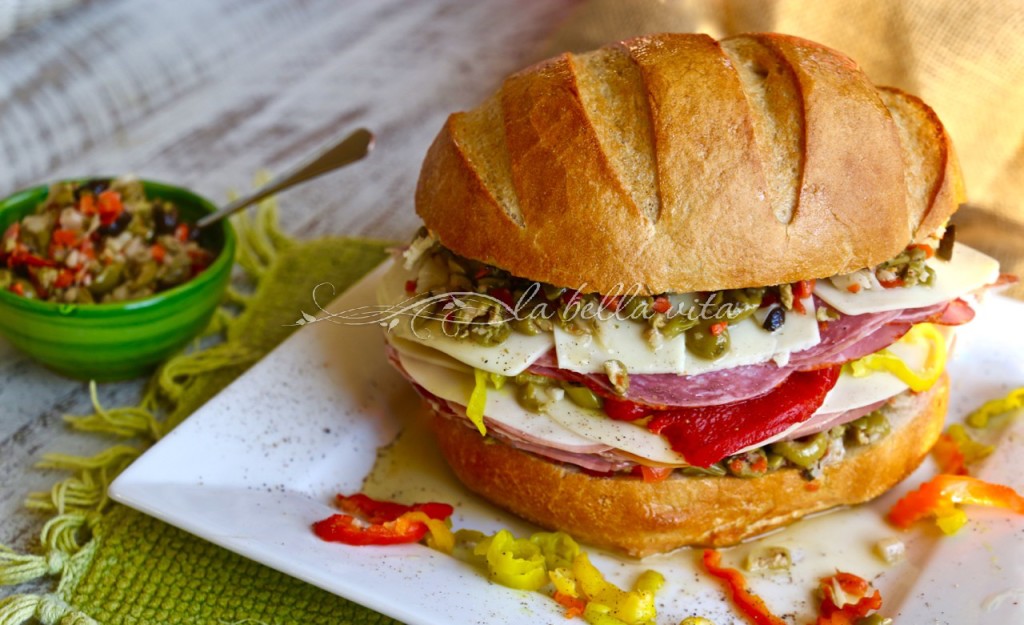 This legendary sandwich is literally a huge monster . . . so be prepared to open wide!
.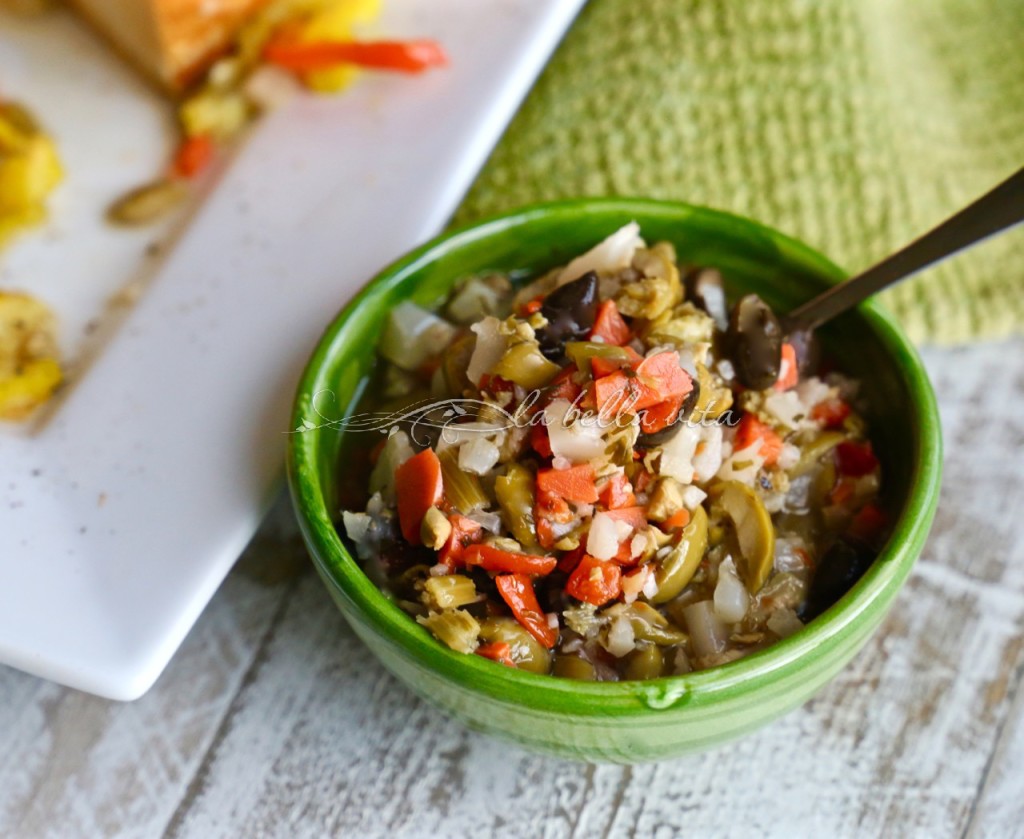 .
Beside the amount of Italian meats and cheeses layered in this brilliant creation, is another star of the show: the olive salad!
This can either be prepared by hand ahead of time or purchased. Even directly from Central Grocery in New Orleans, which is what I did since I believe in authentic anything.
Since this is where the original muffuletta came from, it was the olive salad I chose.
Just sayin'!
.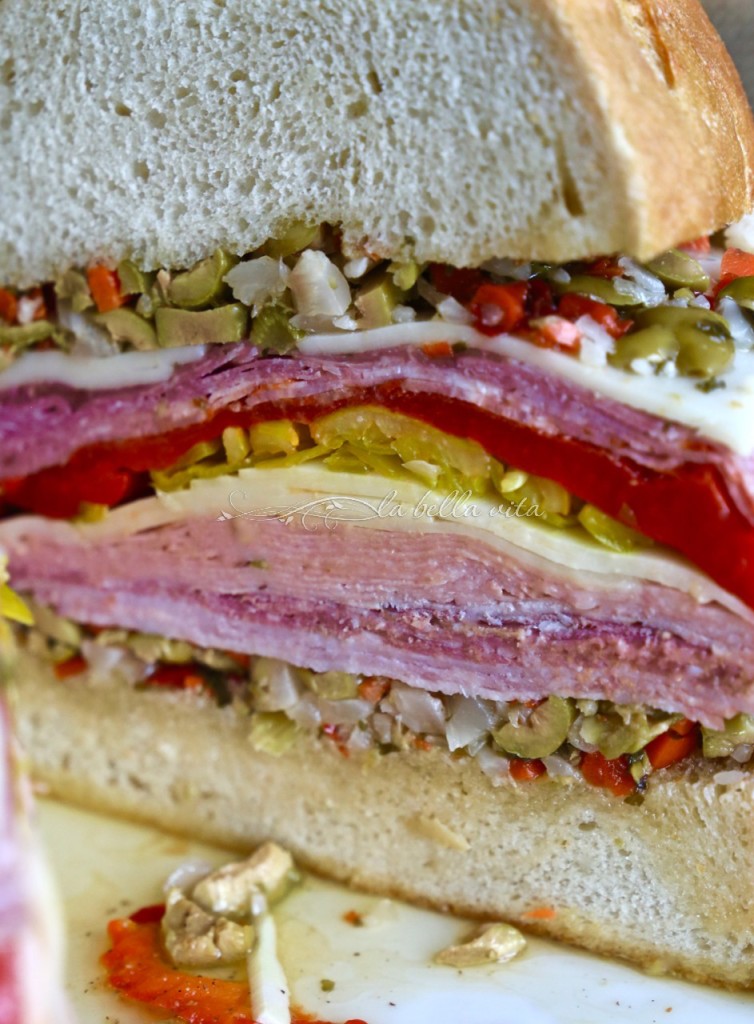 ..
What I did differently to make this sandwich a little bit better and more unique to my kitchen, was add a layer of prosciutto, a layer of sopprasetta, a thick layer of roasted red peppers, a layer of sliced hot banana peppers, and a layer of hot pepperoncini in the middle.
YUM!
Layers and layers of Italian yumminess!
.
For an inviting presentation for guests to dig in, this a great way to serve Muffulettas on a smaller scale for a party!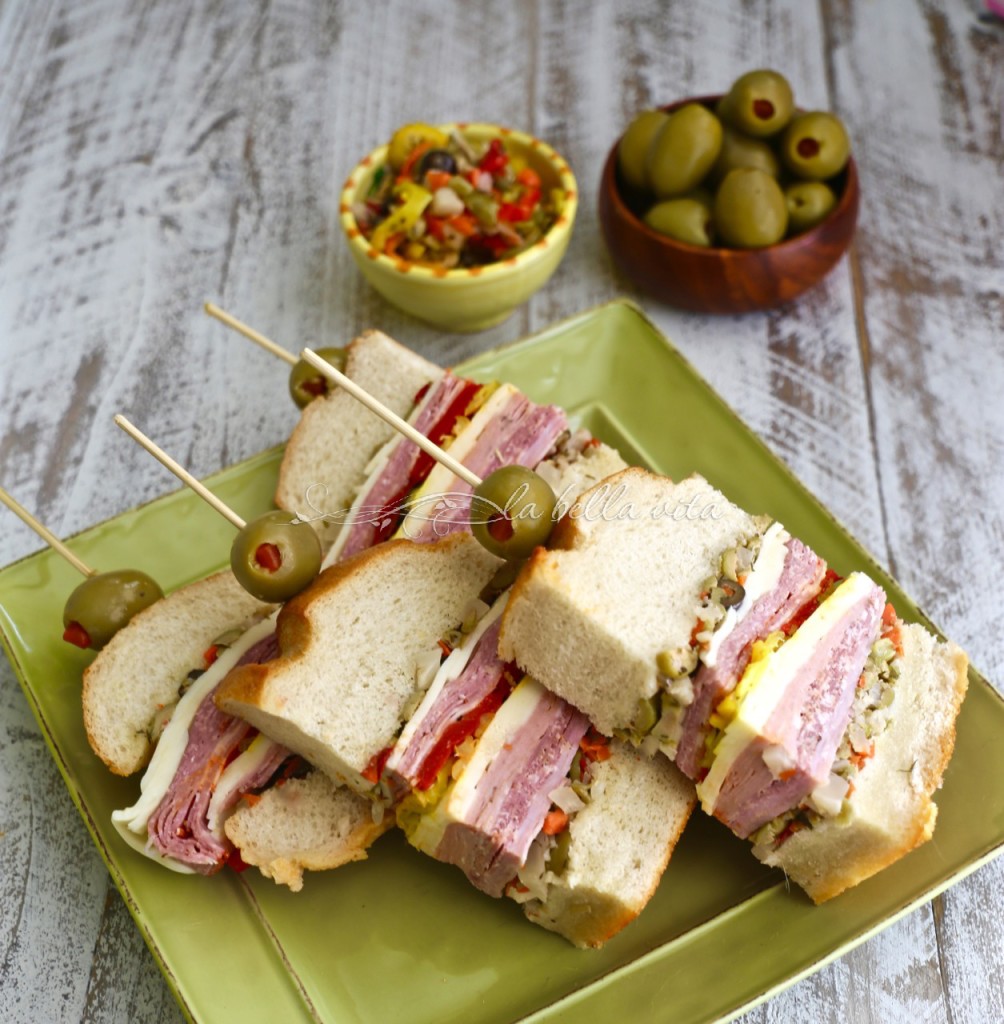 .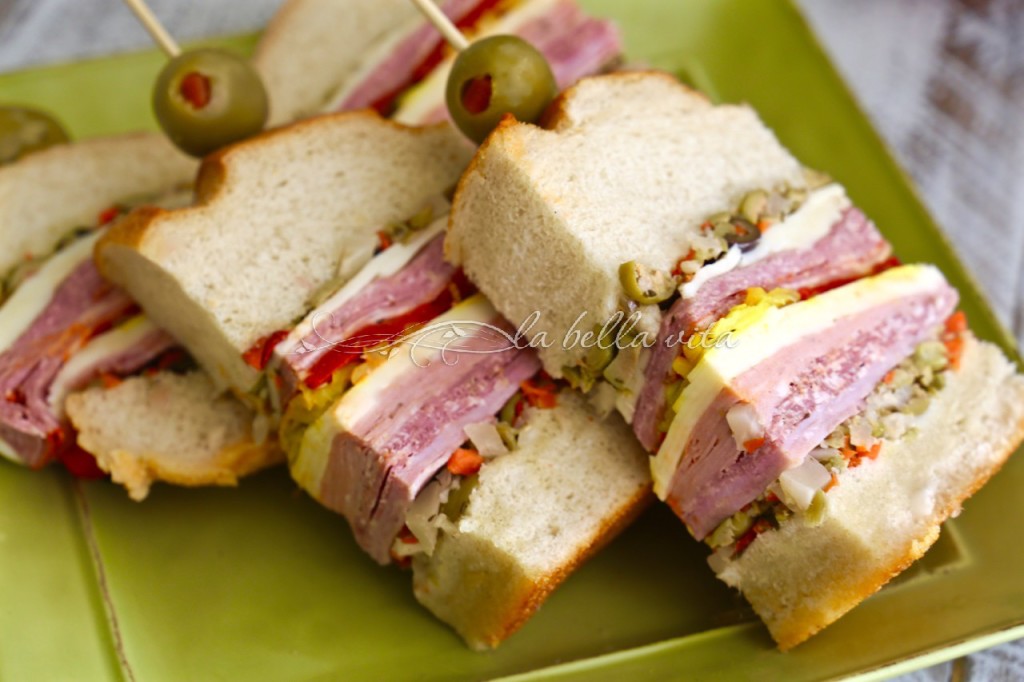 Classic New Orleans Muffuletta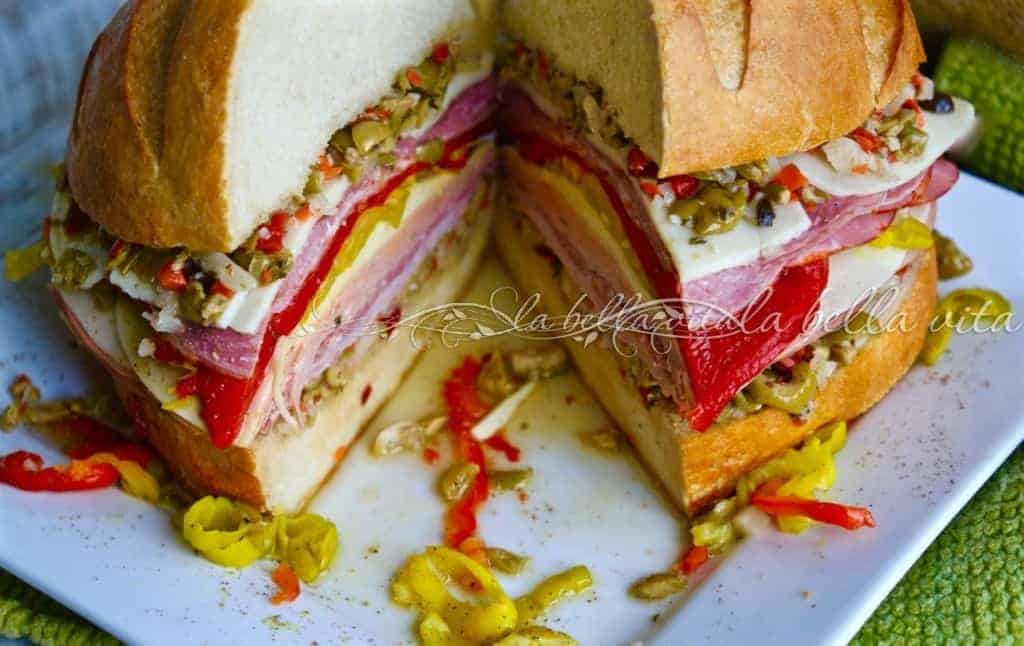 Ingredients
¼ lb. ham
¼ lb. sopprasetta
¼ lb. Genoa salami
¼ lb. mortadella
¼ lb. hot cappicolla
⅛ lb. prosciutto
8 oz. provolone cheese, sliced
8 oz. mozzarella cheese, sliced
4 roasted red peppers (jarred or fresh)
¼ cup sliced banana peppers (jarred)
¼ cup sliced hot pepperoncini (jarred)
16 oz. olive salad (freshly made or jarred)
1 loaf of round Italian sourdough bread, focaccia, or ciabatta
Instructions
Pre-heat oven to 400 F degrees.
Warm the bread loaf in oven to desired heat.
Cut warm loaf of bread in half with a long serrated knife.
Generously spread a layer of the olive salad on the top of the bottom half.
Begin layering each type of meat: ham, soprasetta, genoa salami.
Then place a thick layer of provolone next.
Then place a layer of roasted red peppers.
Sprinkle a layer of sliced banana peppers.
Sprinkle a layer of sliced pepperoncini.
Layer on the next meats: mortadella, hot cappicolla, prosciutto.
Spread another thick layer of olive salad on top.
Place top half of warm bread on the top.
Gently press down on top of the sandwich.
Wrap in aluminum foil and warm for 15 - 30 minutes ----- if desired.
Or serve cold.
Cut into half with a long serrated knife or an electric knife (which I find is easier).
Then cut into quarters.
This large sandwich serves 4 people.
.
Here are some other Mardis Gras recipe ideas that caught my eye on the web:
Muffaletta Pasta Salad from Home is Where the Boat Is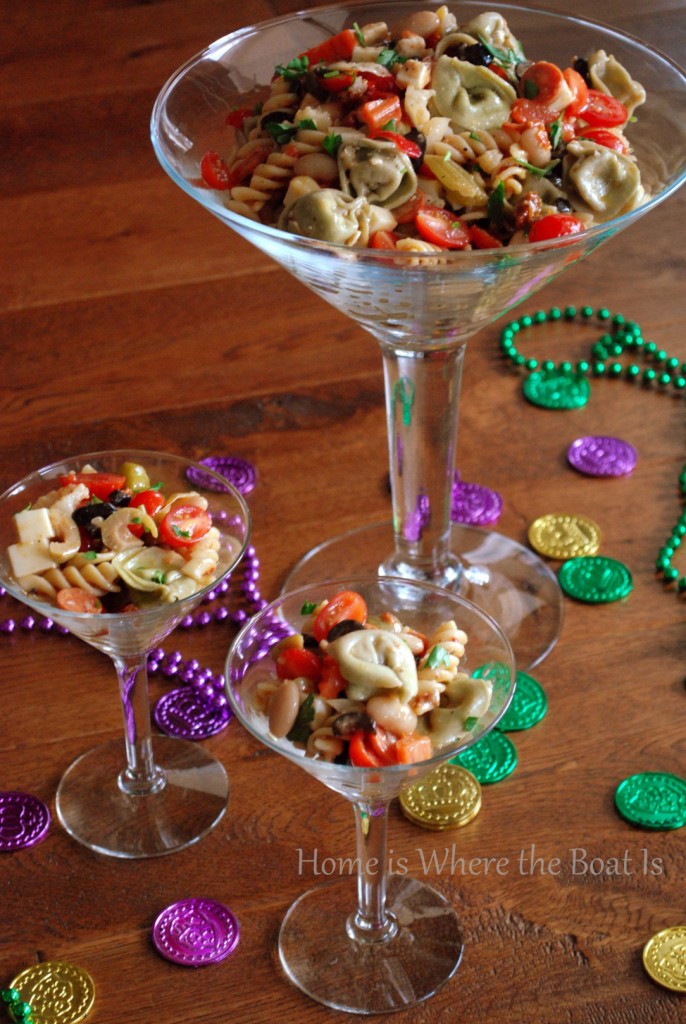 Hot Pepperoni Muffuletta Dip from Renee's Kitchen Adventures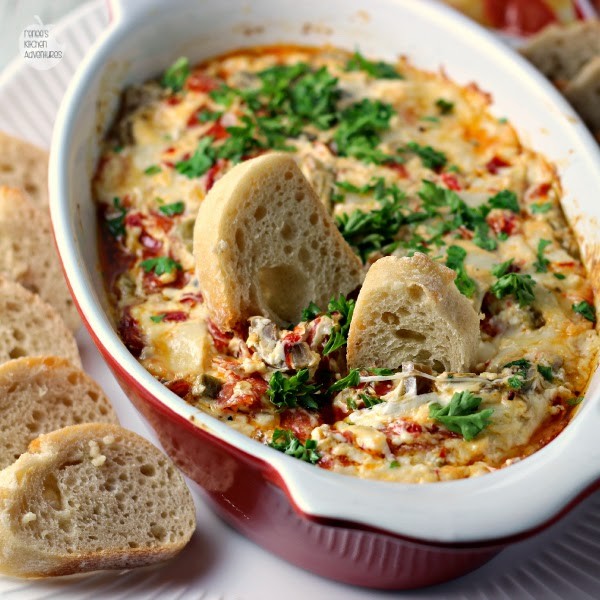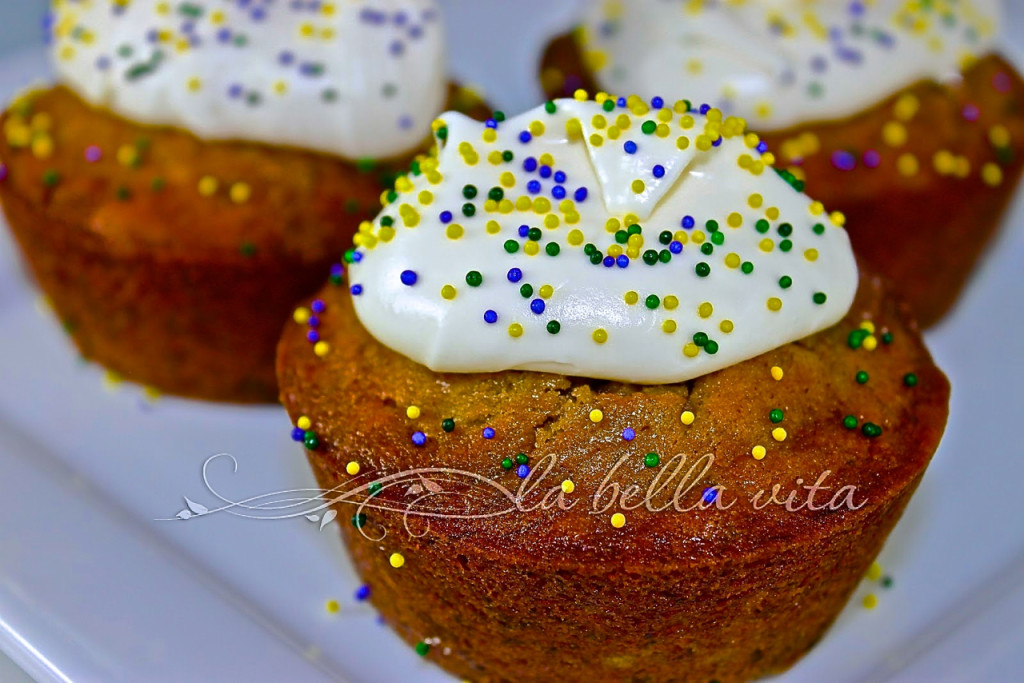 .
.