Blood Orange and Raspberry Swirl Cheesecake

Beautiful color and fresh citrus flavor will make you smile in the dead of winter with this Blood Orange and Raspberry Swirl Cheesecake !
Cheesecake infused with the juice of sweet blood oranges from Sicily, Italy. What is it with the people of the Mediterranean? First they had blood oranges long before anyone over here on this side of the pond ever knew about them . . . unless you actually came from or lived in the Mediterranean region. And then somewhere in time, they came up with a creamy dessert cake known as 'cheesecake'. The trusty food historians declare that the origin is Greek. But when the Romans came and conquered, they took over from there and thus cheesecake's rise to fame continued in both Greece and Italy.
Cheesecake was so special to Romans that they brought them to their temples to offer to their gods. Maybe that's where the saying 'food for the gods' came from. Who knows.
But I digress.
Although ricotta cheese is more commonly used in Italian cheesecakes I used good old American cream cheese in this cake to give it a creamier consistency.
Forget your diet today!
For this cheesecake, you'll have to toss the guilt out the window.
I wanted to make this cake more brilliant and popping with the color of red, blood red that is. So I chose to swirl in a thick raspberry sauce as well as make a double batch to drizzle around and over the cheesecake for some extra pizzazz! Beautiful!
There's only enough blood orange juice in this cake to make a slightly tinted blush color of the cake. BUT! When you bake the cake, the top does turn more orange! The various hues of orange and reds just pop on the platter, especially when garnished with luscious red raspberries and slices of blood oranges.
So get out your stand mixer and get ready to bake!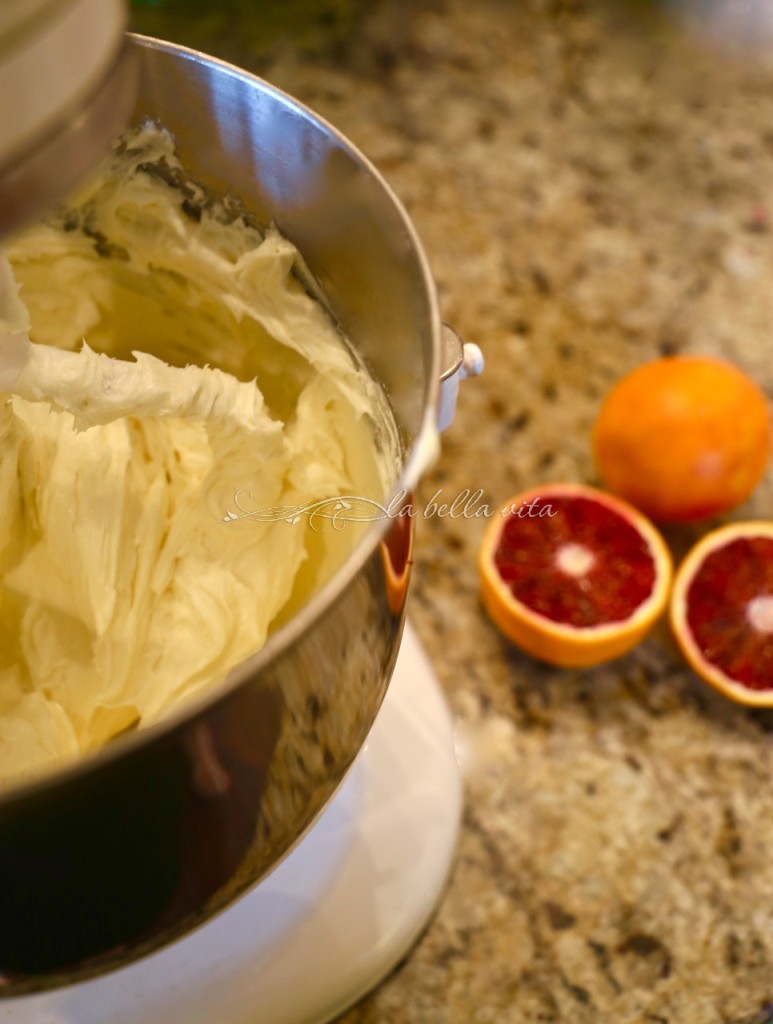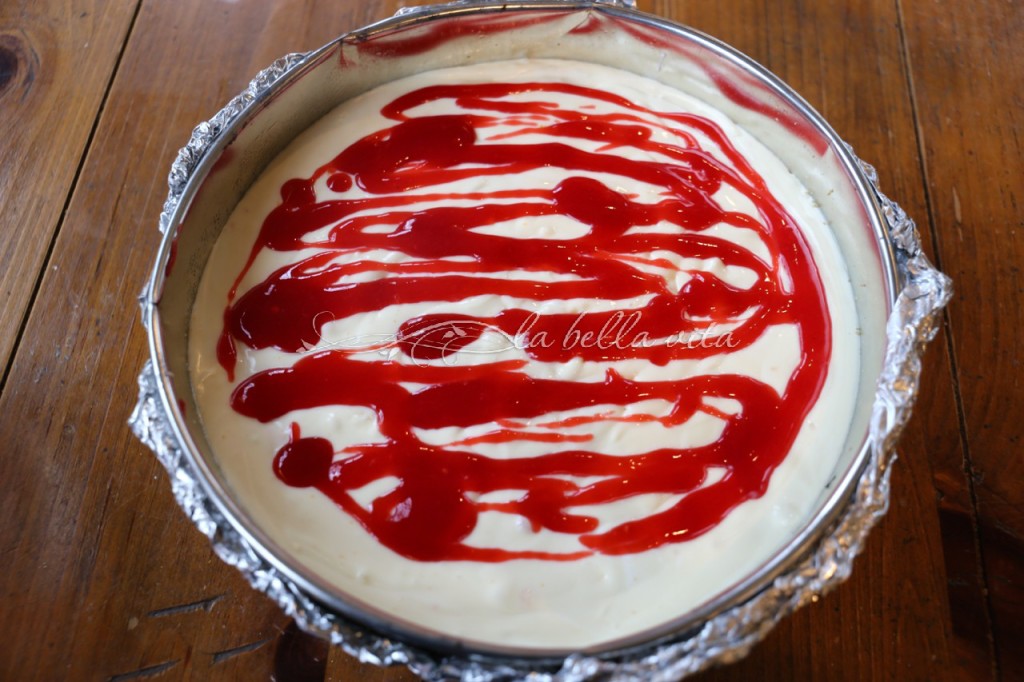 Wrap two layers of aluminum foil around the springform pan (I use heavy-duty) in order to prevent the water bath from getting into the cheesecake while it bakes.
Pour the batter into the pan.
Drizzle lines of the raspberry sauce back and forth on top of the batter.
.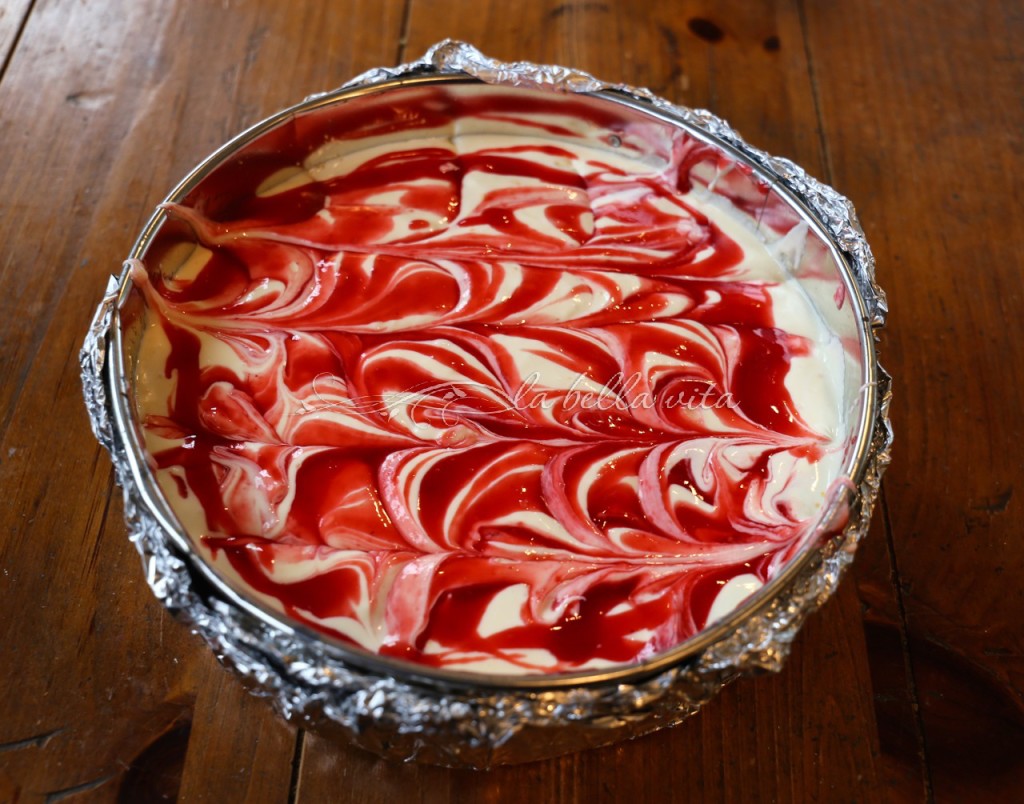 Insert a butter knife about half-way into the batter and sweep it across the raspberry sauce lines, going opposite and changing directions on each side to make a zig-zag, marbling effect.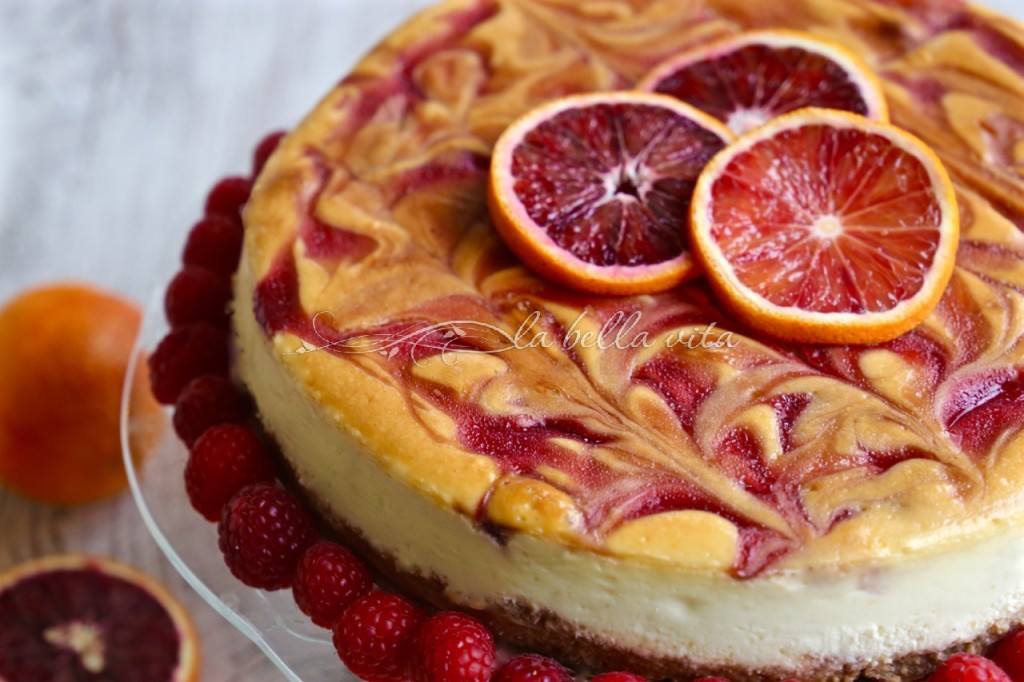 Bake on a low oven (325 F) for 90 minutes. The top should be jiggly, but if you think it is still "too" jiggly, then you might want to give it another 15 minutes.
Once finished, turn off the oven, leave the cheesecake inside the oven, open the oven door slightly, and allow the cheesecake to set for 1 hour.
Refrigerate for a minimum of 4 hours to overnight.
Your blood orange cheesecake is going to 'wow' everyone!
Garnish with raspberries and slices of blood oranges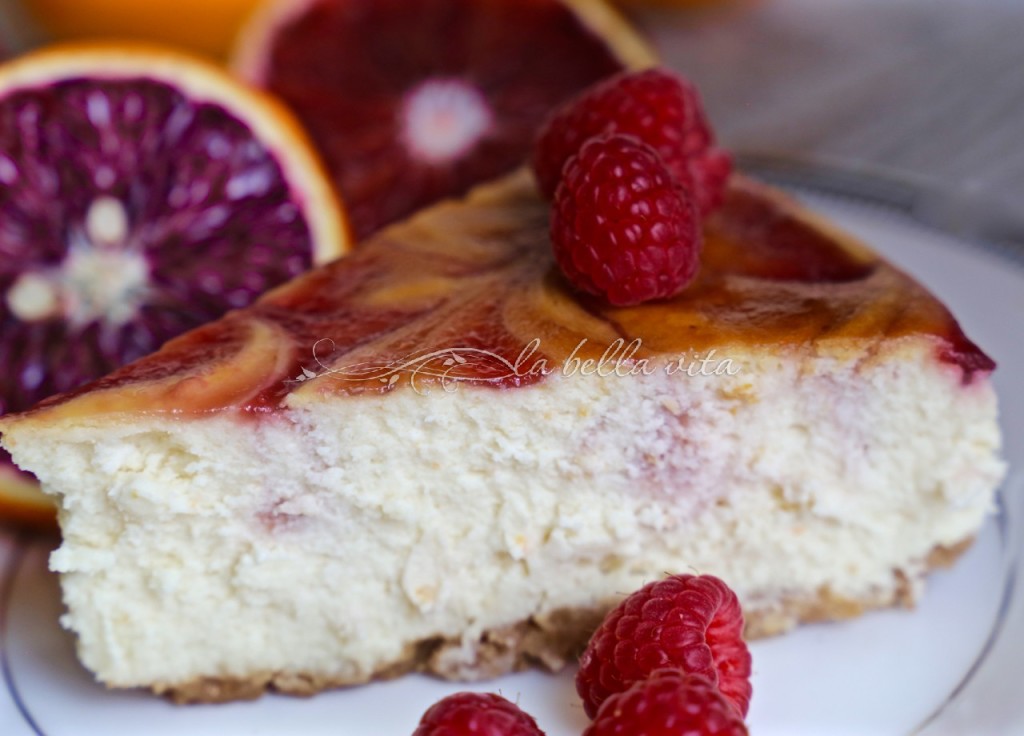 A delicate blush-pink color is on the inside with brilliant oranges and reds on the outside.

Food 'eye candy'! Delicious too!
Drizzling the raspberry sauce over each individual slice will send your guests over the moon!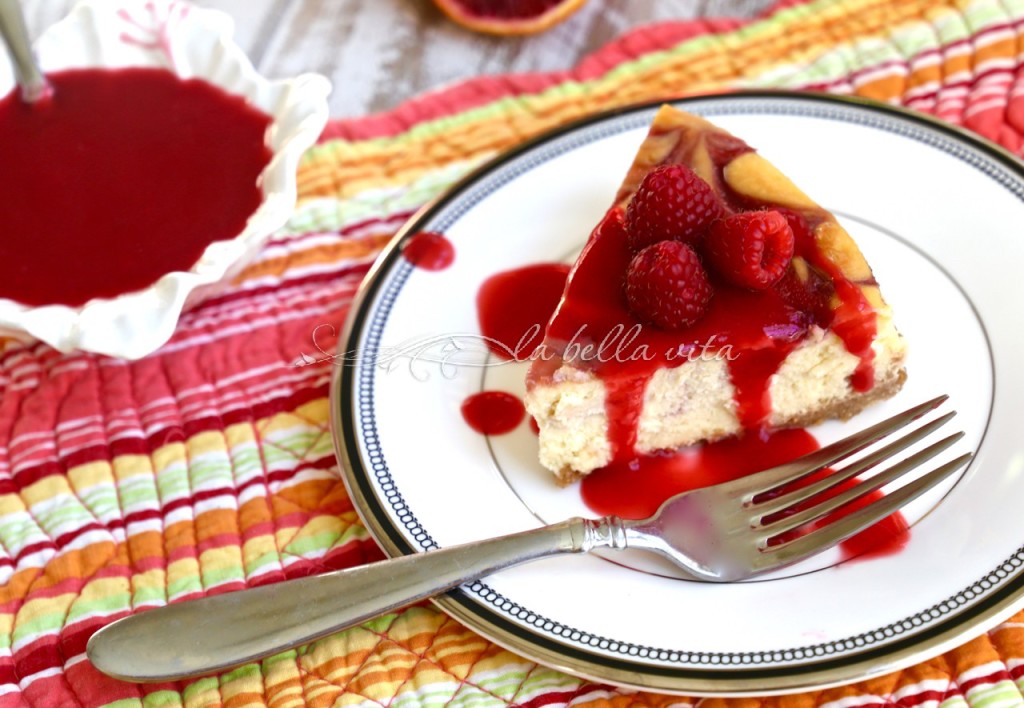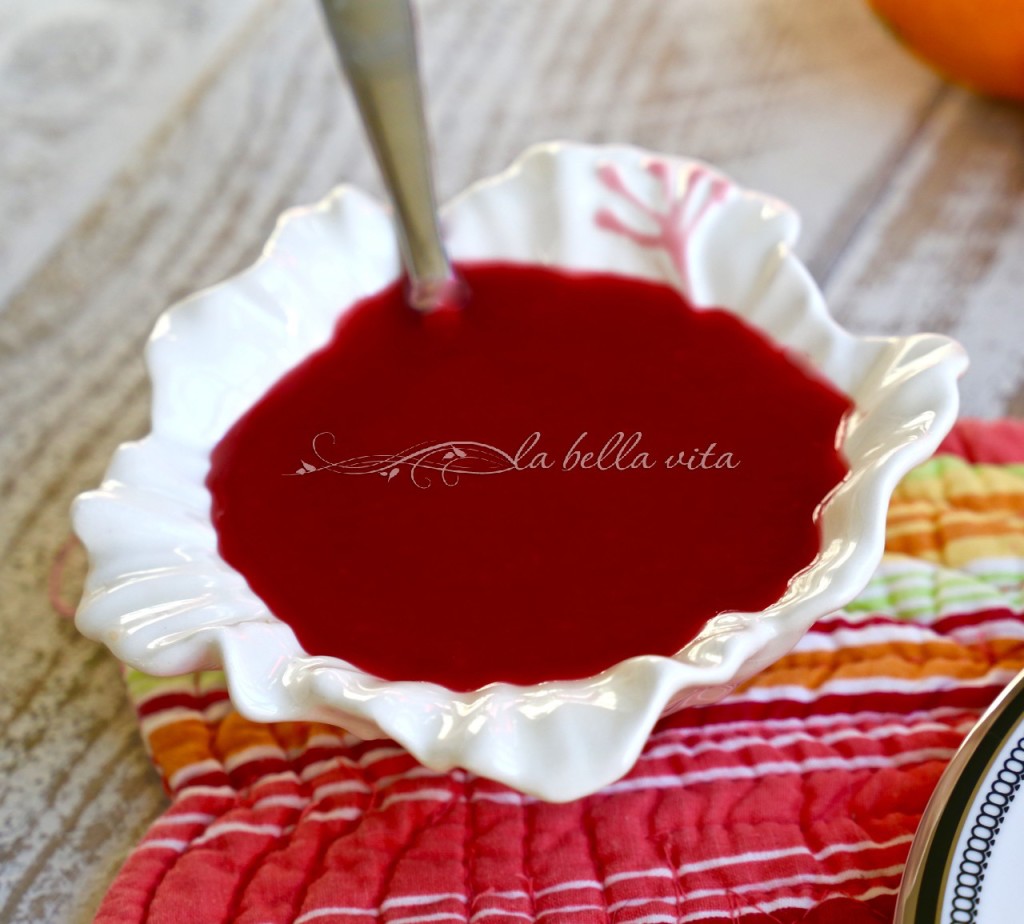 The raspberry coulis sauce totally completes this cheesecake to perfection!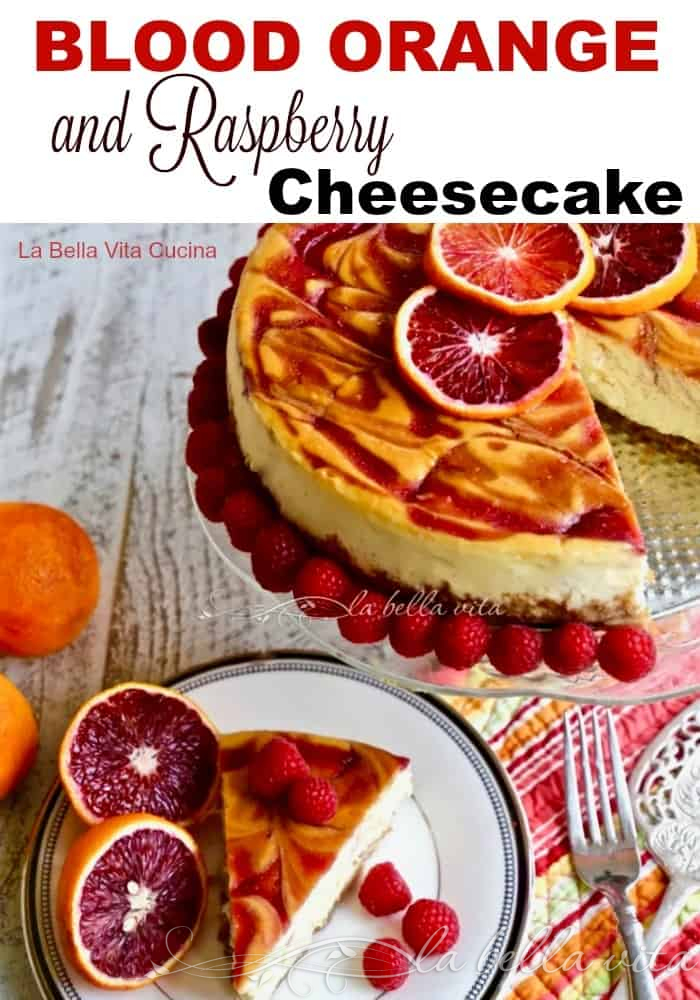 Print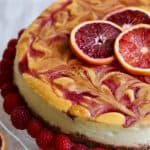 Blood Orange and Raspberry Swirl Cheesecake
Author:
Prep Time: 0 hours
Additional Time: 0 hours
Cook Time: 0 hours
Total Time: 0 hours
---
Description
Your guests and you will love this creamy cheesecake with its unique hint of orange flavor, a marbled swirl of raspberries and a simply beautiful presentation.
---
For The Crust
18 graham cracker sheets
8 Tbsp. salted butter, melted
2 Tbsp. sugar
For The Raspberry Swirl Sauce
2 tsp. cornstarch
1 Tbsp. water
2 cups fresh raspberries
1/4 cup sugar
1 Tbsp. blood orange juice
For the Raspberry Coulis Sauce
The same as above, just make another batch
For the Cheesecake Filling
2 pounds (4 8-oz. packages) cream cheese, at room temperature
1 1/4 cups sugar
zest from two blood oranges
4 jumbo eggs, at room temperature
4 Tbsp. blood orange juice
1–1/2 teaspoon vanilla extract
1/4 cup sour cream
several cups of boiling water
Garnish
fresh raspberries and blood oranges
Fresh Raspberry Coulis Sauce
---
Instructions
Preheat oven to 350°F.
In a food processor, process graham cracker sheets into fine crumbs.
Pour in melted butter and pulse until the mixture clumps a little and resembles wet sand.
Press evenly into the bottom of a 9″ springform pan.
Bake for 10 minutes, then remove to a wire rack to cool.
Reduce the oven temperature to 325°F.
In a small/mini food processor, pulse the graham crackers.
Stir in butter and sugar.
In a small bowl, whisk cornstarch and water together; set aside.
Combine raspberries, ¼ cup granulated sugar, and 1 tablespoon blood orange juice in a medium saucepan.
Cook for 5 minutes over medium heat, crushing the berries with a fork as they cook down.
Stir cornstarch slurry into the raspberry mixture and bring to a boil.
Cook for another minute until sauce thickens, continuing to crush any raspberry pieces.
Strain sauce through a fine mesh sieve into a medium bowl to remove seeds, pressing the berries with the back of a spoon, pushing all of the liquid out.
Discard seeds and set sauce aside.
In the bowl of a stand mixer fitted with the paddle attachment, beat cream cheese until smooth and creamy.
Combine 1¼ cups granulated sugar and blood orange zest in the bowl of your food processor and pulse a few times to infuse the sugar with the citrus oils.
The sugar will turn light orange and look slightly wet.
Dump the citrus sugar into the cream cheese and beat on medium-high speed for 3 minutes, until the mixture is light and fluffy, scraping down the sides and bottom of the bowl.
Add eggs one at a time, beating until just incorporated, then scraping down the sides and bottom of the bowl between each addition.
Add 4 tablespoons blood orange juice and the vanilla extract and mix until just combined. Remove the bowl from the stand mixer and stir in heavy cream and sour cream by hand with your rubber spatula.
Completely wrapt the springform pan with 2 layers of heavy duty aluminum foil
Place your springform pan inside a large roasting pan.
Pour cheesecake filling into your springform pan and jiggle slightly to even out the top.
Drizzle the raspberry sauce over the top.
With a butter knife, drag it over the raspberry sauce in a zig zag pattern, up and down and left to right, to create a marbled effect on the surface of the cheesecake.
Don't put the knife in all the way to the bottom or you'll dig up your graham cracker crust.
Place the springform pan (encased in a cake pan or foil) into a large roasting pan and place on the middle rack of your oven.
Carefully pour boiling water into the roasting pan until the water comes about halfway up the sides of the springform pan.
Bake for 90 minutes, until the edges are set, but the center jiggles a bit.
Turn off the heat, prop the oven door open with the handle of a wooden spoon, and let the cheesecake rest in the oven for 1 hour.
Carefully remove the springform pan from the water bath and set it on a wire rack to cool to room temperature.
Cover and refrigerate until chilled, 4 hours or overnight.
When ready to serve, carefully run a small offset spatula around the edge of the cheesecake to loosen the sides.
Unlatch the springform ring and remove it.
Place fresh raspberries and slices of blood oranges on the top for garnish.
Serve with raspberry coulis sauce.
---
Great kitchen items to help you make the perfect cheesecake!
I couldn't cook or bake without my glass mixing bowl set of 9 different sizes. A classic necessity in any kitchen!
4 sizes of springform pans with a cake tester! WOW!
.
Here are a few delicious cheesecake recipes for you to enjoy: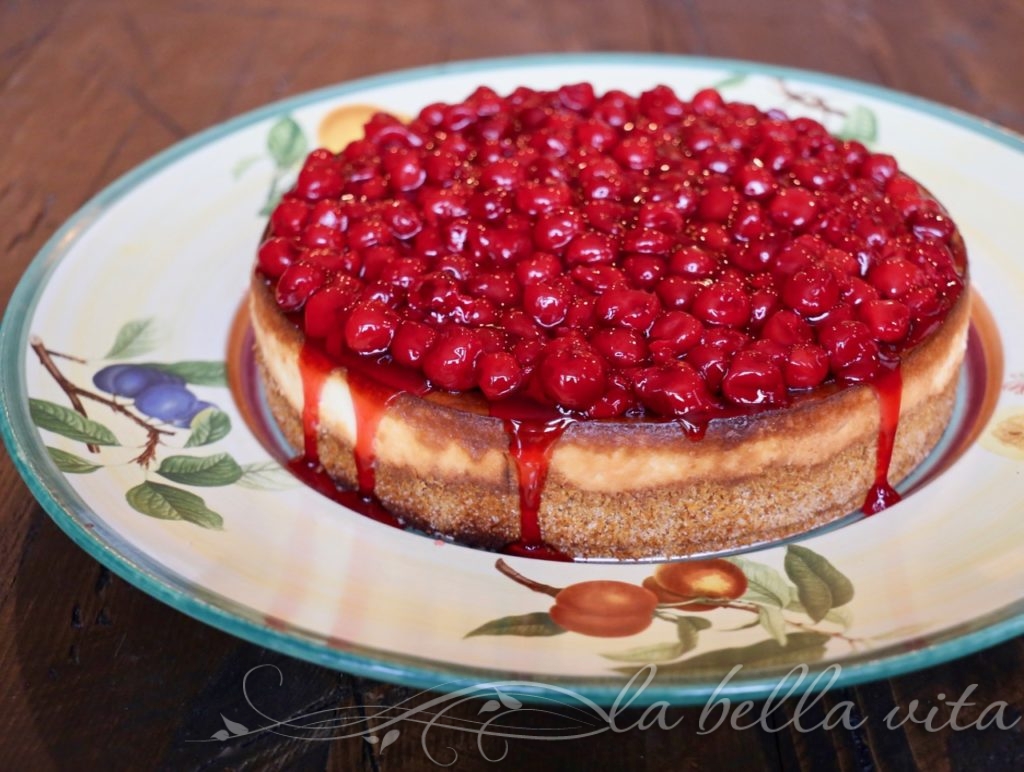 The Best Cheesecake and How To Make It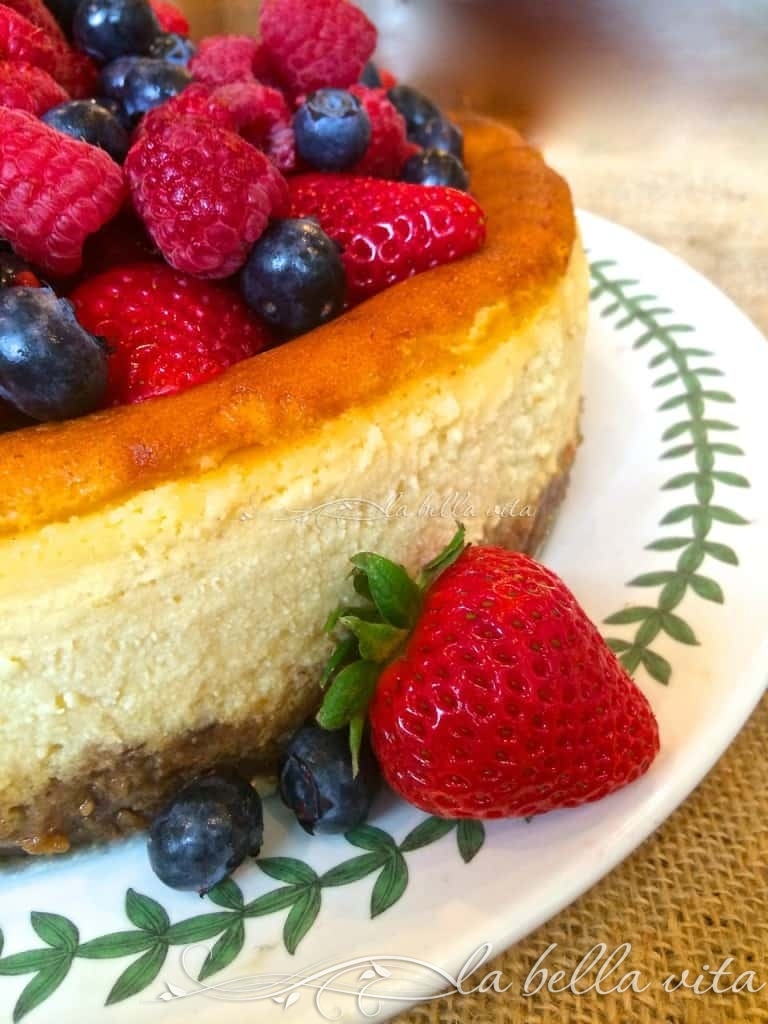 Italian Mascarpone & Ricotta Cheesecake with Raspberry Almond Crust
Original post May, 2015 and updated for re-posting January, 2020
This post contains affiliate links. Please read my disclosure policy.
.
.