How To Make a Perfect Frittata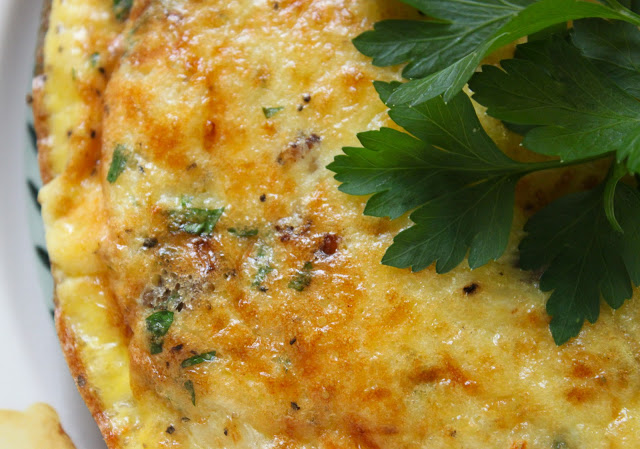 One of the most amazing, creative, and effortless dishes where eggs are the star of the show is a frittata. You can become a pro at this with these comprehensive guidelines and tips on how to make a frittata.
If you haven't yet made a frittata, I'm here to help you learn how make one perfectly. One that is creamy and chock full of delicious cheese and ingredients of your choice. Especially a recipe that is easy and not intimidating! Simply whisk some eggs with milk/cream, add veggies and/or meat, toss in some herbs and you've got a delicious meal in less than a half hour.
The options for ingredients to add to a frittata are limited only to your culinary imagination! Just add your favorite veggies and cheese to the egg mixture and you're on your way!
Once you get the hang of it, they're so easy to make. You'll love preparing them so much that you'll find yourself making them more and more. What's nice about frittatas is that they can be enjoyed not only as a hearty, filling breakfast, but also for lunch or dinner . . . and they're perfect for brunch. In Italy, it's common to take a slice to work for lunch. When packed for lunch, they can be enjoyed either warmed up or not.
The Italian word frittata derives from 'friggere' which means 'fried', a term used for cooking eggs in a skillet. A frittata is not the same thing as an omelette or quiche. A quiche has a crust, whereas a frittata does not. One less thing to have to fuss about!
Traditionally, a frittata is started on the stove in an oven-safe skillet and then finished off in the oven. However, it's fine to bake them completely in the oven, either as one whole frittata or separated into mini-frittatas baked in muffin pans.
.
.A "frittata" is Italy's distinct version of an omelette, and differs from omelettes and quiche in many ways:
A frittata always has at least one optional ingredient included, whereas an omelette can be made with eggs only.
Frittata and such ingredients are combined with the beaten egg mixture while the eggs are still raw rather than being laid over the mostly-cooked egg mixture before it is folded, as in a conventional omelette.
Eggs for frittata may be beaten vigorously to incorporate more air than traditional savory omelettes, to allow a deeper filling and a fluffier result.
The mixture is cooked over a very low heat, more slowly than an omelette, for at least 5 – 10 minutes, until the underside is set but the top is still runny.
The partly cooked frittata is not folded to enclose its contents, like an omelette, but it is instead either turned over in full, and cooked grilled briefly or baked in a very hot oven and finished under a the oven broiler to cook the top layer for around five minutes.
.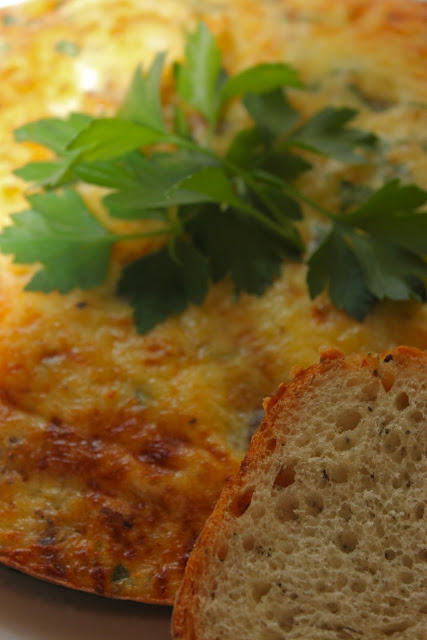 Start with the Basic Frittata Recipe
For every six eggs (whisked well), use:
1/4 cup heavy cream or whole milk
1 cup cheese
2 cups total of pre-cooked vegetables and/or meat
1/2 teaspoon of salt.
These proportions promise results for a more creamy, custard-textured frittata.
Ingredient Options for a Frittata
A frittata is a good vehicle to use numerous ingredients. Use your culinary creativity!
Vegetables
Spinach, swiss chard, arugala
Artichokes, mushrooms, zucchini
Bell peppers
Broccoli, carrots
Green onions, yellow onions
Cherry tomatoes, potatoes
Always pre-cook and season vegetables until 'al dente' (not too tender) before adding any eggs. This prevents a watery consistency from forming. Raw veggies can either be sautéed, steamed, or roasted. Since the oven will be on, roasting brings out a stronger flavor of the vegetables.
Cheese
Fontina, Asiago, Parmigiano, Mozzarella
Feta or Goat
Cheddar
Cheese makes a HUGE difference in both the added flavor and the additional creaminess of a frittata. Use more for a garnished topping on top of the finished frittata.
Dairy
Cream, half and half, whole milk
Sour cream, crème fraîche, yogurt
Use full-fat dairy. Don't omit the dairy component in a frittata since it will be less creamy and be lacking in flavor. The addition of dairy makes the texture a little more custardy.
Meat
Sausage
Pancetta
Prosciutto
Herbs
Garnishes and Toppings
Add visual interest to a frittata by finishing it off with an attractive garnish using ingredients that match what you used inside the frittata.
Sprinkle on snipped fresh herbs such as Italian parsley, basil, chives, etc.
Consider a dollop of sour cream, pesto, or salsa.
Drizzling a complimentary vinaigrette or a balsamic glaze adds visual appeal and another layer of flavor.
Tips on How To Make a Perfect Frittata
Use a well seasoned cast iron or nonstick, oven-safe skillet. If you don't use a nonstick skillet, add a little coating of oil to the pan so the frittata doesn't stick to the pan.
When baking a frittata in an oven only, make sure that the baking dish or muffin tin pan is nicely coated with oil to prevent it from sticking to the pan.
For the baking stage, use an average oven temperature and place the frittata on the middle rack.
Don't overcook your frittata. It will turn out dry. Keep your eyes on it to occasionally check to see how it is coming along and not burning. Bake it until it is puffy with a little bit of jiggle in the middle. The frittata continues to bake while it rests, just like any baked foods do.
I like a slightly golden color on the top of a frittata. To do this, just place the frittata at the end of the baking period under a hot oven broiler for no more than 5 minutes. Remember, you must keep a diligent watch on it if you choose to do this to prevent any burning.
Frittata can be started ahead of time when using the baking in the oven only method. Blend all of the ingredients together, cover with foil and keep in the refrigerator until it's time to bake. I wouldn't let it set more than 1 day in the refrigerator though.
If the frittata sticks to the pan, let it set for 5 minutes and then take a flat, thin metal spatula (the kind that works great flipping burgers) and gently go under the frittata to slowly release the frittata. If it's messed up, than serve it top-side instead of flipping it over onto a pan.
Serve a side dish such as hash browns or roasted potatoes and crusty, artisan toast for breakfust. For lunch, brunch, or dinner, serve a frittata with a leafy green salad, assorted fruits, and a popover or muffin.
Store leftover frittatas in the refrigerator in an airtight container or covered with foil or plastic wrap for up to 4 days.
Serve leftover frittatas chilled, at room temperature, or gently warmed in a microwave or toaster oven.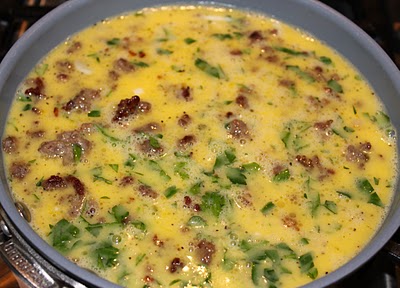 .
All ingredients except the cheese beginning to cook on the stove in a small non-stick fry pan.
.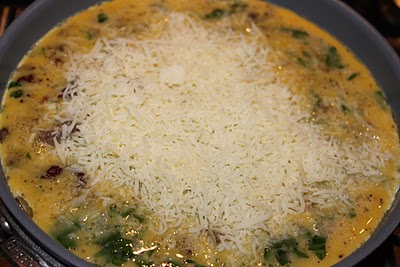 .
.Add the cheese and gently blend in.
.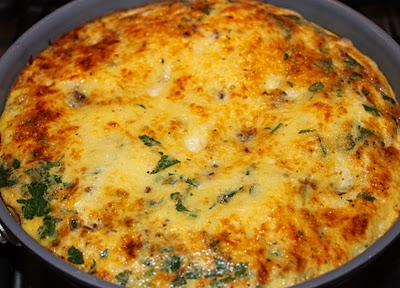 .
.Straight out of the oven, a golden-brown top on the frittata.
.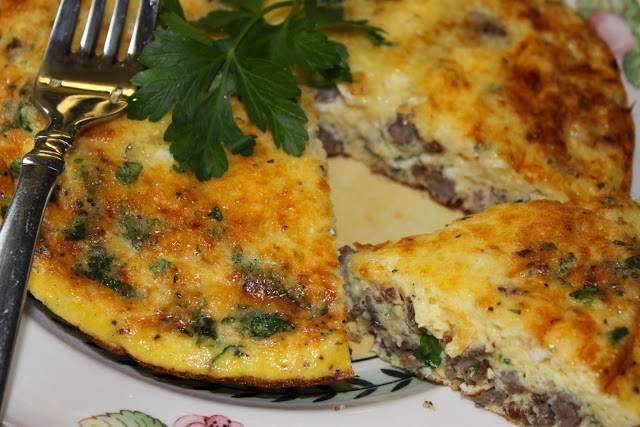 .
One wedge is cut out and ready to bite into and pop in my mouth for breakfast today!
And now you know how to make a perfect frittata and you can be the pro to teach anyone else how to make a perfect frittata! How about that?
,
I use any either of these skillets and highly recommend them to help you in your cooking: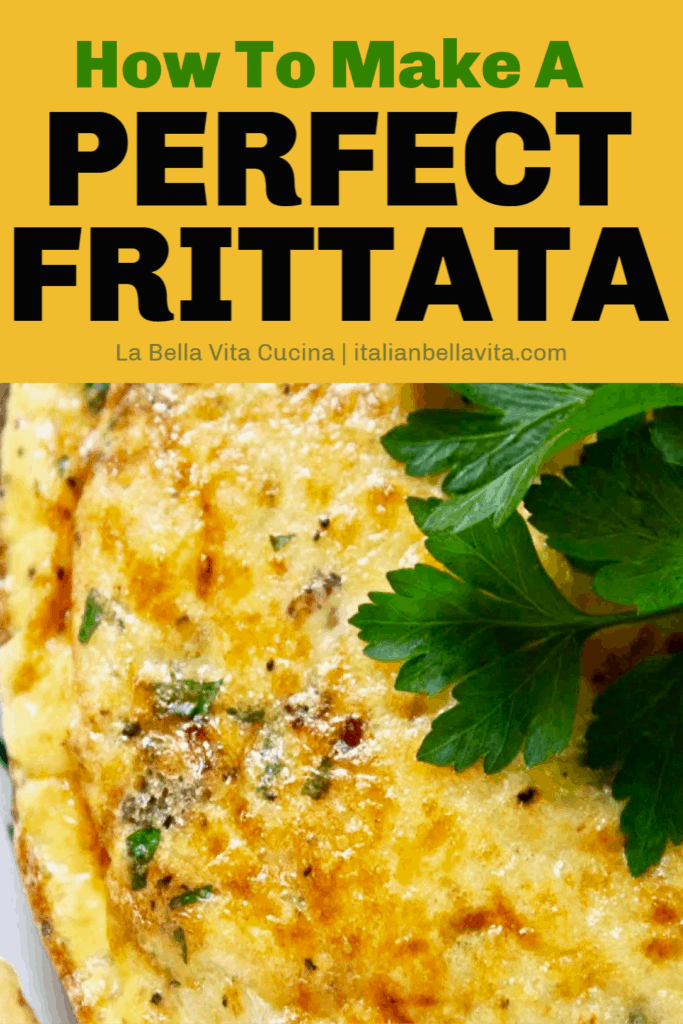 Print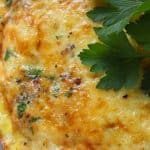 Frittata with Italian Sausage and Cheese
Author:
Prep Time: 15 minutes
Additional Time: 0 hours
Cook Time: 15 minutes
Total Time: 30 minutes
Yield: 6 servings 1x
Category: Eggs
---
6 jumbo eggs
1 pound mild (sweet) ground Italian sausage
3 – 4 green onions, chopped
1/4 cup whole milk or heavy cream
1 cup 6-cheese Italian blend of finely grated cheese
1/4 tsp salt
4 Tbsp. fresh Italian parsley, chopped
---
Instructions
Cook the sausage in small, non-stick frying pan over medium-high heat until browned, constantly breaking up the sausage into small pieces, such as in a 'sloppy joe' sandwich.
Add the chopped onions to the sausage and cook a little longer.
Drain off any hot fatty grease.
In a medium bowl, beat the eggs with the milk, chopped Italian parsley, and salt.
Pour the egg mixture over cooked sausage and onions.
Sprinkle the grated cheese on top, gently blending into the egg/sausage mixture.
COVER and cook over low heat for 10 minutes, keeping an eye on the bottom (lift up with a spatula) to make sure that it is not burning.
Broil the frittata on the lower shelf of your oven until gold brown – – keeping an eye on it to prevent burning.
Let the frittata sit for 5 minutes before serving.
Garnish with freshly picked Italian parsley while it is setting.
Cut into wedges and serve with Italian artisan bread.
Salt and pepper to taste upon serving.
---
Keywords: how to make a frittata, frittata, egg recipes
.
.