Creamy Chicken Noodle Casserole with NO Canned Soup
Nothing beats a delicious, hot, baked casserole! If you're looking for one of the most comforting of foods that's also more healthy, than look no further than this absolutely delicious creamy Chicken Noodle Casserole with NO canned soup used at all!
This tasty and hearty Chicken Noodle Casserole will become a family favorite that everyone will love! Even the pickiest of eaters are guaranteed happy (and full) tummies!
Packed with all the delicious flavors of chicken noodle soup, but with an irresistible, thick creaminess and cheesiness. Best of all, it's made with simple ingredients, easy to prep in advance, and ready in just 30 minutes.
You can even make this for a second-round reheated with a layer of melted cheese on top! This makes a huge batch and since it's just my husband and me, so we had a LOT to make a second re-heated cheesy batch! YUM, it's great both ways! Just look below at how fantastic it looks!
I only use Reames Frozen Egg Noodles in my recipes that call for egg noodles. No other noodles come close to these super thick noodles. Once you taste them with their 'mighty forkin' noodles' reputation, you'll never use other flimsy noodles that easily break and fall apart. They're a total game changer!
They aren't available online, so I don't have a link for you. They're sold frozen in the freezer aisle of your food store. Plus, they sell out very fast, so if you find them, grab them!
So let's get cooking with these step-by-step photo instructions, OK?
Remember the chicken that you have after making homemade chicken stock/broth? Well here it is ready to plop into this delicious chicken noodle casserole! So much money saved by doing it this way!!!
Add the cut-up chicken to the frozen veggies
Remember that homemade chicken broth/stock that I made this week? Here it is ready to add some additional delicious fresh poultry flavor to the chicken noodle casserole! Again, this saves so much money!
Look, my friends! Creamy chicken noodle casserole with no canned soup! You read that right, NO canned soup in this recipe! NOPE! It's all good: whole milk (organic), sour cream, heavy cream, the preservative-free chicken broth that is so easy to make, and spices. Mix these all together for the incredible 'glue' to hold all of the ingredients together!
Give all of these a whirl
Then pour it all over the chicken and veggies
It may look soupy, but the noodles soak this sauce up during and after baking. My husband said the second time around that he wanted even more sauce. So don't worry!
After the noodles cook (in half the time stated on the package), place them (drained) in a big mixing bowl with one stick of butter. Now I know what you're saying: What a bunch of extra fat! Well, yeah . . . But the butter adds another layer of flavor and richness. If you prefer, you can simply leave it out.
For this chicken noodle casserole, I advise you to only use the super-thick frozen egg noodles by Reame's. I have been cooking with these fabulous noodles ever since I lived in Iowa where they were first made in a farmhouse kitchen!
In that same large mixing bowl with the buttery noodles, pour in the chicken, veggie, creamy spicy sauce and mix gently.
Pour the entire mixture into a large ceramic baking dish, this is 8 x 12-inch dish. All of the ingredients fit perfectly in this size pan!
Bake at 350 F degrees for 45 minutes. Cover with aluminum foil for the last 20 minutes to prevent any burning. The uncovered part of baking allows the noodles to become nice and golden on top.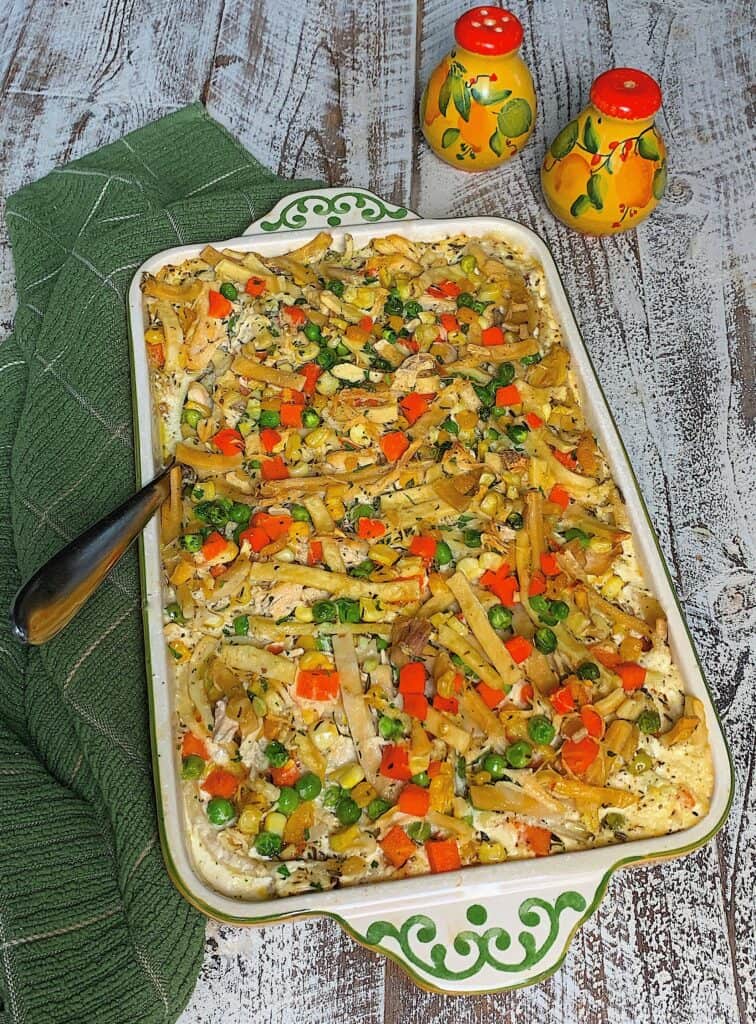 Products that I use and highly recommend: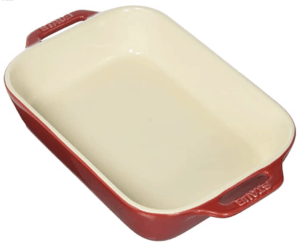 Staub 12″ Ceramic Baking Dish: THIS IS A STEAL!!! at $29.95 !
This chicken casserole is guaranteed to be a hit!
I hope that you try this recipe that I put together. I really believe that you'll love this creamy chicken noodle casserole with no canned soups used at all! Please do let me know if you make it and what you think! Even if you think it needs a little something!
Print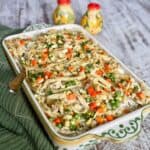 Creamy Chicken Noodle Bake
Author:
Prep Time: 45 minutes
Cook Time: 30 minutes
Total Time: 1 hour 15 minutes
Yield: 12 1x
---
3 cups boneless, skinned,cooked chicken, chopped
24 oz. Reame's frozen egg noodles
2 cups chicken stock (I use homemade)
1 cup whole milk
1 cup sour cream
1/2 cup heavy cream
1 Tbsp. poultry seasoning
1/2 tsp. dried sage
1/2 tsp. dried thyme
1 tsp. dried rosemary
2 large garlic cloves, minced
1/2 of a medium size onion, diced
12 oz. frozen peas and carrots (chopped)
2 cans Niblett corn or 1 package frozen corn
1 package 6-cheese grated Italian cheese (optional for the "Cheesy" version)
---
Instructions
Preheat oven to 350 F degrees.
Boil a pot of water for the egg noodles.
Chop up the chicken that has already been cooked or with a rotisserie chicken.
In a large mixing bowl, mix chicken with the vegetables (corn, carrots, and peas).
In a medium-size mixing bowl, mix the chicken broth/stock, milk, cream, and sour cream.
Add the spices and blend well.
Pour the spicy, cream/broth mixture into the chicken-veggie mixture and blend well.
Set this aside and boil the egg noodles for HALF of the time stated on the package — you don't want these mushy.
In a medium-size mixing bowl mix the hot egg noodles with a stick of butter until the butter is melted.
In the large mixing bowl, pour the buttered noodles into the chicken-veggie-cream mixture.
Optional: Spray cooking spray on your baking dish.
Pour the entire mixture into the baking dish.
Bake uncovered for 30 – 40 minutes. Place aluminum foil on top at the point when the casserole is golden brown and then continue baking.
Let set for 10 – 15 minutes to allow the creamy sauce to thicken a bit — the noodles will continue to soak up the sauce.
Serve with biscuits or mashed potatoes.
---