Creamy, Cheesy Dauphinois Potatoes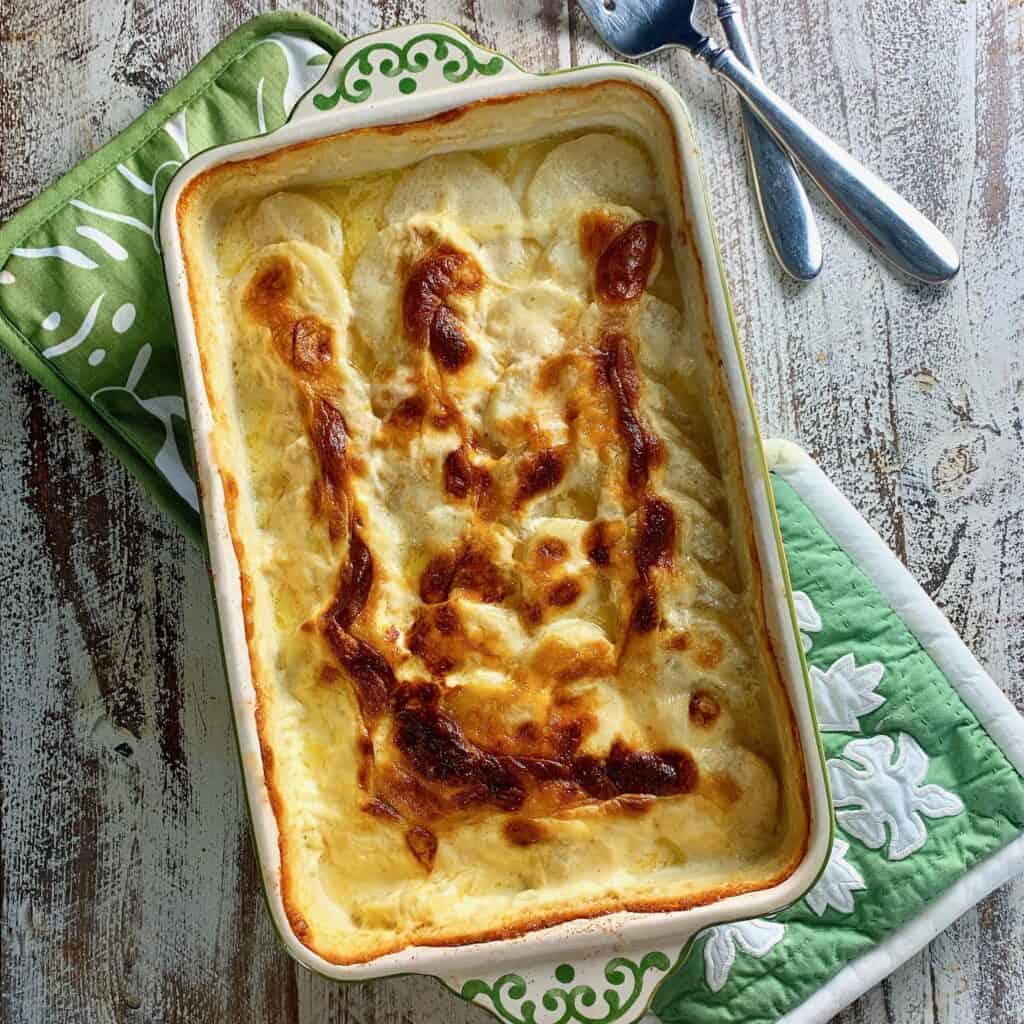 Got plenty of potatoes in that pantry stash of yours? Looking for that perfect comfort food? This recipe for Creamy, Cheesy Dauphinois Potatoes will quite possibly become one your favorite potato recipes. I know that it's at the top of my family's all-time favorites.
Literally heavenly bliss on your plate, this super easy, French classic recipe is the creme de la creme of potato recipes. Made with creamy layers upon heavenly layers of thinly sliced potatoes, cream, butter, garlic, and cheese . . . with a kiss of thyme! Sublime simplicity!
With Easter just around the corner, Dauphinois Potatoes are notches above your everyday scalloped potatoes . . . so luxurious and totally indulgent.
This very special, rich and elegant recipe is from one of my classic, retro '70s cookbooks that I still cherish to this day, "The Vegetarian Gourmet".
WHAT ARE DAUPHINOIS POTATOES?
Like many French things, Dauphinois Potatoes (pronounced dough-fin-whah) is just a fancy name for scalloped potatoes or potatoes au gratin, yet differs a bit in preparation and ingredients. Whatever floats your boat in what you like to call it, we can agree on the scrumptiousness of potatoes baked in a ooohhhhhh, sooooooo yummy, garlicy, buttery cream sauce!
It's simply a French dish of sliced potatoes baked in a creamy butter sauce. Basically taking the simplest of ingredients and elevating them to a delicioius euphoric level!
If you're wondering what the difference is: scalloped potatoes are made with a flour-butter-milk roux, whereas Dauphinois Potatoes are made with 100% indulgence: cream, butter and cheese. No flour whatsoever.
So I ask? Scalloped Potatoes or Dauphinois Potatoes?
No contest my friends! Cream-base sauces beat out flour-based sauces ANY. DAY. Dauphinois Potatoes for the win!
DAUPHINOIS POTATO INGREDIENTS
It's so amazing how only a few ingredients can turn into something so decadently, rich, and luxurious. You can NEVER go wrong with cream, butter, cheese and garlic! All the good stuff, even if totally fattening, star in this show!
I mean, we all know that pretty much anything savory is better with garlic right? This is …….soooooooooo good!
Potatoes
Milk
Cream
Garlic
Butter
Cheese (Gruyere, Cheddar)
That's it! Don't you just love it? It couldn't be more simple!
HOW TO MAKE THE PERFECT DAUPHINOIS POTATOES
This is not a complicated or difficult recipe at all, so don't let the fancy, posh French name scare you away. It's simply a gratin of thinly sliced potatoes layered with a creamy, garlic and thyme sauce. Thyme adds a bit more flavor, but it's not necessary if you don't have it. The garlic is the flavor that you want to shine anyway.
This very basic recipe can be easily adapted. Change the cheese and/or herbs to please your taste preferences and create your very own individualized version.
Here are the simple steps to make this insanely delicious recipe:
Thinly slice potatoes to the same size, about ¼″ thickness.
Slowly heat milk, cream, butter, garlic, thyme, salt and pepper.
Rub a baking dish with butter and garlic.
Layer potatoes in the baking dish and sprinkle either freshly minced garlic or garlic powder.
Pour on part of sauce and cheese. Repeat again.
Bake for 1 hour until bubbly.
Sprinkle cheese all over and bake 10 minutes more for a lovely golden brown topping.
Simple right?
WHAT ARE THE BEST POTATOES TO USE?
Oh my gosh, this is such an important issues in preparing this recipe! The type of potato you use will literally make or break a successful dauphinois.
For Dauphinois Potatoes the recipe must consist of firm potatoes able to withstand a long period of baking in a hot oven. They should also hold their shape when served. The right kind of potatoes won't collapse and disintegrate into mush . . . and you don't want that. If that happens, you might as well beat them up and mash them at that point!
You can use either starchy or waxy potatoes in a Dauphinois Potatoes, but this recipe turns out perfectly with starchy potatoes.
Some recipes (including this one) use a drier, starchy potato variety that tends to breakdown and become soft, yet holds their shape under a lovely golden cheese topping. For starchy potatoes use:
Idaho Russets
Sebago (in Australia)
King Edward or Maris Piper (in the U.K.)
Other recipes state that yellow or red waxy potatoes hold up their shape better when baked in the hot oven. However, waxy potatoes are the kind used for potato salads, in my opinion. Waxy potatoes to consider:
Yukon Gold
Charlotte
Jersey Royals
Baby/mini potatoes
Red potatoes
With a little help from my trusty camera and step-by-step photo instructions, you're going to learn how to bake the most delicious, creamy potatoes you could possibly imagine!
First, peel the potatoes and slice into ¼" slices with all slices in the same thickness as much as possible.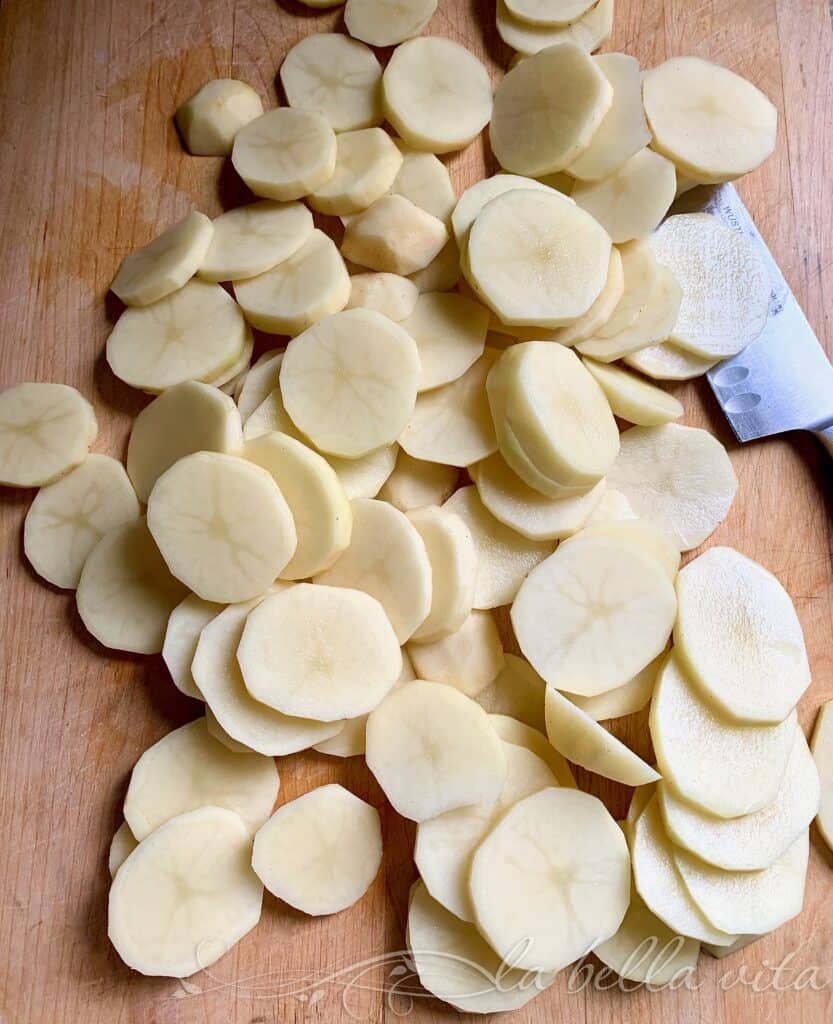 Butter the entire baking dish, sprinkle with garlic powder or minced garlic.
Place a layer of potatoes in attractive rows.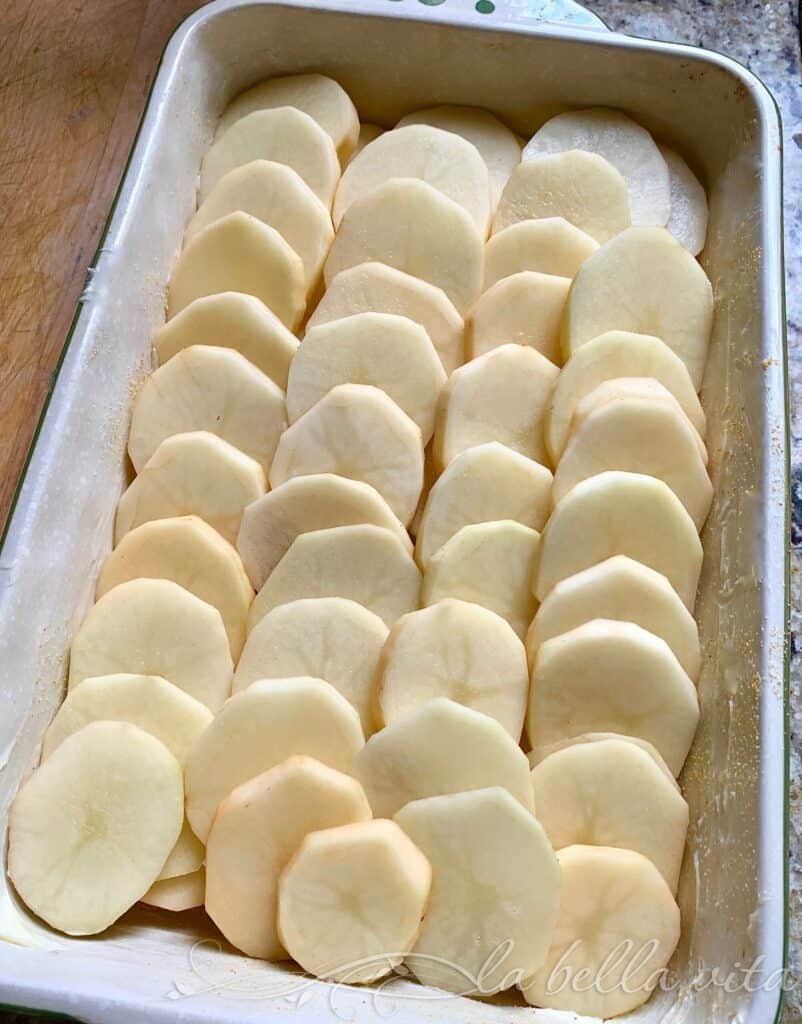 Sprinkle potatoes with garlic powder or minced garlic.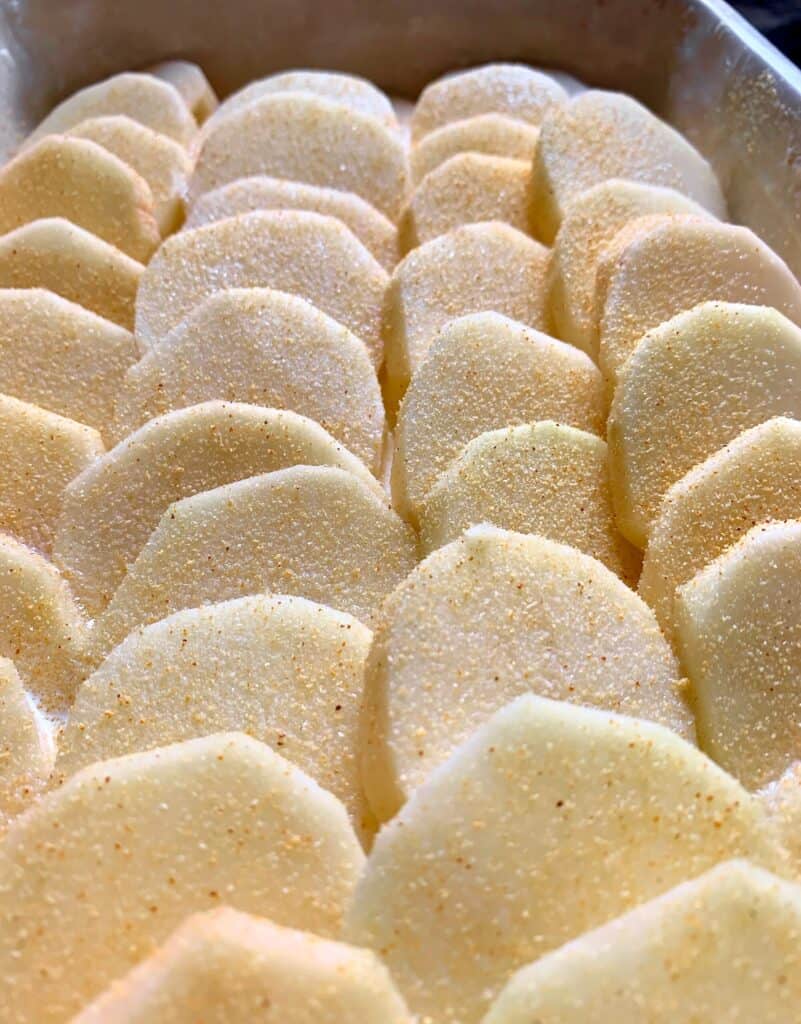 In the meantime, on low heat, simmer the cream, milk, butter, and garlic (and thyme that's optional).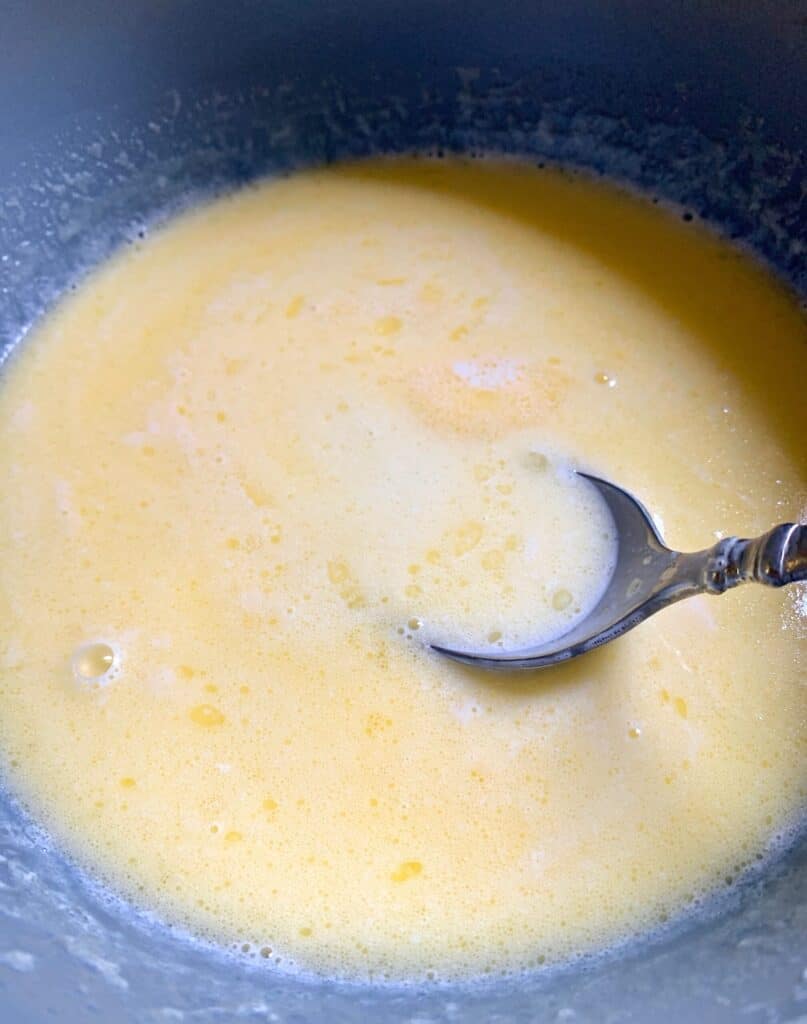 Pour the cream sauce over the first layer of potatoes, and then repeat with a second layer of potatoes and cream sauce.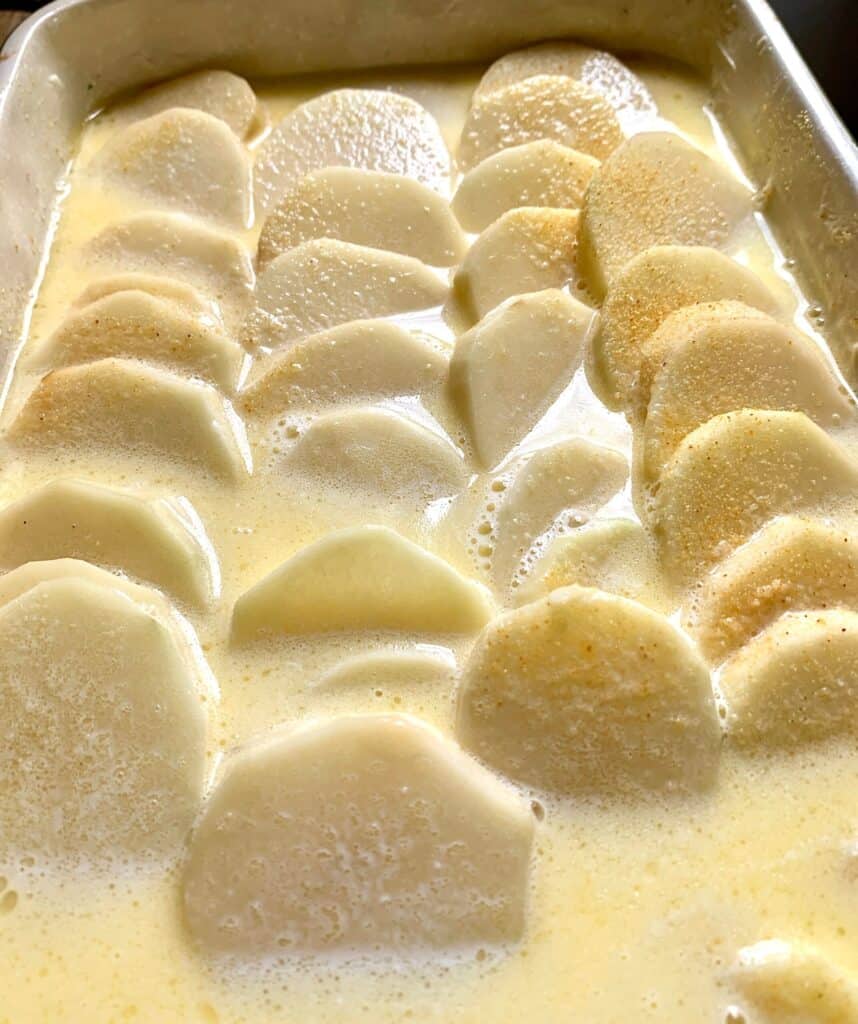 Sprinkle grated cheese in between the layers of potatoes (and then again during the last 10 minutes of baking, layer more cheese on top to create the golden brown topping).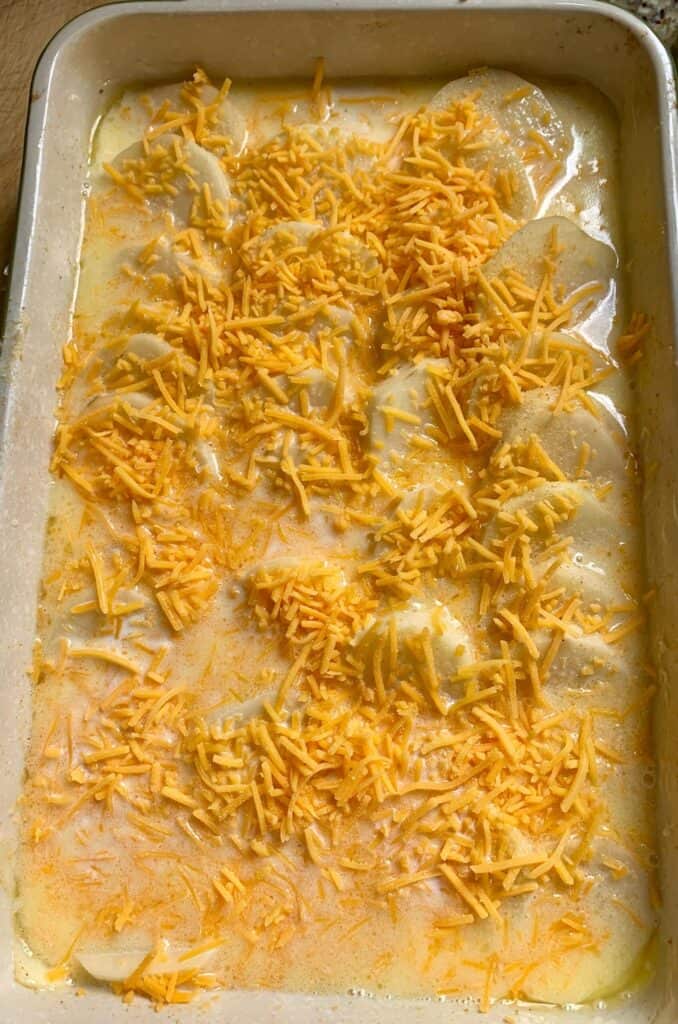 Bake for 1 hour. At first uncovered, but when it starts to become golden, cover with aluminum foil to prevent burning.
Sprinkle on top layer of grated cheese and return to the oven for another 10 minutes to melt and become golden brown. Keep an eye on it to avoid burning.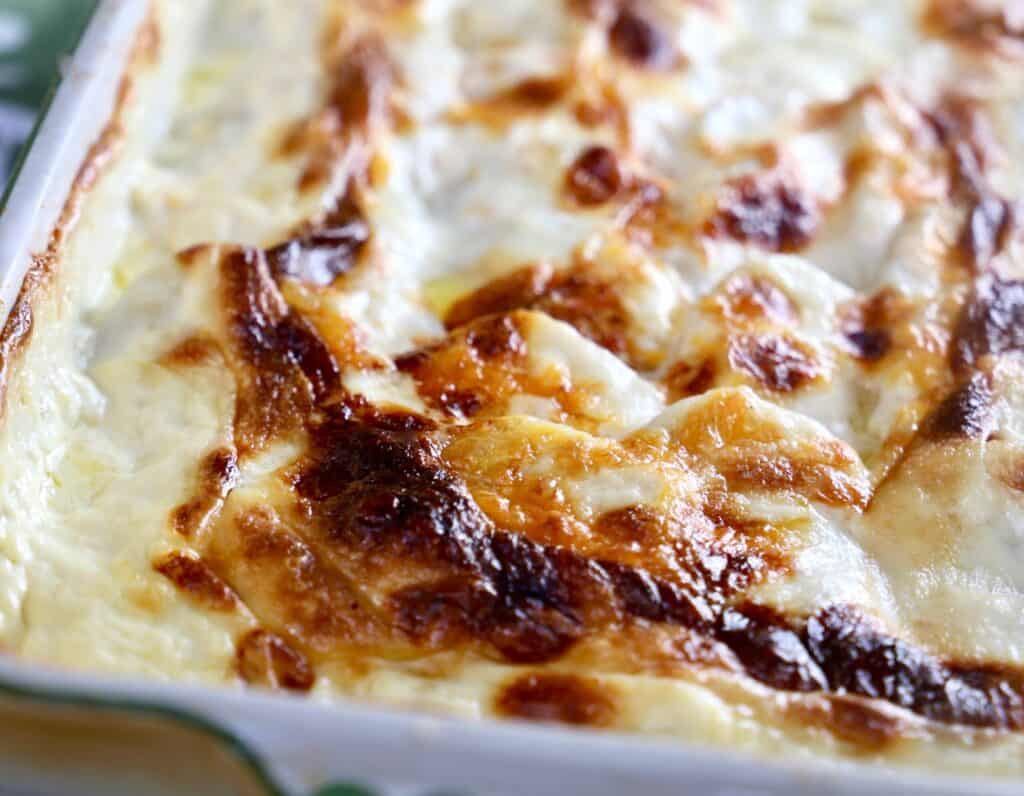 Serve and get ready for the compliments, with numerous people begging for the recipe!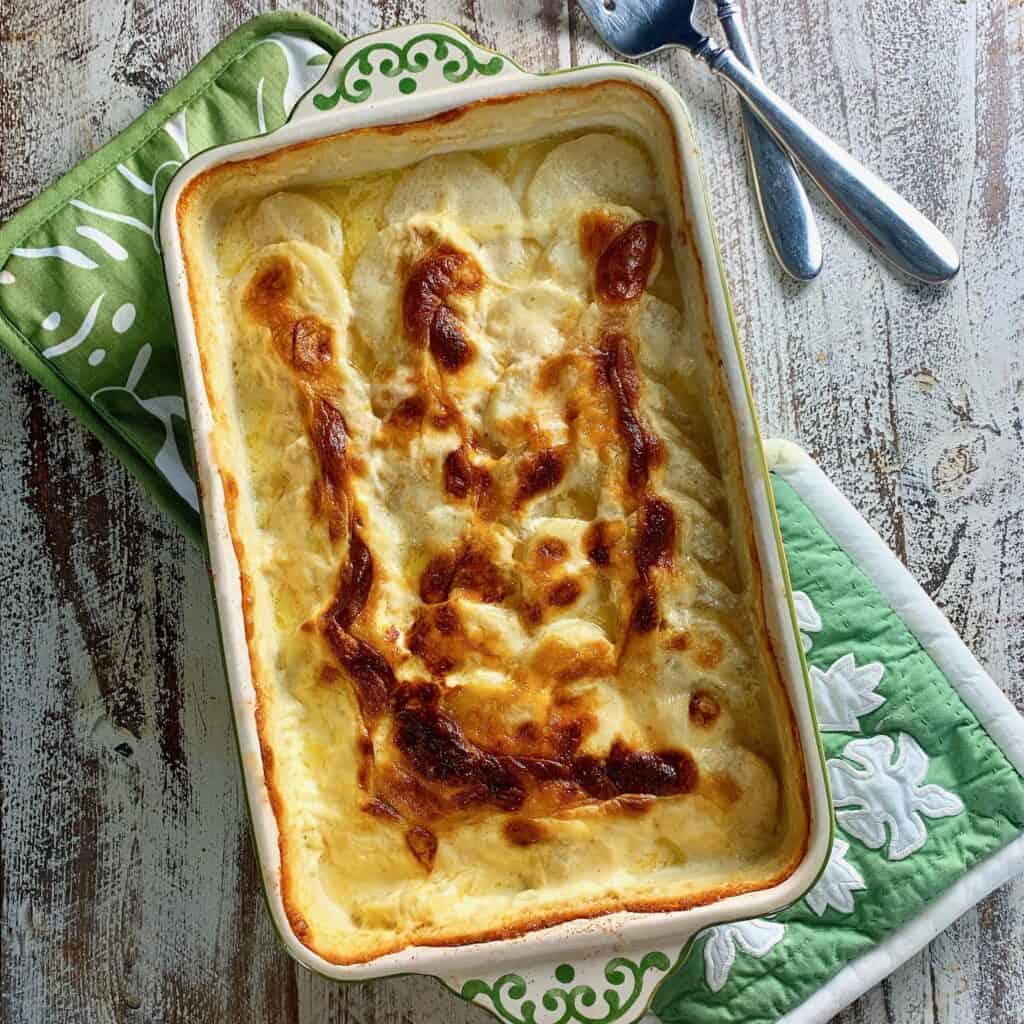 TIPS FOR THE BEST DAUPHINOIS POTATOES
Make sure all over your slices are the same thickness so they cook at an even rate.
Use layers of potato and sauce to ensure a full coverage of cream on the potatoes.
Use HEAVY cream only.
Heat the milk, cream, and butter sauce on a very low, simmering temperature so it doesn't burn or curdle.
Spread soft butter all over the inside of the baking dish before layering the potatoes. Not only does the butter help cook the potatoes better, but the butter enahances the dish with an irresisitable buttery flavor!
Instead of adding crushed garlic, you could either rub garlic cloves or sprinkle garlic powder all around the gratin dish before adding the potatoes. Any of these methods work as good as the other.
Keep a close eye on the potatoes after they bake for 60 minutes. When they get to brown, immediately cover the baking dish with aluminum foil.
Bake low and slow: Low oven temperature is critical and baking for a long time. This keeps the cream from becoming a horrible mess!
Insert a knife into the potatoes to check and see if they are cooked completely. Not only should they have a good, soft texture, but the top should be golden and most of the creamy mixture reduced and absorbed into the potatoes.
WHAT TO SERVE WITH DAUPHINOIS POTATOES
These potatoes make a superb side dish for any roasted meat, whether roast beef, pork tenderloin, baked ham, alongside a delicious steak, or paired with many other entrees. When the oven is hot, you can use it for both the potatoes and your main dish!
Dauphinois Potatoes pair beautifully with:
Grilled Basil Buttered Chicken
Garlic-Buttered Blackened Redfish
Always serve with a simple green vegetable such as peas, broccoli, or asparagus because the potatoes are so incredibly rich!
FEED YOUR POTATO OBSESSION WITH THESE RECIPES:
I invite you to join this wonderful foodie community! – You'll receive all of the awesome recipes by signing up PLUS receive your FREE e-Cookbook! Stay in touch on Pinterest, Instagram, and Facebook.
REMEMBER TO PIN FOR LATER!
.
Here is this delicious classic potato gratin recipe for you!
M-m-m-m-m-m, this is just heavenly and such a pleasure to present on any special occasion table!
Yield: 8 - 10 servings
Dauphinois Potatoes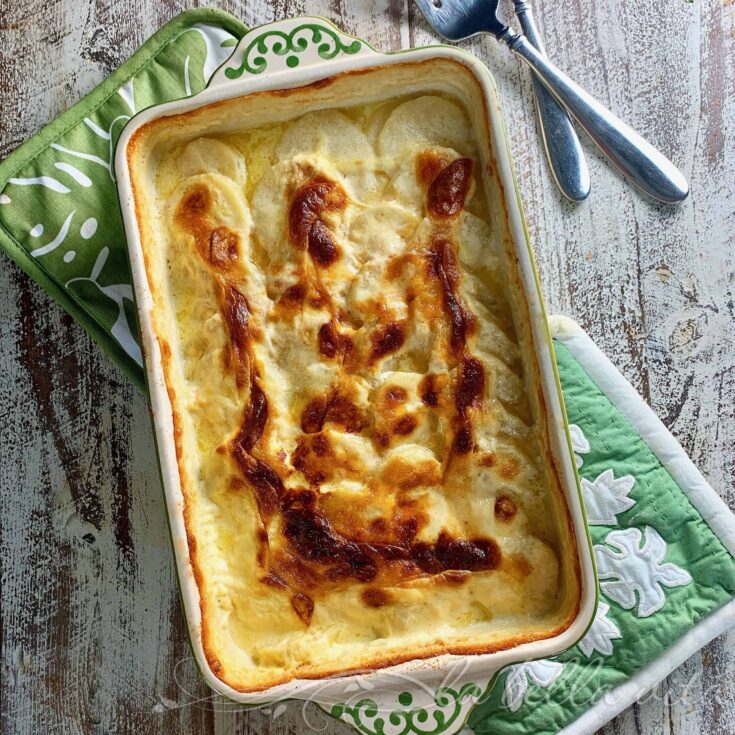 Yes, French, and not Italian. But these potatoes are extraordinary and I serve them for all special occasions and holidays where they pair perfectly!
Prep Time 20 minutes
Cook Time 1 hour
Additional Time 10 minutes
Total Time 1 hour 30 minutes
Ingredients
2 cups cheddar cheese, shredded
6 Tbsp. butter
2 cups whole milk
2 cups whipping cream
4 large cloves garlic, minced
9 - 10 medium Idaho potatoes (peeled and thinly sliced)
1/2 tsp. salt
Freshly ground pepper
thyme (optional)
Instructions
Butter a 9" baking dish.
Gently heat the milk and cream in a saucepan, add the butter, salt and pepper.
Rub the inside of the baking dish with the garlic or sprinkle the bottom with garlic powder.
Arrange a layer of potatoes in overlapping layers in the baking dish.
Sprinkle with garlic powder or more minced garlic
Pour half of the milk/cream sauce over the potatoes.
Sprinkle half of the cheese on top.
Arrange a second layer of potatoes in overlapping layers in the baking dish.
Pour the remaining half of the milk/cream sauce over this second layer of potatoes.
Bake in a preheated 350 F degree oven for 60 minutes or until the potatoes are cooked and well-golden browned on top and the milk has become a creamy sauce. Cover with aluminum foil the moment that the potatoes begin to become golden (you will uncover to brown them in the next step).
Sprinkle the grated cheddar cheese on top of the hot, baked potatoes and bake for another 10 minutes.
Notes
This very special, rich and elegant recipe is from one of my classic, retro '70s cookbooks that I still cherish to this day, "The Vegetarian Gourmet".  
.
Have you made any recipes on this blog? What an honor if you have! Take a photo and share it on Instagram and tag @italianbellavita. I'd love to share your results in our newsletter!
Originally posted November, 2008. New content & new photos posted March, 2020.