Strawberry Spinach Salad with Strawberry Balsamic Vinaigrette
Strawberry Spinach Salad
Fresh, juicy strawberries are ready to harvest now! Whether from your own garden or from your local farmers' market, strawberries are ripe and ready for picking! So during this season of strawberry abundance, it's the perfect time to use them in your recipes. I just had to start off with this amazing Strawberry Spinach Salad with Strawberry Balsamic Vinaigrette!
This is just one of the all-time best salads and certainly a big favorite in my family! Not only is this salad beautiful to the eyes, but it's also incredibly delicious and easy to prepare.
Talk about being ripe with vivid red color!
Just look at these! Strawberries simply confirm that we should eat beautiful as well as delicious food! This Strawberry and Spinach Salad satisfies both perfectly!
You'll find that this Strawberry Spinach Salad has the most delightful blend of flavors and textures! After all, that's what makes an ordinary salad a GREAT salad! In every bite that you take as you're diving into this crisp salad, you get a symphony of saltiness, sweetness, and tanginess.
Fresh, crisp spinach studded with sweet strawberries, tossed in a tangy vinaigrette, with a delicate enhancement of red onion, sprinkled with the crunchy texture of nuts, and creamy goat cheese. It just bursts with flavor!
So enjoy the melody of ingredients' song to your tastebuds!
It's a perfect side dish for a group of guests on Easter, Mother's Day, or any holiday, brunch or a luncheon . . . yet it's easy enough for your own personal lunch. The strawberry balsamic vinaigrette is so refreshing . . . you can even make it ahead by a few days and keep it in the fridge.
Strawberry Poppy Seed Balsamic Vinaigrette!
Whenever you can, try to make homemade dressings. They are so much better for us and don't have all of those nasty preservatives! This sweet, yet tangy vinaigrette is so simple to put together and takes less than 10 minutes to prepare! So if time is an issue, this vinaigrette and salad will come to the rescue!
Can Strawberry Spinach Salad Be Made Ahead?
YES! Strawberry and Spinach Salad is a perfect make-ahead dish. Just remember to put the vinaigrette in a separate jar from the other ingredients stored in a covered bowl. Separating the nuts from the other ingredients prevents extra moisture from being absorbed into the nuts, making them soft. Then simply toss everything together just before serving to prevent the spinach from wilting and the other ingredients from becoming to mush.
Can I Use Other Fruits, Cheese, or Nuts?
Definitely! This salad can easily be customized to your taste preferences! Here are a few ideas for delicious substitutions:
You can use other berries such as blueberries, blackberries, or raspberries instead. Any fresh berries work well!
Apples, pears, and dried cranberries are great options to use in the fall in place of strawberries.
During winter add pineapple chunks or clementine oranges.
Don't have walnuts? You can try pecans, almonds, or cashews as well. Candied pecans are the bomb to use (either make your own with the recipe here or find them in the produce section of your local food store).
Don't have goat cheese crumbles? Feel free to switch them up with either feta, gorgonzola, or blue cheese crumbles – – all great substitutes for goat cheese.
What if you aren't a fan of red onions? Just leave them out!
More Delicious Options to Toss In:
Not a spinach lover? You can use romaine lettuce or mixed greens in place of spinach.
Avocado is another fantastic addition for some added buttery, creamy flavor and texture!
To simplify things, use store-bought glazed pecans.
Or maybe you want more crunch? Cucumber will do just fine for that texture!
If you want a fantastic main dish use leftover, grilled, or rotisserie chicken instead.
Other options for protein include crispy bacon and/or hard-boiled eggs (chopped or cut in half)
Last but not least, don't forget that you can add pasta (farfalle ~ bow ties are fun) to make a fruit-vegetable based pasta salad!
So do switch things up to make this salad perfect for your taste preferences!
More Fresh & Delicious Salads You'll Love:
Caprese Salad With Cherry Tomatoes
Classic Italian Tomato and Cucumber salad
Garden Fresh Italian Green Bean Salad
Fresh Peach Salad with Raspberry Vinaigrette
Fresh Thai Cucumber Salad with Two Thai Dressings
Print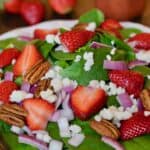 Strawberry Spinach Salad with Strawberry Balsamic Vinaigrette
Author:
Prep Time: 10 minutes
Cook Time: 0 hours
Total Time: 10 minutes
Yield: 3 – 4 servings 1x
Category: Salads
Cuisine: American
Diet: LowCalorieDiet
---
2 pints (small baskets) fresh, ripe strawberries, rinsed off, hulled, and sliced
1/2 red onion, sliced into 1" long pieces
1–1/2 cups walnut halves
1 large bag of baby spinach
1 cup crumbled goat cheese (not Feta)
Strawberry Balsamic Vinaigrette
Strawberry Balsamic Vinaigrette
1 cup fresh, ripe strawberries that have been cleaned, husked, and sliced
1/3 cup white balsamic vinegar
1/2 cup extra virgin olive oil
4 Tbsp. honey
1/2 cup granulated sugar
2 tsp. Dijon mustard
1 large clove garlic, peeled and minced
salt and pepper to taste
1 Tbsp. poppy seeds
---
Instructions
Prepare the Strawberry Balsamic Vinaigrette ahead of time, so that it is ready when you need it:
Place all ingredients, EXCEPT THE POPPY SEEDS, in a blender, Vitamix, or food processor.
Puree everything for 15 – 30 seconds. It doesn't take long at all.
Taste to see if your preferences require more sugar, salt, and/or pepper. My family prefers a less tart vinaigrette, so we add sugar until it's just right for us.
Mix in the poppy seeds.
Chill until ready to serve.
For the Salad:
either a large flat serving bowl or arranged on individual salad plates, place all of the spinach leaves (or divide equally among salad plates).
Place strawberries on top of spinach.
Place red onion slices all over the top of the strawberries.
Sprinkle the walnut halves all over.
Generously sprinkle the crumbled goat cheese over the entire salad.
Pass the dressing around to guests to ladle on individually.
Enjoy!
Buon Appetito!
---