The BEST Fried Green Tomatoes with Garlic, Bacon and Buttermilk Sauce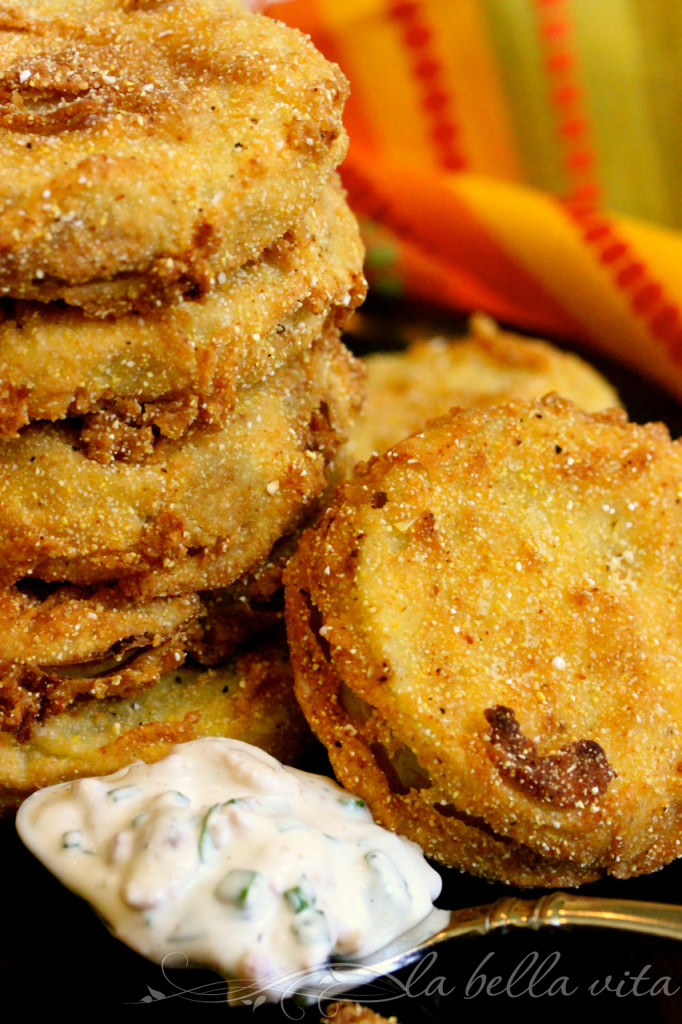 It's true! Fried Green Tomatoes are a cherished, summer tradition in the South!
Whether eating at home or dining out in the South in the hot days of summer, if you know that fried green tomatoes are going to be served or are on the menu, you won't hesitate to order this famous staple! In fact, it would almost be an unthinkable sin to pass up on this iconic regional dish!
Bet you can't eat just one!
This fried green tomatoes recipe is so simple and so delicious. Biting into the crunchy golden breading and into the tangy green tomato flavor takes you to summer food bliss in every single bite! Oh yes, they may be stubbornly unripe and green, but that's the perfect time to whip up a batch of this easy Southern specialty treat throughout summer! It's OK to indulge now and then on some fried food. Besides, if you just eat a few bites, my philosophy is that it's perfectly fine to enjoy everything . . . in little bites!
When garden season is in full swing and farmers' markets and stands are open, these shiny, green beauties will be waiting to appear on your table. I'm always so jazzed when my garden produces green tomatoes so that I can make the BEST Fried Green Tomatoes EVER! Don't have a garden? No problem . . . head to your local farmers' market or roadside stand to pick up some. Green tomatoes are available throughout the summer, but primarily early in the season.
So for those of us who have green tomatoes in your gardens, it's time to prepare this traditional Southern recipe.
Before the big batch of red tomatoes is ready to harvest, you simply pluck off the vine, some unripe, green tomatoes, and then encrust them in a perfectly delicious, seasoned breading. And then fry them until crispy, golden brown! To top it off, take those babies for a dip in this amazing buttermilk sauce! It really is over the top!
And YES, this is THE. BEST. Fried Green Tomato recipe. EVER!
The secret ingredient in this recipe: GARLIC!
With a superb buttermilk sauce to slop all over the fried tomatoes, filled with fresh-cut herbs from my garden PLUS more garlic and chunks of thick-cut bacon . . . totally heavenly . . . not quite totally Southern with the addition of the garlic . . . but TOTALLY AWESOME! The character of this recipe also comes from some hot sauce added to the garlic-y buttermilk and Italian breadcrumbs to the crust!
If possible, use a heavy cast-iron pan. Also remember to select firm green tomatoes, and fry in very hot oil at 360° (F).
So go grab an ice cold glass of sweet tea and just sit on a couple of rocking chairs on the front porch while enjoying the company of those you love and nibble on this classic Southern treat — The BEST Fried Green Tomatoes with Garlic, Bacon and Buttermilk Sauce!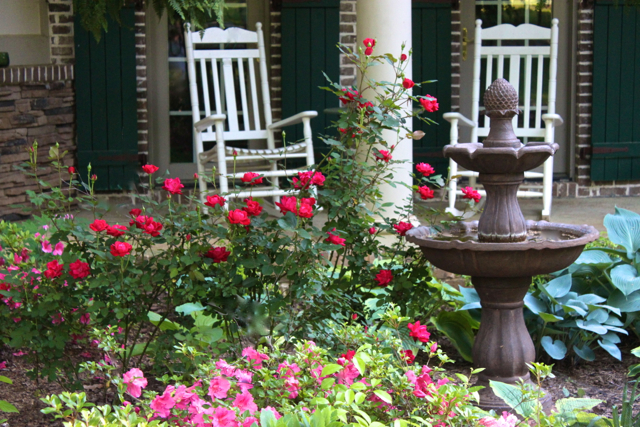 our front porch in South Carolina where we go to simply smell the roses, to sip on some ice-cold sweet tea and nibble on good eats!
What's the Best Breading for Fried Green Tomatoes?
Breading is often a personal choice.
Some cooks prefer cornmeal and others prefer flour.
Many people prefer to use panko today.
And then, of course, you can always create a blend of any of these to come up with your own breading.
How To Make Fried Green Tomatoes
Make this classic Southern dish in three simple steps!
Slice green tomatoes 1/4-inch thick. You'll need about 3 large green tomatoes for this recipe.
Coating the tomato slices in breading. You'll need 3 shallow dishes or plates to bread the tomato slices: Fill the first with flour, salt, and paprika — this layer seasons the tomatoes and gives the eggs something to cling to. Fill the second with whisked buttermilk, eggs, and hot sauce together, and in the third, combine breading (cornmeal, flour, panko, etc.).
Fry the tomatoes in a cast iron skillet that retains heat, making it the best choice for frying.
Cook the breaded tomatoes in hot oil in a heavy cast iron skillet . . . cook until a beautiful golden color results!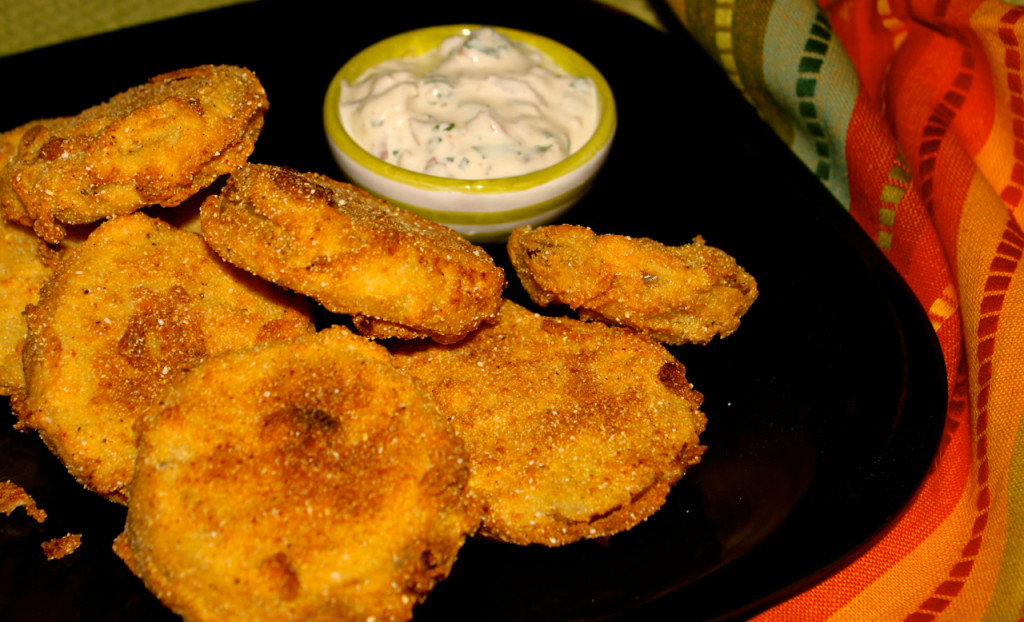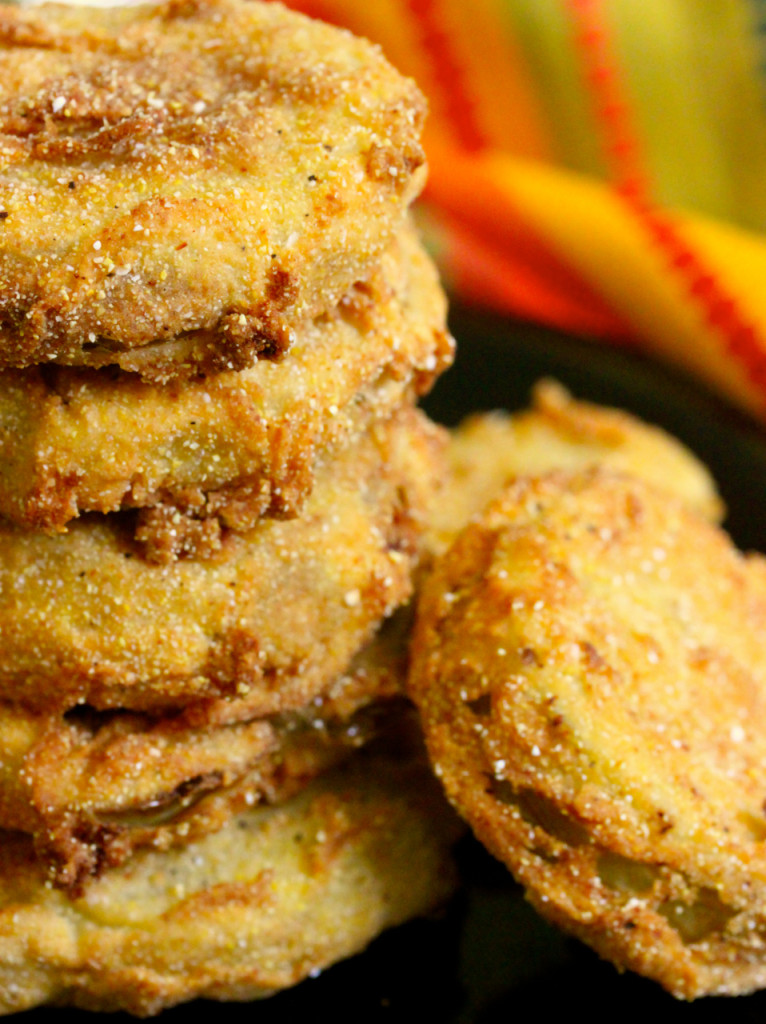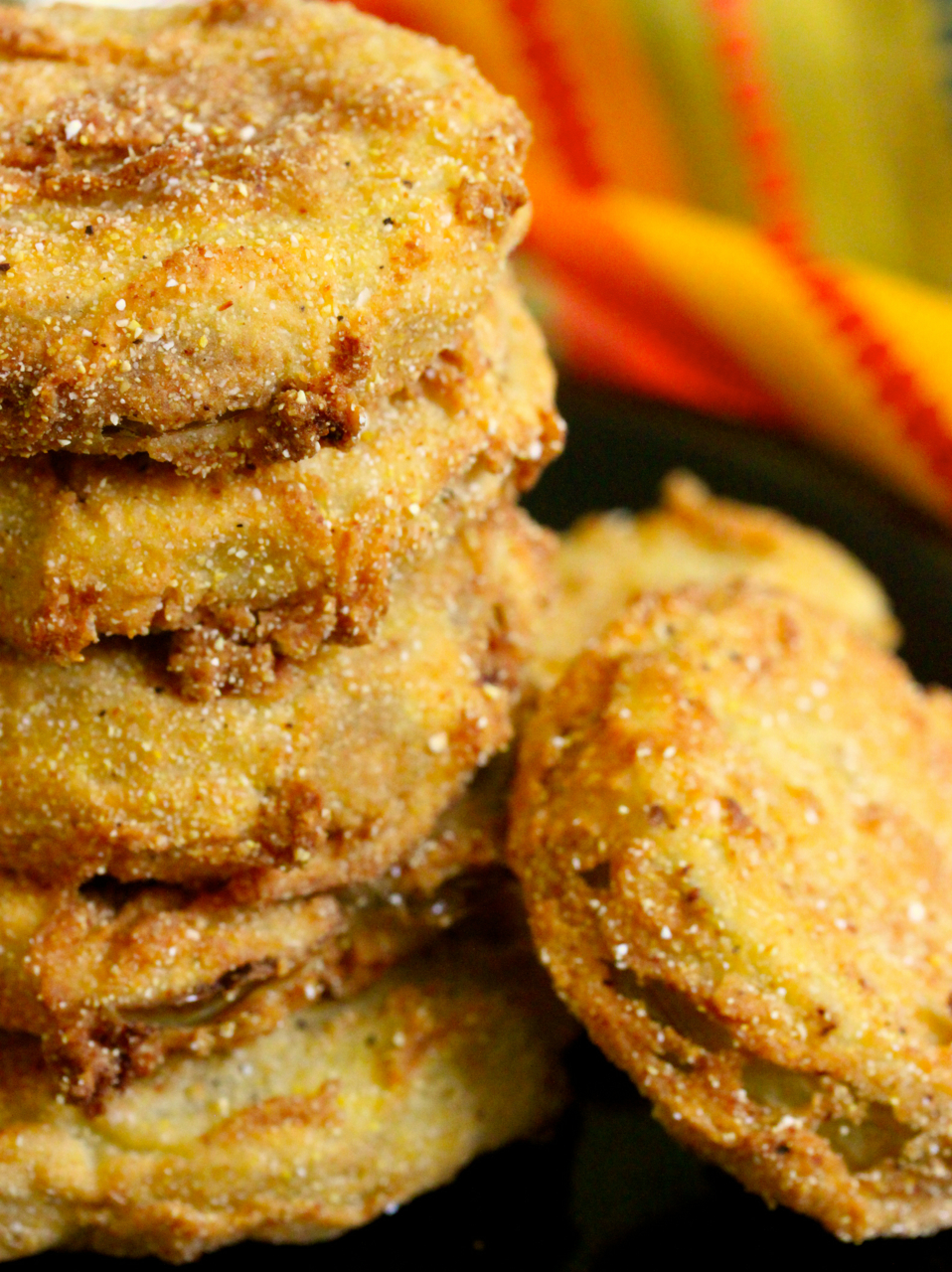 .Enjoy!!
Helpful Tips for Making Fried Green Tomatoes
For the best results, the first step to great fried green tomatoes is picking the right tomatoes:
Always select the firmest, shiny, totally green, unripe tomatoes without blemishes, spots, etc.
Do not use tomatoes that have the slightest yellow, orange, or red tint as they are becoming to ripe and will be mushy.
Do not use tomatillos or heirloom tomatoes for the same reason.
You want a full-sized tomato that is firm, not hard to the touch.
Choose any variety of tomatoes that you like, they basically all taste the same when they are green.
Use a serrated knife to slice the tomatoes into 1/4-inch-thick slices.
Tomatoes contain a lot of water so it's CRUCIAL to draw the juice out of the sliced tomatoes to help the breading stick nicely. So remember to 'salt' and 'blot' with paper towels. The salt helps remove the liquid. Blotting also helps and then removes the salt.
The key to breading the tomatoes is to use one hand for dry ingredients and the other for wet ingredients. You can also use tongs or two forks to handle the tomatoes.
Arrange the breaded tomatoes on a wire rack to set the coating.
Use a large heavy, cast iron skillet
Heat your oil on medium-high heat until it reaches your desired temperature of 350° F.
Once the oil shimmers, test the temperature and timing by frying one tomato slice. Once the oil is hot, continue frying.
Carefully place each slice of tomato into the hot oil and fry until golden brown on both sides.
Don't overcrowd the skillet.
Drain the fried tomatoes on a paper towel to soak up any excess oil.
SOGGY TOMATOES? Your cooking oil was not hot enough. A thermometer helps guarantee 350° F
What to Serve with Fried Green Tomatoes
Since tomatoes are a summer vegetable and are green only at that time, we HIGHLY recommend that fried green tomatoes be served alongside other traditional summer foods such as:
Grilled hamburgers or hot dogs
BBQ Ribs or Pulled Pork Sandwiches
Corn on the cob
Garden-fresh leaf lettuce salad
Strawberries, blackberries, and/or raspberries with vanilla ice cream
Ice-cold tea (sweet tea in the South)
Be CREATIVE and serve them stacked high on a plate with pimento cheese spread between each slice!
Place them on top of a juicy hamburger.
Include them in a bacon, lettuce, and tomato (BLT) sandwich.
Even cut them up and toss in a salad!
PIN FOR LATER!

Highly Recommended Kitchen Gear To Prepare This Recipe:


*Did you make this recipe? Please give it a star rating and leave a comment below!*
Print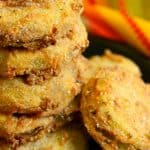 The BEST Fried Green Tomatoes with Garlic and Buttermilk Sauce
Author:
Prep Time: 0 hours
Additional Time: 0 hours
Cook Time: 0 hours
Total Time: 0 hours
---
8 green tomatoes, sliced 1/2″ to 3/4″ thick.
4 tsp. freshly-cracked sea salt
Garlic-Buttermilk Coating
2 cups whole buttermilk
1 large egg
4 tsp. chili sauce
1/2 tsp. garlic powder
Breading
3 cups all-purpose flour
2 cups yellow cornmeal
1 cup Italian breadcrumbs
1 tsp. freshly-cracked black pepper
Garlic, Bacon Buttermilk Sauce
4 slices thick-cut bacon
1/2 cup mayonnaise
1/4 cup whole buttermilk
2 Tbsp. fresh Italian parsley, minced
2 Tbsp. fresh chives, chopped fine
1 tsp. French Dijon mustard
1/2 tsp. chili sauce
1/2 tsp. garlic powder
1/4 tsp. (each) freshly cracked sea salt and black pepper
---
Instructions
Prepare the Garlic, Bacon Buttermilk Sauce
Cook at least 4 slices of bacon until nicely browned and cooked thoroughly.
Allow bacon to cool and then chop it up into tiny pieces.
Combine and mix the buttermilk and mayonnaise in a small mixing bowl.
Add the chopped bacon, Italian parsley, chives,mustard, chili sauce, garlic powder, salt and pepper.
Mix well, cover and chill.
Prepare the Tomatoes
Lay paper towels on top of several cookie/baking racks and place in a baking sheet.
Lay the tomato slices on the paper towels, generously sprinkling each layer of sliced tomatoes with approximately 1 – 2 tsp. of salt (on each layer).
Allow the salted tomatoes to sit and sweat for 30 minutes.
Shake the liquid from the tomatoes and pat dry with clean paper towels.
Heat a deep heavy pan half-way full of canola or vegetable oil, on the highest setting.
Prepare the Garlic-Buttermilk Coating
In a medium sized, shallow baking dish, mix the buttermilk, egg, chili sauce and garlic powder together.
Prepare the Breading
In another medium sized, shallow baking dish, mix the flour, cornmeal, Italian breadcrumbs, garlic powder, and ½ tsp. each of salt and pepper.
Preparation of the Fried Green Tomatoes
Place each slice of tomato in the buttermilk mixture and coat well on both sides, and allowing extra milk to drip off.
Place buttermilk-coated tomato slices in the flour-cornmeal mixture, covering both sides and slightly pressing down for the dry coating to stick.
Repeat the dipping into buttermilk and back into the flour-cornmeal mixture a SECOND time, again gently pressing so that the double-coating sticks.
Immediately and carefully place the coated tomato slices into the 'very' hot oil in a heavy cast iron skillet, being careful not to splatter the hot oil and not overcrowding the tomatoes.
I like to cook about 5 or 6 slices at a time so that the temperature of the oil does not drop and cause the tomatoes to cook slower and become more greasy.
The slices of tomatoes should be golden grown after about 2 – 4 minutes.
When cooked, carefully remove tomato slices from the hot oil with a large slotted utensil and place on clean paper towels to absorb oil.
---
Notes
Very adapted from Taste Of The South, most especially by adding the garlic and Italian breadcrumbs to the recipe, making it 10 times better! You'll taste the difference!!!
.This post
This post was first published in 2014 and re-posted with more information in 2020.
If you enjoy BOTH Fried Green Tomatoes AND Italian Cuisine, here's a superb recipe that I created that I'm sure you'll enjoy!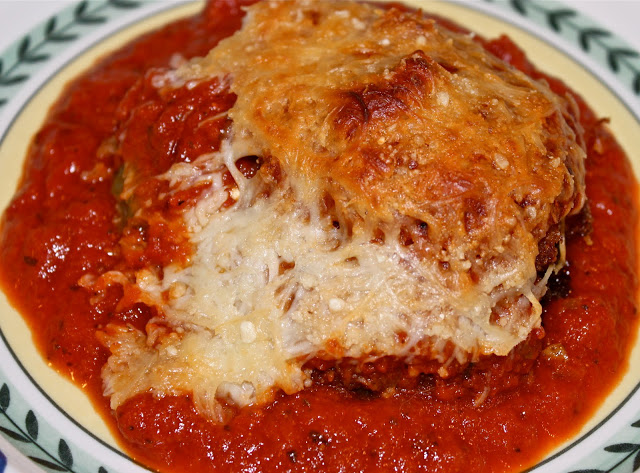 .
And here's the simple and freshest Marinara Sauce recipe that I make fresh from the garden: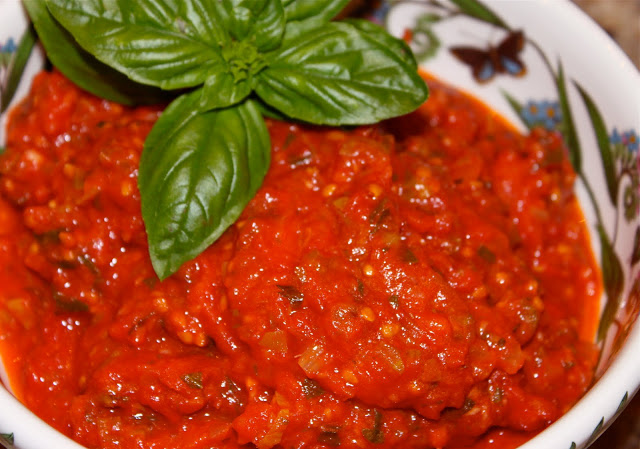 .
Finally, here are TWO (yes, two) more fantastic and authentic Southern recipes to use with my Fried Green Tomato Recipe: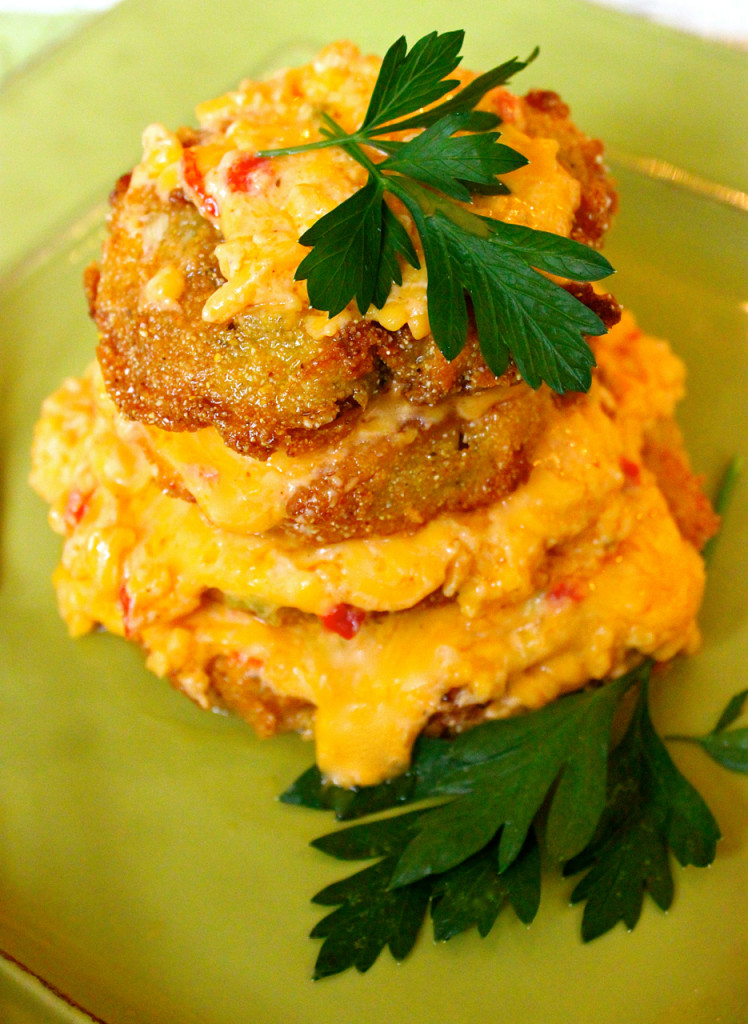 .
Tips for Frying Vegetables
When breading veggies the rule is: dry sticks to wet and wet sticks to dry. Wet with wet doesn't work; likewise, dry with dry doesn't work.
To get the breading to stick to vegetables, first, pat the veggies dry as much as possible. Then dredge them in a bit of seasoned flour (cornstarch or rice flour to make a crispier end product).
Next dredge the vegetables in your wet batter – either an egg wash or egg-buttermilk combination or you can try a tempura batter consisting of 1 cup ice water, 1 egg, and 1 cup flour.
Finish with a final dunk in some panko (Japanese breadcrumbs) or other dried, seasoned fine breadcrumbs.
You can either deep fry your coated veggies or fry them in at least 1″ deep of oil on moderate heat to avoid burning.
Also, remember to be extremely gentle when flipping over the vegetables so that the coating stays in tack.