How To Roast and Freeze Red Peppers
It's time for a bumper crop of peppers in your gardens, farmers' markets, and food stores! So if you want to preserve those garden-fresh peppers to enjoy all winter long, then I'm here to help you learn how to roast and freeze red peppers to use and enjoy later! (or any color of pepper too)! Truth is . . . I'll take a red pepper any time over a green pepper since I've come to love their sweet taste! Oh, and not to mention how healthy they are for us!
Tasty and healthy? Seriously? You've got both with red peppers!
Go beyond tossing these ruby babies in salads . . . give them a quick and hot roast . . . either in your oven (like I do) or on the grill (like my husband does . . . sorry, I can't grill; I'm just too scared of blowing things up)! Roasting red peppers is a super-easy way to let these red beauties SHINE with an intensified flavor, a hint of smokiness, and a delicate tenderness beyond compare! Purchasing roasted red peppers in jars is so expensive and the amount of peppers from just one plant is so much more affordable for us to harvest and roast by ourselves.
It's So Simple and Easy!
Our gardens are overflowing with perfectly vine-ripened peppers now in a variety of colors of yellow, red, and green. So too are all of the farmers' markets and grocery stores. So when peppers are in their peak season, head out to your garden or local farmers market and fill up a basket!
Oh yes, of course, it's OK to pick up a jar or two of roasted red peppers in the store! You're busy . . . shortcuts work miracles! Jarred roasted red peppers are great to have on hand whenever you need them, no matter if you picked them up at the store or you jarred by yourself. But since it's the season when peppers are in an abundance, they're ridiculously cheap (and FRESH)! Plus many friends with gardens are happy to share their peppers with you!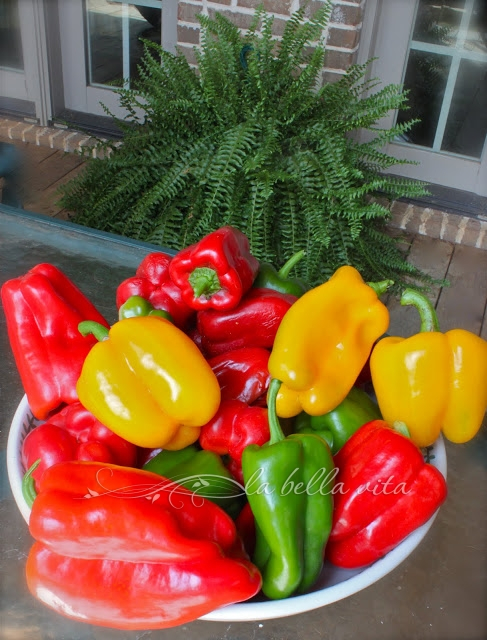 Just a few of my pepper bounty from our garden!
Not only that, but once you learn how easy it is to roast peppers, I bet you never buy expensive jars of gourmet peppers again! The extra added ingredient of your love will make them better!
Roasted fresh peppers have the most unique flavor. And if you've ever had them before on an Italian antipasto platter (which is very traditional) or have added them to a recipe, you know exactly how they spruce up the flavor of whatever savory dish you're preparing! You know what I'm sayin'?
Roasting red peppers is super easy, so don't sweat over this. Seriously! And when they're finished you have the most tender, delightfully sweet, deliciously smoky flavor in peppers that you can enjoy in endless possibilities! They add extra bang of flavor and texture to so many dishes and sauces (perfect for pasta especially)!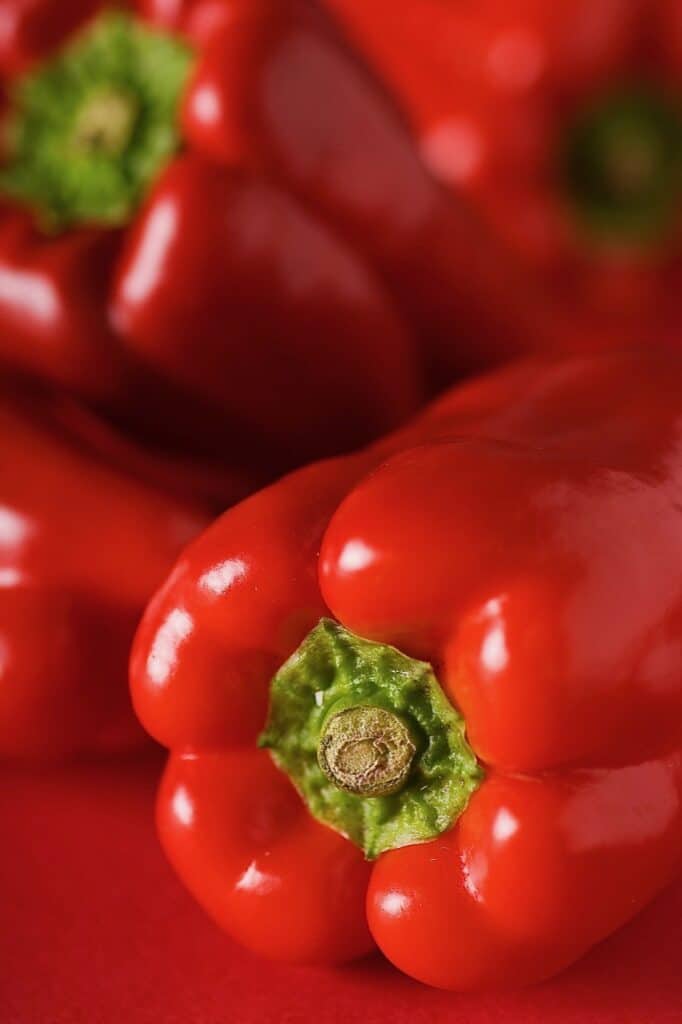 RED is such a beautiful color that visually POPS in any dish to entice our visual senses!
How To Add Roasted Red Peppers to Recipes and More:
Here are a few ideas that feature these beautiful, smoky, charred red darlings:
Add them to your pasta salads, potato salads,
or any tossed salad!
Stuff and layer them to your sandwiches
Fold them into a frittata, omelet, or scrambled eggs
Pile them onto a pizza
Add them to bruschetta
Add them to a pasta dish
Make a roasted red pepper aioli
Blend them into hummus
Puree them into roasted red pepper soup
Pulse them into harissa
Make a roasted red pepper pesto with the usual ingredients (pine nuts, basil, garlic, Parmesan) and enjoy it tossed in pasta
Puree them with some almonds and cream and a little chicken stock for a delicious pasta sauce
Puree them with some cream cheese for a cracker and veggie spread
Add them to a tapenade or flatbread
Load them into a taco or burrito
Add them to a potato hash or favorite casserole
Or even nibble on them for a snack!
The Possibilities are Endless!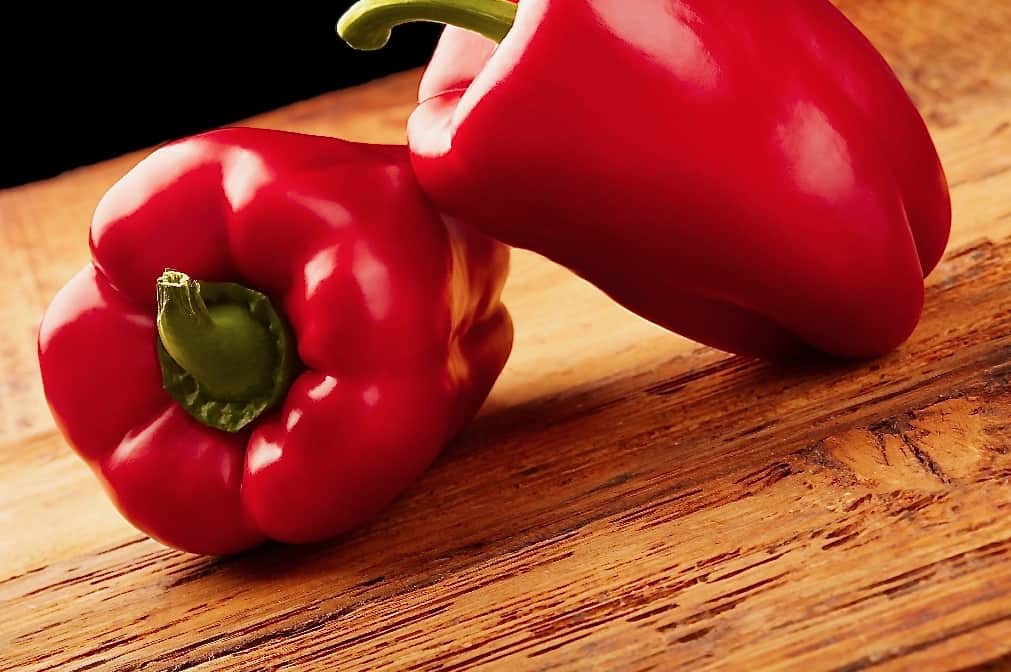 I've shown you below, the easiest method for roasting bell peppers with step-by-step photo instructions. This method works great for roasting most peppers . . . for any green, yellow, orange, or hot peppers available to you. Besides our colorful assortment of bell peppers available to us, don't forget that there are other peppers that do well roasted: Jalapenos, Poblanos, Anaheims, Hatch-style chiles, Paprika chiles, and Pimientos! Just keep in mind that the amount of time will differ that you need for each SIZE of pepper. Please keep in mind that all peppers vary in the thickness of their skin and flesh, so you need to keep that into consideration as well as their size. For me, the good old rule of thumb in baking/roasting/grilling when food is either covered or shut in an oven while cooking is to "KEEP AN EYE ON THEM"!
How To Roast Red Peppers?

There are several ways to make roasted red peppers at home. You can either use a grill, over a gas-flamed stovetop burner, or like me, simply roast them in the oven under a broiler heat.
Here's What You Need to Do:
1. First, trim off the stems and remove the membranes and seeds.
2. Char the peppers whole over a flame from gas burner, on a grill in a grill pan, or under a broiler until the skin is blackened all over.
3. Then, take them off the heat and place them in bowl and cover with a kitchen towel or plastic wrap to allow the peppers to steam and soften for 5 – 10 minutes.
4. When the peppers are cool enough to handle, peel, and remove the loose skin. You can also leave as much of the blackened skin on for a stronger charred flavor. Or do a little of both!
5. Use in a recipe, or alone as a snack or appetizer, or freeze/jar to use later
And that's it!
YOU DID IT!
Now go brag to your friends and family about your roasted red pepper SUCCESS!
So let's get to your Cucina and get started, shall we?
The simplest way how to roast and freeze red peppers is in your very own oven spread out on a large baking sheet.
FIRST, get that oven of yours set at the hottest temperature that it can possibly get . . . I set my oven at "Broil" which is 500 degrees F!
set your oven on BROIL or on the hottest temperature that your oven allows!
.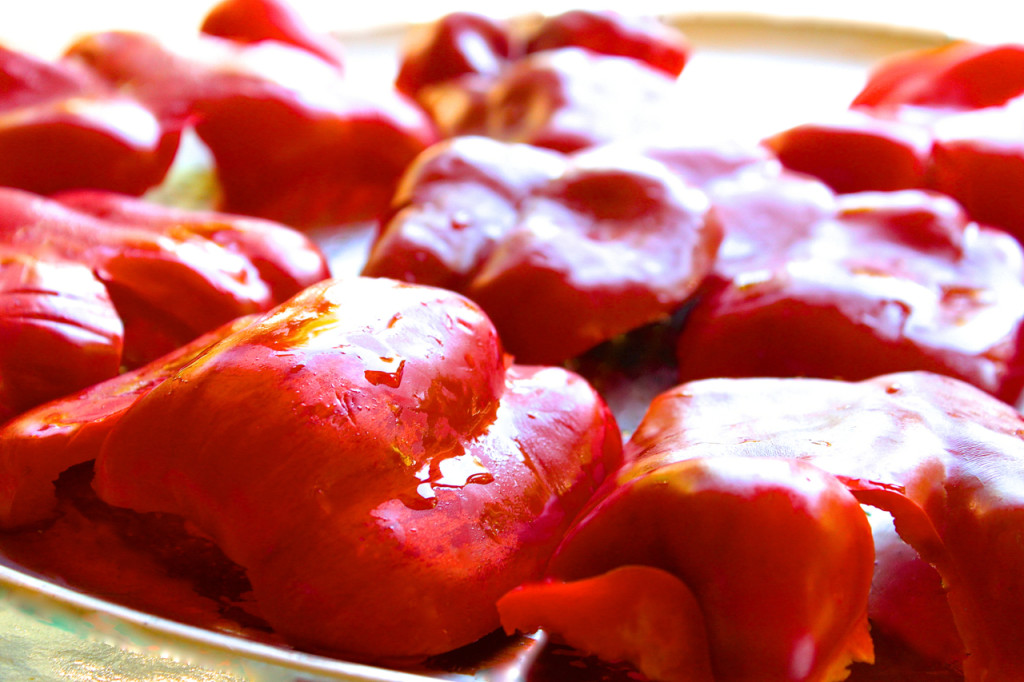 cut the red peppers in half, remove the stems, seeds and membranes,
and then lay them skin-side up on a baking sheet or pizza pan.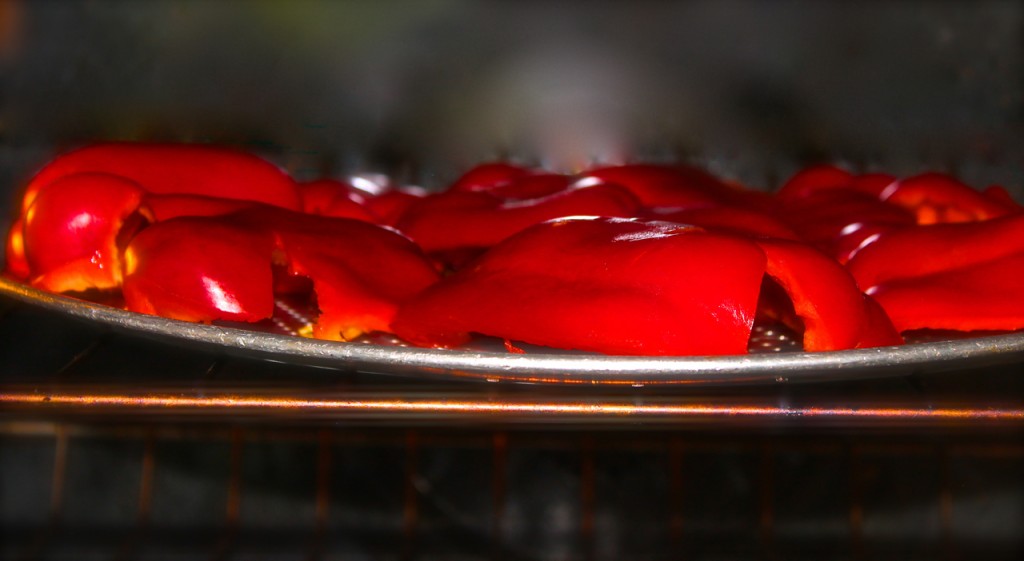 Place the oven rack on the top position about 4 inches under the broiler
Roast the skin side up first . . . keep an eye on them
about 5 – 10 minutes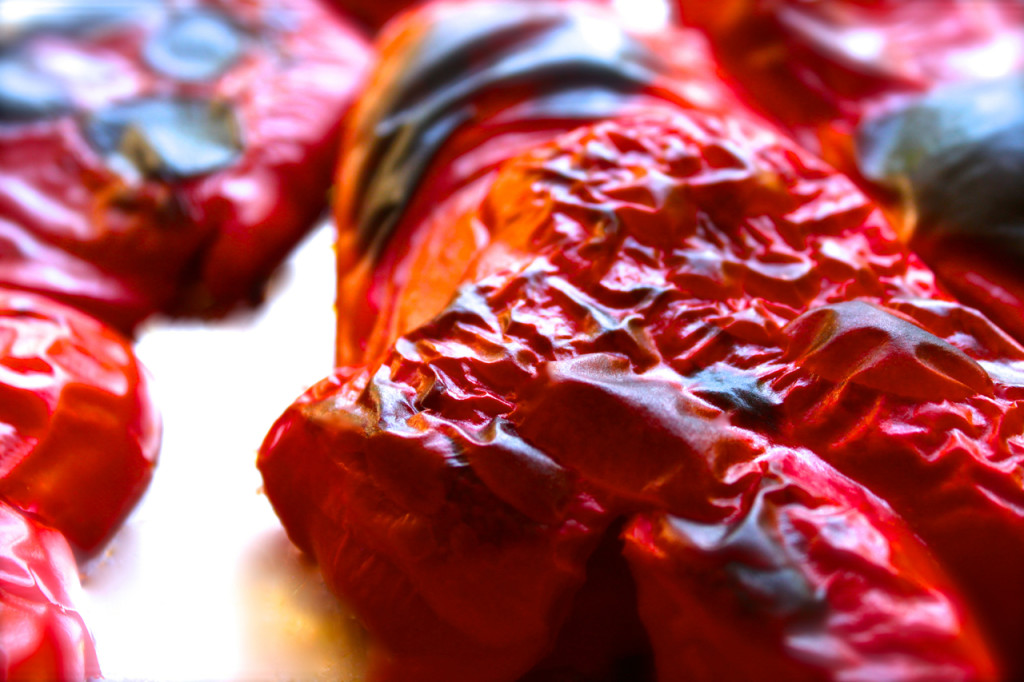 Roast the red peppers until the skins begin to blister and have a blackened char.
flip the red peppers over to roast the opposite non-skin side (optional, but I do this to roast them completely)
Once the skins are blackened remove the peppers from the oven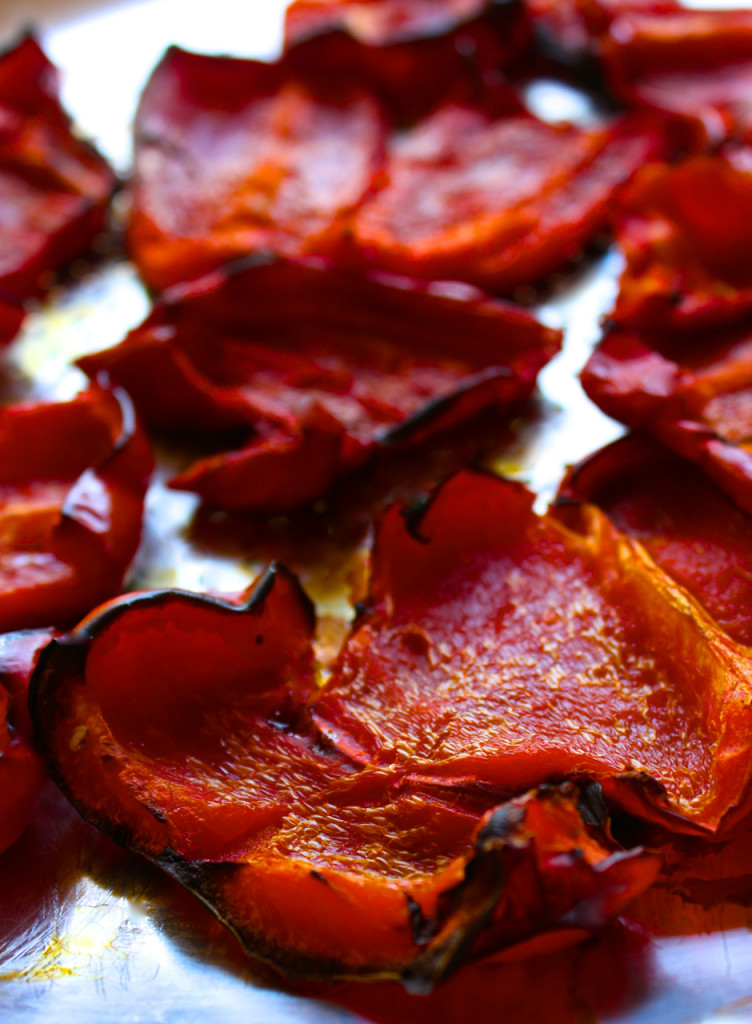 beautiful roasted, blackened, charred edges
After the roasting is finished, while the peppers are still hot, place the charred red peppers in a bowl and cover with some plastic wrap.
You can also use a sealed plastic container or plastic bag.
Simply allow the peppers to steam and cool a bit for 5 – 10 minutes which also help loosen the skin.
Plus by doing this, they are easier and more comfortable (temperature-wise) to handle because the skin slips off more easily,
and you are less likely to burn your fingers.
If you're preparing a larger batch to keep on hand, allow them to cool completely before placing them in your frig.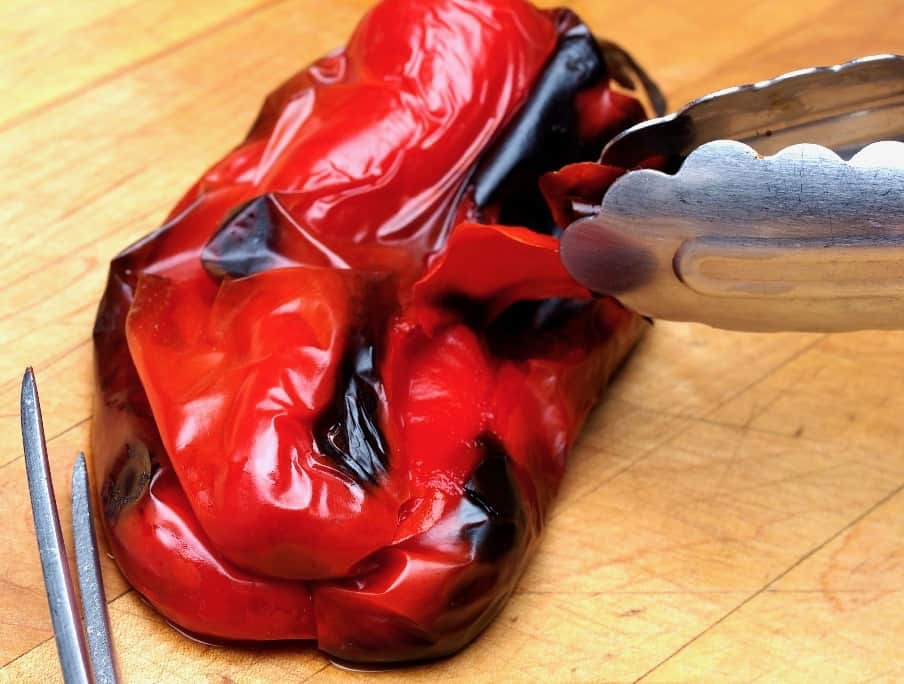 Roasted peppers are ready to use as soon as you've peeled off the skins and removed their seeds.
If you're roasting any as a part of a recipe, you can use them right away.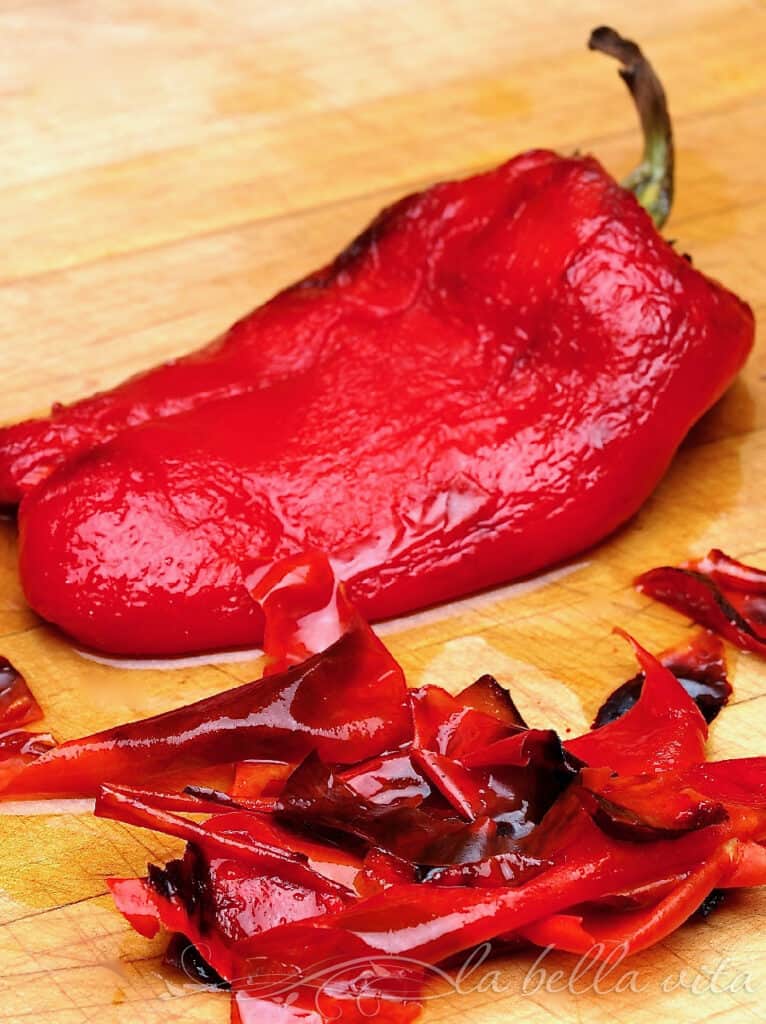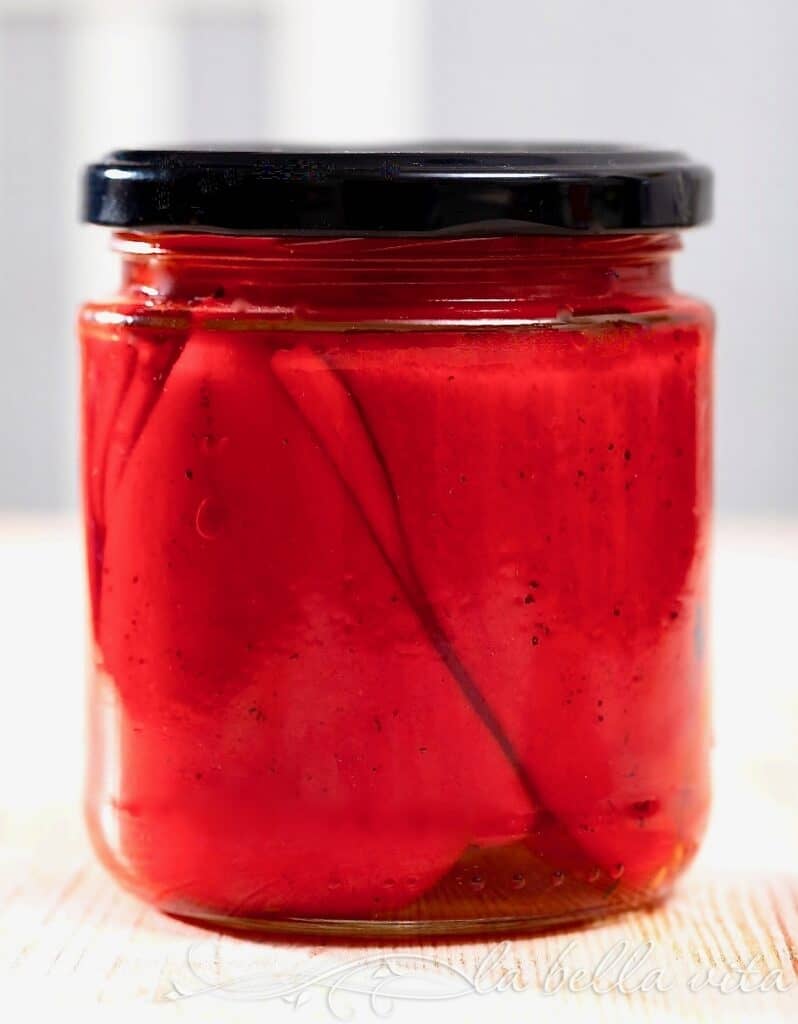 To keep them fresh, store the roasted peppers in a jar with a tight-fitting lid and pour olive oil over the peppers to cover.
At this time you can also add other ingredients such as capers, onions, and/or Italian parsley.
Just like olives and pickles, make sure that they are covered in oil for maximum freshness!
They should last for up to one week only if not frozen or jarred with correct canning procedures.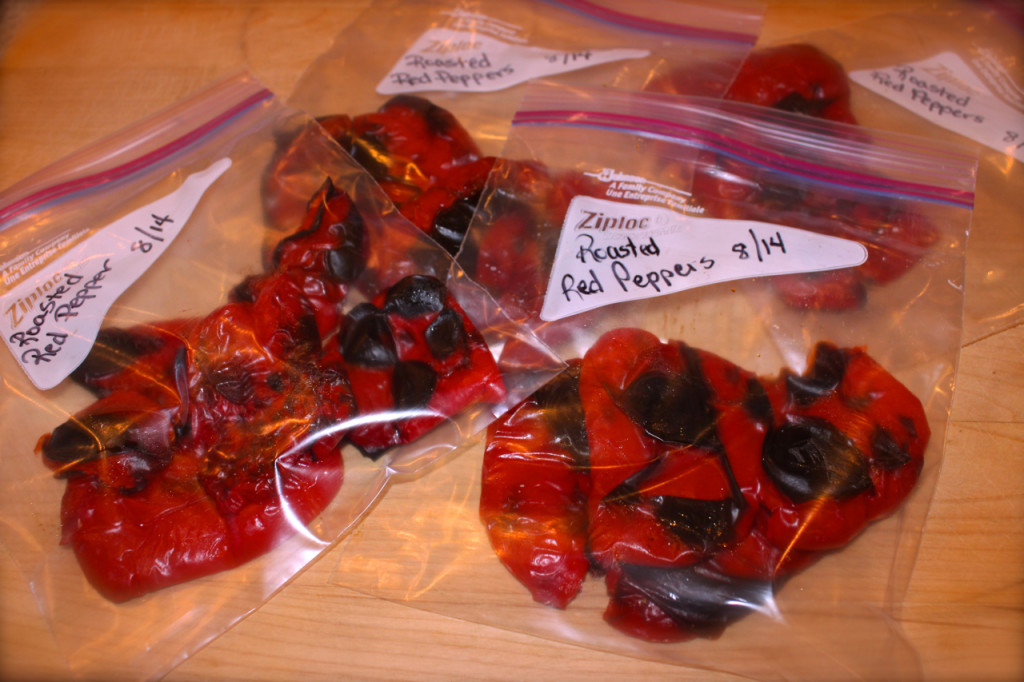 Roasted red peppers do really well in the freezer . . . much less work than jarring them!
In small freezer ziplock bags, place two pepper halves in each bag. I pack them this way because I only use a few roasted red peppers at a time.
I place the cooled off peppers directly into the plastic bags,
but some home cooks take an extra (unnecessary) step of laying them on a baking sheet and
freezing them first before putting them in the freezer bags.
This way I can just go to the freezer and take out a bag as I need them instead of thawing out a whole bunch of peppers at a time when I don't need that many.
It is totally up to you.
Enjoy Your Freshly Roasted Peppers!
If you love these roasted red peppers here are a few of our favorite recipes where roasted red peppers are the star of the show:
First of all, at their simplest, roasted red peppers will help you put on your inner-Italian by serving then with a drizzle of good quality extra-virgin olive oil, a sprinkling of freshly snipped Italian herbs plus some freshly cracked black pepper and freshly cracked sea salt.
And that's how Italians eat!
This simple antipasto (before the meal) will take you away to the beautiful land of the Mediterranean Sea!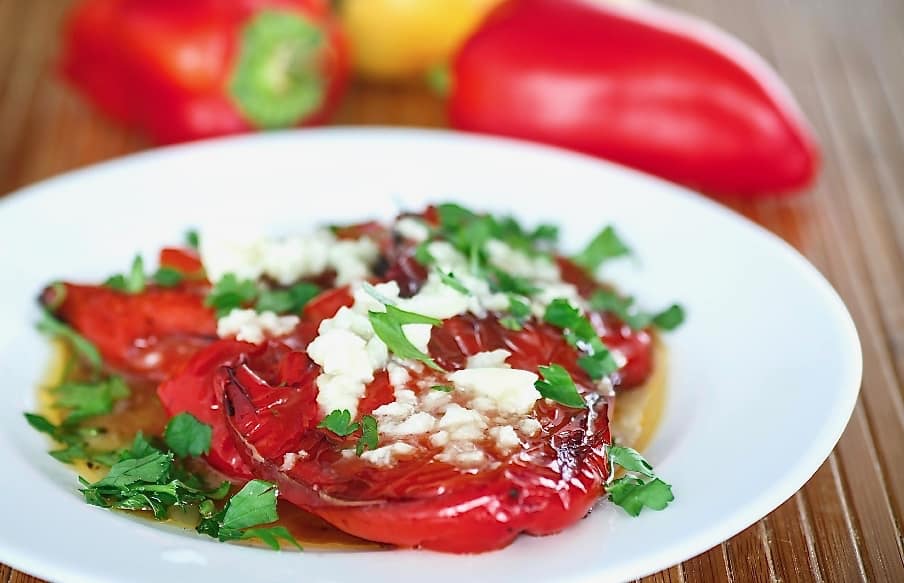 Here's a fantastic recipe to use your roasted red peppers:
Bucatini with Roasted Sweet Red Peppers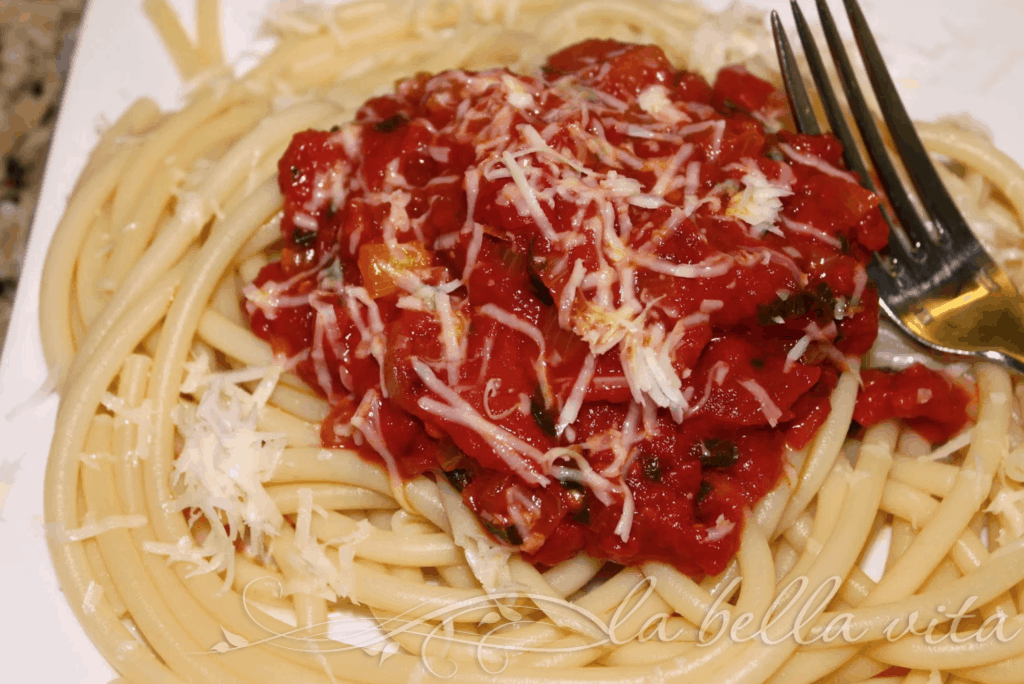 One of our wonderful readers wrote and shared the results of her roasted peppers!
Kaye said:
Hi Roz,
Well not only have you made me very happy with your anti-inflammatory Pineapple and Mango Smoothie but now I have saved 45 mins each week roasting Peppers in the oven! Genius….. They took just moments under a hot grill to blacken and then I let them cool, either sealed in a plastic freezer bag or on a tray covered in cling film. Skin peeled away with ease and now stocking up the freezer with the excess we have ripening in our greenhouse.
Pictures attached showing successful results.
Thanks again.
Kaye
Didn't they come out beautifully? Well done, my friend Kaye!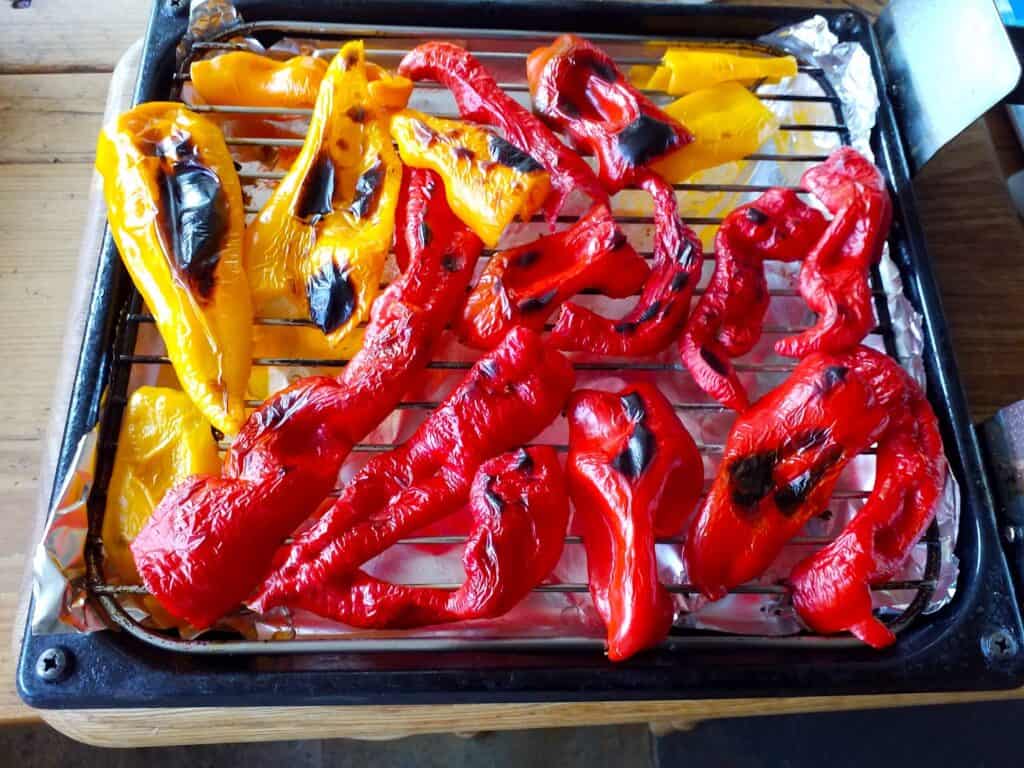 Pin For Later!
Print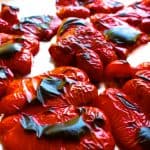 How To Roast & Freeze Red Peppers
Author:
Prep Time: 0 hours
Additional Time: 0 hours
Cook Time: 0 hours
Total Time: 0 hours
---
Red peppers, cut in half and opened to lay flat
---
Instructions
Heat oven to broil or hottest setting.
Place pepper halves flat, skin side up, on a baking sheet or pizza pan.
Roast until the peppers are blackened and charred.
Remove peppers from the oven and flip them over to roast the opposite side (optional).
When edges blacken, remove the peppers from the oven.
Place the roasted peppers in a bowl and cover.
Allow the peppers to cool.
Place 2 red pepper halves in one small freezer ziplock bags.
Continue to fill ziplock bags until finished.
Place the bags of roasted peppers in the freezer.
---
This post was originally published in 2014 and updated with more information and re-posted in 2020.
What do you like to do with roasted red peppers? Let me know in the comments!