Bucatini with Roasted Sweet Red Pepper Sauce
&anbsp;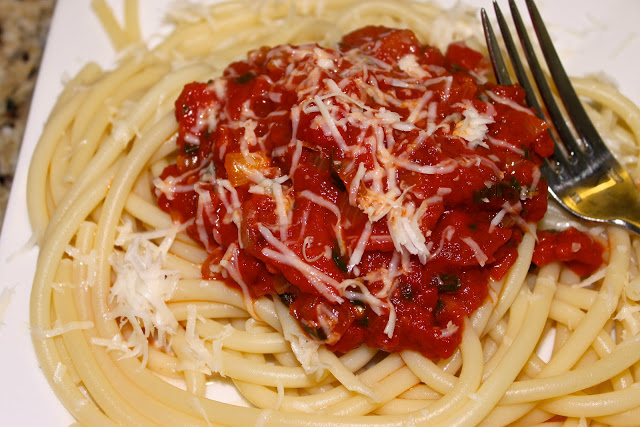 Roasting red peppers freshly picked from the garden is just one of the easiest things that you can do to preserve your bountiful harvest of peppers. And here's a good recipe to use some of those roasted red pepper that you want to enjoy right now! Bucatini with Roasted Sweet Red Pepper Sauce !
Now if you've never roasted red pepper before, here is a tutorial on my blog: Just click on this link to find some easy instructions for roasting red peppers. This is a vegetarian, red marinara sauce for pepper lovers! It is also pretty intensely flavored with the natural sweetness of red peppers. For a more pungent flavor, use Asiago cheese instead of the every day, over-used Parmigiana-Regiano cheese. But if you prefer a more mild cheese, than use the Parmesan instead.
My husband thinks that this is an "outstanding" marinara sauce, but he was frustrated with the bucatini noodles since he couldn't 'suck' the noodles into his mouth as he does with spaghetti noodles . . . bucatini noodles resemble long, thin tubes with a hole through the entire length of the noodle. So twirling this noodle is essential to getting it into your mouth! The name 'bucatini' originates from the Italian word 'buco' which means "hole", and 'bucato' means "pierced".
Bucatini noodles are particularly common in Rome and throughout the Italian provence of Lazio. These have a fun and different pasta noodle shape, and not easily found in American grocery stores. You can find them on-line from Italian food merchants or in Italian specialty food stores in larger cities. But you can use any pasta shape that you prefer.
This recipe is similar to the infamously popular "Bucatini all'Amatriciana" in that a tomato-based sauce is used with the heat of red pepper flakes (pepperoncino), but it differs in that roasted red peppers are incorporated instead of pancetta and the use of asiago instead of pecorino romano cheese. Both are delicioso!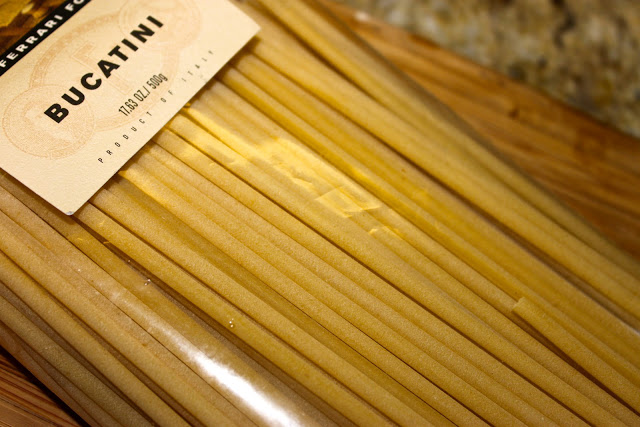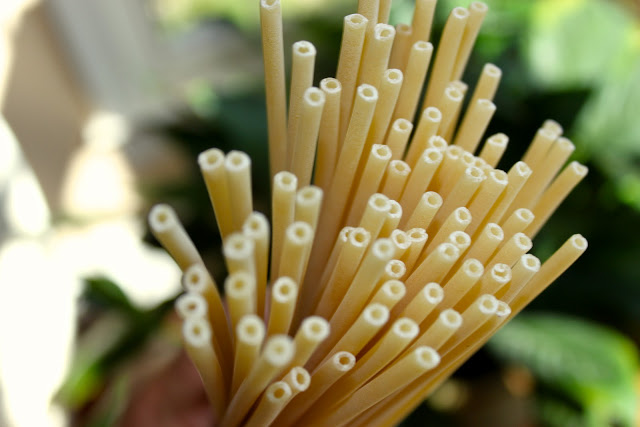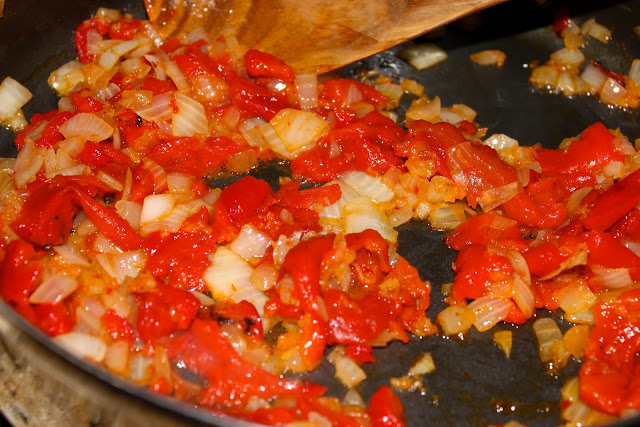 after sautéing onion and garlic, add the roasted red pepper.
red peppers, tomatoes and herbs simmering on the stove.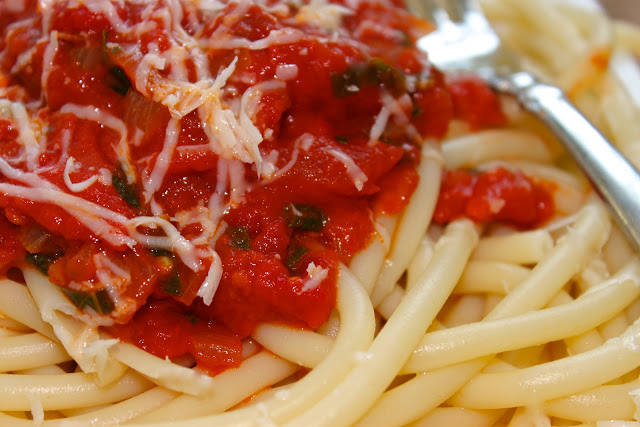 Mangia!
Enjoy this recipe for Bucatini with Roasted Sweet Red Pepper Sauce !
Print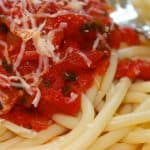 Bucatini with Roasted Sweet Red Pepper Sauce
Author:
Prep Time: 0 hours
Additional Time: 0 hours
Cook Time: 0 hours
Total Time: 0 hours
---
2 Tbsp. olive oil
3 – 4 large cloves garlic, finely minced
1 small onion, finely chopped (about 1/2 – 3/4 cup)
1 large garden-fresh red pepper, roasted and cut into chunks
2 cups canned crushed San Marzano tomatoes (Cento is a good brand)
1/2 tsp. sea salt
1/8 tsp. red pepper flakes (pepperoncino)
1/2 lb. dry bucatini pasta noodles
bucatini
1/4 cup garden-fresh basil, chopped
1/4 cup garden-fresh Italian parsley, chopped
1/2 cup grated fresh Asiago cheese
---
Instructions
In a large frying pan, sauté the onion and garlic in the olive oil on medium heat for about 5 minutes.
Do not burn the garlic; stir constantly.
Add the roasted red pepper and cook for another 5 minutes.
Add the tomatoes, sea salt, and red pepper flakes.
Cook on a low simmer for 10 minutes.
Add the basil and Italian parsley and simmer for another 10 minutes.
Meanwhile, have a tall pot of water boiling and cook the bucatini noodles for no more than 6 minutes, to 'al dente' (to the tooth).
Plate the pasta noodles on warmed plates.
Ladle a generous scoop or two on top of the pasta.
Sprinkle with Asiago cheese or pass around to your guests.
---