Secret to the BEST Classic Italian Cream Cake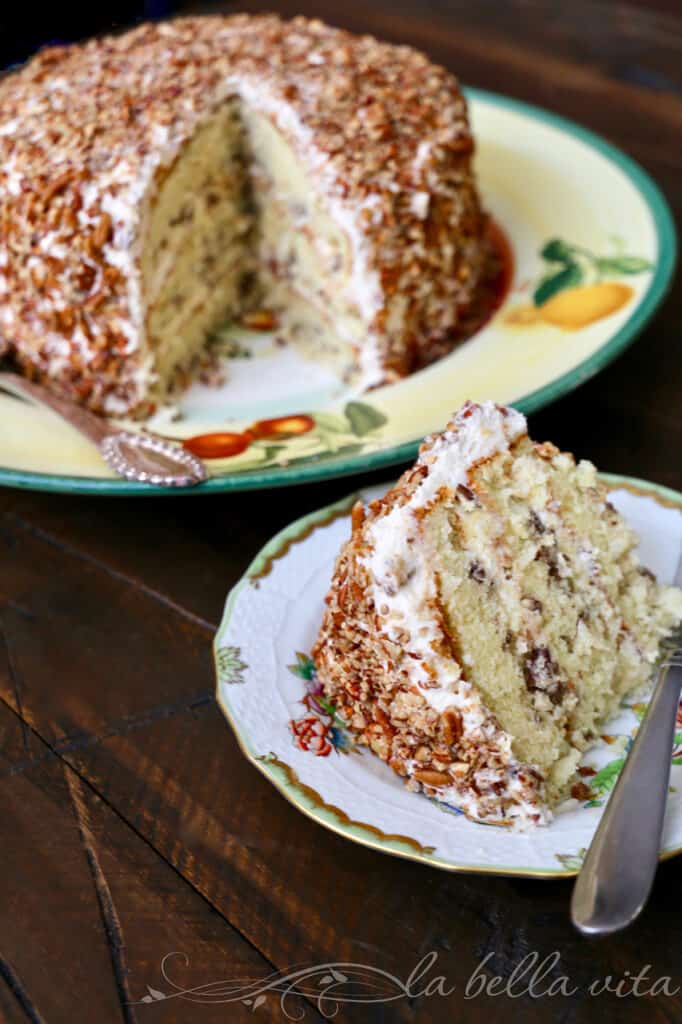 Italian Cream Cake recipes are NOT created equal.  I'm sharing a few secrets about how to make the most spectacular version that always gets rave reviews!  I've never led you astray; this Italian Cream Cake with the yummy frosting is to die for! Despite the name, there is nothing "Italian" about this cake.  You'll never find this on any menu in Italy.  Why?  Because Italian Cream Cake is a Southern specialty cake that has no connection to Italian food at all.  I'm sure there is a story to tell, so tell us if you know what the scoop is!  But no matter where or when it is a cake that commands center stage!
Italian Cream Cake is plain and simply put:  delicious!
The three layers are rich and super moist with a delicate crumb.  The cake gets its incredible richness and moistness from the coconut and buttermilk mixed in the batter.  The light and fluffy texture is because of the whipped egg whites that are folded into the cake batter.  Finally, a decadent (and is it ever decadent!) cream cheese frosting is spread between the layers and all over the top and sides of the cake. If you really love coconut, a great option is to toast some flaked coconut and garnish the top of the cake with it.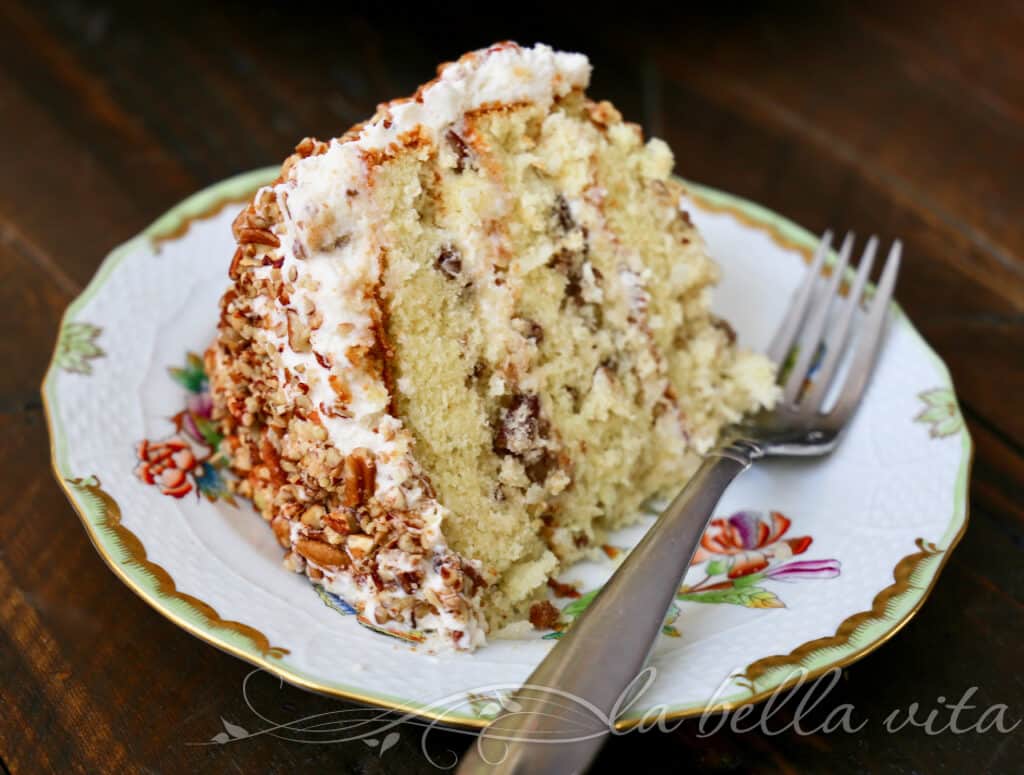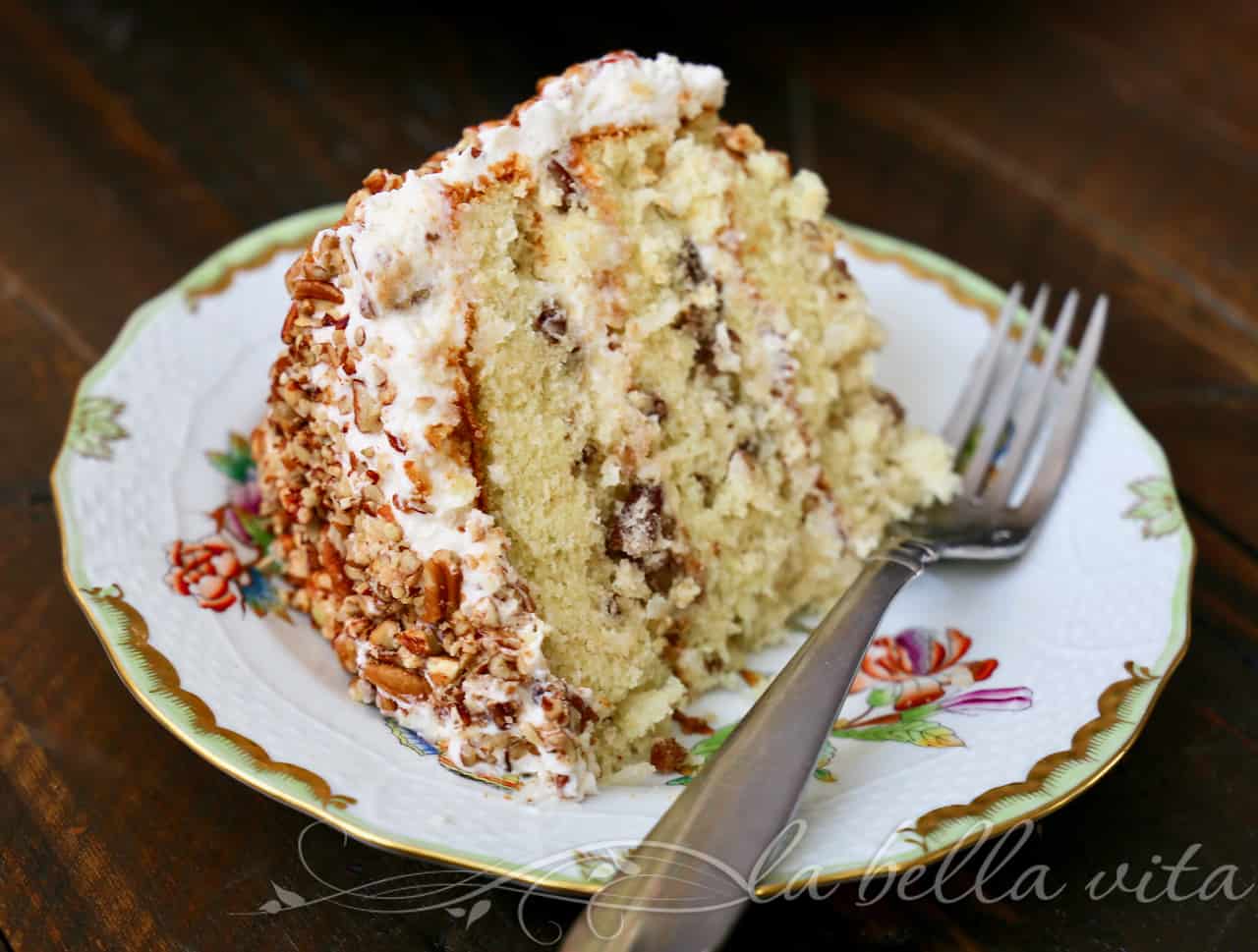 This cake is considered in my family to be one of our go-to 'special occasion' desserts.  Even a friend of mine had dozens of Italian Cream Cakes baked for her wedding cake . . . now that's pretty special!   My husband's birthday is smack in the middle of the cold dreary month of February and this cake just brings smiles to everyone's face and tummy no matter how drizzly, snowy, and cold it is outside! Some people say that it's a lot of work to make an Italian Cream Cake, but I totally disagree.  It's not hard at all!  I give you all the information you need for baking this delicious cake.
So What is an Italian cream cake?
Italian cream cake is an elegant, show-stopping, moist 3-layer cake.
The cake's rich layers are studded with chopped pecans and coconut.
The moistness comes from the coconut, and (in this version) cooking oil.
The cake is topped with a rich, finger-licking-good whipped cream cheese frosting with more chopped pecans and delicate shredded coconut.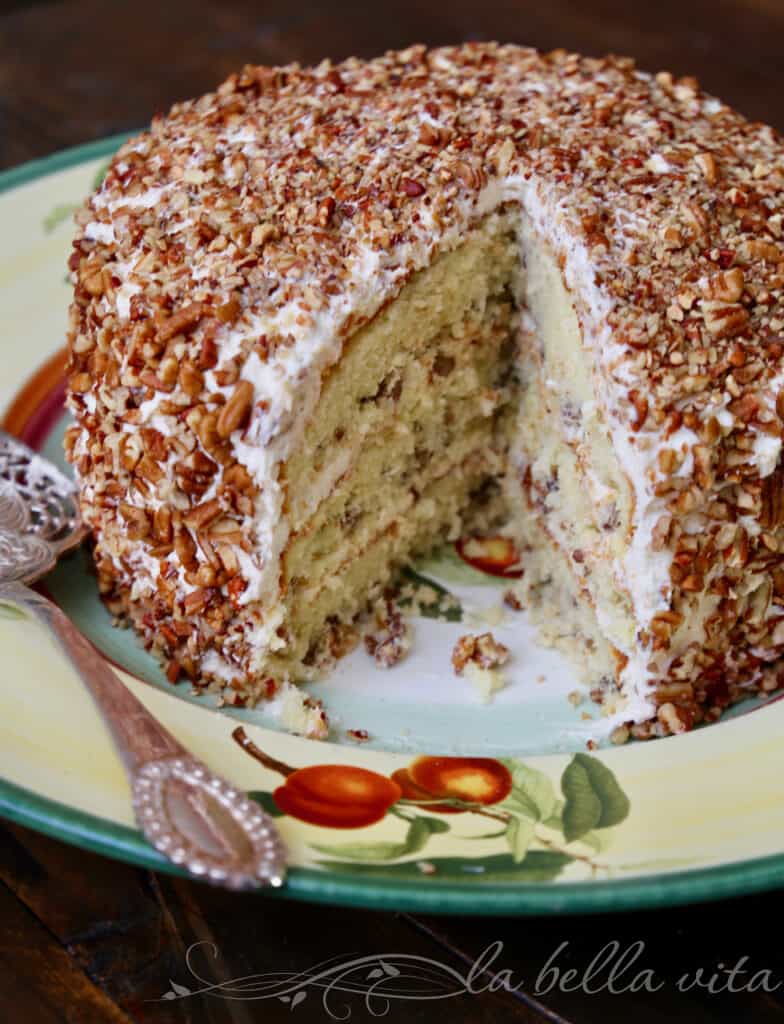 So What Are The Secrets for the BEST ITALIAN CREAM CAKE?
Here they are:
Always use buttermilk and not regular milk.  Buttermilk makes the cake a little more dense and flavorful.
In addition to the butter, add ¼ cup of regular cooking oil.  This really adds to the moistness of the cake.
Separate your eggs and add them at correct (and different) times according to the recipe. The separated egg whites add a light and airy texture to the cake.
Add 3 – 6 Tbsps. of light rum to the cake batter.  I use 3 Tbsps. and there is a 'barely there' hint of rum flavor.
Add 1 tsp. coconut extract!
Do not bake for over 20 minutes.  Three layers bake very fast!
Add whipped cream (the real stuff) to the frosting for a less heavy frosting.
Add more powdered sugar to the frosting — it makes a better, sweeter frosting.  Add an amount that is suitable to your preferred taste level.
For ease in spreading the frosting, don't add the pecans to the frosting, simply frost the cake with the frosting only and then press the chopped pecans all over the frosting.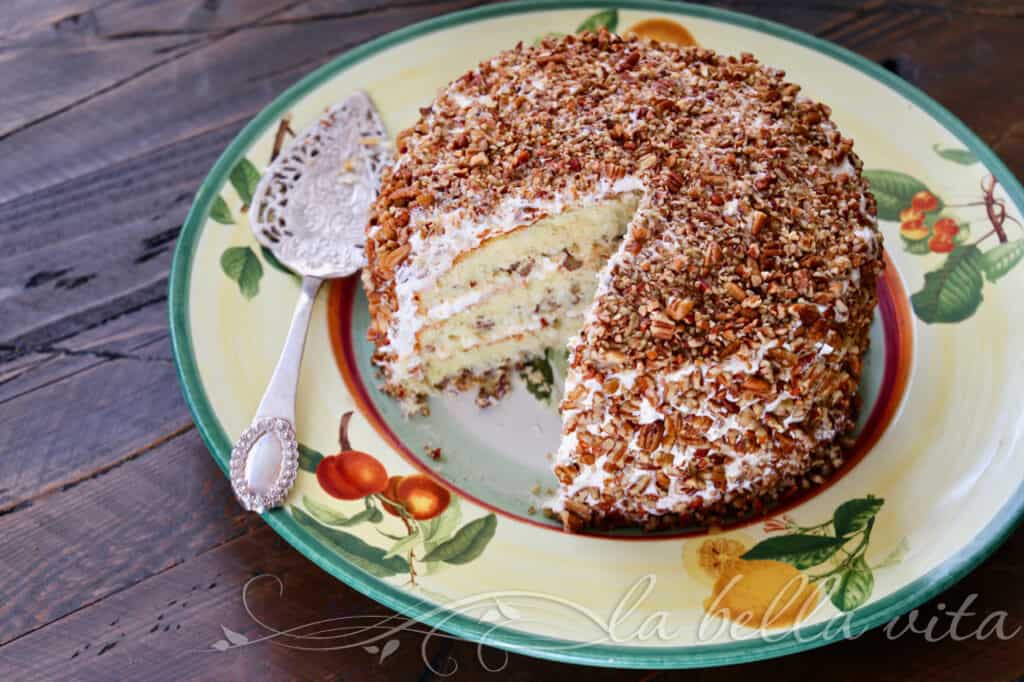 Tips For Baking Italian Cream Cakes:
It makes a great holiday or special occasion cake.
A big bonus is that Italian Cream Cake is even better on the second day after baking it.
This makes it perfect for a make-ahead dessert that frees up your time to focus on other things the day of your gathering.  That's always such a big plus for me!
Bring the butter and cream cheese to room temperature and softened before using it.
Separate the egg yolks and egg whites into 2 separate bowls.
When beating the egg whites, use the highest setting on your hand-held blender.  It takes almost 8 minutes for the cream to form soft peaks.
GENTLY FOLD, don't stir the egg white / tartar into the cake batter.  This is what gives the cake such lightness.
USE PARCHMENT paper on top of the buttered and floured baking pans.  Without parchment paper, this cake sticks any way; even with butter and flour.  So use parchment paper.
Italian Cream Cake is so tender and so moist that it has a tendency to crumble.  So be very careful removing the baked layers out of the pans.
Store Italian Cream Cake in the fridge, covered.
Store for 3 – 4 days in the fridge.
PIN FOR LATER!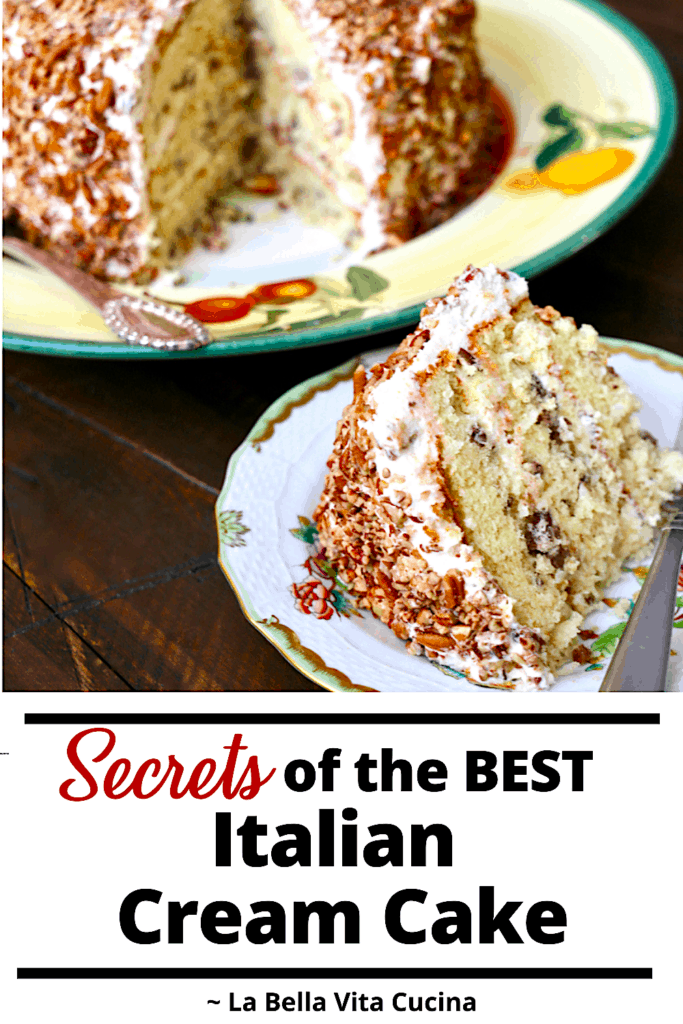 More amazing Cake Recipes that You'll Enjoy!
Layered Carrot Cake with Praline Filling and Cream Cheese Frosting
Layered Lemon Cake with Limoncello Icing
Strawberry Layer Cake with Italian Buttercream Frosting
Layered Blood Orange Cake with Orange Mascarpone Filling
If you've baked this Italian cream cake recipe, please rate the recipe and leave me a comment below. I love to hear from people who've made my recipes!
Yield: 10 - 12 Servings
The BEST Classic Italian Cream Cake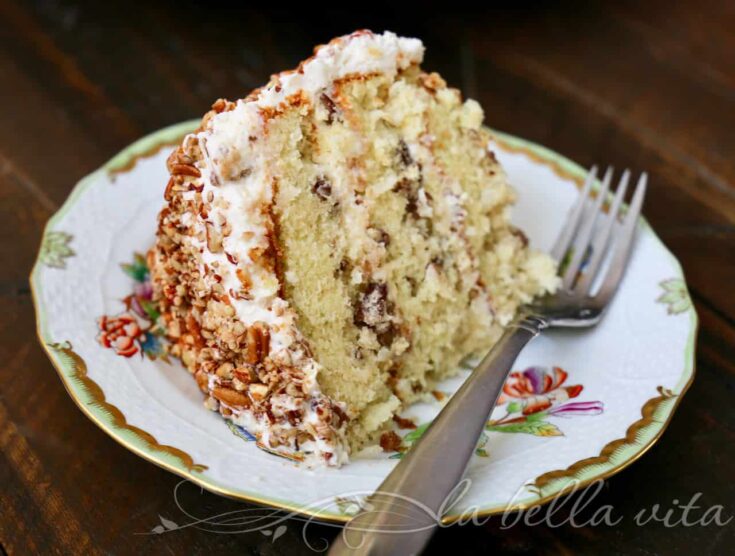 Ingredients
For the Cake
1 cup butter, softened
¼ cup cooking oil
2 cups sugar
6 eggs, separated and at room temperature
2 - ½ cups (all-purpose) flour
1 tsp. baking soda
1 cup buttermilk
2/3 cup finely chopped pecans
1 (3-1/2 oz) can flaked coconut or 1 bag of flaked coconut
1 tsp. vanilla extract
½ tsp. coconut extract
½ tsp cream of tartar
3 - 4 Tbsp light rum
For the Whipped Cream Cheese Frosting
20 oz cream cheese, softened at room temperature
1 cup heavy whipping cream, cold (another cup if preferred), whipped to soft peaks
1 cup butter, softened
2 - 3 cups powdered sugar
1 tsp. vanilla extract
½ tsp. coconut extract
1 cup chopped pecans
Instructions
Coat three (3) 9" round cake pans with softened butter and flour.
Line the bottoms of the pans with parchment paper. Coat the paper with cooking spray and dust with flour. Set aside.
Cream the butter and cooking oil, add sugar, beating well with a handheld electric mixer at medium speed.
Add egg yolks, one at a time, beating after each is added.
Combine the flour and baking soda.
Add to creamed mixture alternating with buttermilk, beginning and ending with the flour mixture.
Stir in pecans, coconut, rum, coconut extract, and vanilla.
Beat the egg whites (need to be at room temperature) on high until foamy.
Add the cream of tartar; beat until stiff peaks form.
Gently fold beaten egg whites into batter.
Pour batter into prepared pans.
Bake at 350 degrees for 20 minutes or until a wooden toothpick inserted in the center comes out clean.
Let cool in the pans for 10 minutes.
Remove from pans; peel off the parchment paper, and let cool completely on wire racks.
Spread the frosting on top of each of the cake layers. If you choose not to add the pecans to the frosting, then sprinkle about ⅓ cup on top of each frosted cake layer. Place the 3 cake layers on top of each other and spread the frosting over the entire cake.
See #4 below regarding the frosting.


For the Frosting


Combine cream cheese and butter, beating until smooth. Add vanilla and coconut extracts and mix for a minute or so.
Whip the whipping cream until soft peaks form. Then gently fold the whipping cream into the cream cheese mixture.
Gradually add powdered sugar and beat until light and fluffy. Add more to your preferred level of sweetness.
OPTIONAL: Stir in pecans OR keep the pecans out of the frosting in order to 'press' them into the frosted cake.