Easy Fresh Pasta Salad with Cheese and Herbs
"Easy" is such a welcome way to do anything on weekends, isn't it? Did you know that relaxing and chilling out on the weekends is one of the strongest characteristics of the most successful peeps in the world? Yup, TRUE! So I work my butt off during the week and then simply breathe on the weekends!
And during summer, "easy" also includes mixing up a colorful, summer-fresh pasta salad that overflows with diverse flavors!
School is out and summertime is upon us! With all of the fresh garden produce available now, you can mix up any combination of veggies and fruit and never get bored. This easy fresh pasta salad is very forgiving in that you can add more of one ingredient and remove some of another since the veggies aren't floating in some thick goopy dressing. Adjust what fresh ingredients you add in as well as how much you add. . . all based on what YOU want in your pasta salad.
Social gatherings with large spreads of good eats seem to always welcome easy fresh pasta salads with cheese and herbs. They're just perfect to take to pool parties, cookouts, picnics, or served as a side dish, to nibble on for a snack . . . . or even serve it for an easy light lunch or dinner.
And if you love cheese, go ahead and add in some more mozzarella balls. Add flavorful cheeses such as Boar's Head (brand) Mozzarella, Fontina, Parmiggiano (extra), or Spanish Manchego. You will have some very happy and grateful guests!
One of the great things about pasta salads is their versatility. Beyond mixing up the veggies is the variety of pasta shapes available. Don't forget that there is an endless variety of bottled vinaigrettes in the market if you choose not to make your own zesty vinaigrette.
This easy fresh tomato pasta with cheese and herbs is guaranteed to receive rave reviews!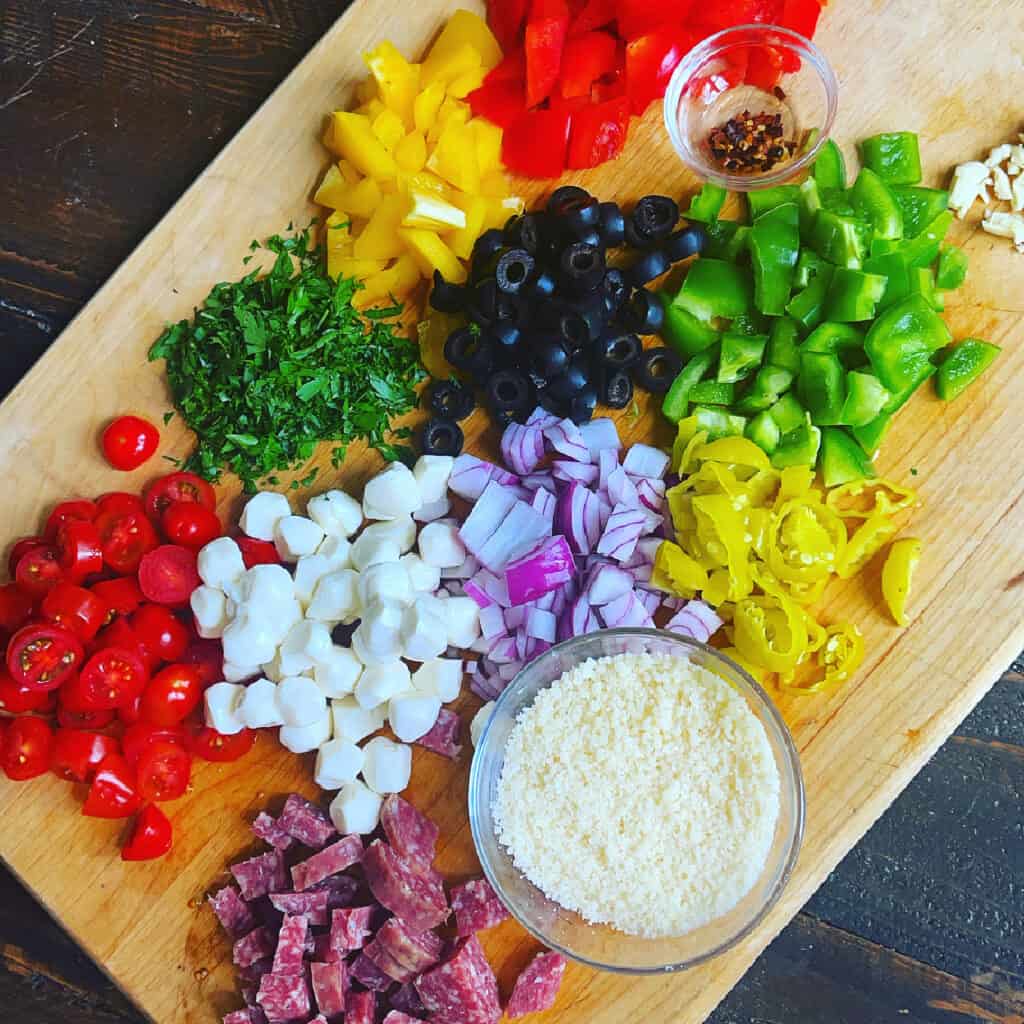 An Easy Fresh Pasta Salad
The chopping in this recipe is the only thing that requires much time. Boil the pasta water and cook it for only 5 – 6 minutes so that your pasta is nice and "al dente". Soft pasta is a cardinal sin in Italian cooking. It's simply the worst!
I usually chop up the vegetables while the pasta boils, then quickly toss it all together. TIP: The base of this salad needs to chill for at least 1-2 hours. It's especially nice if the tomato base can marinate overnight so all you need to do the next day is mix everything together. The flavors are much more powerful this way.
As I mentioned above, chop up your veggies while the water boils and the pasta cooks. Always keep an eye on the pasta so that it doesn't overcook. There is simply nothing worse in Italian cooking than mushy soft pasta. Once al dente, immediately pour the pasta in a multi-holed colander to allow it to drain. While still in the colander, rinse the cooked pasta under cold running water. Pour just a tiny bit of olive oil all over the pasta to prevent it from sticking together. Cover with plastic wrap and store in the refrigerator for 1 – 2 hours minimum.
This pasta salad is made with a very light vinaigrette made from my cousin's red wine vinegar in Modena, Italy and some high quality imported olive oil. Needless to say, you can find oodles of copycat recipes on the web. You can always substitute your favorite store-bought Italian dressing! If you're like me it's OK to have a quick back up
INGREDIENTS FOR AN EASY FAST Easy Fresh Tomato Pasta Salad with Cheese and Herbs
There are so many incredible flavors in here that every bite is like a party in your mouth. It's like a 'chopped salad. Every forkful is unique so your tastebuds will be dancing their happy dance tango!
Super Sweet San Marzano cherry tomatoes – when picked straight off the , these give new meaning to the word "delicious".
Mini bocconchini – Small, bite-size balls of soft, fresh mozzarella.
Crispy fried prosciutto, pepperoni, and Genoa salami – A secret ingredient my family demands now in so many recipes.
Tangy banana peppers – (optional). Pasta salads can get very boring (and the reason why so many people pour goopy mayo-based dressings on pasta salad).
Olives – Both varieties of black and green, especially Castelvetrano, give off some fabulous tang.
Crunchy green, yellow, and red peppers and red onions. Raw veggies served at their best and full of good stuff with no preservatives!
Red onions – For a less sharp onion flavor; plus it adds even more color to the dish.
FRESH basil, Italian parsley – Words cannot describe the addition of these herbs in Italian recipes.
FRESHLY grated Parmigiano Reggiano cheese, plus (optional) Fontina.
GARLIC – not to ever be left out of a savory Italian recipe! 🙂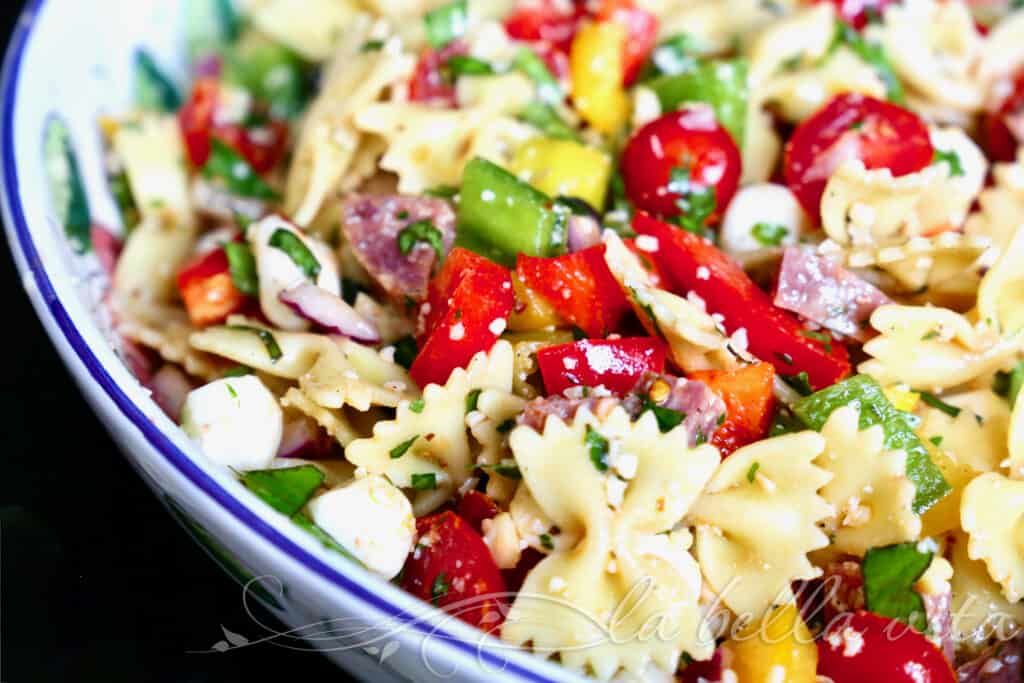 VARIATIONS TO TRY
Go Greek! Make it Greek with cut-up cherry tomatoes, anchovies, feta cheese, kalamata olives, Greek hot banana peppers, and chopped cucumbers.
Serve it immediately for a warm pasta dish.
Add cooked, sliced chicken (or of course, tuna) and make it a complete meal.
For a vegetarian protein, add beans such as cannelloni, red beans, blackbeans, garbanzo beans, or chickpeas.
Viva Mexico! Make it southwestern by adding corn, blackbeans, avocados, chorizo, Mexican cheeses and seasonings, jalapeños, and chilis.
Easy Fresh Tomato Pasta Salad with Cheese and Herbs recipe will hopefully bring smiles to a lot tummies and that you'll write back with a full report!
PIN to MAKE LATER!!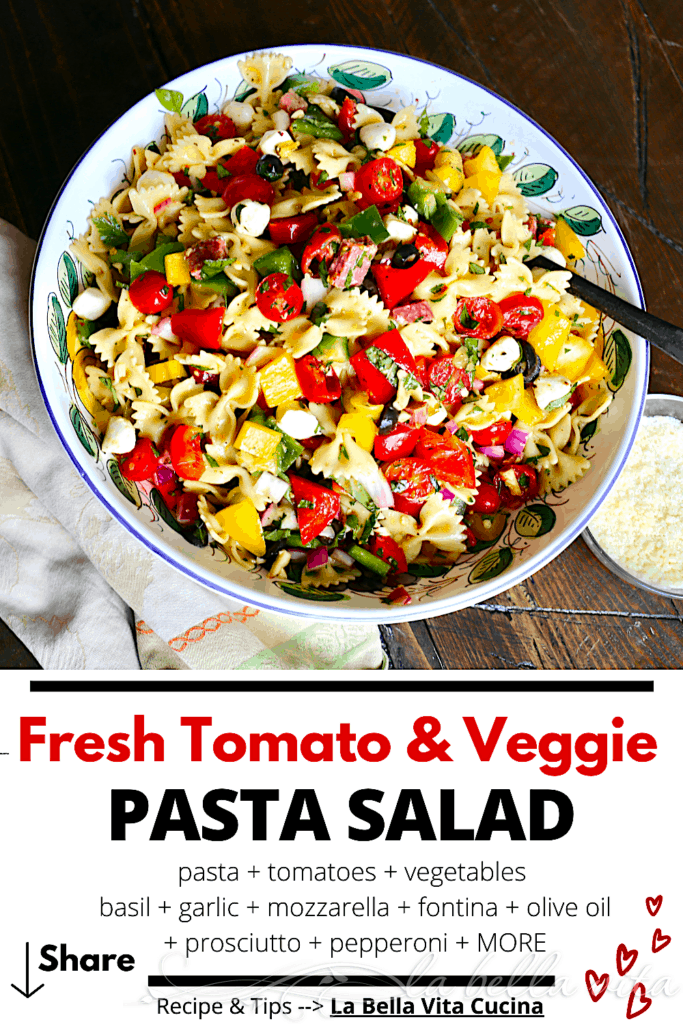 Print
Easy Fresh Tomato Pasta Salad with Cheese and Herbs
Author:
Prep Time: 30 minutes
Additional Time: 1 hours
Cook Time: 7 minutes
Total Time: 1 hour 37 minutes
Yield: 12 servings 1x
Cuisine: American and Italian
---
1 box Farfalle pasta (bowtie form pasta)
2 – 11 oz. containers of San Marzano cherry tomatoes
1 cup olive oil
5 – 6 large cloves of fresh garlic, minced
2 cups of fresh basil, chopped
1/4 cup fresh Italian parsley, chopped
8 oz. freshly-grated Parmigiano Reggiano Cheese
2 packages of little balls of soft, creamy Mozzarella cheese (Bocconchini)
8 oz. pepperoni or Genoa salami, fried and diced
4 oz. prosciutto, fried and diced
1/4 tsp. red pepper flakes
1/2 tsp. garlic powder
1/2 tsp. Italian seasonings
1 medium red bell pepper, chopped
1 medium yellow bell pepper, chopped
1 medium green bell pepper, chopped
10 large green banana peppers (pepperoncini), chopped
1 small red onion, sliced very thin and then cut each slice in half
1/2 cup drained and sliced black olives
1/3 cup red wine vinegar
GARNISH: Freshly Grated Parmigiano Reggiano Cheese to sprinkle on top of salad (1 – 2 cups, enough for guests to help themselves to the cheese)
---
Instructions
Bring a large pot of salted water to a boil over high heat. Cook the pasta according to the package directions.
When cooked to the 'al dente' texture (about 6 minutes), remove the pot of water and the pasta. Take it to the sink and drain it very well.
Add the tomatoes to a large bowl and toss with 1/3 cup of olive oil, 1/2 cup chopped fresh basil, the minced garlic cloves, a pinch of red pepper flakes, pinch of Italian seasonings, a pinch of salt and pepper each  Cover with plastic wrap. Set aside and allow to marinate in the refrigerator for 1 – 2 hours or overnight.
While the pasta is boiling, crisp the prosciutto and pepperoni/genoa salami. Heat a large frying pan over medium-high heat then add the prosciutto and pepperoni/salami in a single layer. Let them fry until they become nice and crisp; then turn them over and fry for another minute. Remove the prosciutto and pepperoni/salami from the pan and crumble it a little into a bowl. 
After the marinade process is complete, add the pasta and gently mix together. Then add the bocconcini, bell peppers, red onion, parsley, banana peppers, crispy proscuitto and pepperoni/salami, and parmesan cheese to the bowl with the pasta. Gently mix.
TASTE! Add the red wine vinegar at this point if you want. Gently toss to coat again. 
Taste again: Add salt and pepper to your preferences!
BUON APPETITO!
---
Keywords: tomatoes, salad. gar;odl
.
Do you enjoy La Bella Vita Cucina?
We'd love to have you as part of our community!
Subscribe below to receive a FREE e-Cookbook and all of the latest recipes, travel tips and
gardening ideas straight into your inbox!